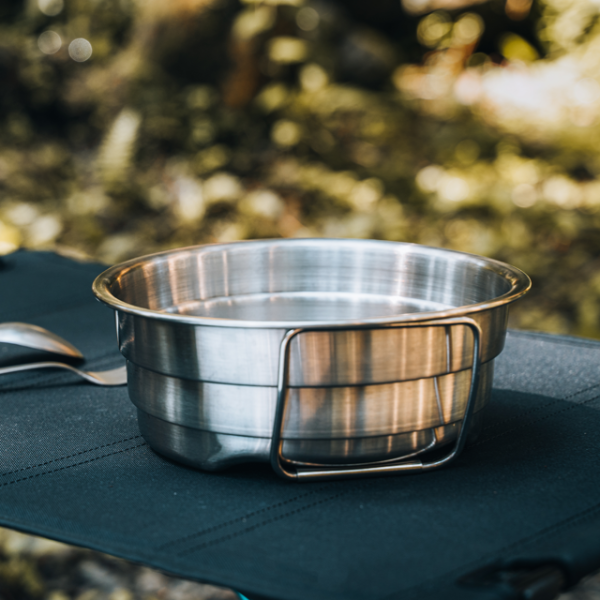 SimpleReal Collapsible Stainless Steel Cookware
$53,428
raised out of
$3,000
Concept
1L volume, only 3cm thin. Fold tiny to fit anywhere! Sturdy, versatile and toxin-free.
Story
When it comes to outdoor adventures, packing light and smart is always a big challenge. While most metal camping cookware takes up lots of space, the true magic of the SimpleReal stainless steel container lies in its ability to collapse into a small disc that can be stowed easily. It stores large but folds tiny, allowing you to enjoy your time in the wild without hauling a bulky load!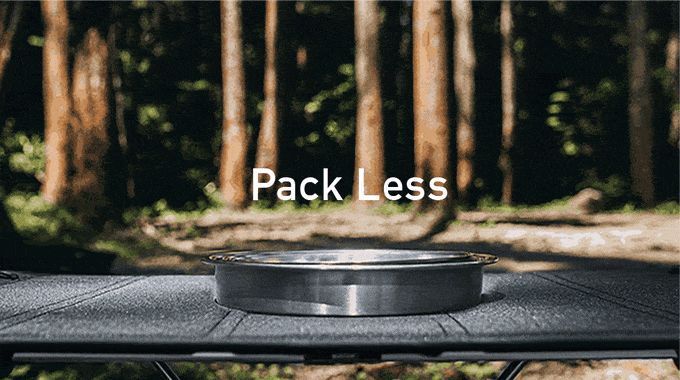 Designed for space-conscious campers, SimpleReal cookware transforms to a portable, easy-to-stash 3cm tall disk in seconds! You can keep it light without having to compromise on the experience.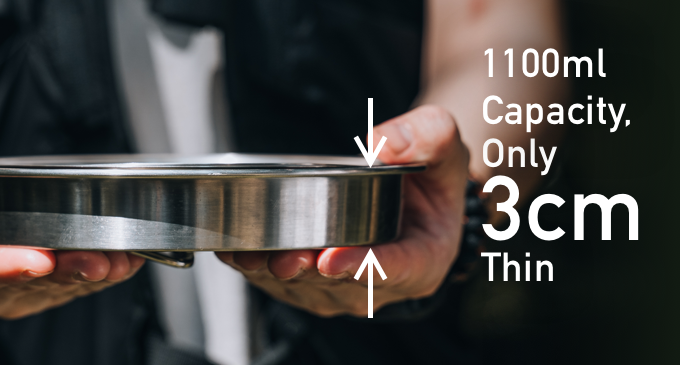 The sleek design allows it to fit neatly in your backpack, saving you extra space for other gears. It may look thin and flat when collapsed, but don't get fooled by its size! It has a generous amount of capacity that works great when cooking or storing food.

SimpleReal stainless steel cookware is roomy enough to hold a decent meal, and sturdy enough to endure all the tear and wear in the wild. It also collapses in less than half of its original size, super easy to carry around, taking almost no space at all.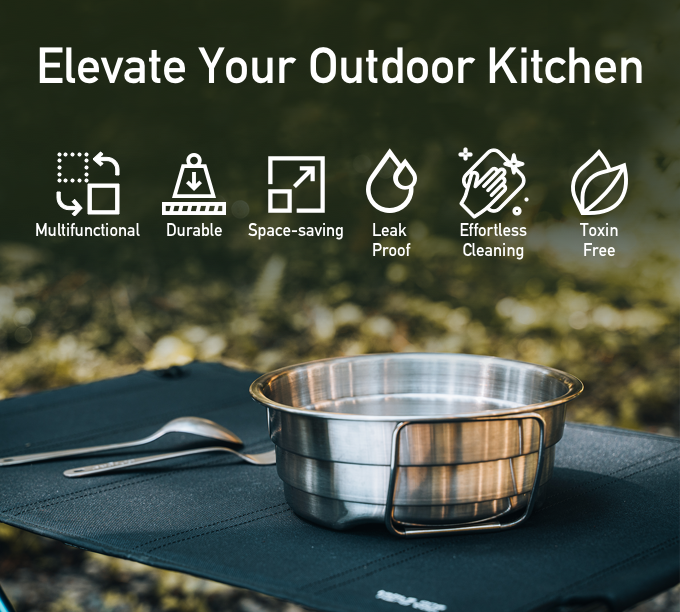 Packed with various practical features, SimpleReal cookware is ready to embark on your next adventure in the wilderness!

SimpleReal cookware is constructed out of hard-wearing stainless steel, and the patented latches on both sides keep its structure strong and heavy-load resistant. Once the latches are locked in place, no need to worry about the cookware collapsing while enjoying meals or carrying in your backpack.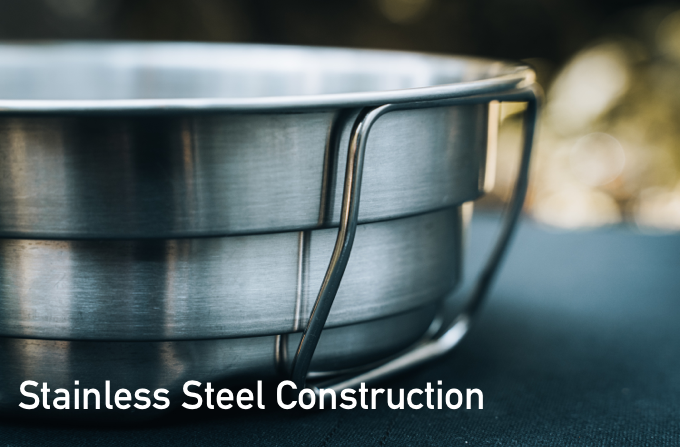 SimpleReal reaches the optimal balance between portability and durability. The layered structure allows it to be compacted down when not in use, the rigid construction of the latches ensures stability, and the removable silicone gaskets form watertight sealing.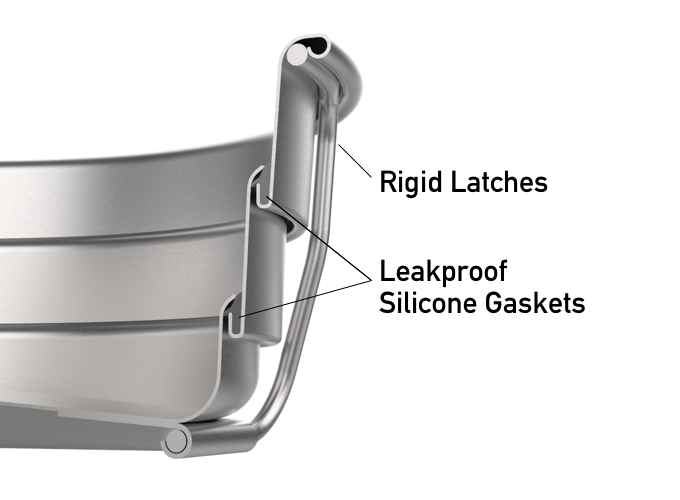 When fixed tightly in place, the clasps on the side won't get loose easily, securing the structure of cookware.
Be it cooking, boiling water or heating up meals, SimpleReal cookware has got you covered!

By fastening the latches, the silicone gaskets are pressed tightly into the stainless steel slots, creating a watertight sealing between layers. Perfect for boiling water or soup!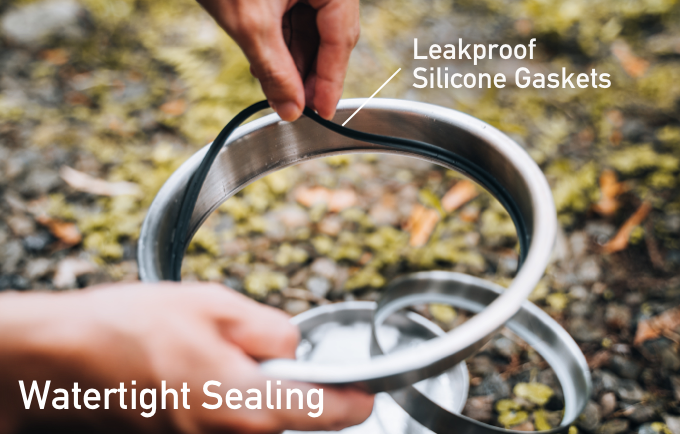 Made of premium stainless steel, SimpleReal cookware is acid/alkali resistant, corrosion resistant, and also free of heavy metals. The lid and gaskets are made of food-grade silicone, completely free of BPA and toxic chemicals. You can cook directly over stoves without worries!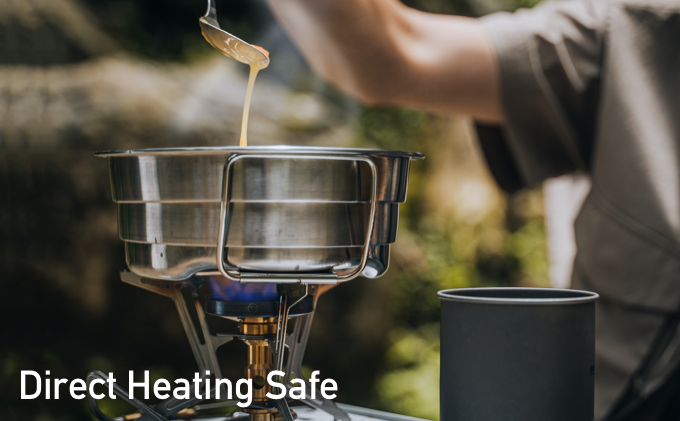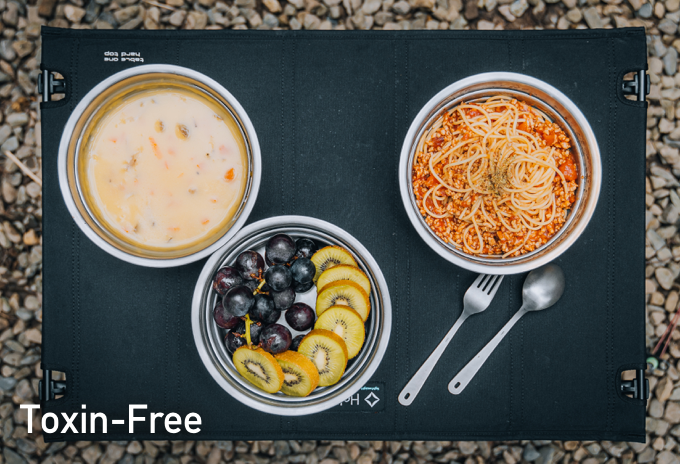 To make cleaning effortless, all the components are dishwasher safe, and can be easily taken apart and reassembled. You can clean every layer of the container, leaving zero dirty spots!

The detachable handle is made easy for cooking. Simply attach it on the side, make sure that it locks into place, you can then hold on to it while cooking or remove it from the fire. And the handle itself fits perfectly into the cookware, taking no extra storage space!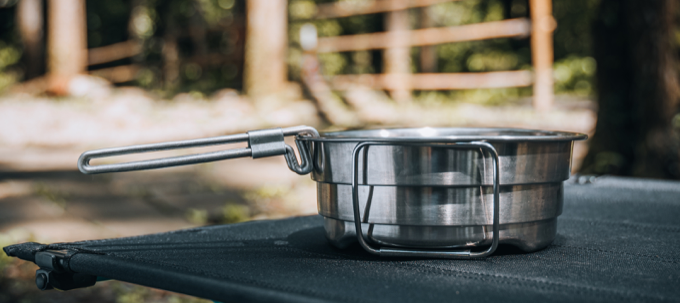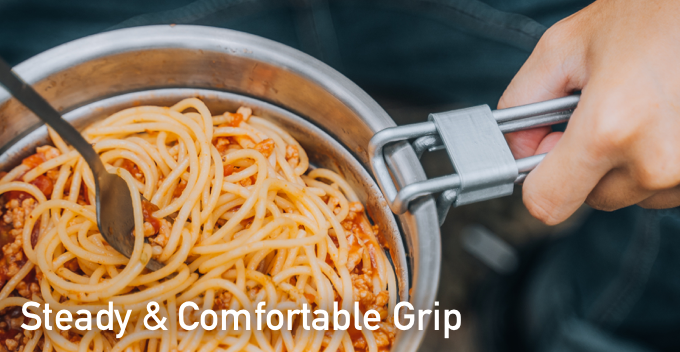 SimpleReal cookware is only 3cm thin in its collapsed form, but when fully extended, it provides a massive 1100ml capacity, great for sharing food and joy! It also comes with a food grade silicone lid, designed for packing and carrying food on the go.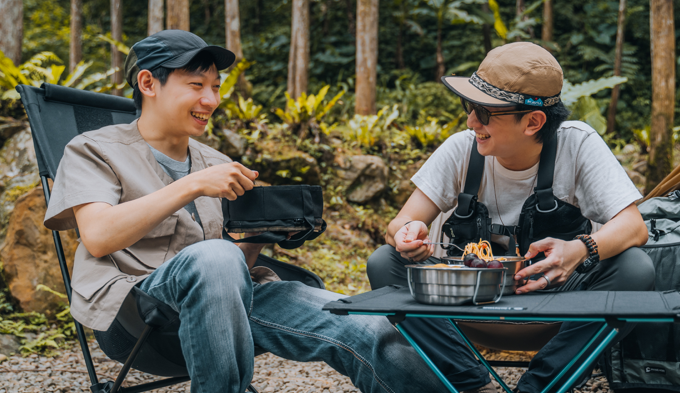 Spill-Proof Silicone Lid
This silicone lid keeps everything contained, making SimpleReal cookware also a container. You can easily store proper snacks or pack the leftover food at an easy reach on the way.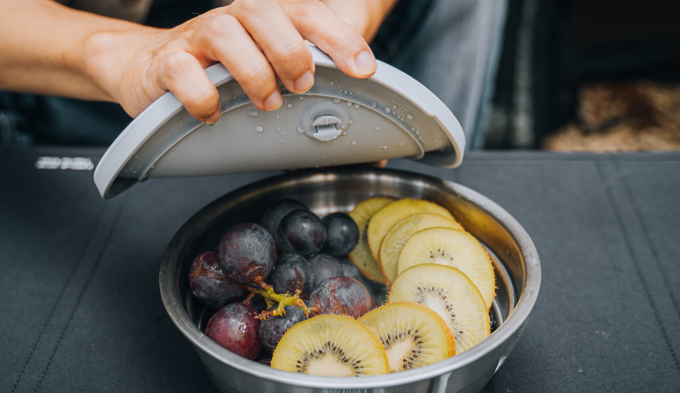 We specially designed a breathable air vent on the silicone lid, allowing the hot air to discharge, preventing high pressure from the steam inside the sealed bowl.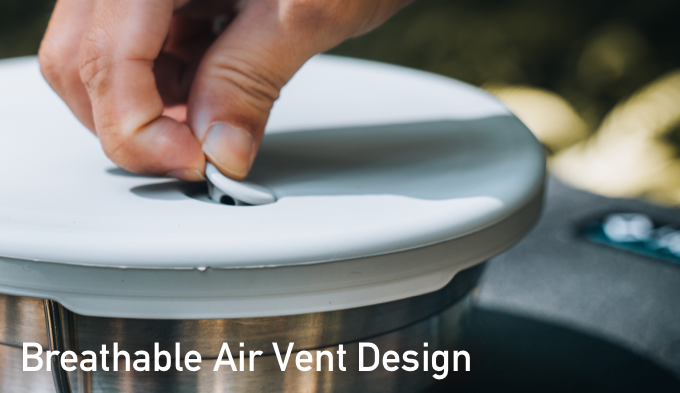 Versatile Transformable Bag
We offer a practical bag made of splash-proof nylon fabric. With different forms to go with the cookware, it protects your cookware when stowed, makes it more convenient to bring meals on the go, and also serves as an insulated sleeve for enjoying your hot meal just off the stove.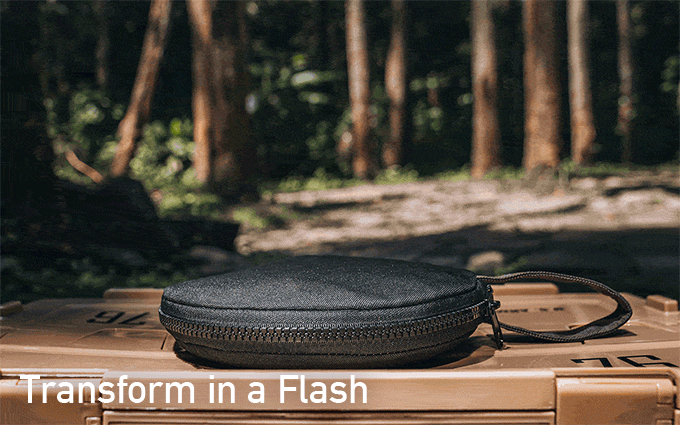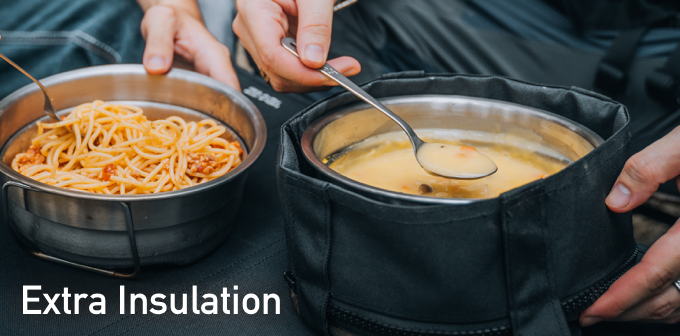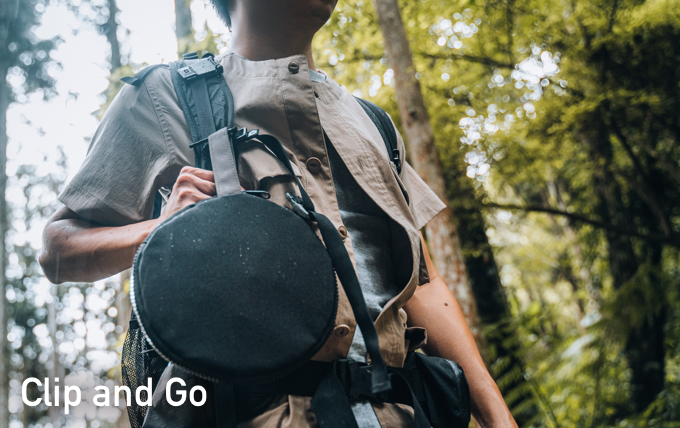 The markets are full of collapsible plastic or silicone containers, but the main problems are that their soft structure crushes easily and the smell of food often lingers. As camping lovers, we wanted to make something compact yet sturdy so that it can provide more convenience when taking it on the go.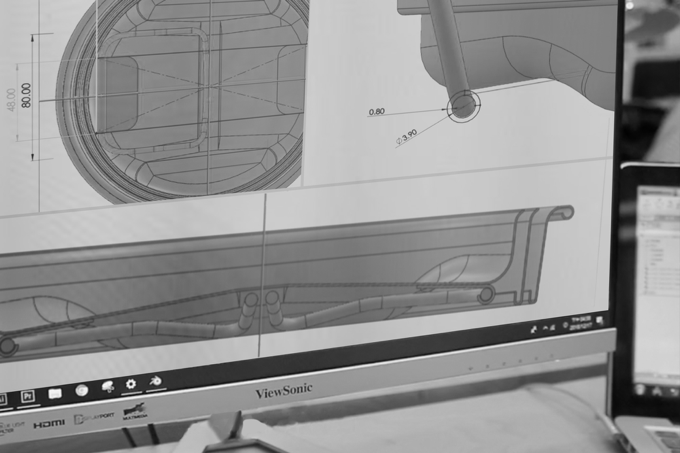 We started brainstorming ideas, and we thought the metal material should be a better substitute. During the process of design and redesign, we came up with the thought of making it both a cookware and container. The original plan was to design a square container, but after numerous refinements and prototype tests, we decided to go beyond that. We believe a circular design will be much easier to clean, cook and boil water, and the ergonomic curvature can better fit in users' palms.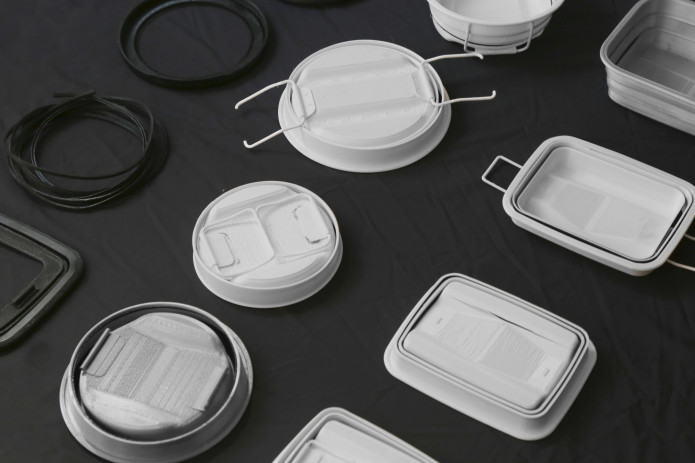 With the design being space-saving and practical, we went through countless careful calculations to find the optimized size for all the components, from the latches to the heat resistant handle. We have dedicated ourselves to making every single component of SimpleReal Cookware practical and functional, and the final outcome has surpassed our expectation while we actually carried and used it in camping. We are convinced that you will be satisfied with it as much as we do.



Having been dedicated to consumer technology industry for 15 years, our founder decided to follow her passion, took a leap and started a completely different path, in hope of creating products that elevate our lifestyle. We believe that it is the little things that spark joy in life, thus SimpleReal is born, with the mission of bringing the best experience through our simple yet real consumer-oriented design.
We have developed and launched some award winning products in our home country, Taiwan. And now, we aim to bring our newest ideas abroad first. We're excited to share our innovative designs with you!