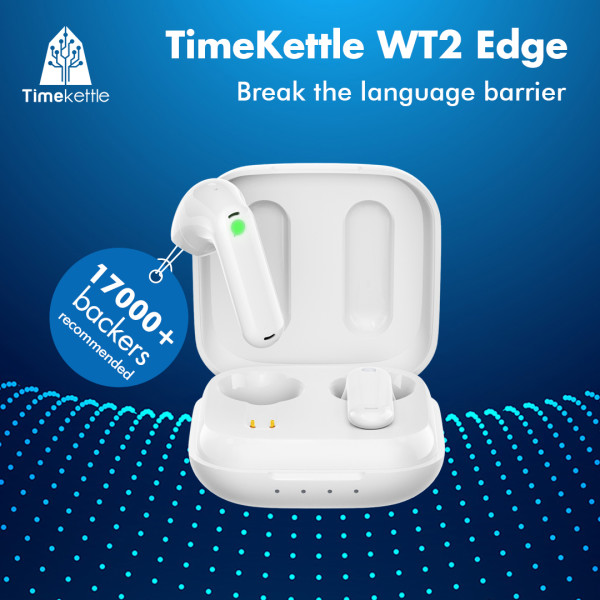 Timekettle WT2 Edge: 1st 2-Way Translation Earbuds
$157,687
raised out of
$10,000
Concept
World's first bi-directional translation | Translation speed in 0.5-3 seconds | 7 Offline languages
Story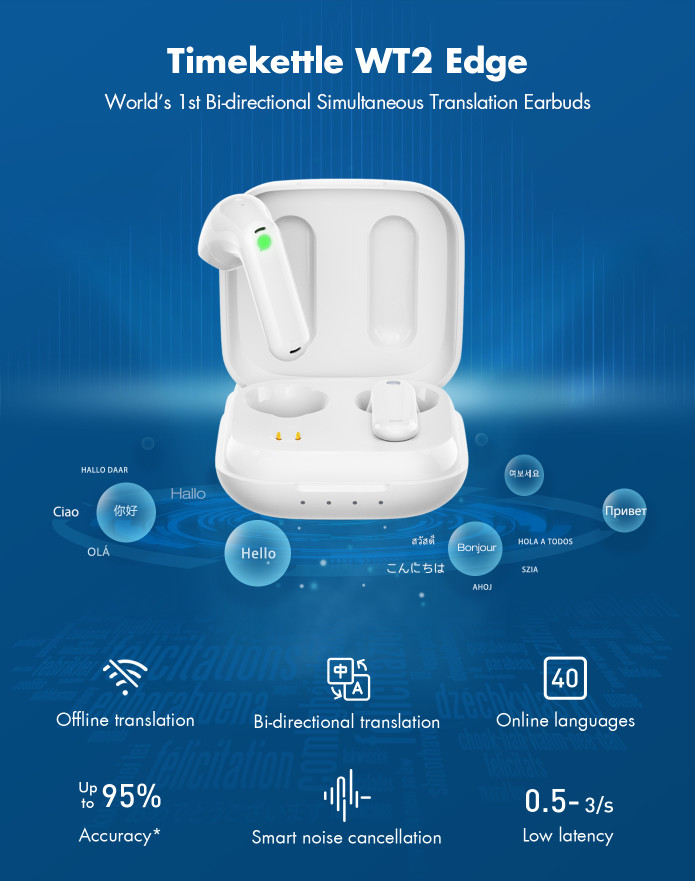 Finally, natural real-time translations in 40 languages, in an earbud. Welcome to 2021.
Zoom calls. Global suppliers. We live in an era of fast and easy communication. And yet when it comes to translation, most of us are lagging well behind the times. We're still fumbling with outdated phone apps and overpriced interpreters that leave you wondering, is this really 2021? 
Introducing the WT2 Edge — the world's first truly bi-directional simultaneous translation earbuds, translating in real-time as you speak and listen, and delivering what you said to your listener's ear in as little as 0.5 seconds. With up to 95% accuracy in 40 languages and 93 accents, they're the ultimate tool for breaking the language barrier — whether you're closing deals on a video call or sparking a friendship at the hotel bar. No more awkward pauses or interpreters, just fast and accurate translations, so you can immerse yourself in the art of conversation. From board meetings to ordering food at restaurants, speak with confidence without needing a translator. 


Until now, translating earbuds were a lot like old walkie talkies. Only one person could speak at a time, while everyone else waited their turn to chime in. The translations worked. But the conversation was anything but natural. 
Those days are over. 
With the WT2 Edge, it's always your turn to speak. The Edge is the first pair of earbuds to offer true bi-directional simultaneous translation, meaning you can speak and hear other people's translations at the same time – the way conversations were meant to be. No more awkward pauses to wait for your long-winded partner to finish. So your conversations flow naturally, from ear to ear. 

The WT2 Edge earbuds know your voice is unique. That's why they use dual beamforming microphones and directional voice recognition to focus on the sound of your voice, separating it from other voices nearby.  So you'll never mince words with whoever's sitting next to you. 
And to make translations even more accurate, the Edge earbuds use smart noise-reduction to filter out distracting background noises. Making sure your message isn't muddied by motorcycle traffic and tapping pens. So when you do take the floor to speak your mind, your message comes across loud and clear.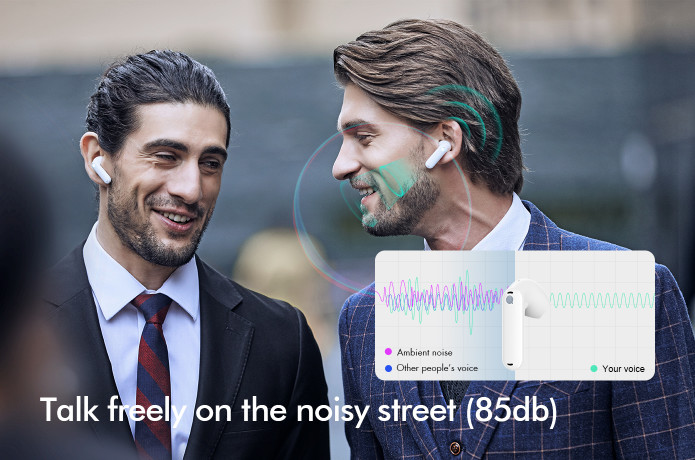 Every top translation engine has its perks. That's why we used… all of them. Powered by the world's 6 leading translation engines (DeepL, Google, Microsoft, iFlytek, AmiVoice, Hoya) and Timekettle its own, the Edge earbuds deliver faster and more accurate translations to your meetings and conversations. They take the advantages of all 6 engines and combines them to deliver a well-rounded translation experience that's truly world-class. Delivering up to 95 percent accuracy in some languages. So when you're plugging in at your next industry conference or talking sports with the limo driver, you'll know your words are getting a world-class treatment.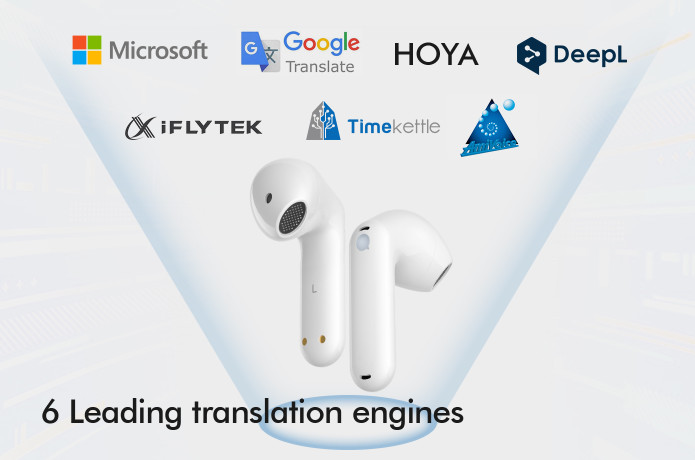 Opportunity rarely knocks twice. That's why the WT2 Edge uses 15 servers worldwide to deliver you the fastest translations possible, no matter where you are. How fast, you ask? The Edge can deliver simultaneous, bi-directional translations in as little as 0.5 to 3 seconds. Bringing you professional-level translations to help your board meetings and client sit-downs go smoothly.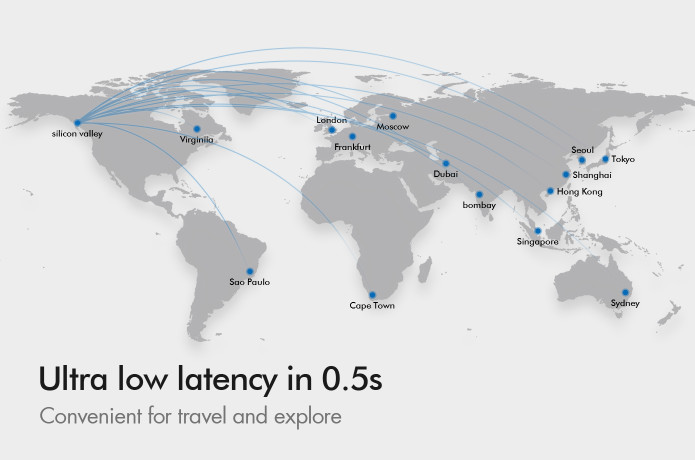 Making connections just got a whole lot easier. Simul Mode helps you connect one on one for effortless face-to-face communication. Just share one of your WT2 Edge earbuds with your partner, and both of your words will be translated in real-time for natural, bi-directional communication without an interpreter. The way conversations were meant to be.

The mic is always yours. With Touch Mode, you don't need to talk over each other in a multi-person meeting. Simply tap your earbud when you have something to say and you're in control of the conversation. Other mics are muted when it's your turn to speak, and your message will be translated and delivered to everyone listening. When you're finished speaking and ready to listen, just tap the earbud again to let someone else have their say. It's the perfect moderator for your cross-cultural conferences.

We know you can't always ask strangers to put an Edge earbud in while you talk to them – like that taxi driver or bartender who speaks a foreign language. That's why we made Speaker Mode. While you're wearing an earbud, simply say what you need to say. The Edge will then translate and deliver your message through your phone's speaker, so anyone in earshot can hear it. 
Or if you prefer to keep the volume down, the Edge app also displays your translation in both languages on the phone screen. It even powers Text-to-Speech to read your typed messages out loud. Now you can go about your day without getting lost in translation.


Just because you didn't study Japanese in high school doesn't mean you can't handle the business opportunities with an Asian company. The WT2 Edge earbuds support 40 languages and 93 dialects*. So no matter where you go, you can put your best foot forward knowing there's no situation or conversation you can't handle. From the moment you step off the plane, to the moment you stride into your dinner reservation. 
* Please find the support language list at the bottom of the page.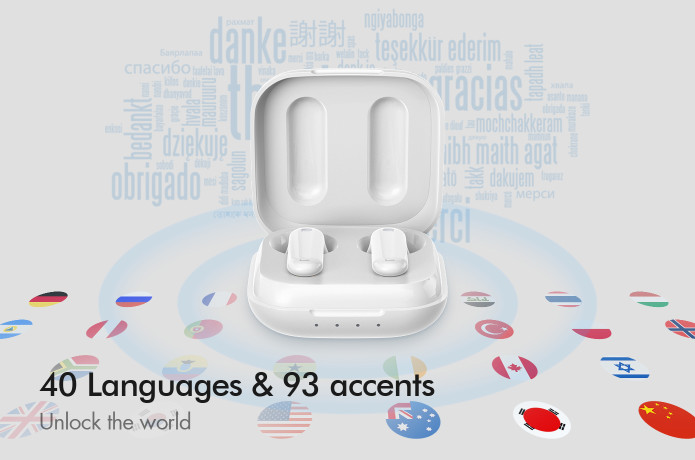 The best adventures often happen off the beaten path. That can also mean far from a good internet connection. That's why we equipped the Edge with seven languages and counting available for offline access. So whether you're sipping tea with your suppliers in South China or exploring a winery with your partners in Tuscany, the WT2 Edge is there to help get your order right.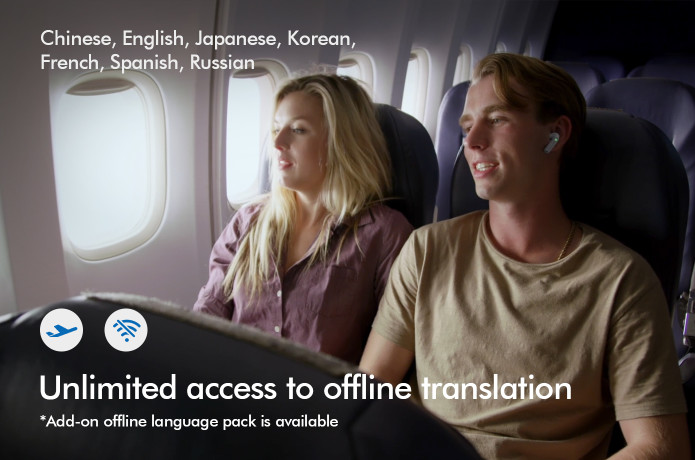 Travel bans. Quarantines. 2020 brought plenty of unexpected barriers to business. But language doesn't have to be one of them. The Edge's Group Chat supports up to thirty people speaking thirty different languages at once, making it ideal for Zoom calls and remote meetings, even when your business spans the globe. You can use Zoom at the same time to have a truly international business meeting. *
*Please note that the Timekettle app is only available on a mobile phone (iOS & Android). You can cast the app to mirror it on your laptop for online group chat. 

Group Chat even supports both voice-to-text and text-to-text recording through the Edge's app. So you can leave the meeting minutes for us. They'll be automatically saved to the cloud in your desired language, ready for you to download, copy, and share to your heart's content. 


You'll be the talk of the town with the WT2 Edge's sleek design. And whether that town is Taiwan or Timbuktu, you'll understand every word they say in real-time. The Edge earbuds are 46% lighter than our last-gen translating earbuds and 33% smaller. Plus they weigh in at a sleek 5.4 grams each, so you won't even notice them in your ear while you're in and out of meetings all day or out exploring the city.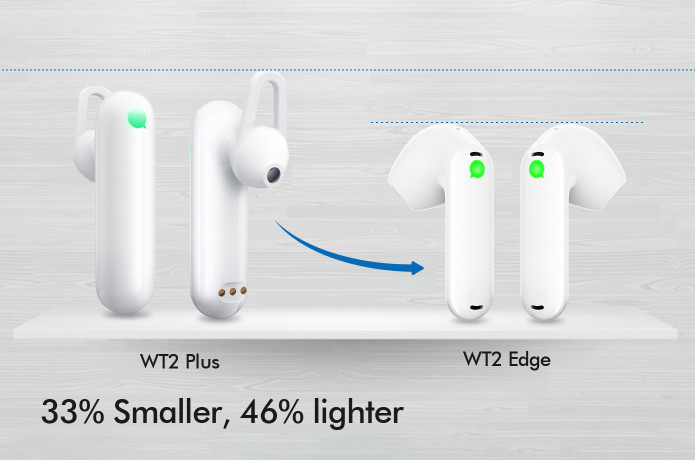 We've tailored the Edge earbuds to fit your ear comfortably while sealing in audio for superior noise-reduction. The WT2 Edge is designed to sit snug in your ears for hours on end. So jump on that moped and enjoy the ride knowing your earbuds will stay right where they belong.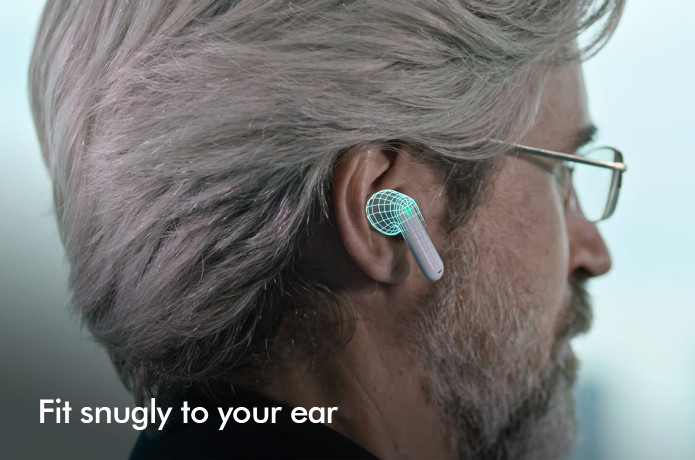 Whether you're closing a business deal or ending a dinner date, the last thing you want to hear is a low battery warning. That's why the WT2 Edge gives you three hours of nonstop translating time on a single charge. And a full 12 hours with the portable charging case. Meaning you'll often have enough battery to power a full week of work or a short trip abroad on a single charge. So whether you're closing a deal in Calcutta or making friends in Frankfurt, you'll never be cut off mid-sentence.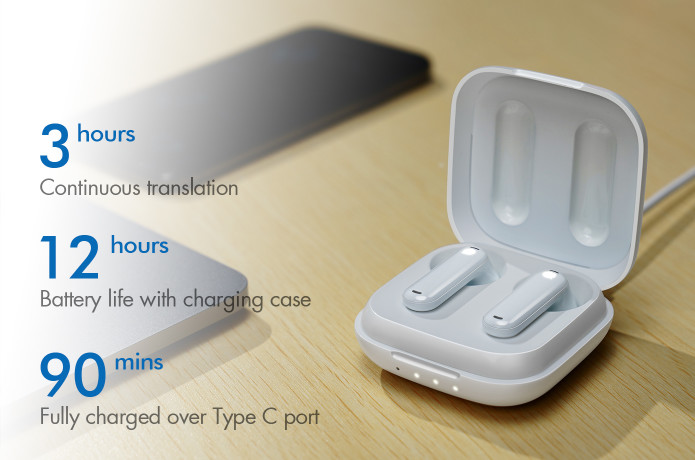 Three years ago, we brought you the first generation of translating earbuds — the WT2. For the first time in history, you could skip the interpreter and have a face-to-face conversation with someone in a completely different language, all with just a simple pair of earbuds. 
Then came the WT2 Plus — the best-selling translation earbuds on Amazon.com to this day with over 300,000 happy customers. 
But much like the business world, we never stop looking forward. Now, we're bringing you the WT2 Edge, the world's first bi-directional, simultaneous translation earbuds, delivering real-time two-way translations for natural conversation in up to 40 different languages. We're in the business of breaking down language barriers. We hope you are, too.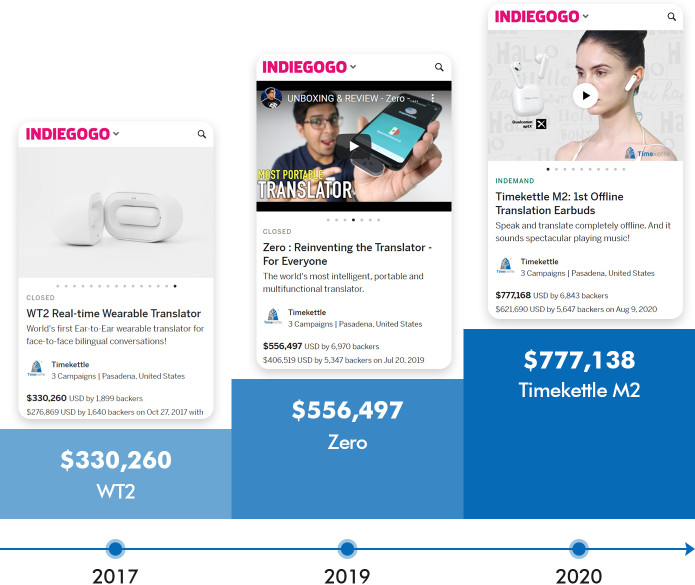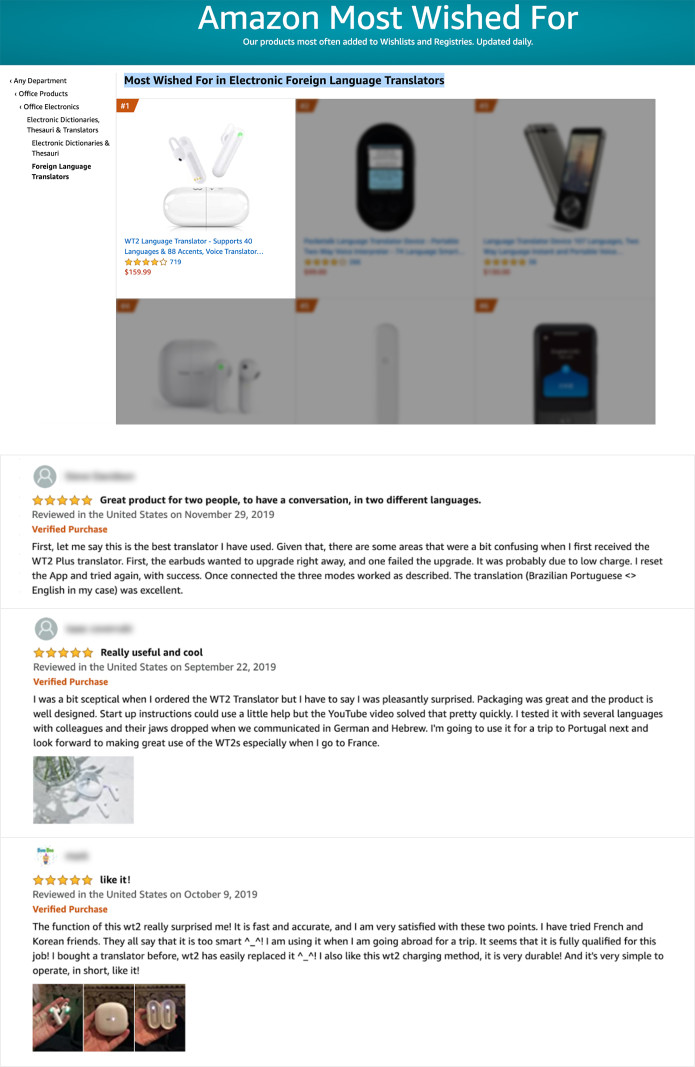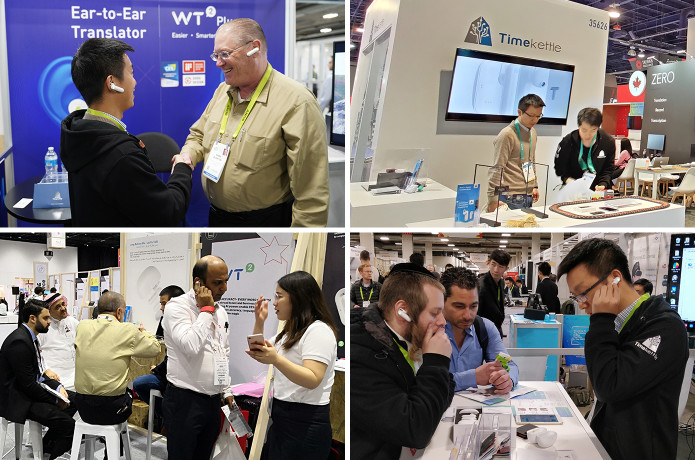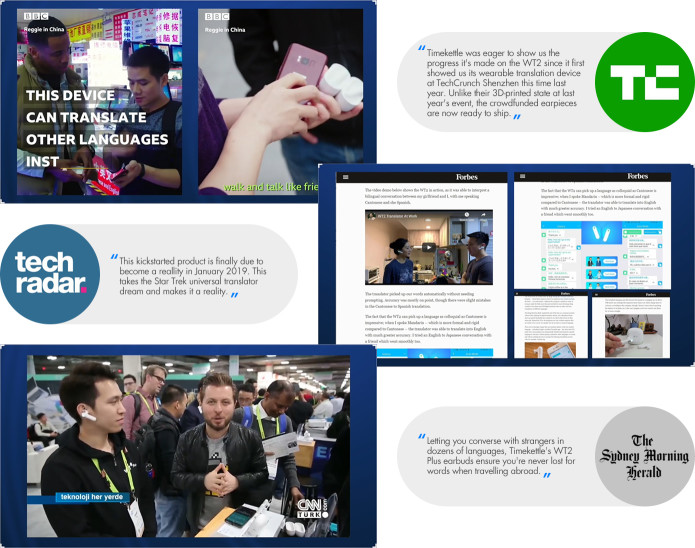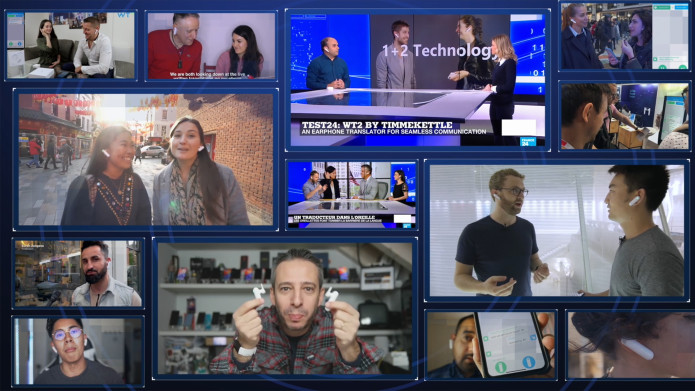 Finally, a translation tool that can keep up with the pace of business. It's 2021 — time to demand more from your translations. No more pens to hold, no more awkward typing on your phone. Just a hands-free experience that delivers real-time natural translations within seconds. 
WT2 Edge supports two people talking at the same time, which is the world's first device that can do that. Unlike WT2 Plus/M2 or other translators, WT2 Edge lets you start talking anytime you want, no need to wait for other people to stop talking first. You don't need to click-to-talk or wait for a beep sound to start talking. Our smart noise-reduction technology means you hear more of what matters, while directional voice recognition helps the Edge earbuds to home in on the sound of your voice for clearer translations. Not to mention they support more languages and accents than any other translating earbuds on the market. And with accuracy reaching as high as 95% with translation speeds as fast as 0.5 seconds from our 15 worldwide servers.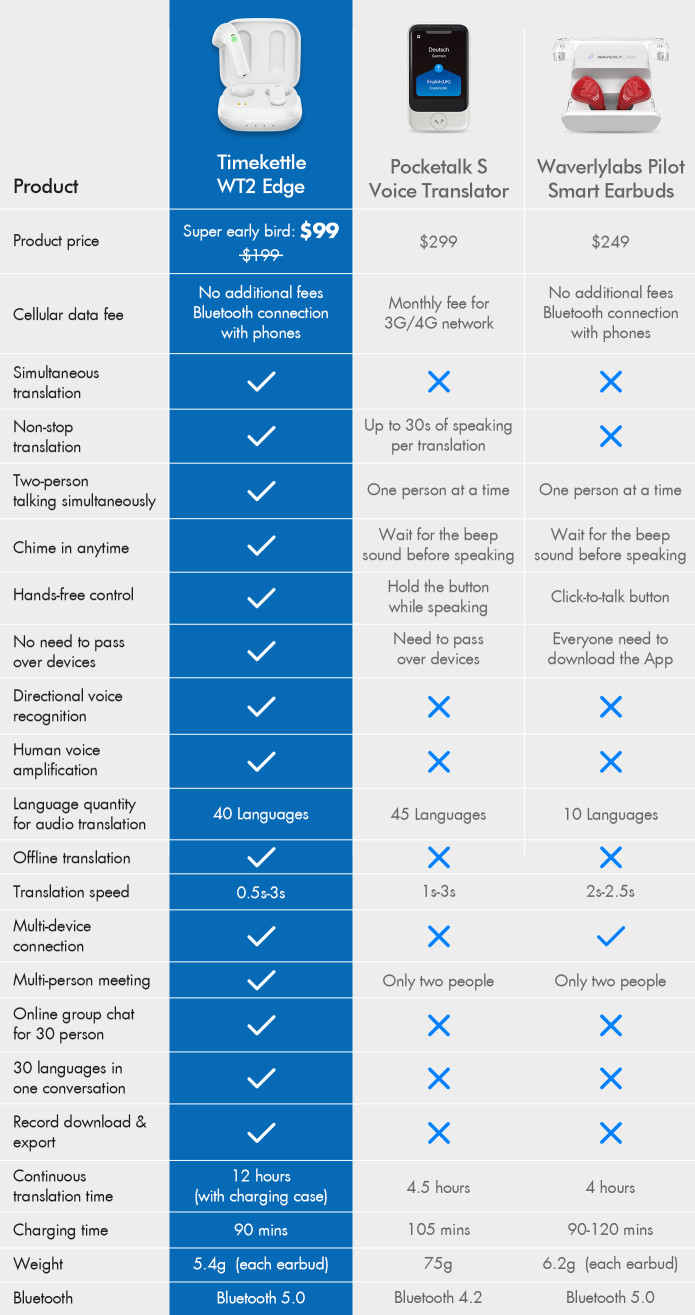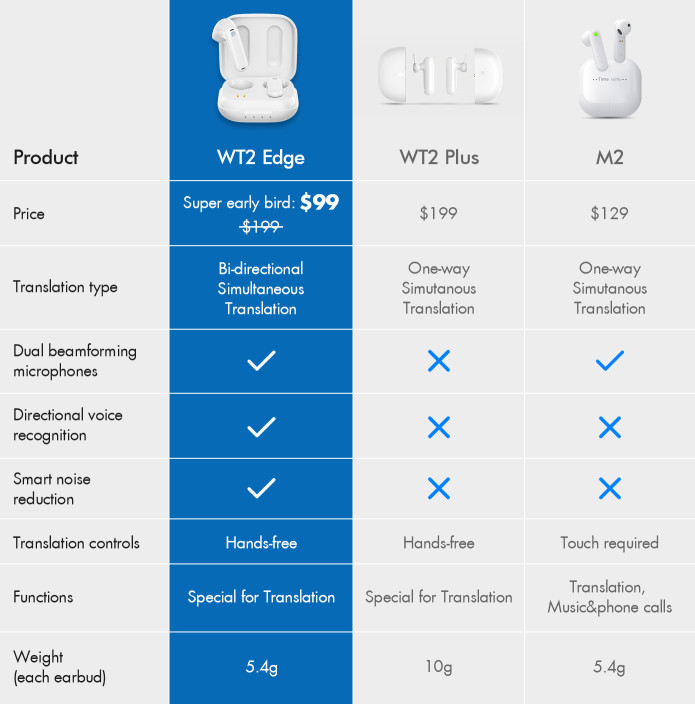 As a token of appreciation for all support, we'd like to announce our referral programs!  Come and win yours! Do not miss out! 
Program 1: Share the Indiegogo referral link to get FREE PRIZES! Copy your personal referral link on the top right of the campaign page and share it with your family and friends. 
Refer 1 order successfully, you'll get a FREE leather case (worth $14.99 each)!
Refer 2 or more orders successfully, you'll get an Offline Language Pack (worth $60 each)!
Program 2: Share Kickbooster referral link to get 10% CASH BACK! Sign up on Kickbooster via the link below to get your personal referral link. For each order you refer successfully, you'll receive 10% of the pledged amount as a cash reward. Check out the detailed rules through the link below.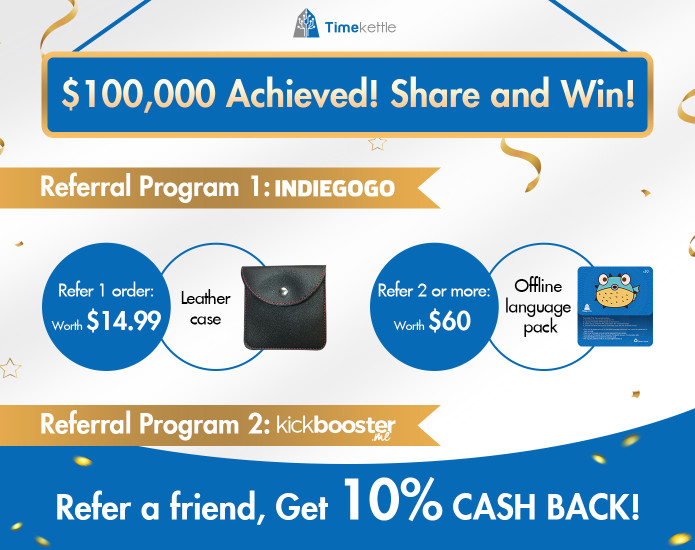 What will you get in the package if you purchase? Check out as below.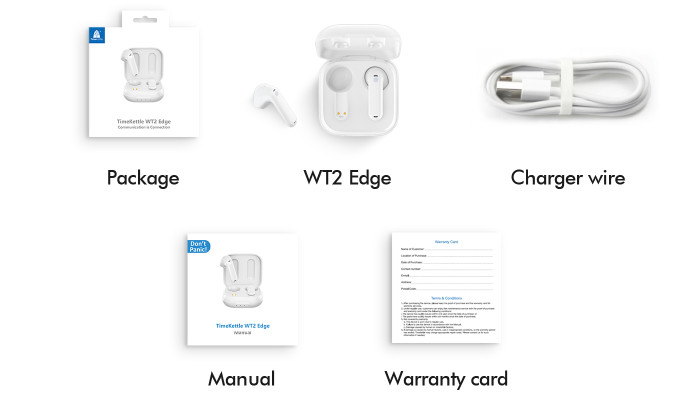 Please kindly note that the add-on offline language pack is provided as an additional accessory with purchase. Each pack is offered with a unique PIN code on a physical card. Scratch the PIN Code on the back of the physical card, pop up the PIN code in the Timekettle App to download the offline language pack. Please note that this offline language pack only supports the WT2 Edge.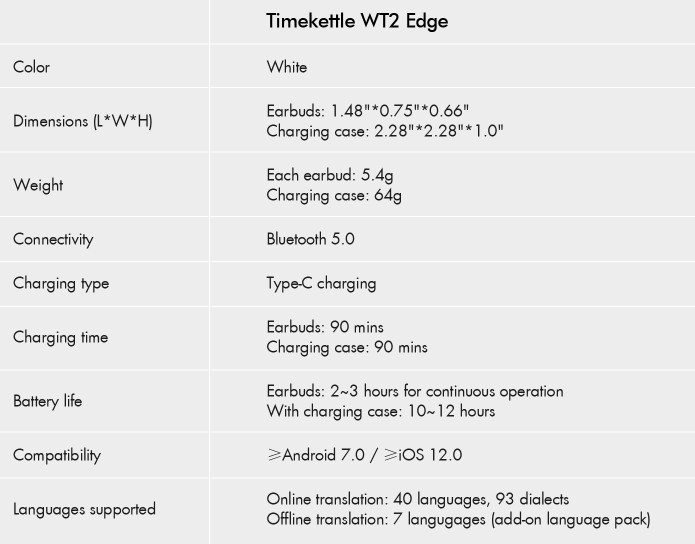 WT2 Edge supports 40 languages and 93 accents for online audio translation. We will keep developing more languages.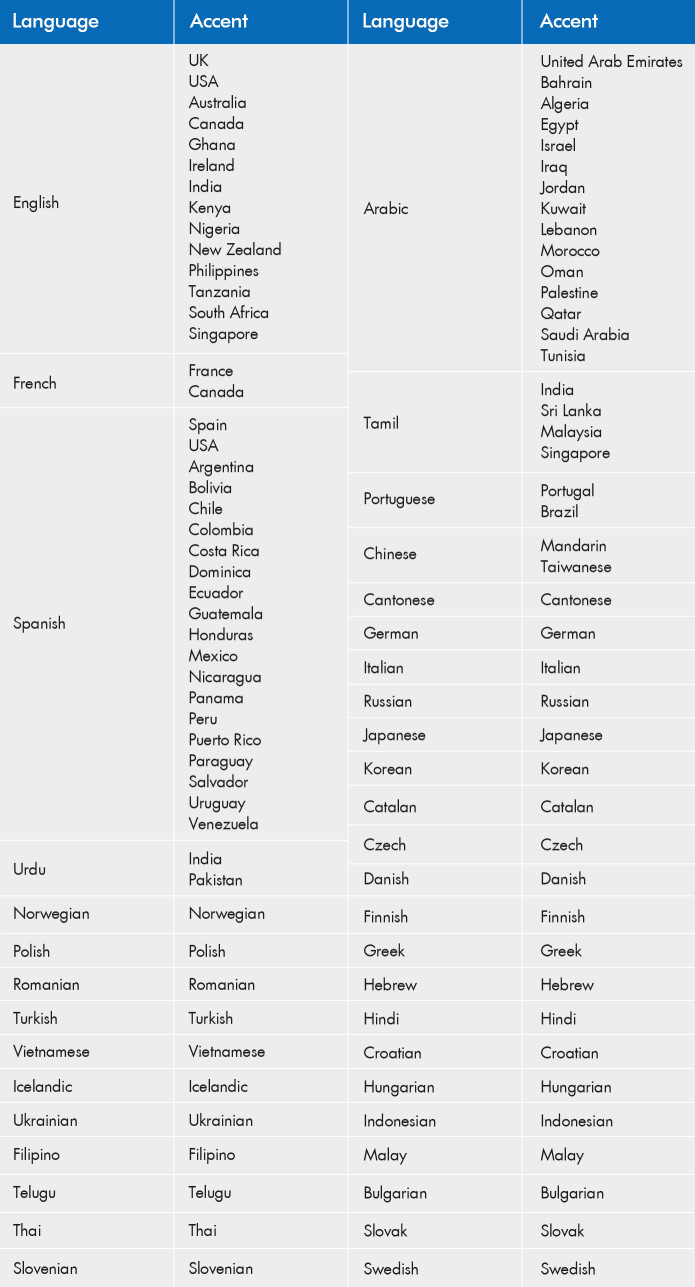 If you don't find a combo that meets your needs, please email us and we will provide custom purchase link.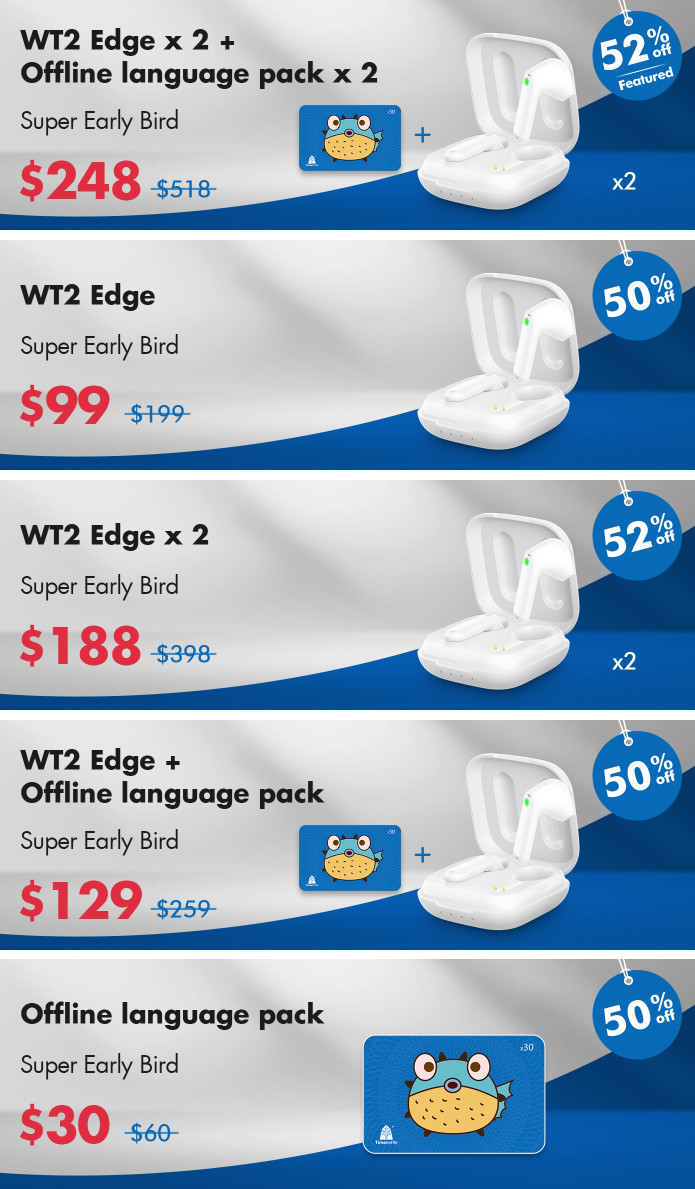 Your contribution to us is a guaranteed purchase. We have already started production and the shipment will start in April. All the packages will be sent out from the factory directly through fast global express and individually to your address. And you will get the tracking number as soon as we send it, and be able to check the shipping status on your Indiegogo account.