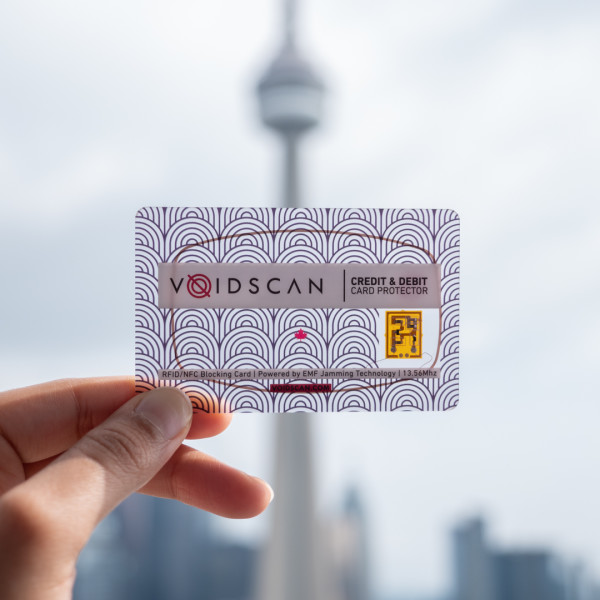 VoidScan – The Skeleton RFID Jamming Card
$115,853
raised out of
$10,000
Concept
See the Science with VoidScan's transparent design to protect your payment cards from data thieves.
Story
Introducing VoidScan
With the same size as any standard credit card or debit card, VoidScan is a convenient RFID protector. All you do is slip it into your wallet, and it will scramble electromagnetic waves to keep your data safe from high-tech thieves. Unlike RFID wallets or RFID sleeves, VoidScan fits right inside the wallet you already own. This is the simplest, most affordable RFID blocking option there is.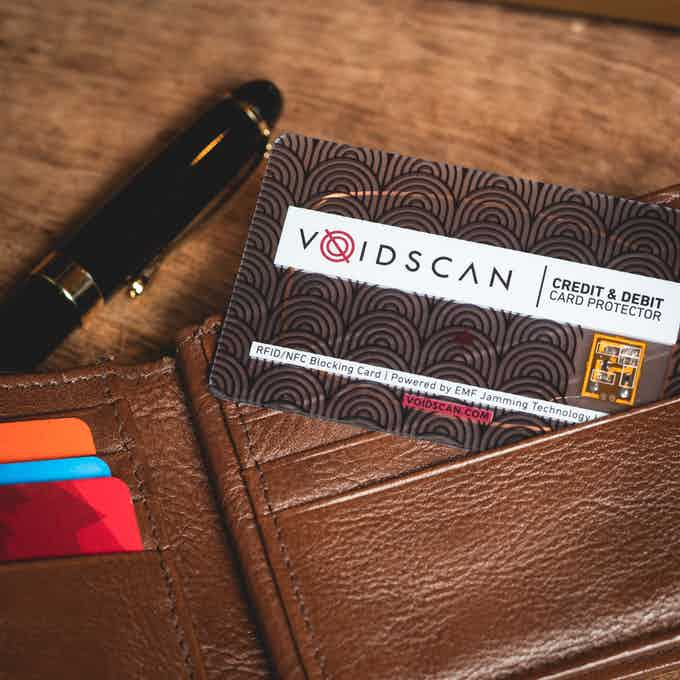 What does VoidScan do?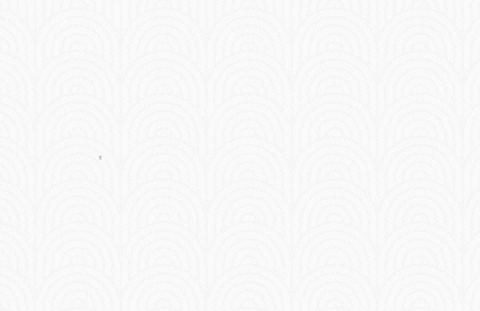 VoidScan blocks unauthorized scanners from stealing your information
See the Science!
Because of its transparent design, VoidScan makes it possible for you to see how everything inside it works: utilizing a skeletal transparent design, you are able to see the RFID microchip, transmitter wire, and antenna that jams incoming signals. A node where technology and art meet, VoidScan puts science on full display for you. We hope that our device piques people's interest in how the technology works!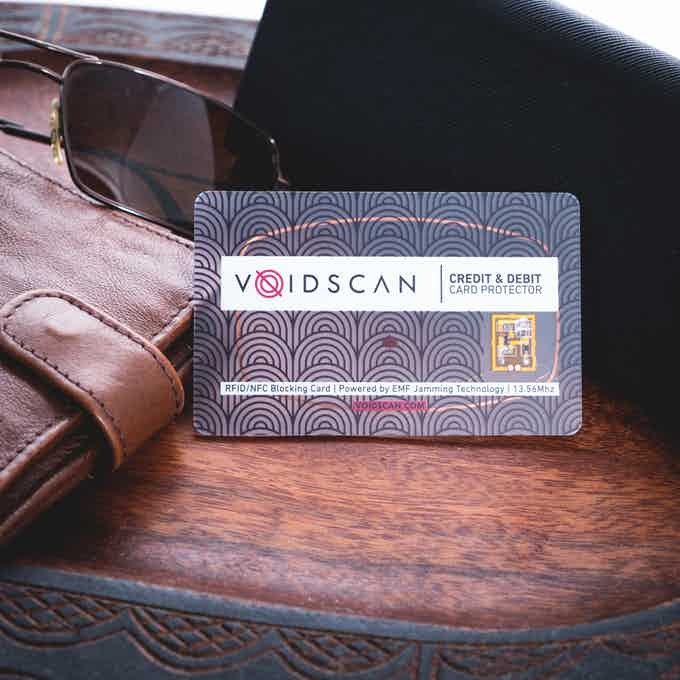 Why do I need VoidScan?
Our lives are becoming easier as contactless card payments become even more popular, but the risk of theft is growing. RFID technology is the solution you need to prevent thieves from accessing your credit or debit card using scanning devices that anyone can buy online. RFID combined with Near Field Communication (NFC) jamming technology, is the defense strategy that we have built into VoidScan in order to keep you safe from identity theft and data skimming once and for all!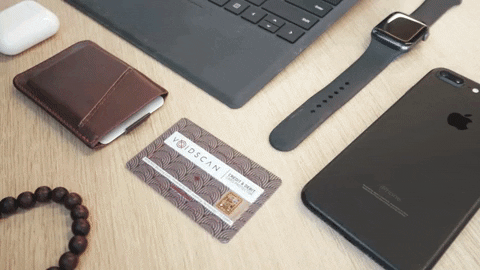 How do you use VoidScan?
Place the VoidScan card in the middle of your wallet to protect all RFID-enabled cards in wallets up to 4cm (1.6in) thick!  Contactless payment can still be used as normal – just ensure VoidScan is held at least 16cm away when making tap payments.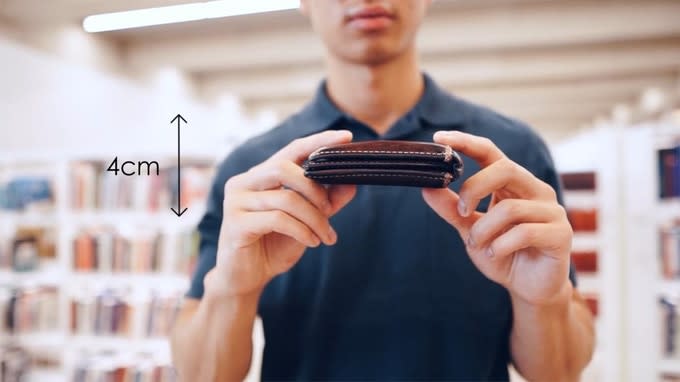 Protects Wallets up to 4cm thick!
Why Choose VoidScan?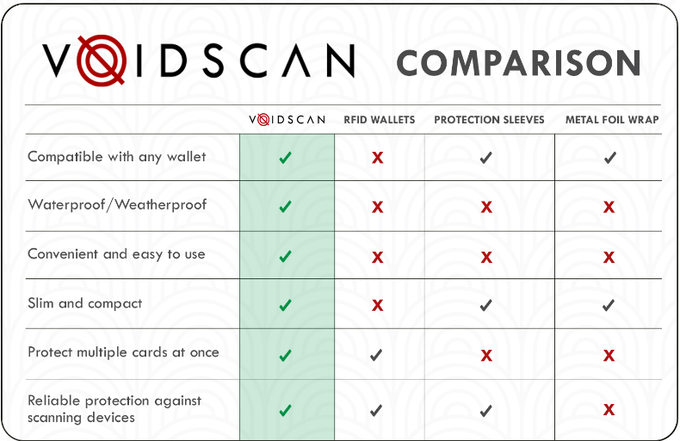 What does VoidScan Protect Against:
Operating at the 13.56MHz frequency, VoidScan protects all your credit cards, debit cards, driver's licenses, and passports.  VoidScan uses variable power jamming to automatically detect and interrupt any RFID/NFC reader and protect your data. VoidScan will not jam signals from office key cards or apartment tags, which typically operate at the 125 kHz frequency, so you can still conveniently access your building without removing VoidScan from your wallet.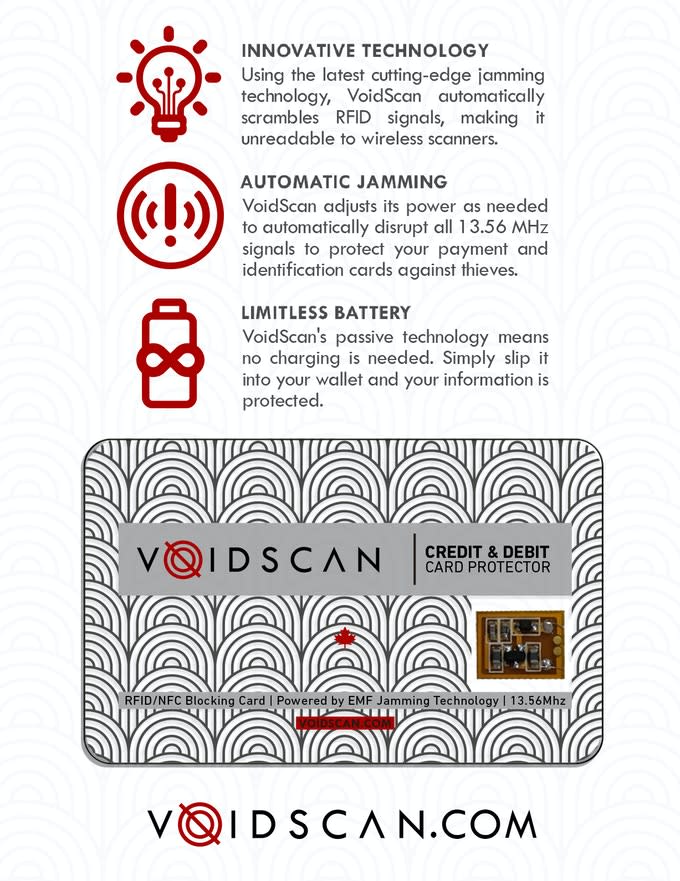 What is RFID Theft and Why Is It Dangerous?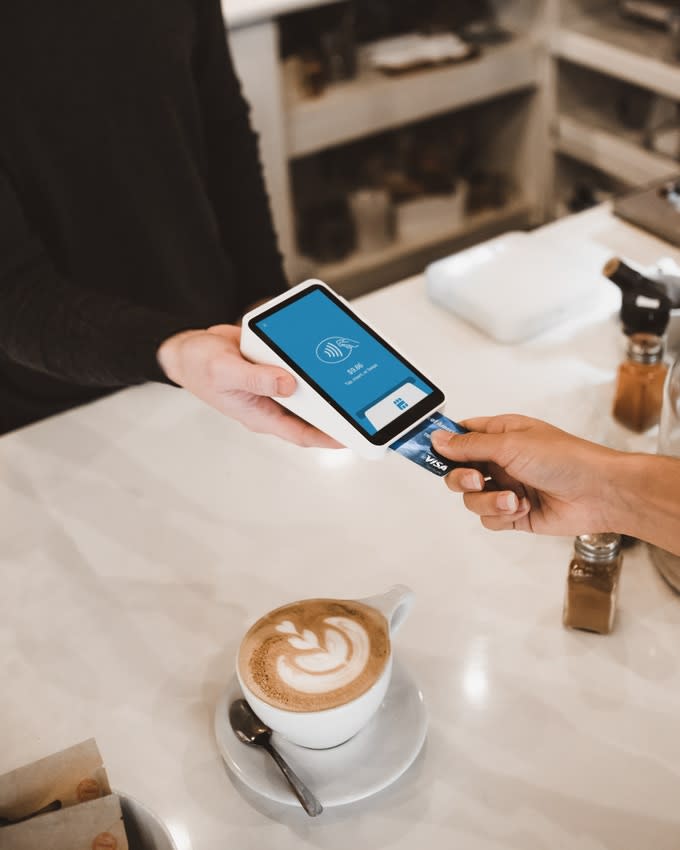 Contactless Payments Are Everywhere
What is RFID?
RFID stands for Radio-Frequency Identification, which is the technology that allows you to make contactless payments. It is convenient because it requires no pin or signature, however by using a modern scanning device, anyone can scan RFID chips from as far as 20 feet away, putting your personal information at risk.
How does RFID technology work?
RFID tech uses a small chip and an antenna to relay information from credit and debit cards to contactless scanners, serving the same purpose as a barcode or magnetic strip on the back of a card. Contactless payment cards are convenient as they don't need to be in direct contact with the scanner to work and don't require a PIN or signature. However, the long-range nature of the technology enables an RFID chip to be read from up to 20 feet away with a high-powered skimming device – compromising personal data.
Where is RFID used?
Most of your credit cards, debit cards, passports, and driver's licenses use RFID at this point. In addition, most RFID enabled credit or debit cards will carry the following sign: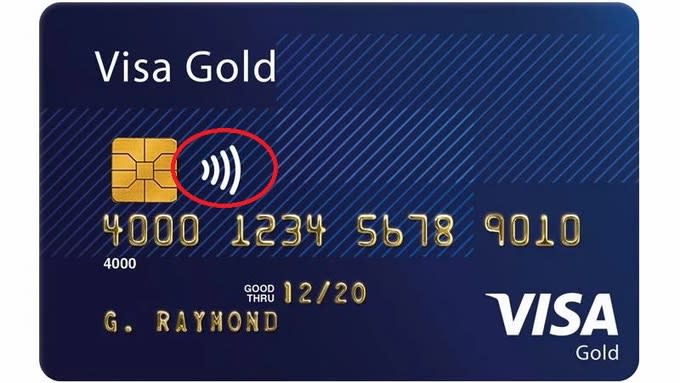 Indicating your data is at risk of being scanned from RFID readers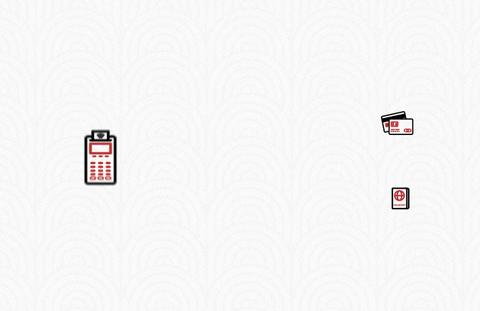 Scanners can easily steal your data
International Delivery
VoidScan will offer international shipping to all our supporters during the Indiegogo campaign! Shipping times will vary from 1-2 months starting December 2020.
Warranty
The Team of Engineers behind VoidScan's design believe in its reliability and durability to protect your data, which is why we offer a 5 year warranty for every card. Every Backer will be given the VoidScan card combined with our full-inclusion warranty!
What We Need & What You Get
Our team has fully designed and tested VoidScan.  Right now, we have come to you for help in raising funds we need to manufacture, market, and distribute VoidScan on a global scale. To show our appreciation, we are offering some exciting rewards for contributors, including early access to VoidScan and discounts on multiple units! We have been funded over our current goal of CAD $10,000, on Kickstarter and would like to extend the early rewards to backers on Indiegogo!
Other Ways You Can Help
Beyond making a monetary contribution, you can show your support for VoidScan by sharing a link to our campaign on any social media platforms you use. Spread the word far and wide! Facebook and Instagram are all suitable avenues for letting your friends and family know that convenient, stylish RFID protection is finally here! We appreciate all your support, both monetary and non-monetary, and we thank you for taking the time to read about what we are doing.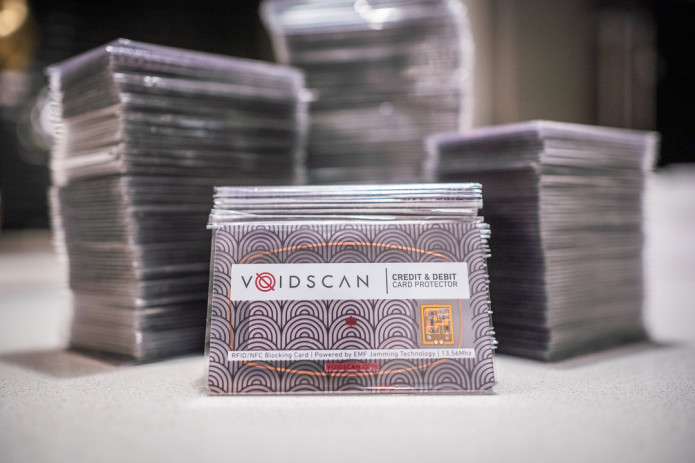 FAQs  
Who needs VoidScan?  
Everyone who wants to protect their information! Anyone with a payment card, passport, or driver's license can conveniently be protected from identify theft.
What does VoidScan do?
It automatically stops criminals from electronically accessing your personal information.
Where does VoidScan fit?  
You can place VoidScan in any wallet, purse or with your identity cards/travel documents. For wallets thicker than 4 cm, we recommend placing a VoidScan card on both sides.
Really… why do I need VoidScan?  
For the price of a couple coffees, VoidScan will protect your cards and identity. Don't leave yourself susceptible to fraudsters and thieves!  Other RFID blockers come in the form of flimsy sleeves or bulky wallets while VoidScan allows you to protect and use any wallet of your choice.
How long will VoidScan work? 
VoidScan uses the latest auto-recharging technology to permanently emit jamming signals as long as it is placed in your wallet. There is never any charging required! We also offer a 5-year warranty for every card!
Is it safe to use VoidScan? 
VoidScan will only jam incoming RFID readers from stealing your data; it will not affect your cards from working or emit any harmful frequencies to yourself. VoidScan does not do any damage to your cards, and you can still use contactless payment by simply ensuring cards are 16cm away from VoidScan when using your credit/debit tap function.
Risks and challenges
VoidScan has been fully designed and tested to protect your wallet for years, backed by our full inclusion 5-year warranty your RFID needs will be fully covered without pause. VoidScan has completed the final production ready design and is committed to deliver an effective and unique product worldwide at an affordable price.
We have streamlined all of our processes behind the scenes and have been working closely with a trusted manufacturer for the past 2 years.
As with all projects there will always be a delivery and manufacturing risk and our team has worked relentlessly to minimize these risks.
Environmental commitments
Long-lasting design
Designed with durability in mind, this product is made to survive impacts, extreme temperatures, and wear & tear. VoidScan's ability to prevent jamming does not degrade over time.
Sustainable Distribution
Sustainability is a key pillar in VoidScan's philosophy. All products are shipped in sustainable and compostable flat envelopes.