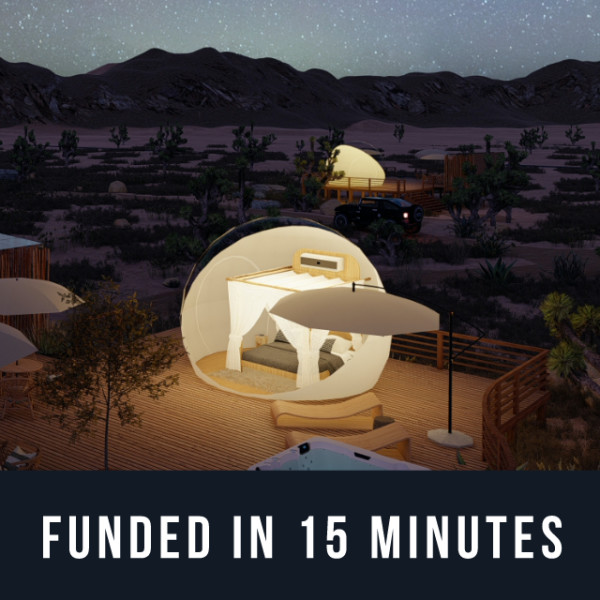 Bubble Hotels – Sleep Under the Stars in Style
$235,178
raised out of
$25,000
Concept
The ultimate, nature-immersive hotel experience in the desert of Joshua Tree, CA.
Story

Zero light pollution, Milky Way views and complete oneness with nature in your own clear bubble room.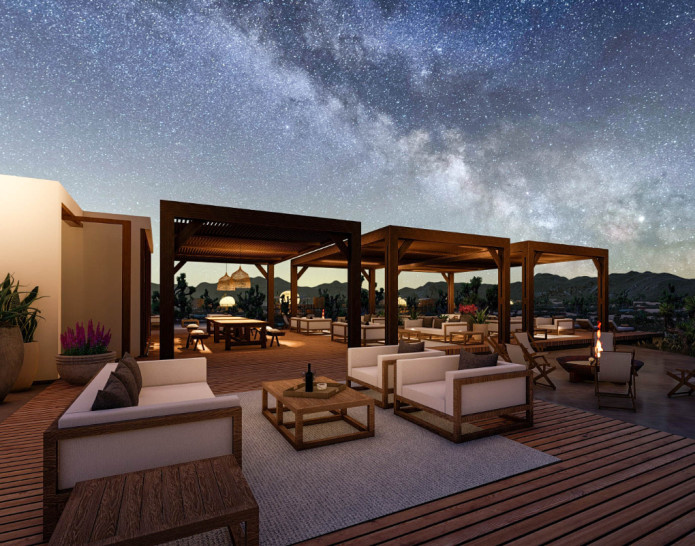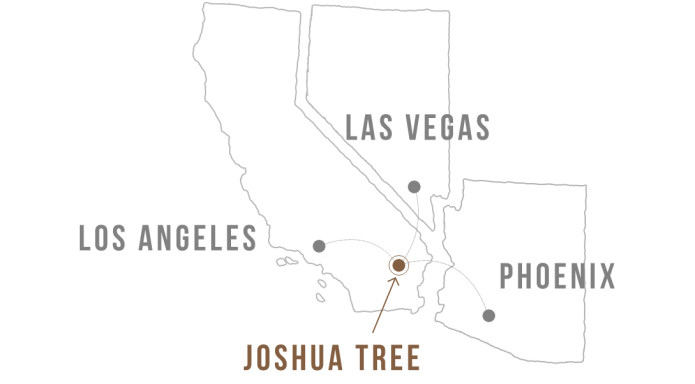 Bubble Hotels is only 2 to 3 hours from LA, Vegas and Phoenix and this desert oasis is the perfect weekend getaway. It isn't just accommodations—it's an experience in nature.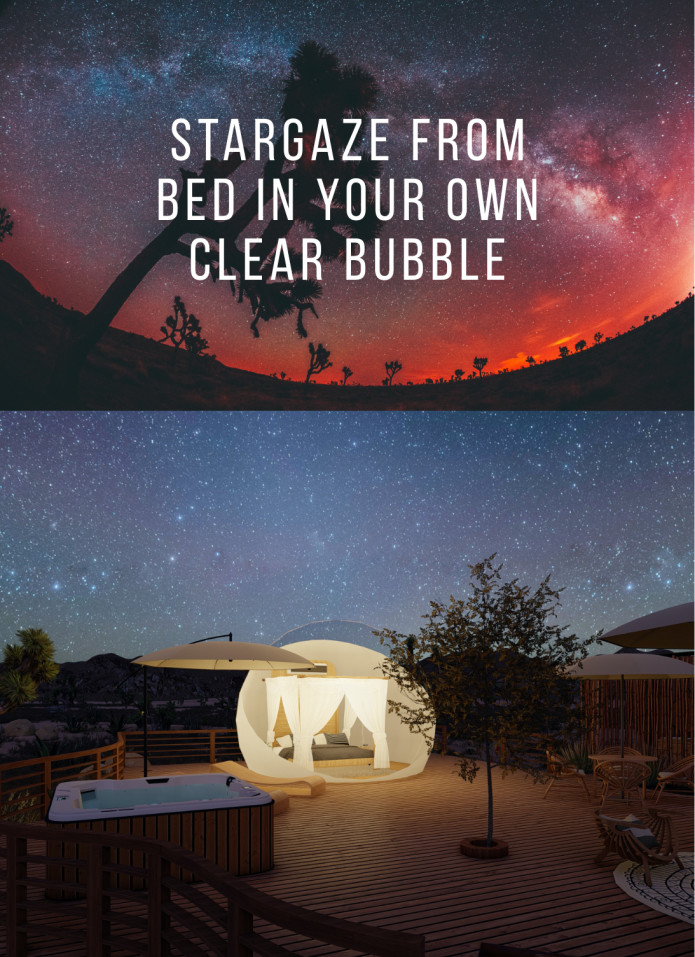 Slumbering under the stars has been reserved for campers, until now. At Bubble Hotels, you sleep smack dab under a blanket of stars (and under a cozy comforter).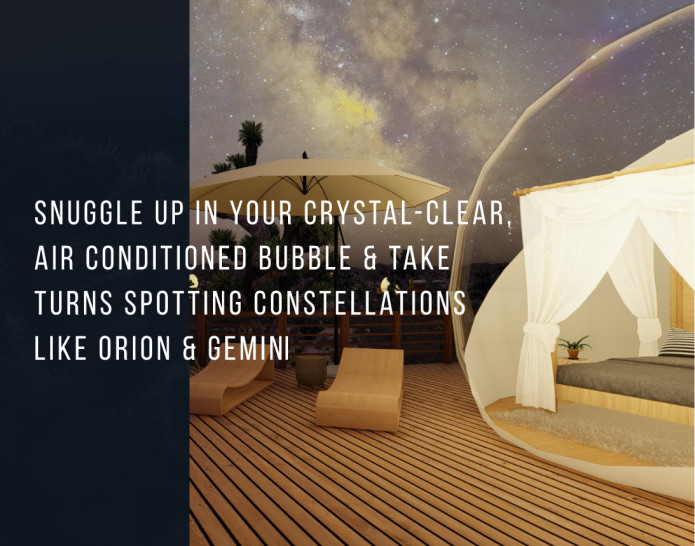 Snuggle up in your crystal-clear, air conditioned bubble and take turns spotting constellations like Orion and Gemini, or embrace feeling small under the vast Milky Way.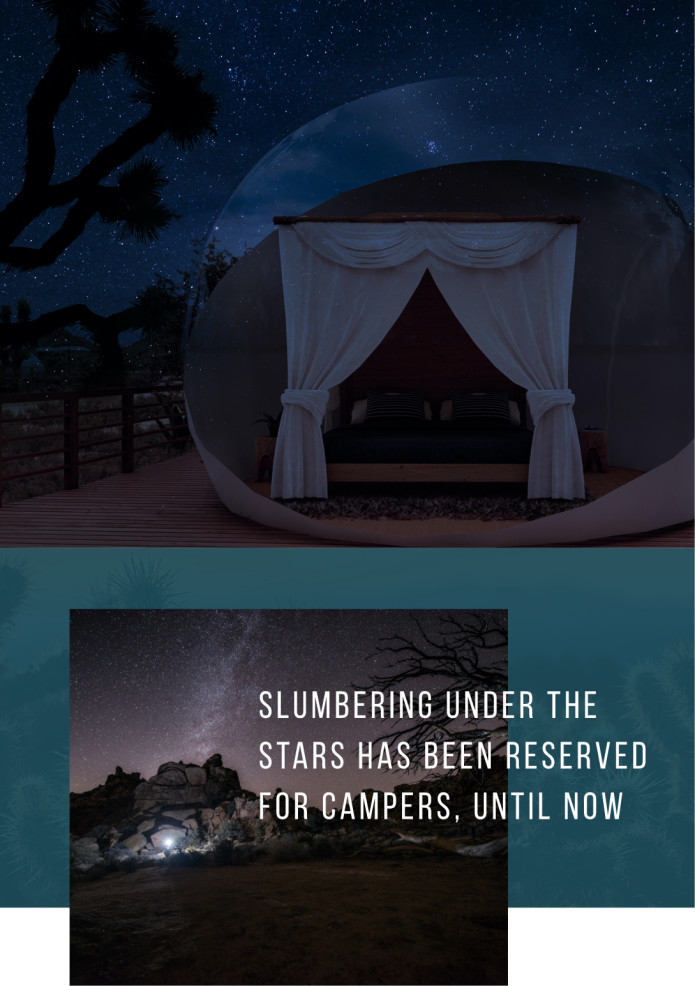 On especially clear nights, you can even see Andromeda Galaxy, no telescope necessary!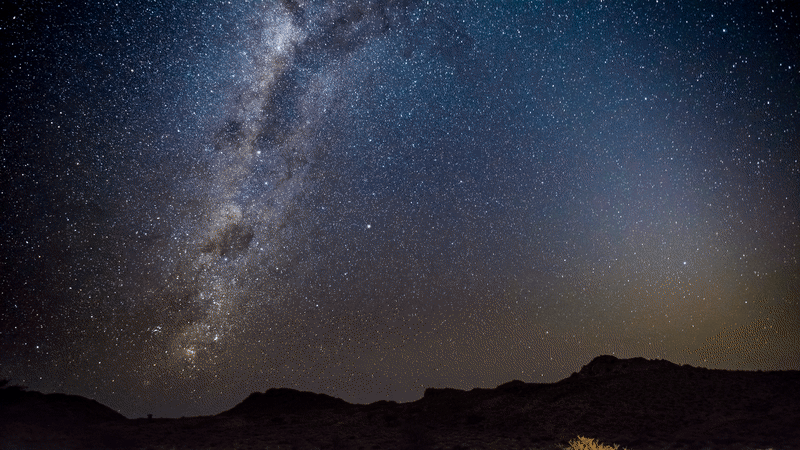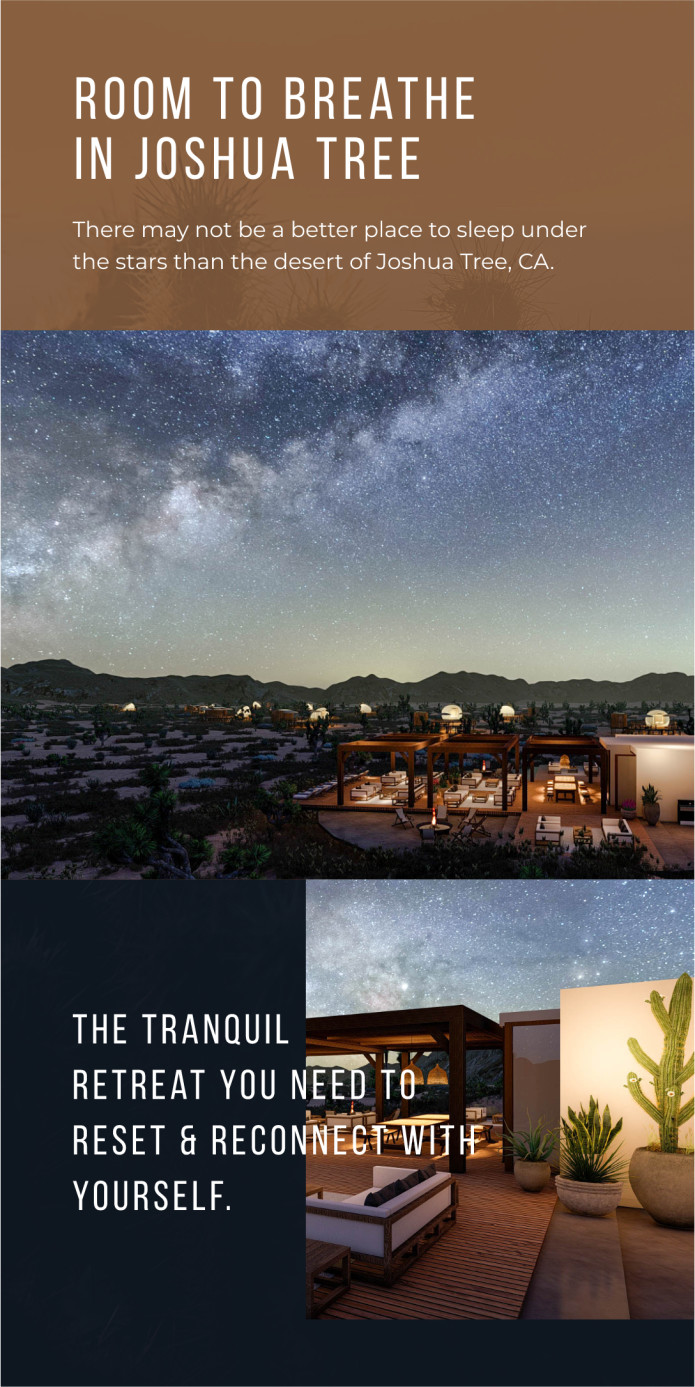 5,000 feet above sea level, Joshua Tree has long been world-famous for its unmatched stargazing, air clarity, and freedom from light pollution. The weekend warrior favorite is known as a trendy backdrop for influencers and engagement photoshoots, but it can be the tranquil retreat you need to reset and reconnect with yourself.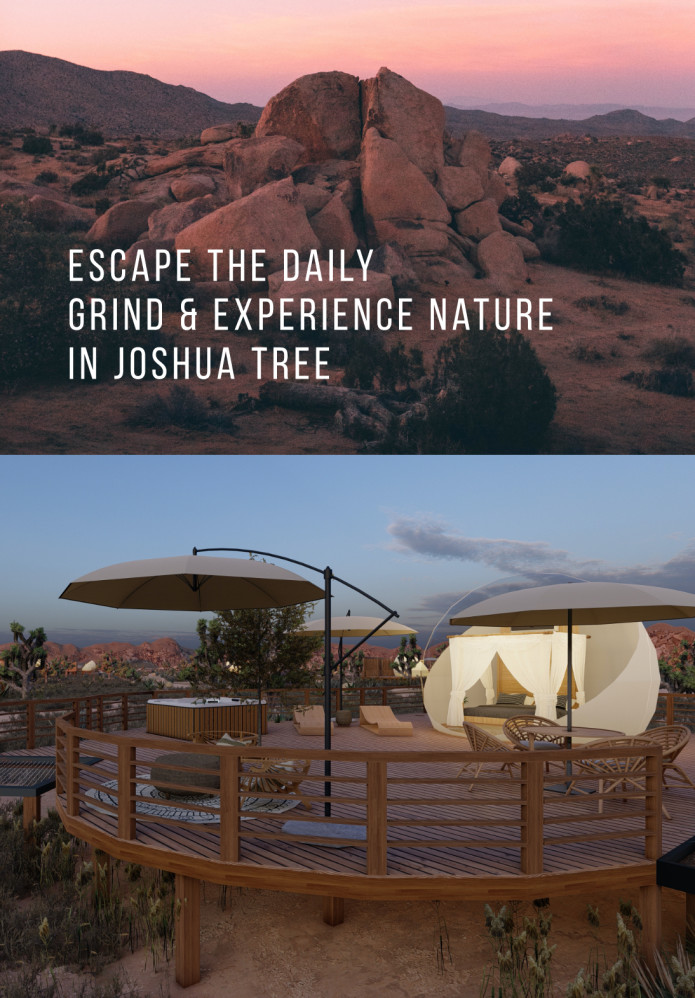 Calling all stargazers, nature lovers, adventurers & photographers! You could be among the first guests to sleep under the stars in the most comfortable way possible—in your own bubble with a queen-size bed, private bathroom and air conditioning.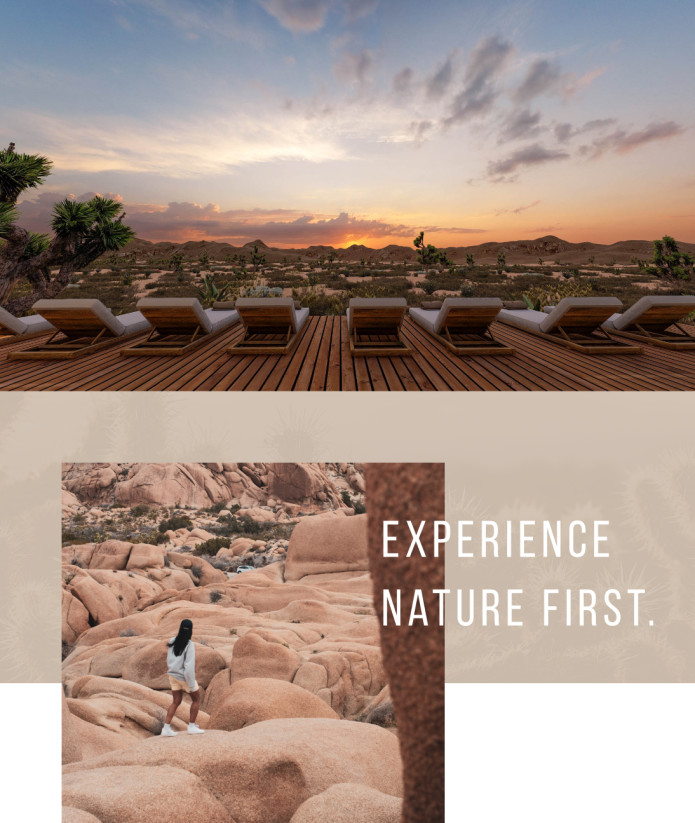 Located just 5 minutes from Joshua Tree National Park, Bubble Hotels lets you trade your routine for a nature experience in the desert.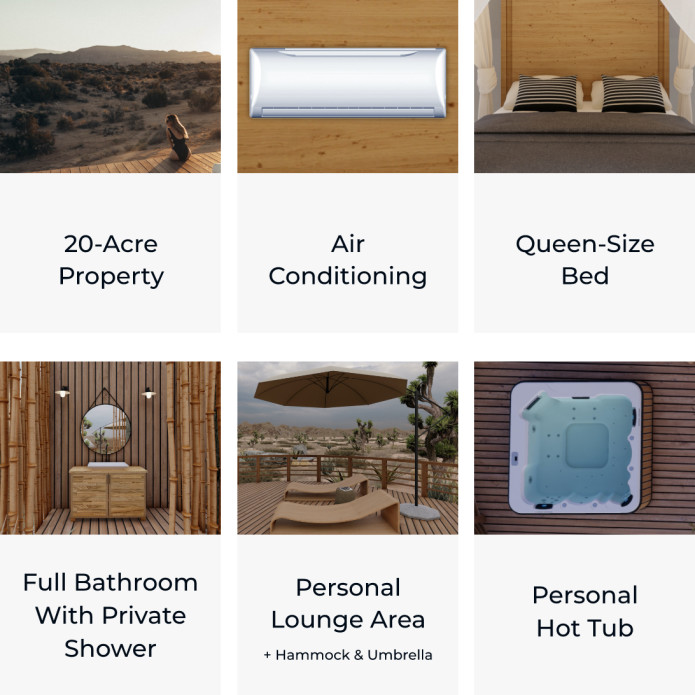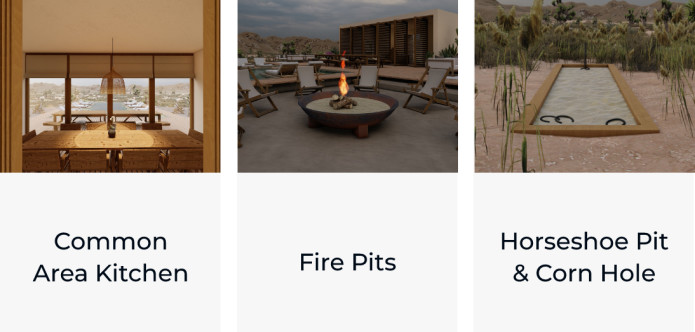 This exclusive escape will have ten bubble units for guests to experience nature first.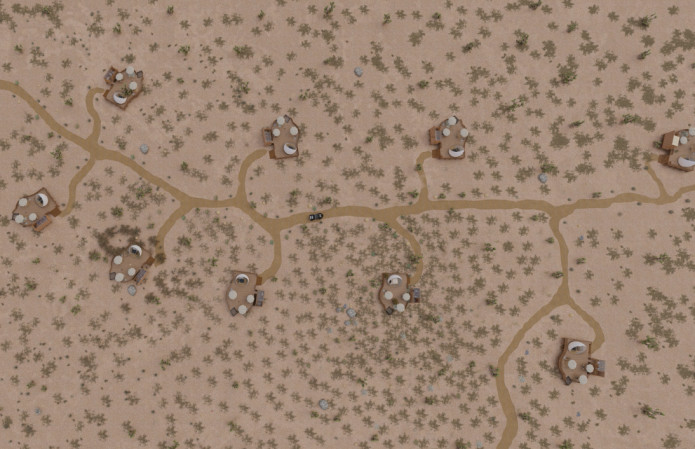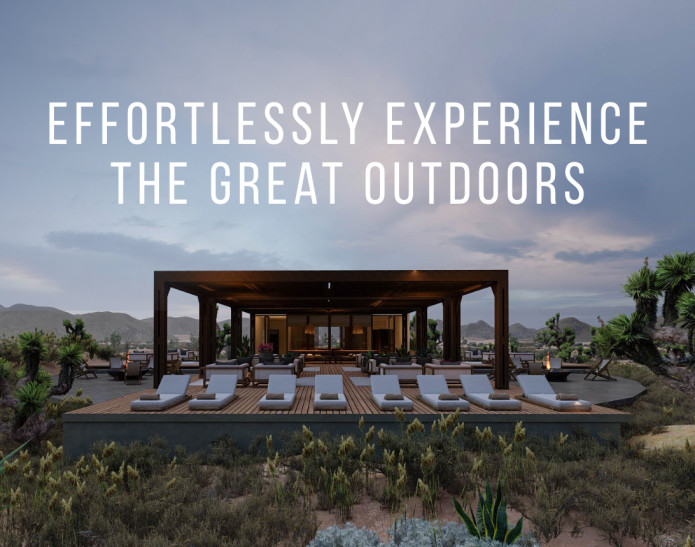 Camping can be amazing, but it isn't exactly a stress-free getaway. It requires a lot of preparation, and you're at the mercy of Mother Nature.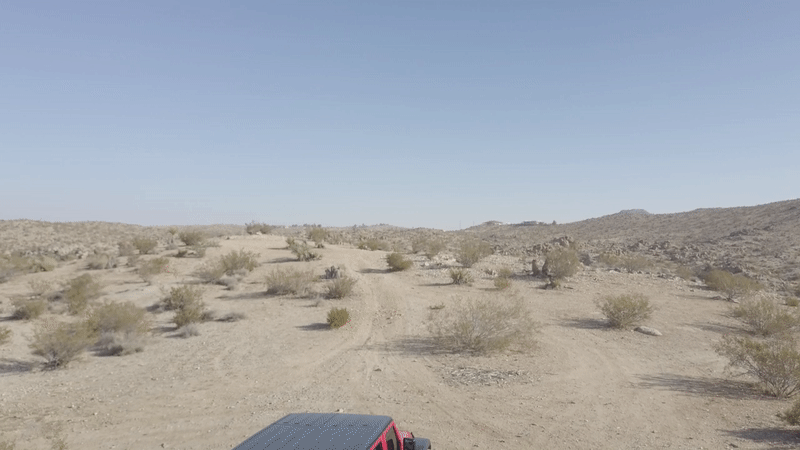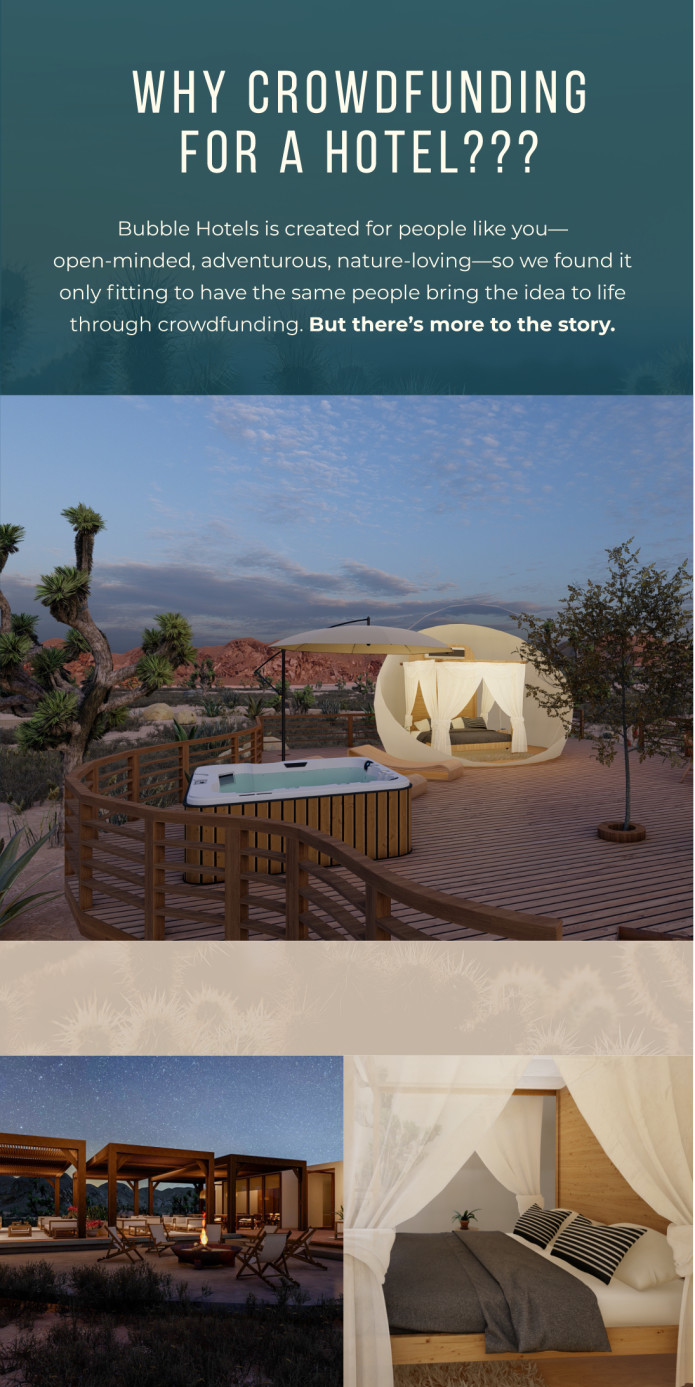 Preserving Joshua Tree is at the heart of this project and we don't want to take outside investment from corporate developers that don't care about the environment like we do. That's why our build plan is mindful, sustainable and local.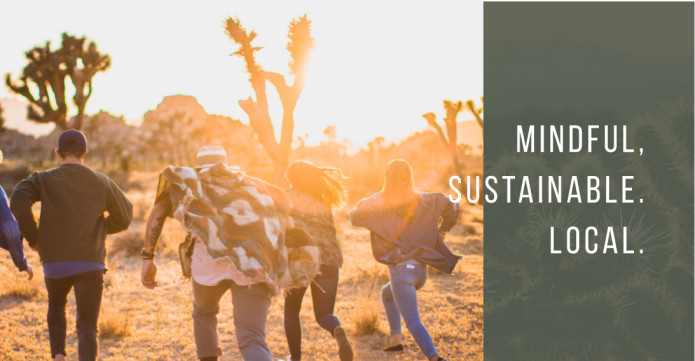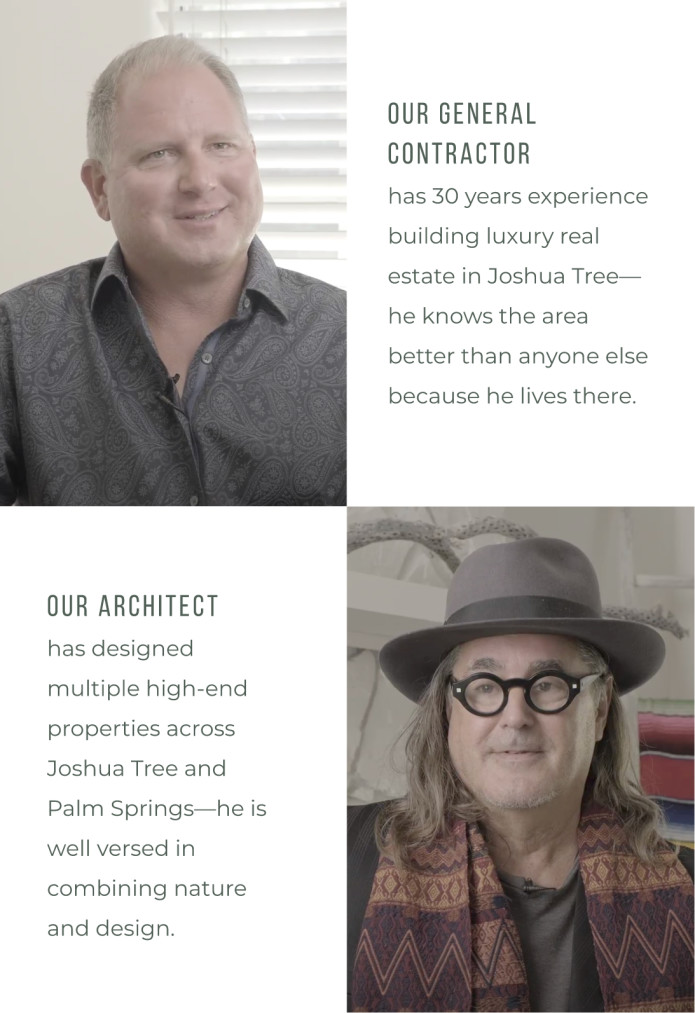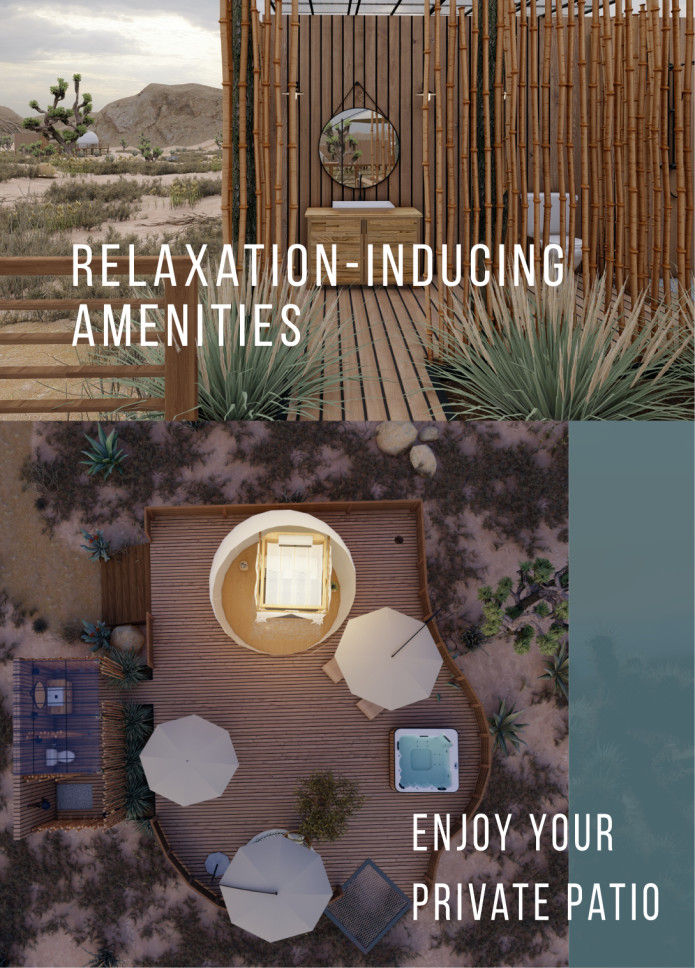 Visiting a new place isn't always enough to snap you out of work mode and into tranquility. Bubble Hotels is equipped with relaxation-inducing amenities to make your OOO message count.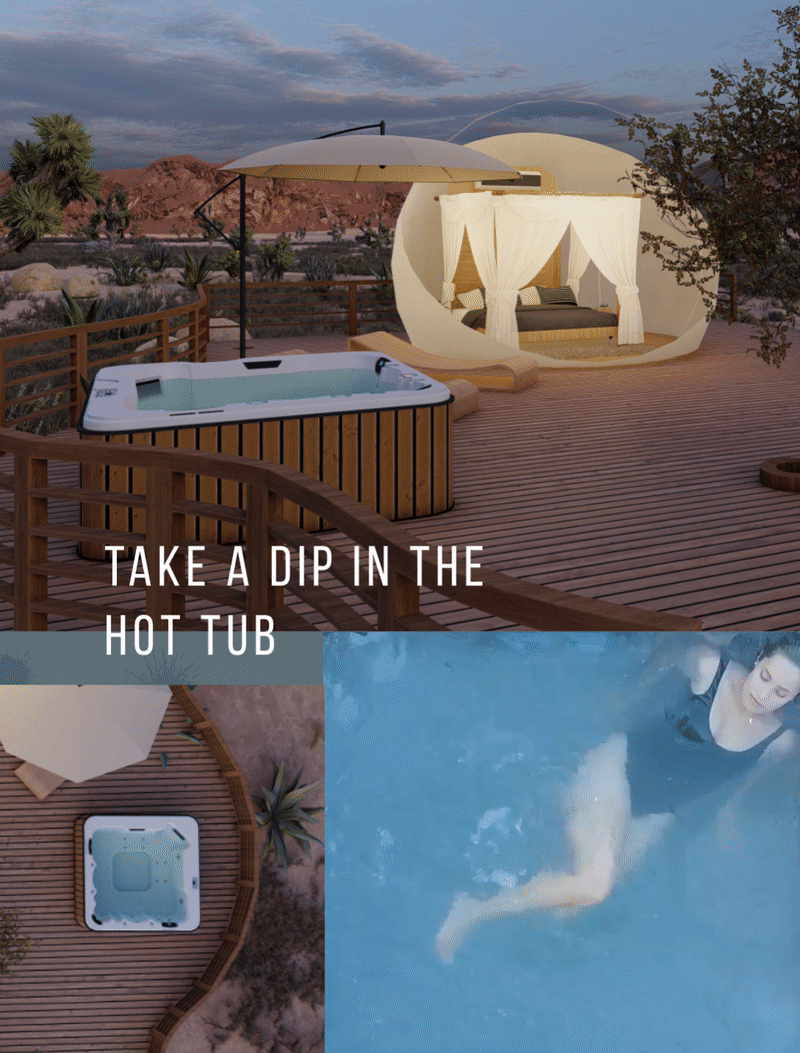 The Bubble Hotels property is specially designed to give you the perfect balance of privacy and socialization. Enjoy your private patio with a good book or dip in the hot tub, or head to the community area for socializing.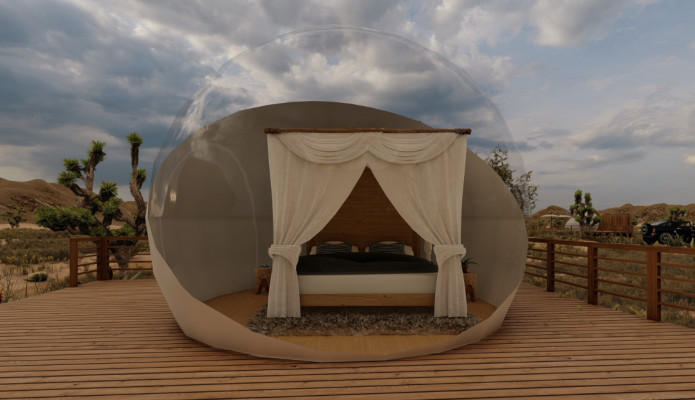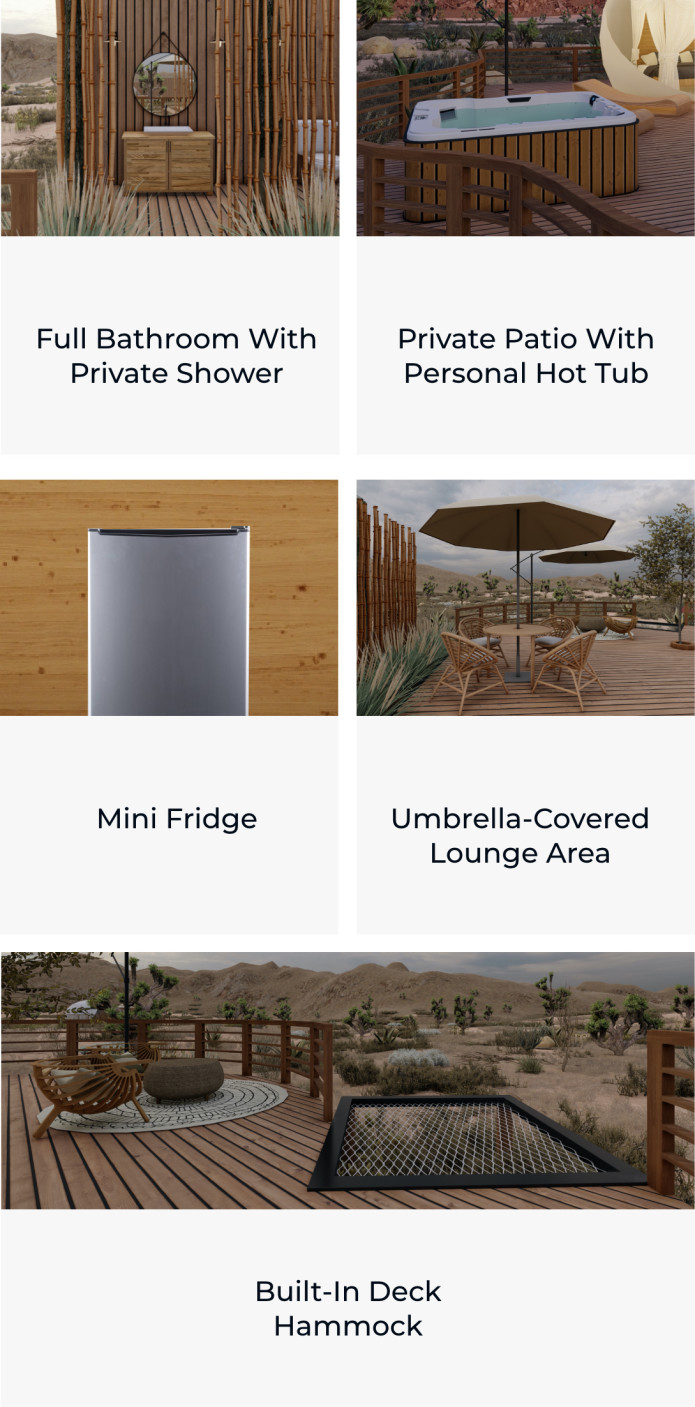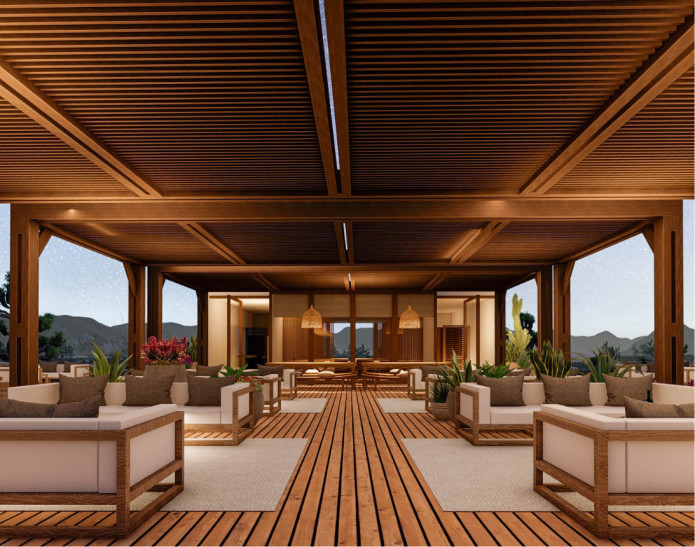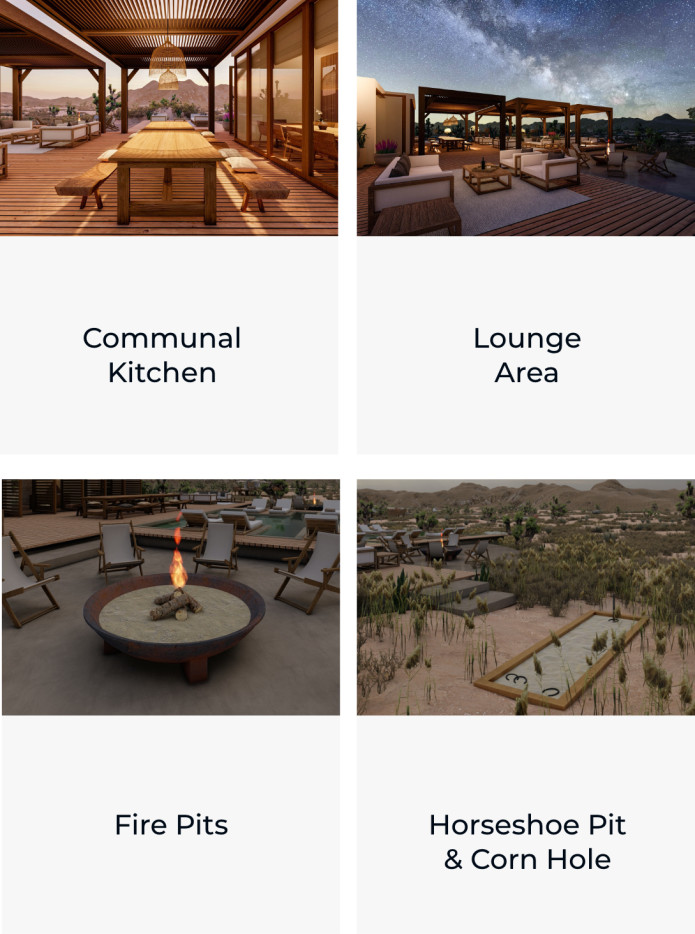 Bubble Hotels in Joshua Tree is the perfect setting to decompress, reconnect with nature, and experience the desert in a way you never have before. Think desert serenity, millions of stars and zero stress.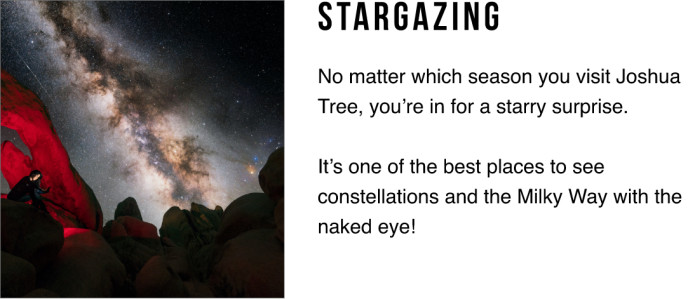 Some of the most notable stargazing opportunities include:
Winter Solstice with sunsets as early as 4:30 pm!
The bright star Arcturus in Spring
Perseid Meteor Shower in mid-August
Andromeda Galaxy & the Great Square of Pegasus in Fall
Constellations like Orion, Gemini, Taurus, Canis Major and Leo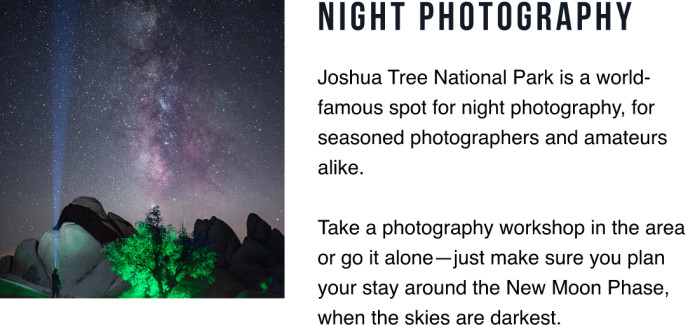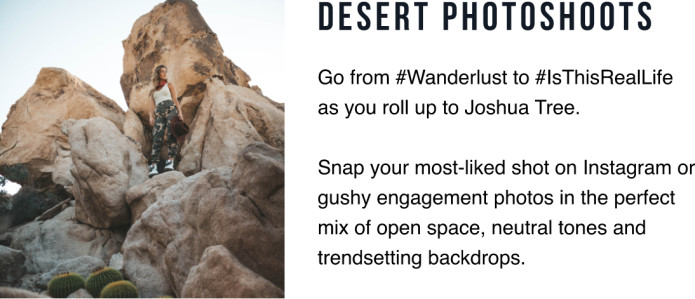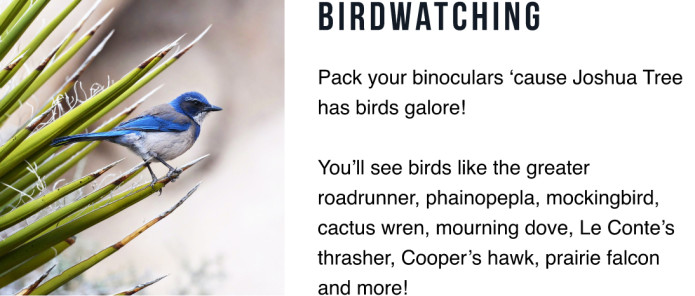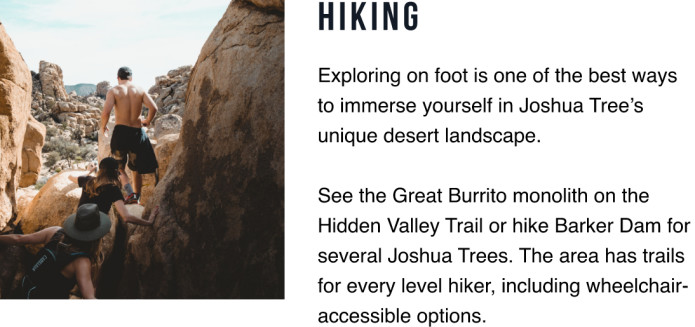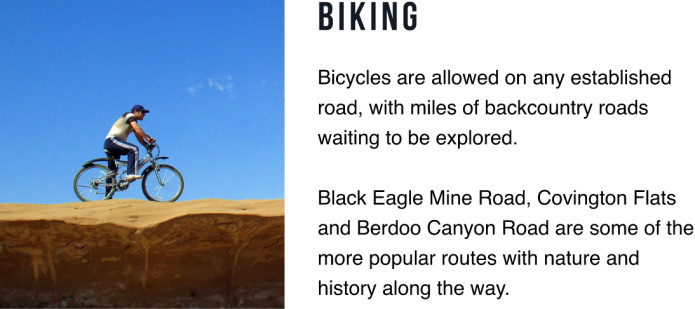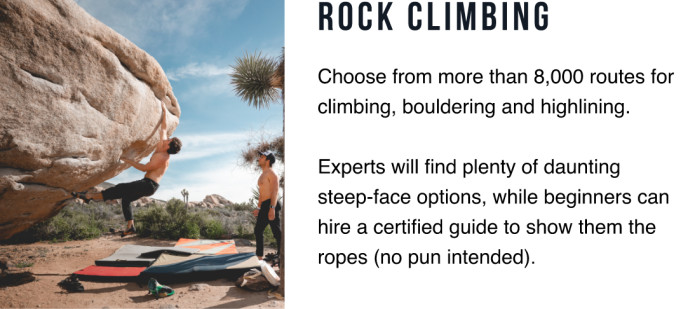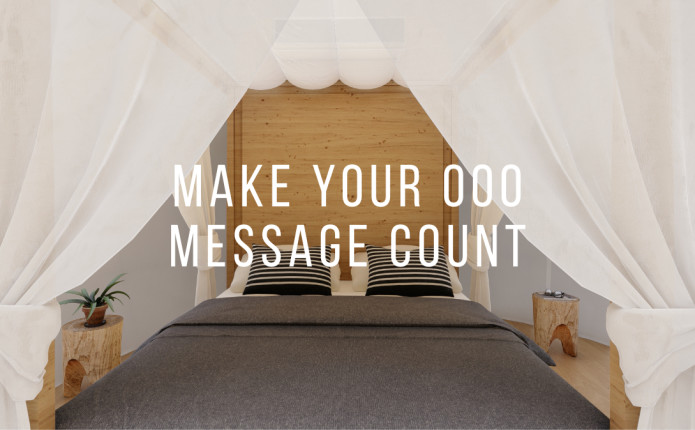 Bubble Hotels has a goal of creating the most unique place to stay in Joshua Tree, where everyone can disconnect and experience nature with modern comforts.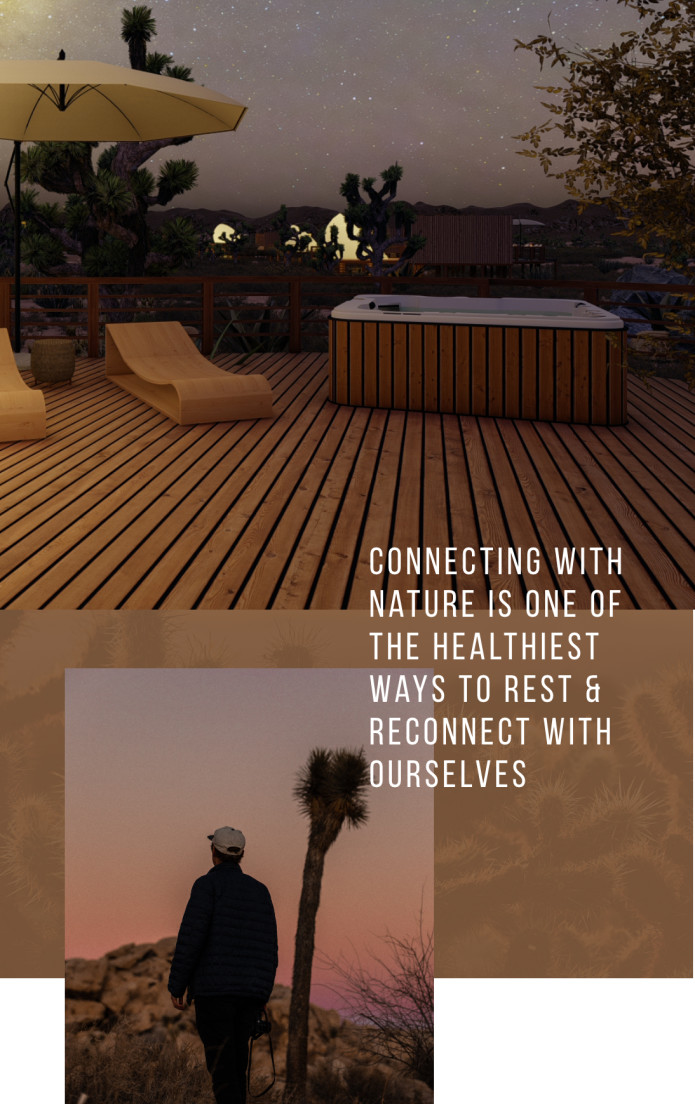 So often 'time off' is spent doing the same things we do while working—looking at screens, following itineraries, crossing items off to-do lists—rather than resting our bodies and minds.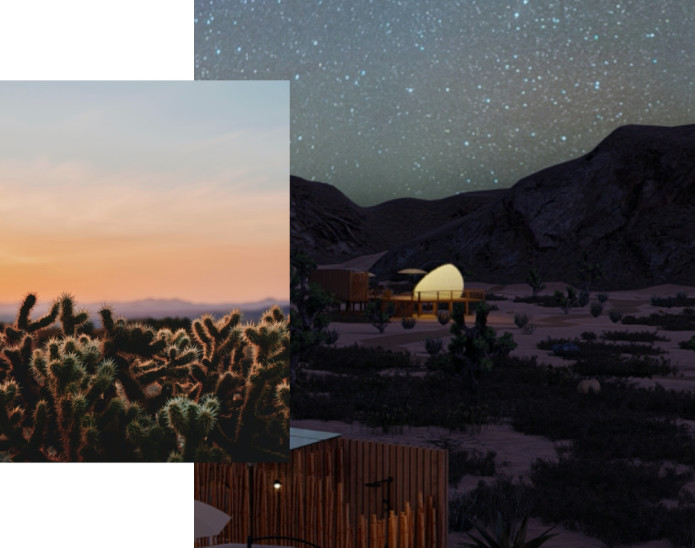 We believe connecting with nature is one of the healthiest ways to rest and reconnect with ourselves, and Bubble Hotels makes the process easy and delightful. It's an accessible oasis for regularly experiencing awe and wonder from nature. The star-filled desert sky has a way of bringing you back to what's important.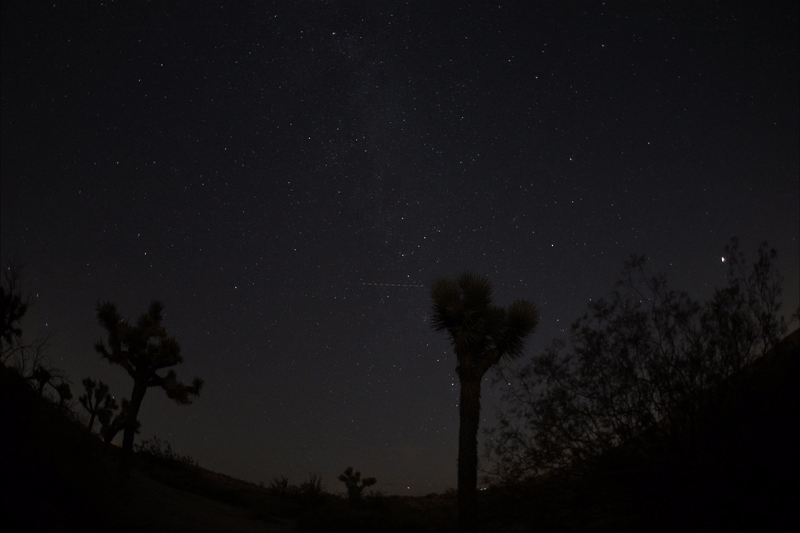 We're bubbling over with excitement at what the future holds for Bubble Hotels and we can't thank you enough for being a part of the magic.


In order to lock in your spot as a future guest at Bubble Hotels Joshua Tree, you must back our live Indiegogo crowdfunding campaign by selecting the Perk for how long you want to stay and paying that amount at that time—this will be the only place the payment for your Stay is made.
To back our crowdfunding campaign so that you can reserve your stay when we open booking, simply: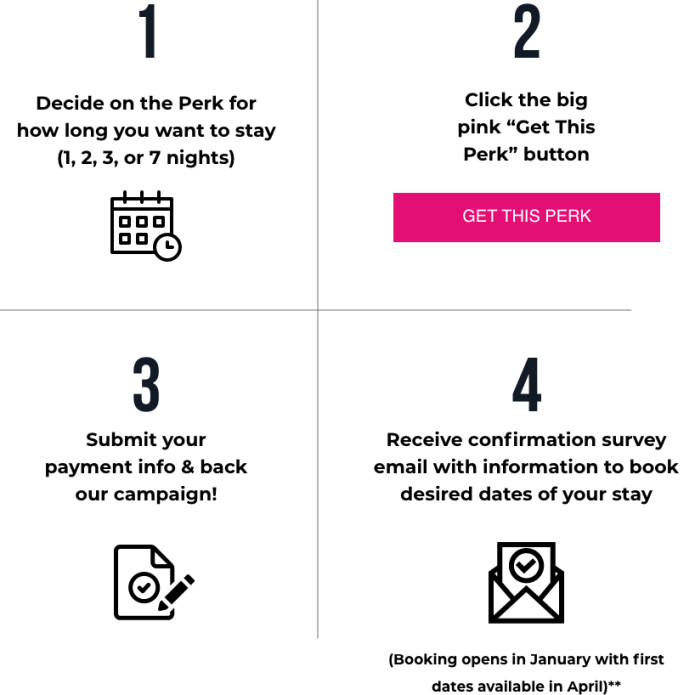 At the end of the campaign, we'll email you a confirmation survey with all of the information necessary to book the dates of your stay through our website (booking opens in January with first dates available in April).
Your reservation does not expire, so if you don't know your dates immediately, you can book in the future.

Longer Stay = Earlier Access to Available Dates
Bubble availability is limited and dates will sell out fast! We're prioritizing booking by Access Level and Length of Stay so the sooner you back the campaign and the longer your stay, the earlier access you'll have on our website to book, meaning the more options you'll have for dates!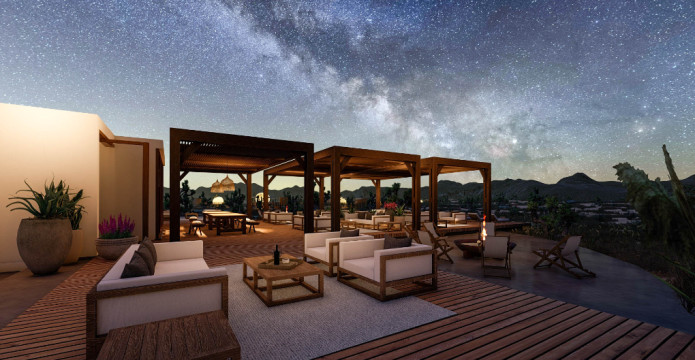 If you are the first person to book a 7-night Stay, you will have first access to confirm your dates. Priority will then go through everyone who booked at that length of Stay, with the next priority going to the next length of stay and so on in sequential order.


Packages to stay at a Bubble Hotels' in Joshua Tree for two nights with availability starting in March of 2021 include: