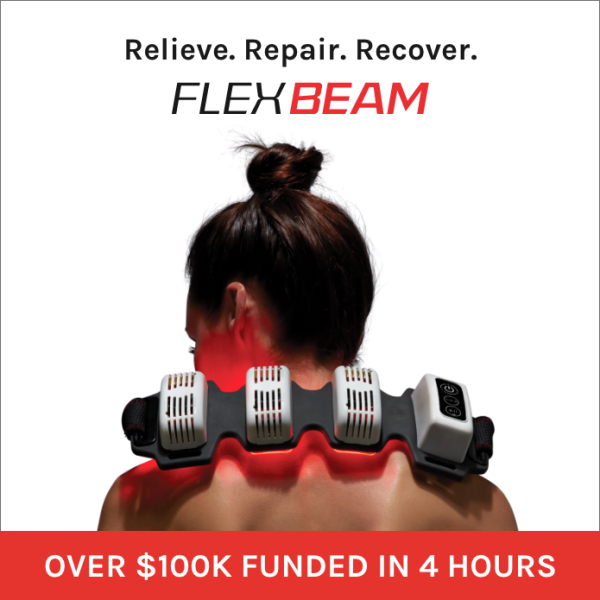 The FlexBEAM : Revolutionary Red Light Therapy
$155,334
raised out of
$25,000
Overview
https://youtube.com/watch?v=396427373
Concept
Heal your body and recover faster with the world's first targeted infrared light device
Story
Light at specific red and near-infrared wavelengths is clinically proven to trigger a physiological healing response in the body.
Since the Nobel Prize-winning work of Niels Finsen in 1903, the effects of Red Light Therapy have been well documented in thousands of peer-reviewed studies, including extensive NASA research (see references at bottom of page).
We have taken this powerful technology a big step further and created a state-of-the-art device that can be used by anyone, anytime, anywhere.
Red light therapy works by stimulating your body's natural self-healing process.
The FlexBEAM offers a targeted application of red and infrared light, which works directly where it's needed and also generates vital systemic effects for the whole body.
Red Light triggers the mitochondria to produce more Adenosine Triphosphate (ATP), Reactive Oxygen Species (ROS), and Nitric Oxide (NO), all crucially involved in the body's healing process.
"Since using my FlexBEAM I am amazed at how little knocks that used to linger for ages, seem to disappear almost immediately after only one treatment! Rugby is such a physical game, especially in my position, so it is important that when I go onto the field that I am not carrying any aches or pains and the FlexBEAM makes sure this is possible."
"I was a keen runner until I injured my left quad muscle and suffered chronic inflammation and sharp shooting pain. After one treatment with the FlexBEAM, the pain reduced so significantly that I couldn't believe it was possible! After 2 months of treatment, the pain and swelling are completely gone. I am running again and I don't feel any pain at all! What an absolutely amazing and life changing device!"
"After dislocating my shoulder in a rock climbing accident, I could barely lift my shoulder and had significant pain. Using the FlexBEAM for about 5 weeks now has improved my flexibility to where I can lift my arm straight over my head, with full range of motion. It also greatly helped with pain."
"After using the FlexBEAM, my muscle soreness and lower back pain massively decreased. My sleep quality also improved and I was waking up feeling refreshed and in less pain! I was actually really surprised that after just a couple sessions I felt physically and mentally better."
Anyone. The FlexBEAM is a health optimization device with lots of applications.
It's your workout buddy, preparing for exercise and improving recovery.
Your home health care device for treating pains, aches, injuries, wounds.
Your mindfulness mate for relaxing and recharging your body. And so much more.
No wonder it's already a favorite of athletes, trainers, therapists and biohackers worldwide.
The FlexBEAM is different from any red light therapy device ever invented.
Designed for the human body – for ultimate flexibility, efficiency and usability.
This is next-generation red light therapy: clinically proven, safe and easy to use.
And it's powerful. Measured in J/cm2 and mW/cm2, the FlexBEAM delivers the most powerful targeted dose on the market.
Our team has worked on the FlexBEAM for almost three years. It has gone through ten working models, four prototype stages, and several rounds of clinical testing before becoming perfected in our own ISO and FDA certified medical device manufacturing facility.
The FlexBEAM is a premium device that is built to last. 
We have produced and shipped over 500 units so far in advance of our Indiegogo campaign. Not a single customer has taken us up on our 30 day money-back guarantee. And the genuine stories of healing we get back motivate us to keep going.
We believe the FlexBEAM is a revolution in personal healthcare.
We are Recharge. A truly international company, with a team of 25 people from 14 different nationalities at our operational headquarters in Chiang Mai, Thailand.
We invent and make everything in-house as an ISO certified medical device company with an advanced technology lab, manufacturing assembly and on-site clinic.
Recharge is pioneering the next wave of innovative and empowering health technology.
Our mission is simple – to recharge people's health.
Interested in a larger order of FlexBEAMs?
Contact Bryan here for a deal on a secret perk.
New York Mag – The Actually Convincing Science of Light Therapy
Glamour – Red Light Therapy May Actually be The Fountain of Youth
MensHealth – I Put Red Light On My Balls to Triple my Testosterone
Medium – Red Light Therapy Speeding Muscle Recovery for Athletes
VOX – Biohacking Transhumanism Human Augmentation
The Atlantic – Top Biohacks
NASA Red Light Research
Increase in Exercise Load and Reduced Fatigue
Improvement on Delayed On-set Muscle Soreness (DOMS)
Increase of Muscle Strength and Performance Metrics
Proposed Mechanisms of Photobiomodulation
​Infrared Light Excites Cells by Changing Their Electrical Capacitance​
Low-Level Laser (Light) Therapy in Skin: Stimulating, Healing, Restoring
Effect of Light Therapy on Gene Expression in Osteoblasts
And so many more, see our ongoing compilation here.