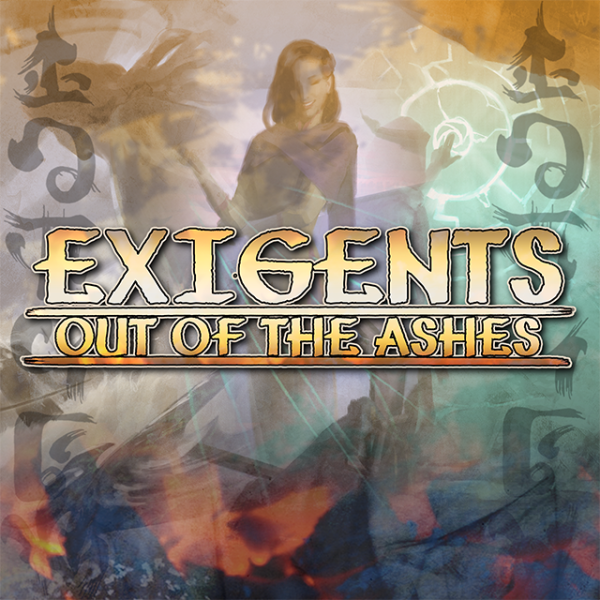 EXIGENTS: Out of the Ashes for Exalted 3rd Edition
$68,072
raised out of
$35,000
Concept
Help us create a PDF and limited edition Hardcover for Exigents: Out of the Ashes for Exalted 3E.
Story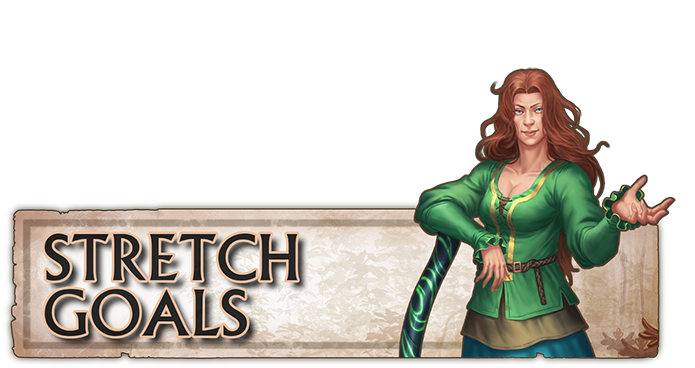 At $75,000 in Funding – Exigents Expanded Content: Bearers of the Spark

At $85,000 in Funding – Exigents Expanded Content: The Thousand Venoms Mistress

Scroll down to see all achieved and upcoming Stretch Goal targets.
The Exigents are many and myriad, but also utterly unique. They're not a single kind of Exalted, but the manifold Chosen of Creation's countless little gods. In times of dire need, gods can petition the Unconquered Sun for a spark of the Exigence — a bonfire of pure, creative power — to raise up their own Exalted champions. To do so is always a risk; no god can know what it will cost them. Many are consumed by the process entirely.
Exigents have left their mark on Creation's history as individual heroes, tipping the scales of power across countless wars, revolutions, and dynasties. Most — like Wun Ja's Architects, the Sovereigns of Uluiru, the enigmatic Puppeteer — are the Dragon-Blooded's equals in power, but a rare handful, like Strawmaiden Janest, rival the power of the Solar Exalted.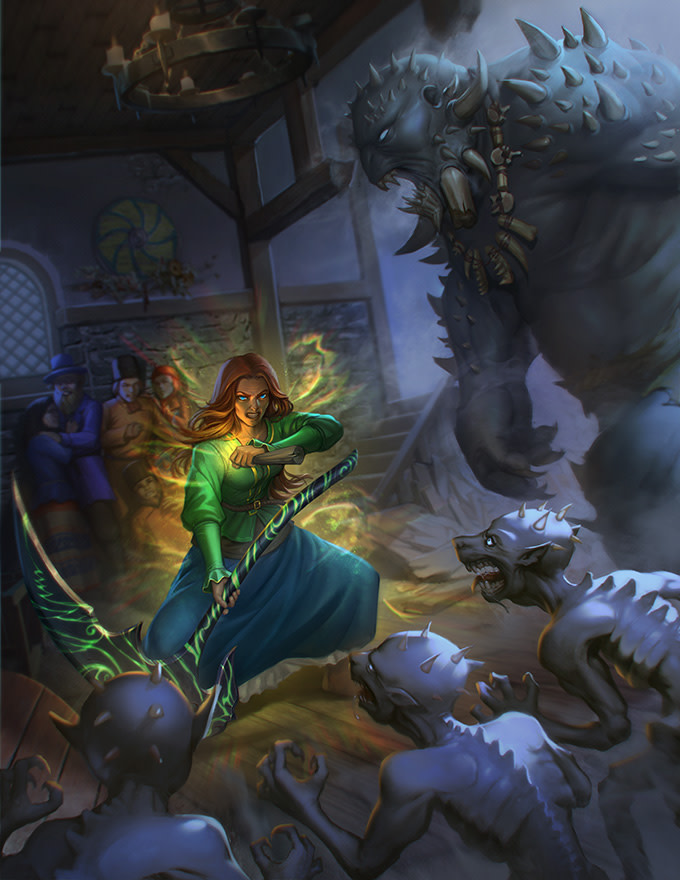 Exigents: Out of the Ashes is a core expansion for the Exalted tabletop roleplaying game. Exalted Third Edition is set in a mythic world where spirits walk openly among men, warring demigods topple kingdoms, and the restless dead roam on moonless nights. Heroes granted power by the mightiest gods war and intrigue against one another for the fate of Creation. These are the Exalted!

One of the most exciting new ideas for Exalted Third Edition is the introduction of new Exalts. These Exalts, known as the Exigents, take on themes and powers as diverse as the gods who create them. This book will feature a character-creation system and a guide for players to build their own custom Charm sets for whatever Exalted they feel like adding to the setting, while Exigents featured in the book will have fully finished Charm sets usable in game.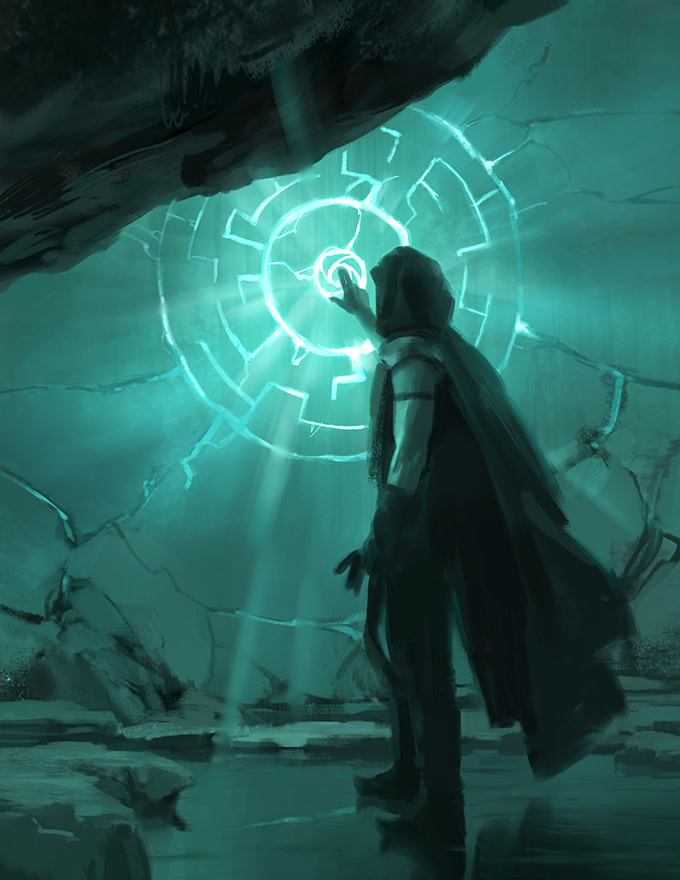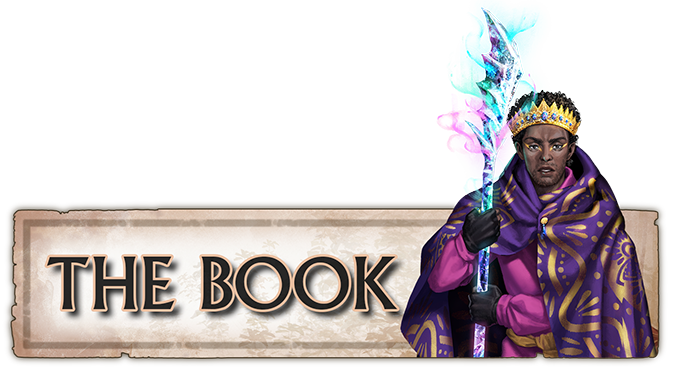 Exigents give players and Storytellers the opportunity to flex their creativity, inventing unique Exalted as player characters, allies, or enemies. This book presents four example types of Exigents with everything you'll need to play them, descriptions of other Exigents for readers to flesh out with their own designs, and guidelines for creating new Exigents and Charms.
Exigents also offer players and Storytellers the chance to explore Creation's little gods: their histories, passions, and plans. An Exigent's relationship with the god who chose them can be far more personal than those of other Exalted with their distant patrons. Even an Exigent whose patron god didn't survive her Exaltation might still find herself entangled with his priesthood, cult, allies, and enemies.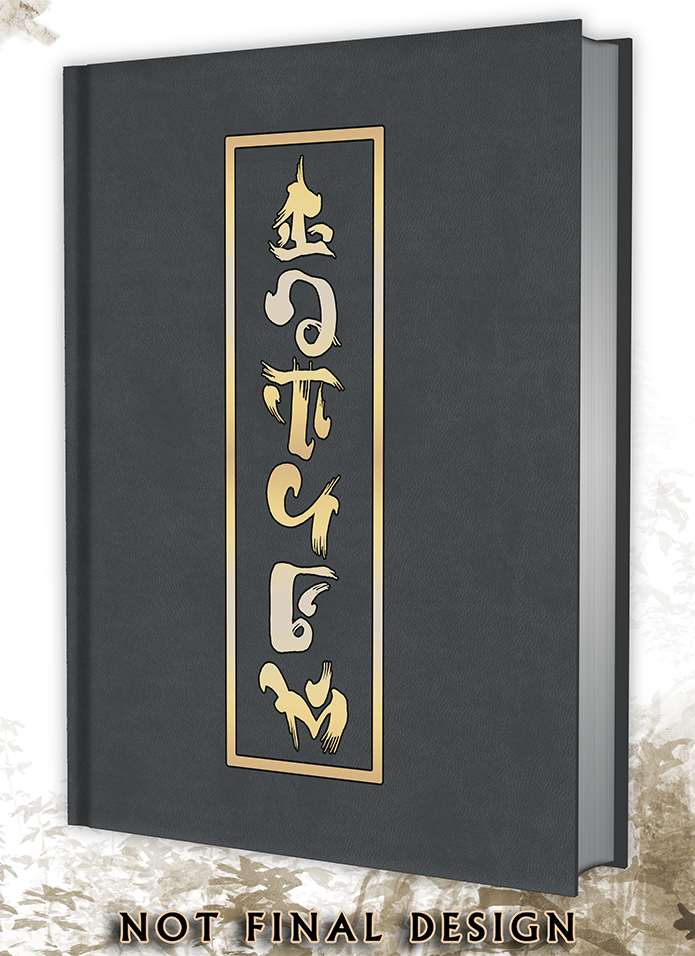 The Exigents: Out of the Ashes deluxe edition will be an 8.5" x 11" hardcover book, featuring an enhanced foil-stamped cover with 300+ full-color interior pages. Metallic-edged pages and a ribbon bookmark will set this book as a worthy companion to previous Exalted Third Edition expansions, such as Dragon-Blooded: What Fire Has Wrought and Lunars: Fangs at the Gate. Contents include: 
Chapter One: Chosen of the Little Gods presents the Exigents and their history, describes how gods create them, and provides examples both of Exigents and patron gods as a starting point for your own designs.
Chapter Two: Great Forks presents the City of Ten Thousand Temples, one of the Scavenger Lands' greatest and most prosperous cities. Spirits dwell here en masse, seeking worship, influence, and earthly delights. It's also home to countless Exigents, including champions chosen by the city's gods and wandering heroes seeking purpose or companions.
Chapter Three: Beyond Mortality provides guidance for Exigent character creation, advancement, and traits.
Chapter Four: Power of the Exalted provides guidance for designing your own custom Charms, whether for Exigents or other Exalted.
Chapter Five: Strawmaiden Janest presents Janest, Chosen by a humble field god but with power to equal the mightiest of Exalted.
Chapter Six: The Puppeteer offers presents Pakpao, the Puppeteer, a master of intrigue who pulls strings both figurative and literal.
Chapter Seven: The Architects presents the Architects, Chosen of Cities, each a living incarnation of one of Creation's many cities.
Chapter Eight: The Sovereigns of Uluiru presents the Sovereigns of Uluiru, Exigent god-kings empowered by a gem-god's sacrifice and the blood of a dead Incarna.
Appendix: Creating New Exalted explores adding entirely new kinds of Exalted to your game, with three examples of optional Exalted: the Dream-Souled, masters of illusion and transformation; the Hearteaters, monstrous Exalted who feed on free will; and the Umbral Exalted, wracked by inner turmoil and a darkness that both corrupts and empowers them.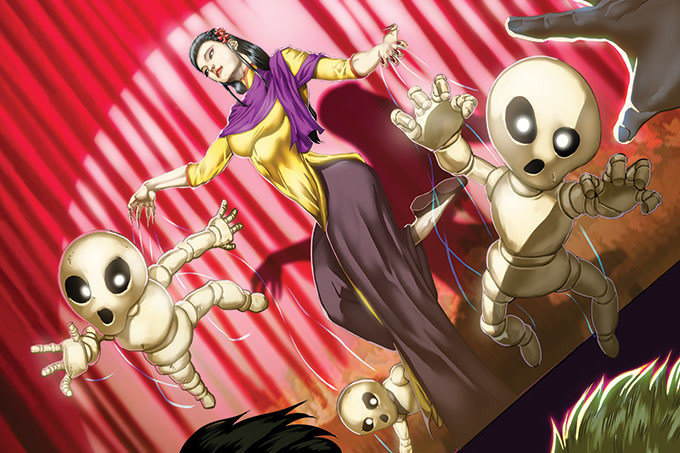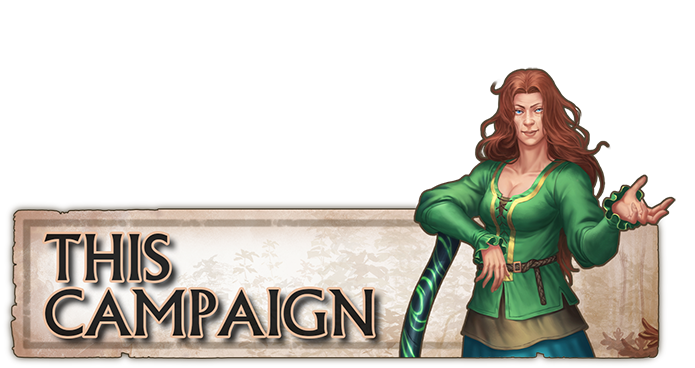 The primary purpose behind this Indiegogo campaign is to enable Onyx Path to create the best version of Exigents: Out of the Ashes that's possible. Your support will allow Onyx Path to produce a deluxe hardcover edition for Indiegogo backers, as well as a PDF and eventual Print-on-Demand standard edition released for purchase. 
Exceptional funding may allow the Exigents: Out of the Ashes team to explore more of the world of Creation, possibly expanding into rules companions and other Storyteller and player tools and accessories. The greater our funding for this project, the more resources we can use to explore these scenarios and supplements.
Beyond those campaign-specific goals, the hope is to do what these games have always done — build a community invested in each other's stories and shared imagination. Every person who participates is joining with the goal of bringing this game into the world, and that common goal is a powerful spark that can fuel many great things! When you back this project, you join us on this epic journey and become part of the extended Exalted family.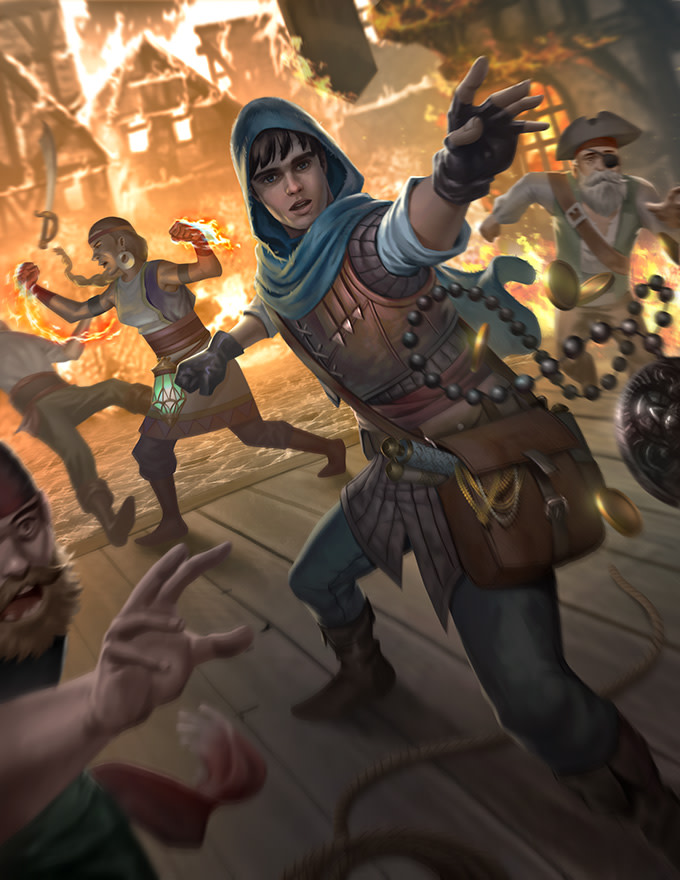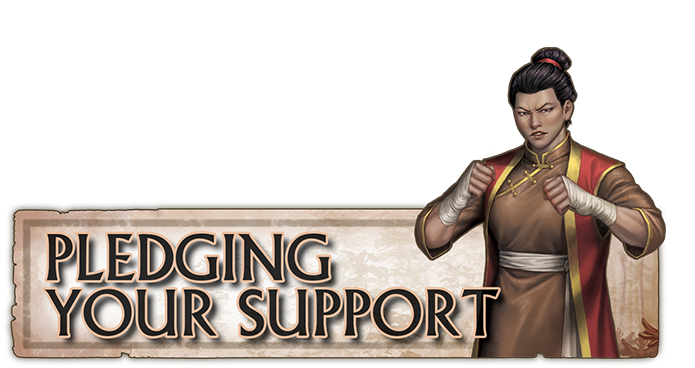 All participants who would like to make this project happen can pledge their support and add to the overall campaign total. If the campaign meets the funding target ($35,000), then we will have funded the project and it will become a reality. Your contribution will only be kept if we achieve our funding target.
In thanks for your support, we offer perks based on your level of funding pledged. The Perk descriptions outline the various rewards reflecting various levels of support pledged. Please note that perks including the deluxe hardcover may automatically add additional charges to cover shipping expenses.
Petition Your Patron: do you save some shelf space and go digital-only with the PDF version and pledge to the Goddess of the Digital Library or go with the limited edition deluxe hardcover version though that means dealing with the Shogun of Shipping Costs? Are you just interested in the new book created by this campaign, or looking to add extras with the Add-On options available as well? Please note that physical rewards may automatically add additional charges to cover shipping expenses.
While the world of Exalted is full of epic characters and larger-than-life adventures, we've kept supporting this project as simple and straightforward as possible. To pledge support to this project and receive the book in one (or both) of the formats offered, pick one of these reward tiers:
This Indiegogo campaign builds upon three core Perks: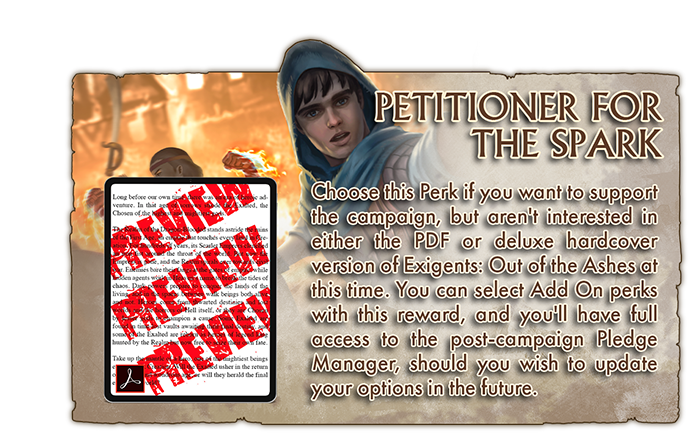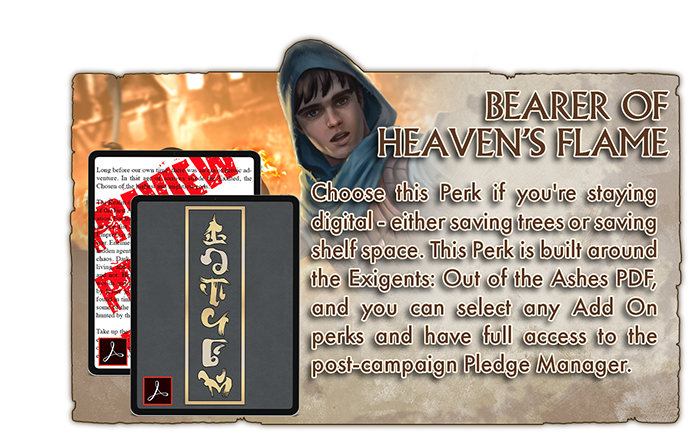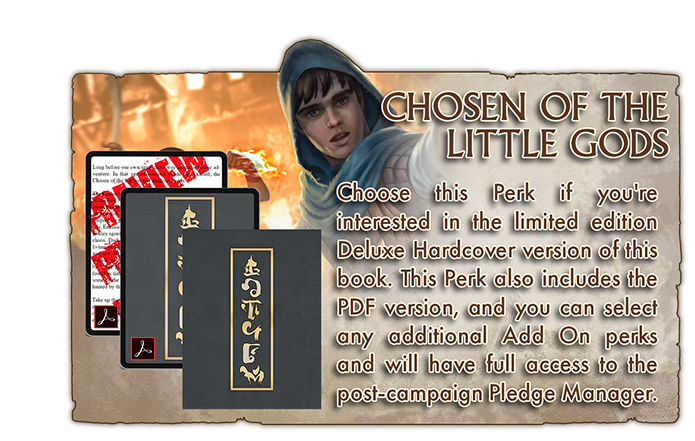 Also, we love retailers, but modern publishing methods don't always make it easy for them to get books into their stores. With this Exigents: Out of the Ashes campaign, we have created a special Reward Tier just for you. Qualified Retailers can contact onyxpath.ks@gmail.com to confirm your retailer status and gain access to this special Retailer Perk to get 5 copies of the Deluxe Hardcover book at a retail-specific discount to sell in-store.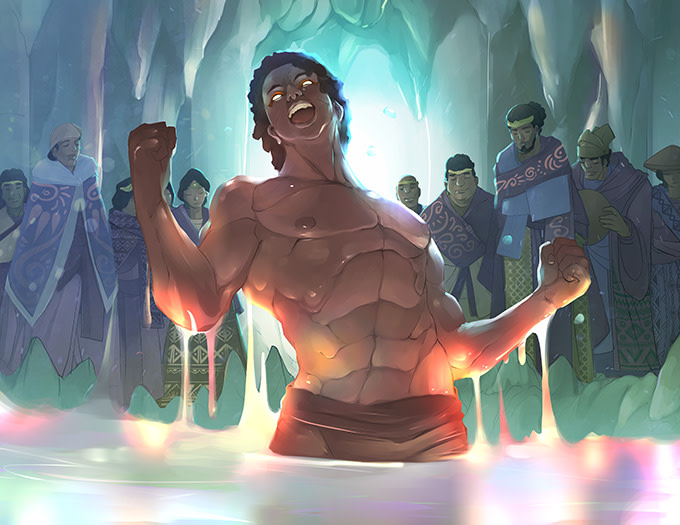 In addition to these primary reward pledge tiers, we also offer a limited selection of Premium Reward Tiers. A few Reward Tiers offer special limited premium rewards in addition to the basics, including an option to supply a name to be assigned to an NPC, choosing a living god to receive a thematic overview write-up, choosing a living Exigent to receive an expanded description, submitting a character description that will be incorporated into an interior illustration, providing the idea and inspiration for a new artifact, and other opportunities to interact in new ways with the lore of the setting. Check each of the Reward Tier descriptions and the FAQs at the bottom of this page for more details.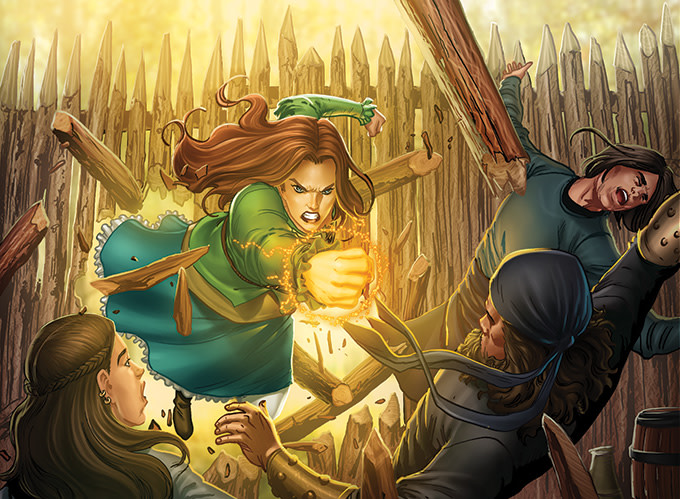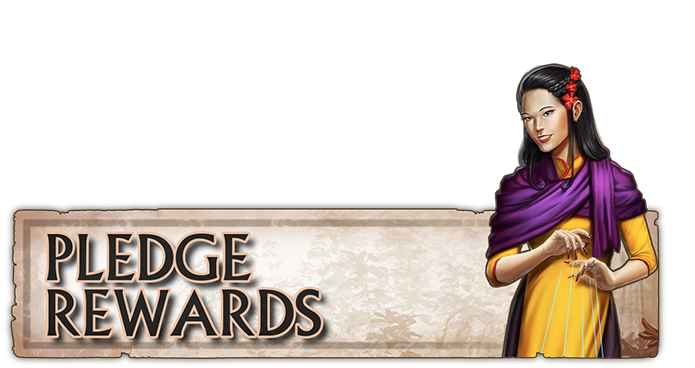 COMPILED DRAFT MANUSCRIPT PREVIEW – During the course of the campaign, we will be posting the ENTIRE manuscript for Exigents: Out of the Ashes over a series of preview updates. After the campaign, these draft previews will be compiled into a single document and made available to supporters of this campaign.
EXIGENTS: OUT OF THE ASHES BACKER PDF  – Indiegogo backers will receive a redemption link for an advance version of this book before it goes on sale to the public. This initial "Backer Version" will be used to get feedback from the fans to make the final version the best that it can be. When it has been updated to the final version, it will automatically be added to your DriveThruRPG library and available for download at your convenience.

EXIGENTS: OUT OF THE ASHES DELUXE HARDCOVER – A limited, premium version featuring a foil-stamped cover, metallic-edged pages, and silk bookmark. The deluxe edition will list the names of the backers that supported the Indiegogo campaign. Additional shipping charges are automatically added to your pledge by Indiegogo, based on your delivery location.
 OPTIONAL DISCOUNTED PoD VERSION – For this Exigents: Out of the Ashes campaign, you will have the option of using DriveThru's Print-On-Demand service to purchase a physical, printed copy of the PDF directly from their PoD partners at discounted cost (this cost is not included in your pledge, and you do not need to increase the cost of your pledge to use this option). When the PoD versions are available to order (which may be some time after the books have gone to print), you will receive links to purchase this version of the book from DriveThruRPG.com. You DO NOT need to take advantage of this PoD offer as it does not affect in any way your pledge rewards.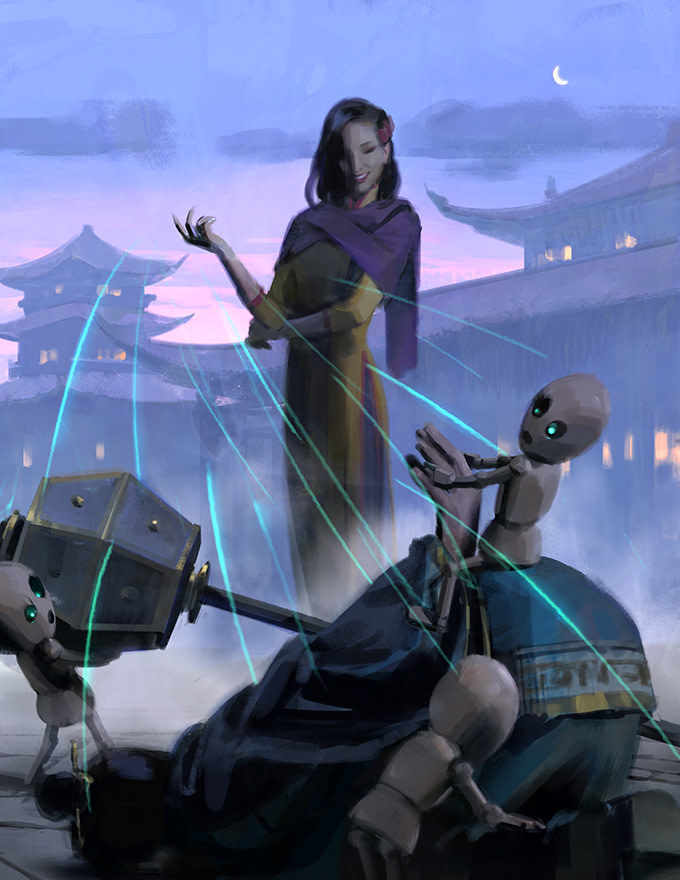 In addition to the rewards listed in each Pledge Tier, backers can add extra options via the Add On menu associated with your reward format. Digital Rewards can be added to any pledge, while physical rewards can only be added to rewards lists that include a Exigents: Out of the Ashes hardcover book, and have therefore established shipping parameters.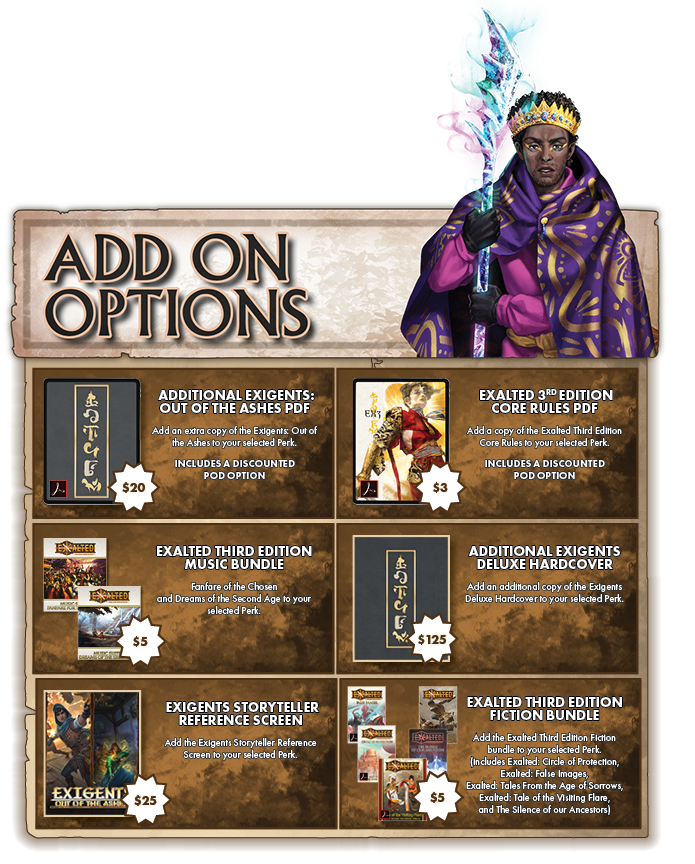 To include Add-On items, tap the "GET THIS PERK" button that appears with your desired contribution. Add On perks are available for you to select from the "Perks you may also like" section.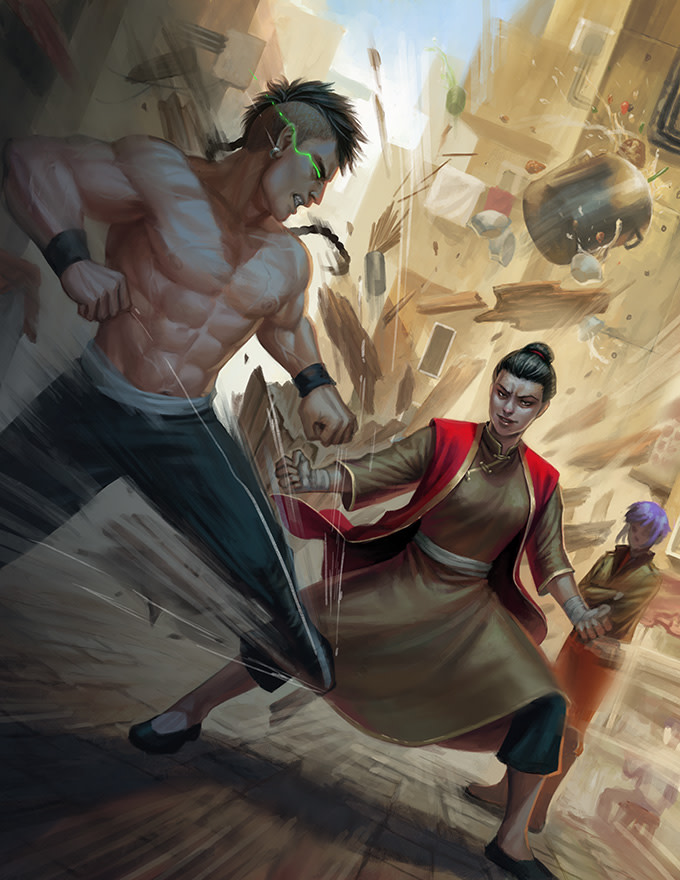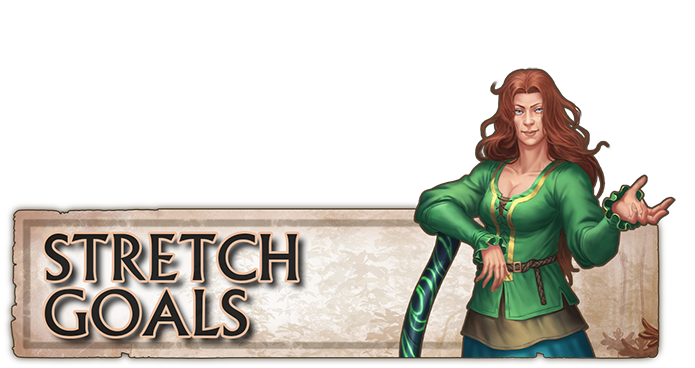 Exigents Expanded Content – Additional Exigents content will be added and expanded via Stretch Goal achievements. New content added this way will be released as part of a PDF supplement (or supplements), which will automatically be added to the rewards list of all backers receiving the Exigents: Out of the Ashes PDF as part of their reward perks. Content created as part of the premium reward perks may also be included in these supplemental PDFs.

UNLOCKED! – At $45,000 in Funding – Exigents Expanded Content: Miracles of Divine Flame
Additional Charms for the four playable Exigents featured in the book — Strawmaiden Janest, the Puppeteer, the Architects, and the Sovereigns of Uluiru. These additional charms will be released as a supplemental companion PDF.

UNLOCKED! – At $55,000 in Funding –  Exigents Expanded Content: Great Forks Jumpstart
An introductory scenario designed to introduce new players to the game, using the four playable Exigents featured in the book in an adventure set in Great Forks, the City of Ten Thousand Temples where heroes seek out Exaltation and gods seek worthy champions.  This Jumpstart PDF will be added to the rewards list of all backers receiving the Exigents: Out of the Ashes PDF as one of their perk rewards.

UNLOCKED! – At $65,000 in Funding – Exigents Expanded Content: The Chosen of Masks
A design seed for the Chosen of Masks, detailing her history and nature and providing traits and sample Charms for her magical masks to use as a beginning point for designing a full Charm set yourself. 

At $75,000 in Funding – Exigents Expanded Content: Bearers of the Spark
A list of gods, both new and returning, who might serve as patrons to Exigents, with discussions of each god's themes and how it might inform their Chosen

At $85,000 in Funding – Exigents Expanded Content: The Thousand Venoms Mistress
A design seed for the Thousand Venoms Mistress, detailing the history and nature of the Chosen of Poison and providing traits and sample Charms to use as a beginning point for designing a full Charm set yourself. 

At $95,000 in Funding – Exigents Expanded Content: Streets of Great Forks
A gazeteer of the City of Ten Thousand Temples that expands on its description in Exigents, exploring notable locations, cults, and figures of local interest in Great Forks that can be used in games for any type of Exalted.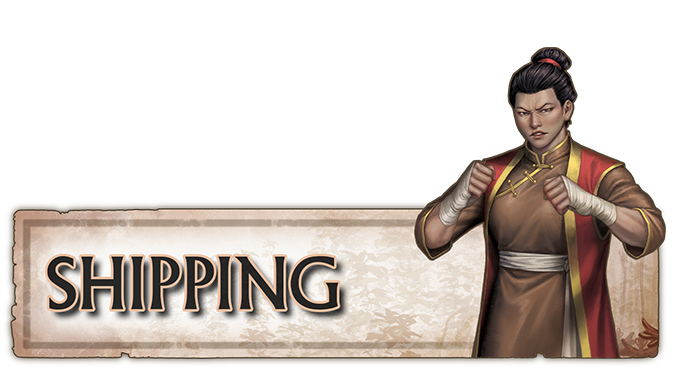 When you pledge to a reward tier that includes a physical item (the Exigents: Out of the Ashes deluxe hardcover book, for example), Indiegogo will automatically calculate additional shipping costs based on your location.
Unfortunately, international shipping has become increasing expensive and is often prohibitive to non-US backers. Several contemporary publishers have decided to discontinue international shipping completely. For this project, Onyx Path wants to keep all options open to our customers, though shipping costs will reflect the expense. Please be aware that you are responsible for additional import duties, taxes, and brokerage fees, and that we must comply with international law and cannot mark your reward as a gift or as a zero-value item.
If you live outside of the US, here are your options for obtaining a physical copy:
Pledge to the campaign at Bearer of Heaven's Flame reward tier to get the PDF version plus a redemption code to purchase the print-on-demand version of the book at a discounted cost (plus shipping) from DriveThruRPG once it's available (see Reward Descriptions, above, for more details).
Pledge to the campaign at Petitioner for the Spark reward tier to get access to the preview manuscript. Later, you can buy the PDF and/or Print-on-Demand when eventually released.
Contact your local game store and make sure you're put on a preorder list so they know there's demand for the game that they're being asked to fill, and then encourage them to back at The Markets of Great Forks reward tier for this campaign!
Look into a freight forwarding service that can give you a US-based shipping address, get packages delivered to it, and then forwarded to you.
If you don't mind the high shipping costs, pledge to the appropriate reward tier and pay for shipping now! We'll send your package at the same time we fulfill domestic rewards.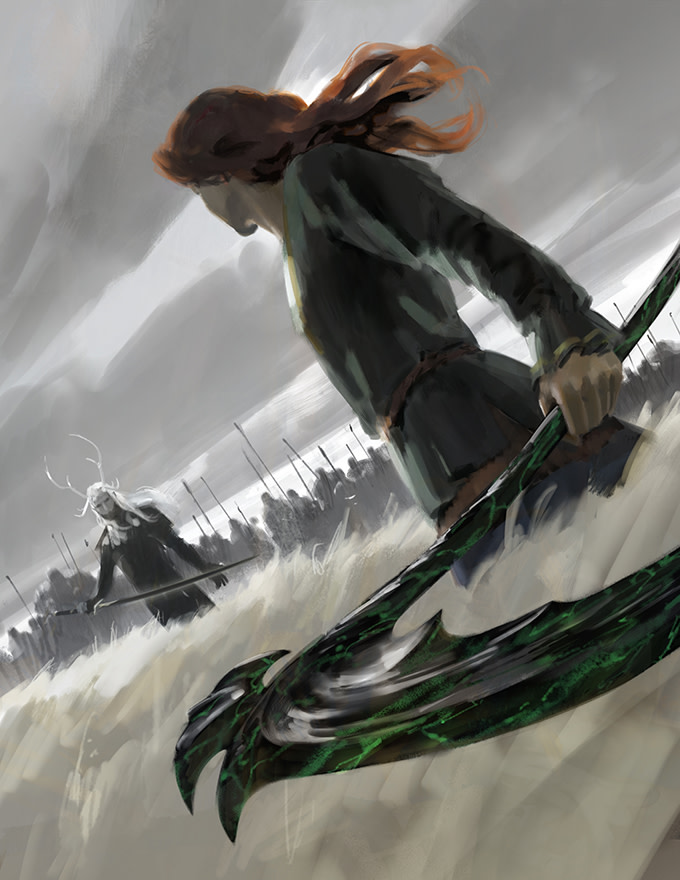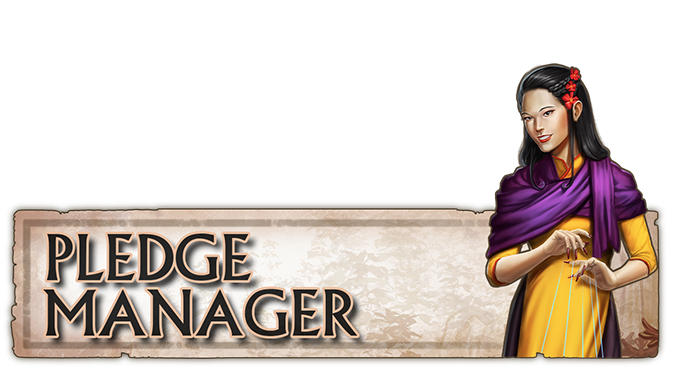 After the campaign is over we'll launch BackerKit, our post-campaign pledge manager, and invite the backers to set up their rewards via survey. This allows you to confirm your pledge and add on anything that you might have missed, as well as possibly increasing your pledged reward tier, should you choose to expand your reward selection. This option will give international backers additional time to investigate shipping options, should they choose, knowing they can confirm a physical reward at a later date. Funding collected in BackerKit after the campaign may not count toward any campaign Stretch Goals, however.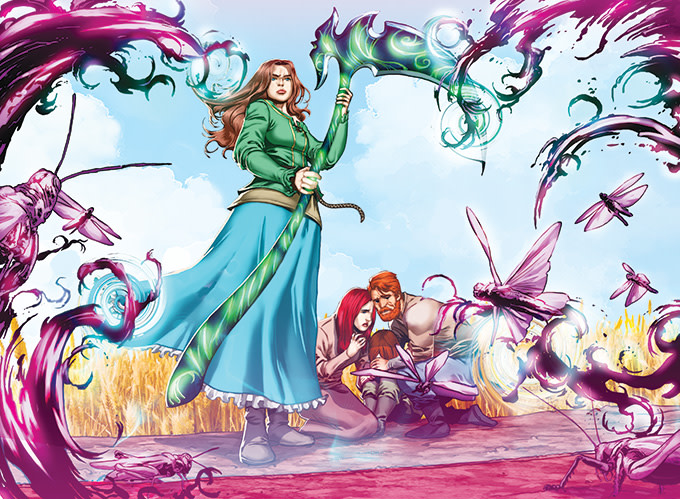 Onyx Path Publishing has managed more than 55 Crowdfunded projects, and that experience allows us to maintain manageable projects and achievable goals. To read more about the knowledge that has been applied to this project, you can read the FAQ linked here: http://theonyxpath.com/about/faq
ADDITIONAL TERMS & CONDITIONS By backing this Indiegogo project, you have agreed to the following additional terms and conditions:
ARTWORK, DESIGN, MATERIAL & CONTENTS SUBJECT TO CHANGE. Onyx Path shares artwork, design, descriptions and manuscript contents with the understanding that changes may occur in the creation of the final product based on further development, available resources and materials, and the nature of the creative process.
REWARDS REQUIRING ADDITIONAL INFORMATION REQUIRE TIMELY RESPONSE. Some rewards, particularly limited Special Rewards such as art model descriptions, character names, and custom design work, require input from the reward backer. For these rewards, the backer must respond within 6 weeks of the information being requested (most likely by BackerKit pledge manager survey, occasionally by direct e-mail) in order to maintain the project development and manufacturing timeline. Onyx Path will make a strong effort to acquire this information, but should the backer not provide it in a timely fashion, all parties agree that Onyx Path can move forward on the project without the information or using an appropriate substitution and the respective backer will consider the reward obligation fulfilled in full for payment or donations pledged and collected on the part of Onyx Path. The simple fact is that we cannot delay the production of the product due to a unresponsive backer, that's just not fair to the others who have supported this project.
ADDRESS CONFIRMATION & DELIVERY OBLIGATIONS. If you confirm your pledge prior to final address confirmation and initiation of distribution notification via email, you agree that our responsibility to you is to ship your order as entered into our pledge manager system, that title and risk passes to you upon delivery to a common carrier for such shipment, and you are responsible for import duties or any other duties that may be payable to the relevant tax authorities, providing correct address information and ensuring this address is deliverable by normal methods. Failure to confirm mailing address prior to final request and distribution notification will be taken as agreement that all obligations have been met and no further action or effort is required on the part of Onyx Path. We will attempt to alert you via the methods provided by Indiegogo and/or BackerKit, primarily e-mail, prior to distribution of rewards to avoid any issue, but once we've made all reasonable efforts, we must move on with other business and will be unable to make exceptions. DIGITAL REWARDS. You will be notified by BackerKit when digital rewards become available to you. Typically, these will be links to load PDF titles into your account library on DriveThruRPG.com. The links from BackerKit must be activated within 90 days to ensure the titles are added to your library, after which the links may expire and Onyx Path may not be able to provide replacements. If you do not accept these terms, please do not pledge on this project but instead wait for the general release.