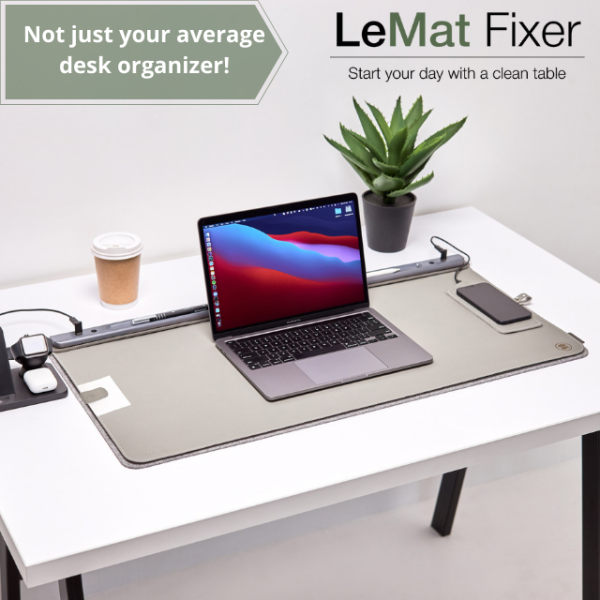 LeMat Magnetic Fixer-Upgrade Desk Mat.All in One
$65,317
raised out of
$5,000
Concept
CHARGER | NFC TAG | TOOLBAR | USB TYPE C. Clever desk organizer which compatible with any desk pad.
Story
Hi there. We are launching our second desk pad project. We considered the previous wishes of the backers and their ideas and made a modernized desk mat that will suit everyone. Our team tried to make it as simple as possible but at the same time increase its functionality, and I think we succeeded. Rooted in the LeMat original philosophy: Beauty and quality are as important as functionality. If you have any questions don't hesitate to ask us PM. We will help everyone.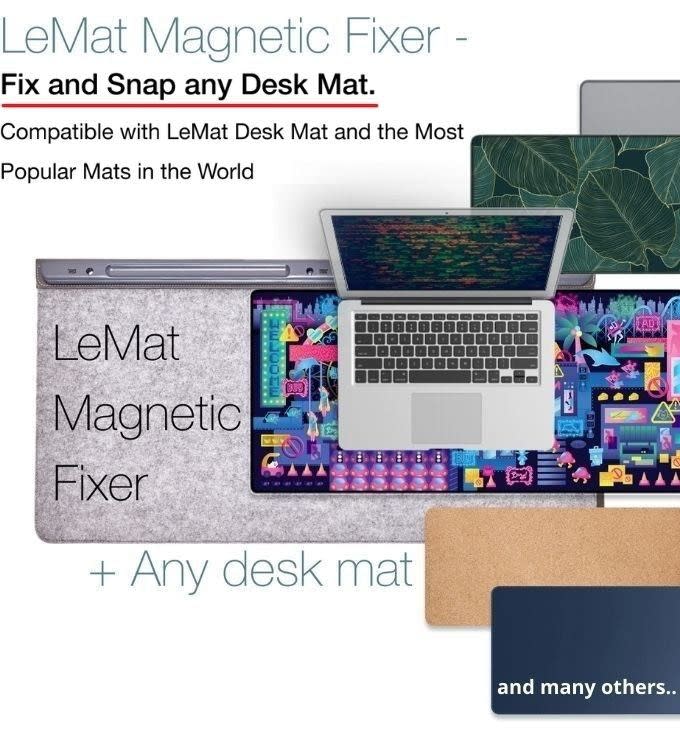 * Suitable even for your favorite pad you do not want to part.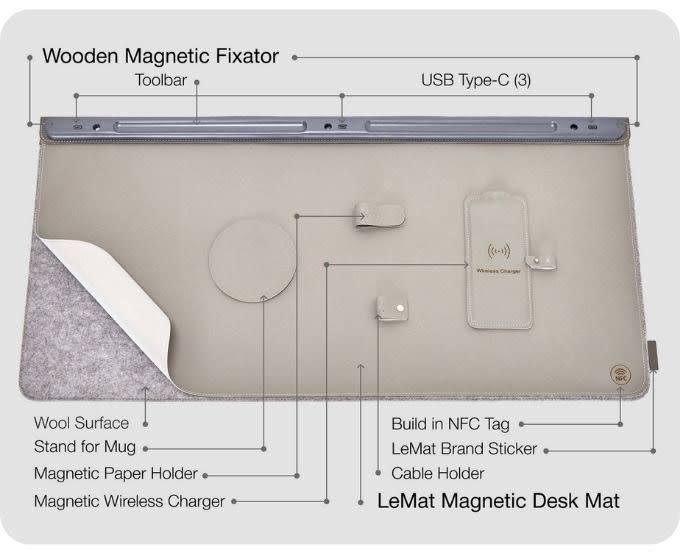 *Paired with magnetic and other accessories, the Lemat Fixer Full Kit can be customized to suit your work style preferences.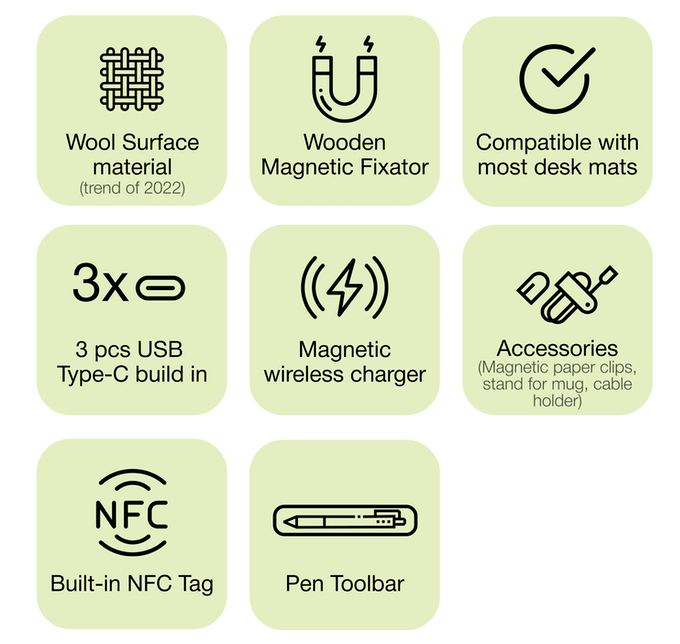 With the magnetic accessories in place, "throw" all your work essentials together on it – the coolest and fastest way to keep them uncluttered and at your fingertips. No scattered devices, cables, pens, or papers. No trace of disorder. Nice and Neat.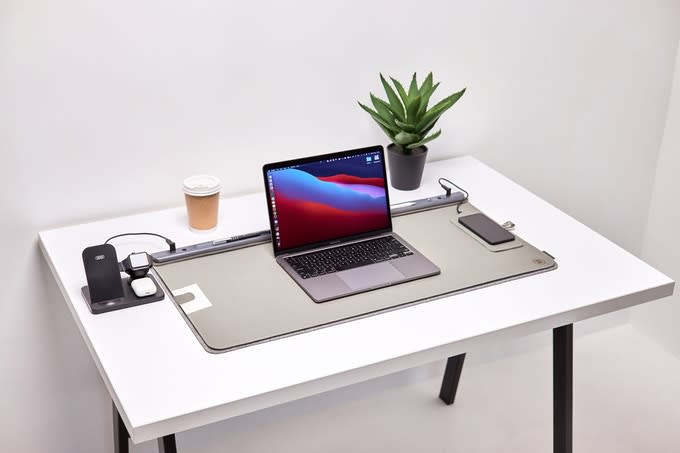 You can work on a wool surface or make a Quick transformation of your workplace – Just Snap-on LeMat desk mat or any other mat you want. Transform your workplace!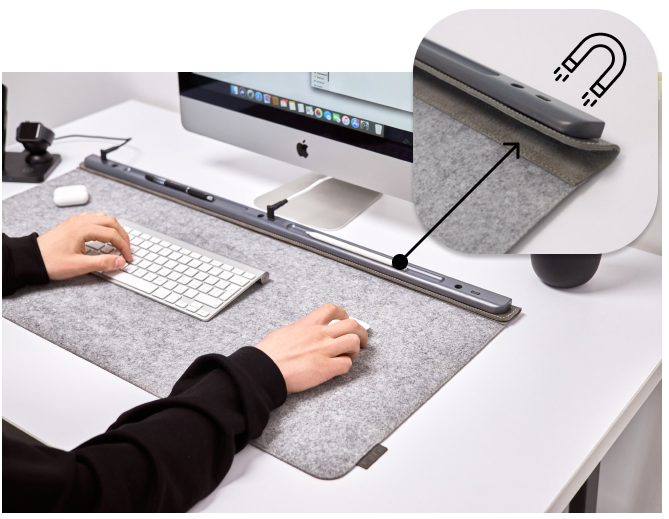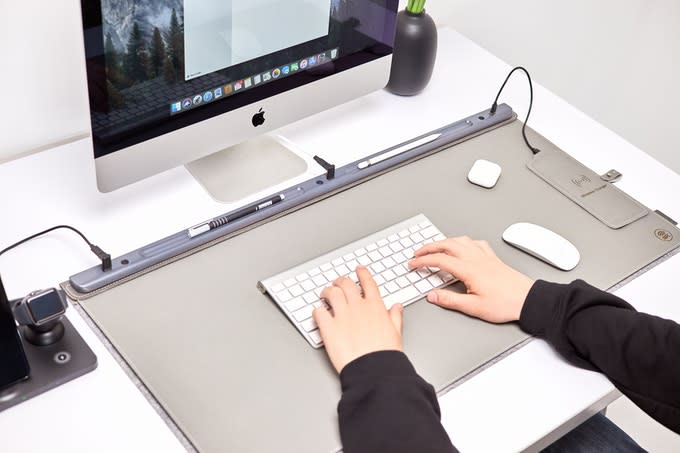 3 USB TYPE-С are embedded In the wooden magnetic mat fixator. So you can connect the voltage to one of the three usb from a computer, socket, or laptop. The other two can be customized to charge your different devices: including Phones, dock stations, tablets,  keyboards, mouses  etc. You can also use an adapter for other types of USB.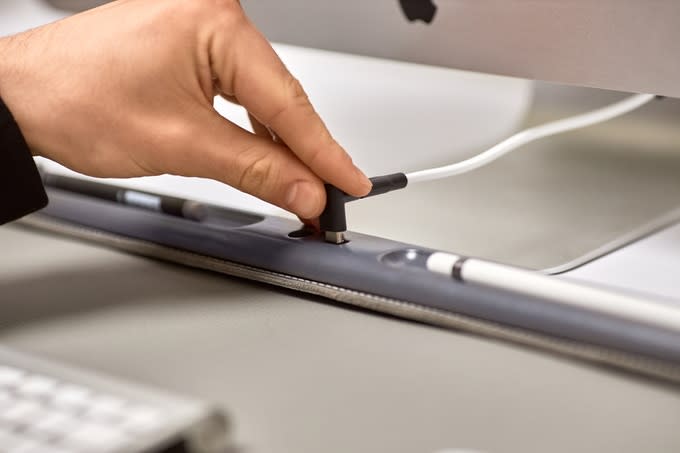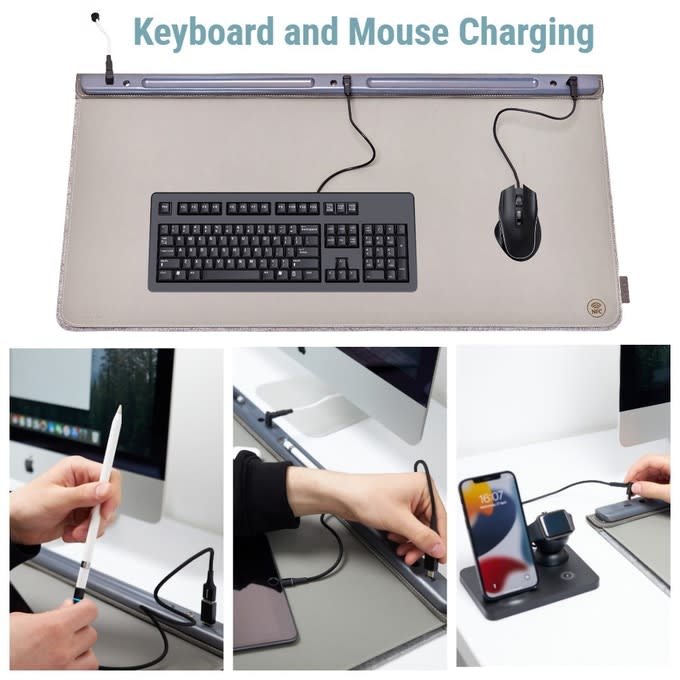 Easily click and fix the wireless charger on the magnet of both the left and right sides of the Mat.  It uses the Qi charging standard, compatible with almost all devices, including phones and AirPods that support wireless charging. You can put the charger in your bag and take it with you.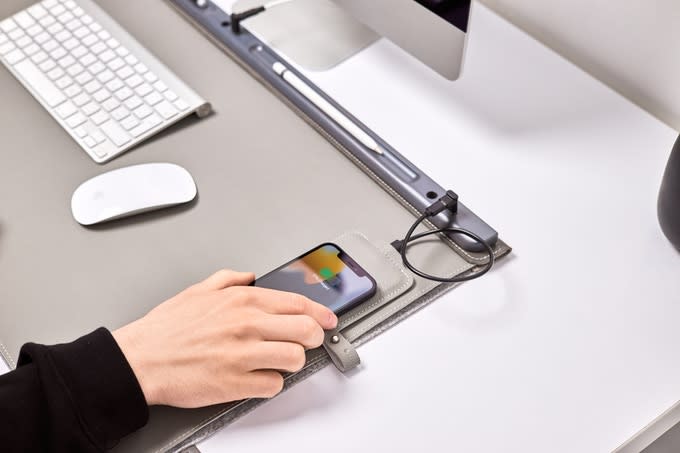 In the LeMat desk pad, an NFC hotspot is embedded. It can be customized to personal preference with a wide range of apps, including Spotify, Instagram, Facebook, or concentration apps like Pomodoro ( to keep you on track without your attention being stolen, speedily optimizing productivity and task performance)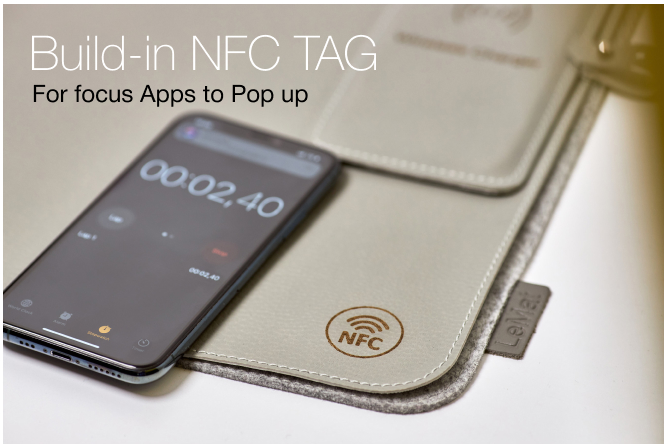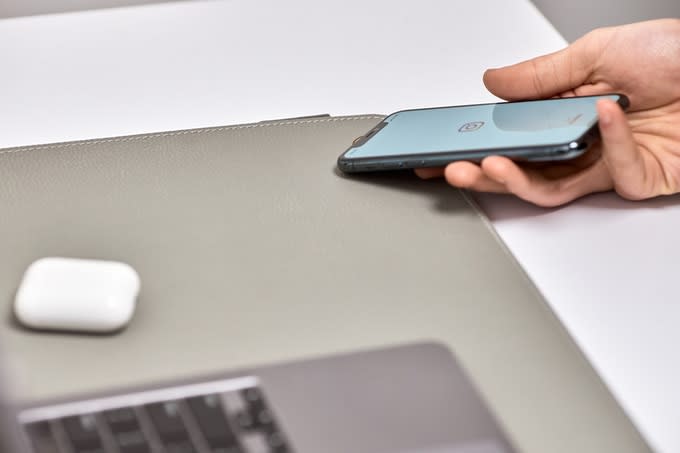 With a dedicated space for stationery and small accessories in the toolbar, you'll always have quick access to your work essentials whenever you need them.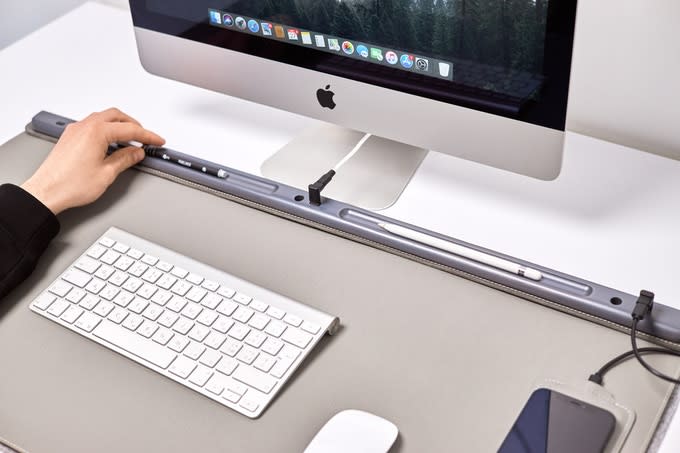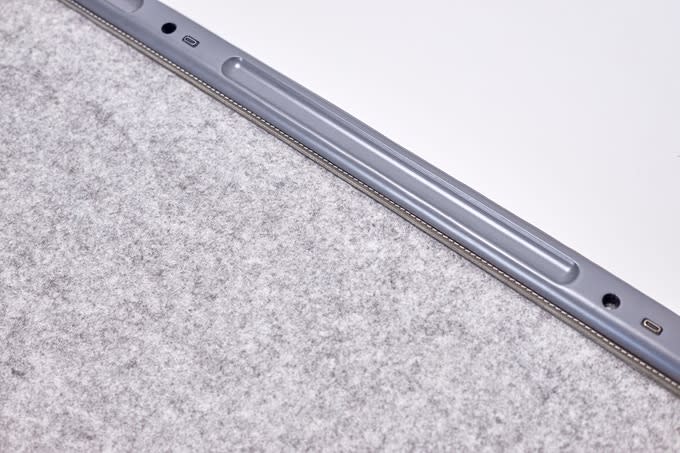 LeMat has a smooth surface which is excellent for both writing and computer use when using a mouse. You can use a fixed top layer mat as a document and paper hideaway, so they don't pile up around you – just like sweeping a mess under a pad! Also, Mat was designed with a magnetic clip for small notes.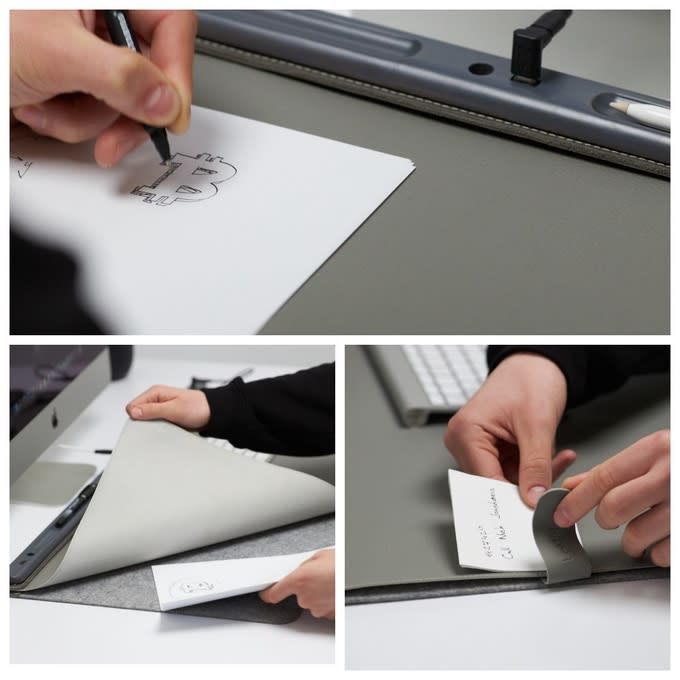 LeMat Magnetic Fixer allows you to hide cables to organize your workspace. Doing this will enable you to focus on your tasks without any forms of distraction. Also, the Mat is aesthetically pleasing!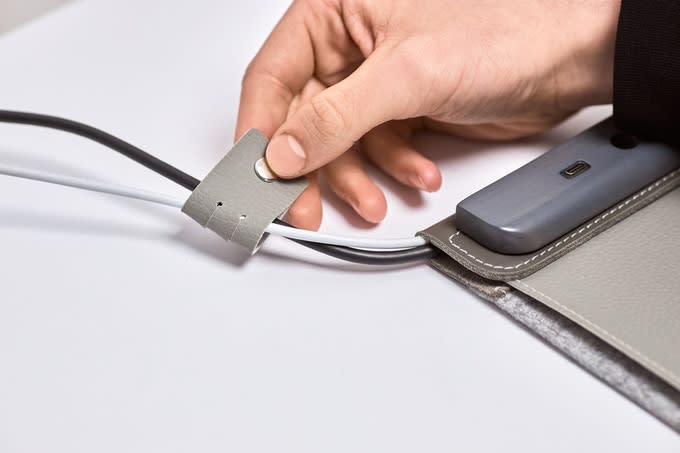 LeMat Magnetic Fixer offers protection to your desk and prevents any scratching, staining, and spills. Also, the LeMat desk pad is durable and water-repellent and can easily be cleaned with a cloth.

Each LeMat is manually verified which enables us to create a high-quality product, avoiding any defects.  The mat is steady and does not slip around the table. It is evenly smooth and is very pleasant to the touch.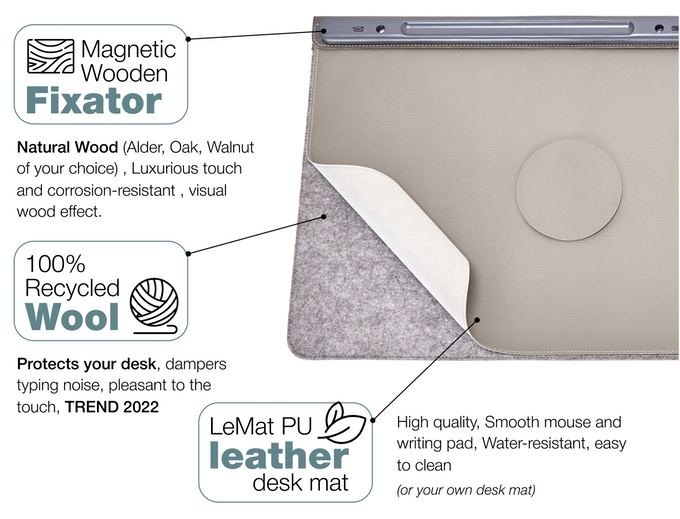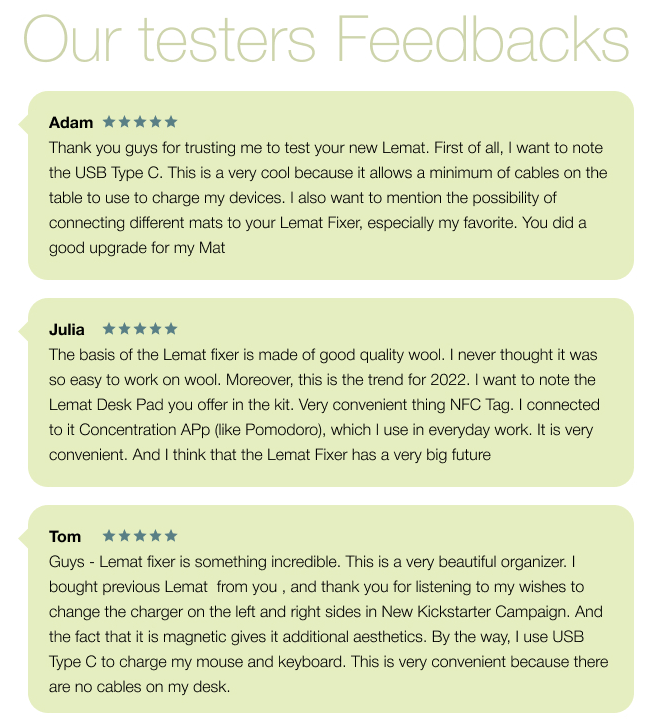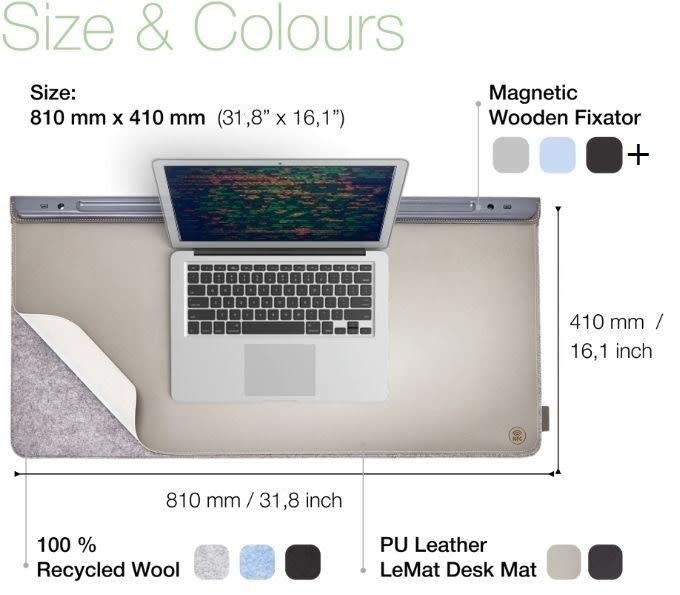 LeMat Fixer Wool Colors 

 LeMat Desk Mat Colors 

– You can choose the color in the pledge manager when the campaign ends.

Keep in mind, that Fixator Color can be added to any color of Wool Surface at your request. So you can combine that as you want. As example yellow fixator can be added to black wool and so on.


 * 3pcs USB Type- C are embedded in LeMat Wool Magnetic Fixer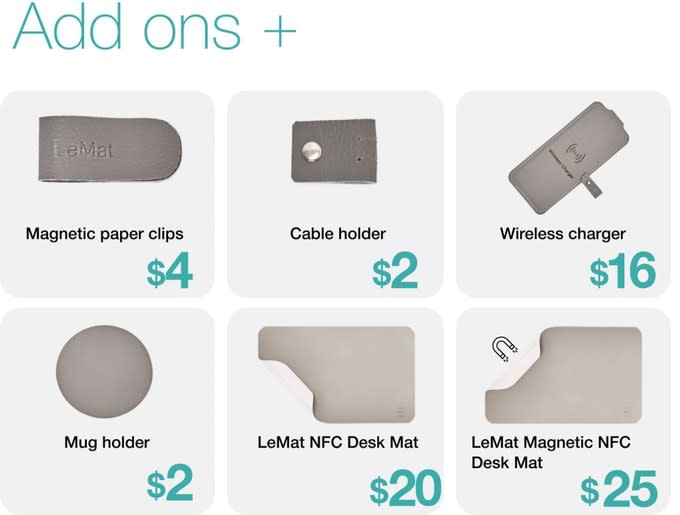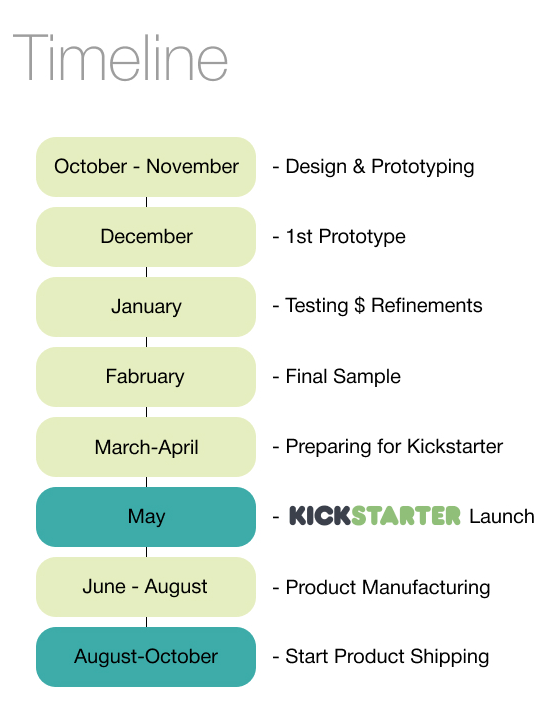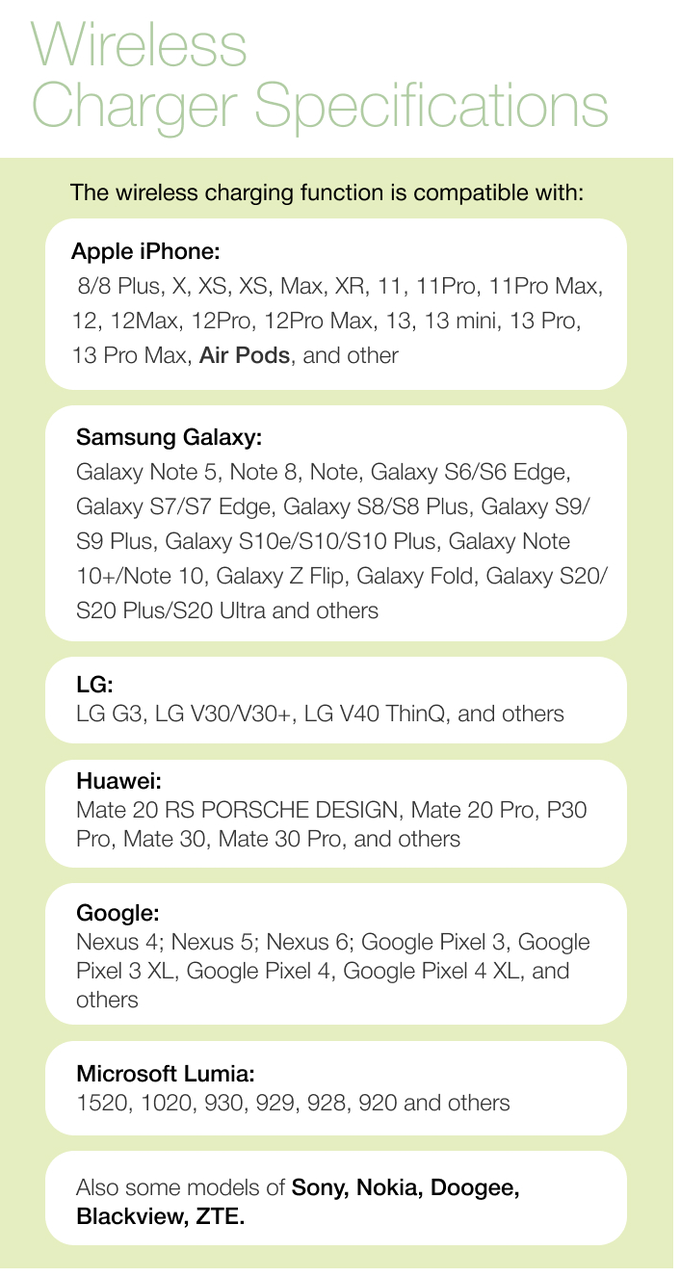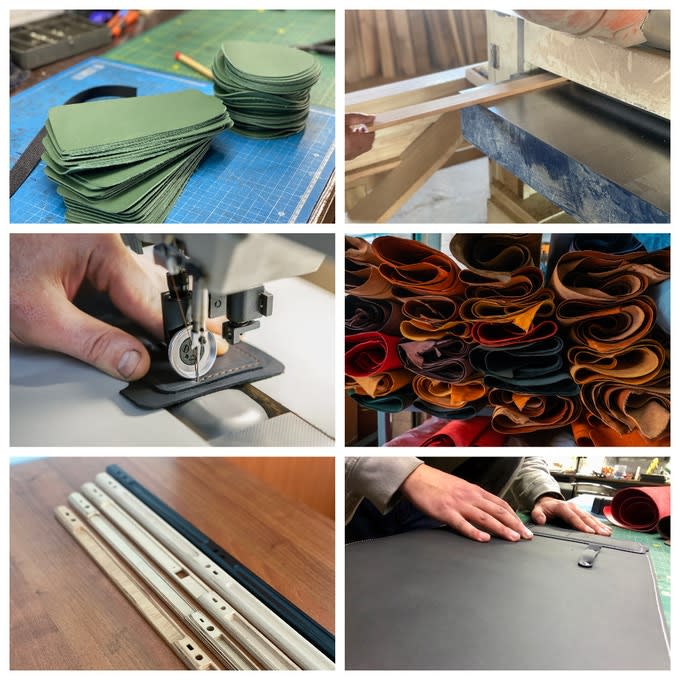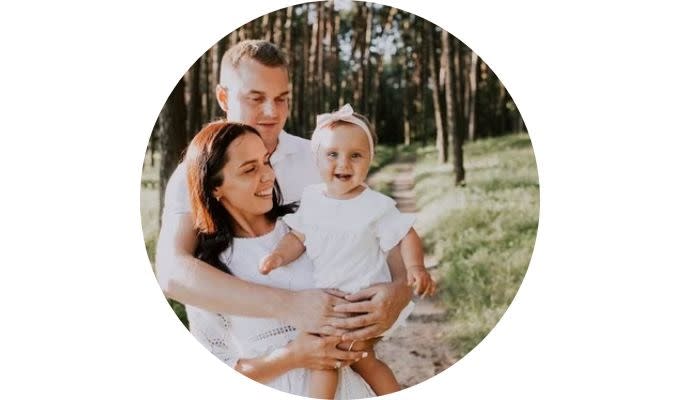 We are LeMat by VoRis, a family-owned brand you can trust, dedicated to creating leather and wood accessories. All products are handcrafted at our studio, with a keen eye for beauty, meaning and detail. By designing truly inspirational pieces, we ensure that there's a personal connection and a sense of joy in your space.
And we definitely couldn't do it ourselves. So here is our Perfect TEAM!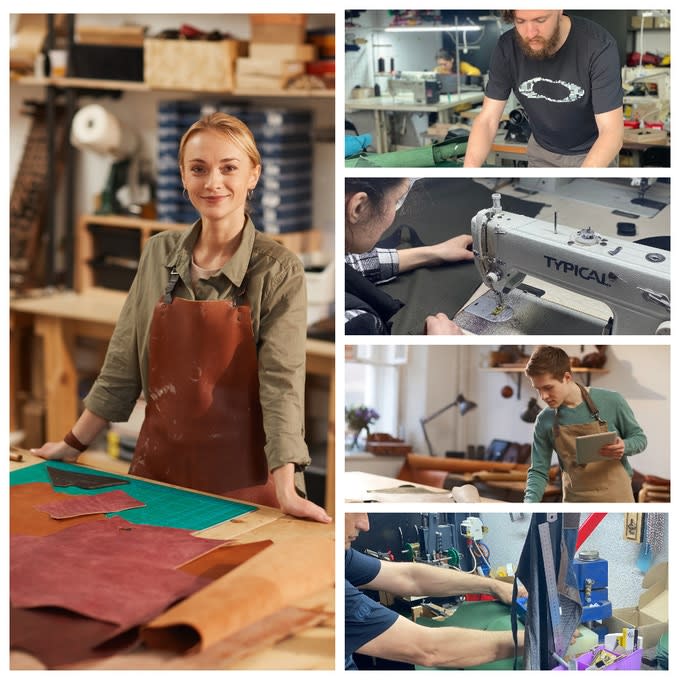 Our manufacturing
This isn't our first project. We already know how Kickstarter works, so we can automate all processes from production to shipment in the shortest possible time.
We believe we have mitigated risk factors as much as possible—we just need funding to run the wider production round in new desk mats models and we want give the work for more people!
Please support us, sharing our project with your friends and family, or just rooting for us! We will always strive to produce unique, impressive products while maintaining our high standards of quality and customer service.







Shipping
Please, pay attention: the shipping cost is not included in the pledge and will be charged after the campaign with the Pledgebox pledge manager.
We offer domestic and international tracking.
We do not want to lose any orders. And we will assist you with the information all the way until you receive the package.
If you have selected a few pledges, the shipping cost will be lower, than if we send them one by one.
Shipping Cost are same for all countries!
LeMat Magnetic Fixer – 25 USD
LeMat Fixer Easy Kit – 30 USD
LeMat Fixer Full Kit – 35 USD 
Why Indiegogo
Our first Kickstarter products—Wireless Charging Leather Desk Mat—had successful campaign runs and have since helped a lot of people around the world create a new and exciting workplace. Also Kickstarter helped us start our manufactury and make interesting products to all.
You may have noticed that our fundraising target is low. That's because the goal of this campaign is more about the people we want to bring into the fold of what we're doing.
Along with the support of an awesome community of creators, Kickstarter offers a great platform for us to showcase and fund our new LeMat series while still connecting with you, the backer, to listen and learn how to continuously improve our products.
Risks and challenges
We are confident that we can deliver your mats on time (and perhaps even before the given delivery date) since we produce everything ourselves. As soon as Kickstarter ends, we will be ready to launch. The production time is from 1-2 months – which is always dependent on the amount of orders we receive. Delivery time is usually expected to take around 2 weeks. Work has already been done to source materials, and as the project goes on and the scale can be determined, we'll begin finalizing that and placing preliminary orders as we're able. We have planned for success, and do not anticipate any issues sourcing hardware, leather, packaging or any other materials. The LeMat team will update you regularly on progress. If there are any issues, we promise to communicate with you every step of the way! In case you have any questions or concerns, please feel free to email us at voriscorp@gmail.com, or send us a message through Indiegogo.