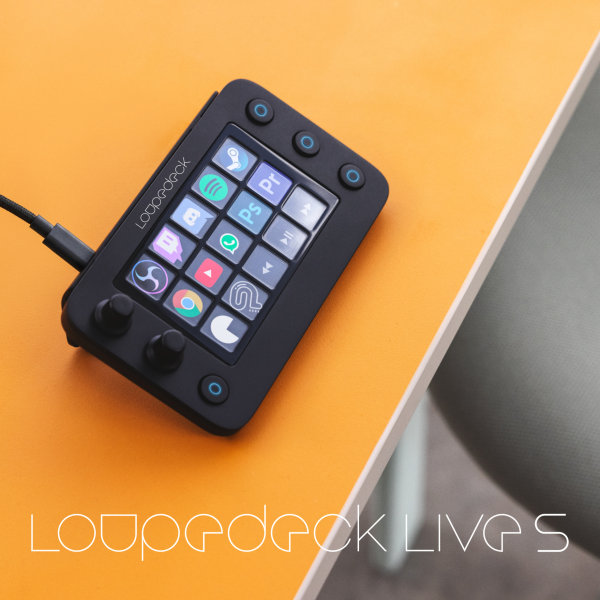 Loupedeck Live S: Customizable Streaming Console
$28,312
raised out of
$50,000
Concept
Take Control of Your Stream, Chat, Audio, And More! With Touch-Sensitive Buttons & Tactile Dials.
Story

Say hello to your new trusty sidekick, Loupedeck Live S. Now you can control the entirety of your stream from one easy-to-use interface. Using touch-sensitive buttons and tactile dials, you can easily change scenes and sources, chat with viewers, adjust audio in real-time, and more, without any hassle.
By simplifying streaming, Loupedeck Live S helps you grow your stream and build lasting connections with your audience. So go ahead, sit back, relax, and enjoy spending time with your community.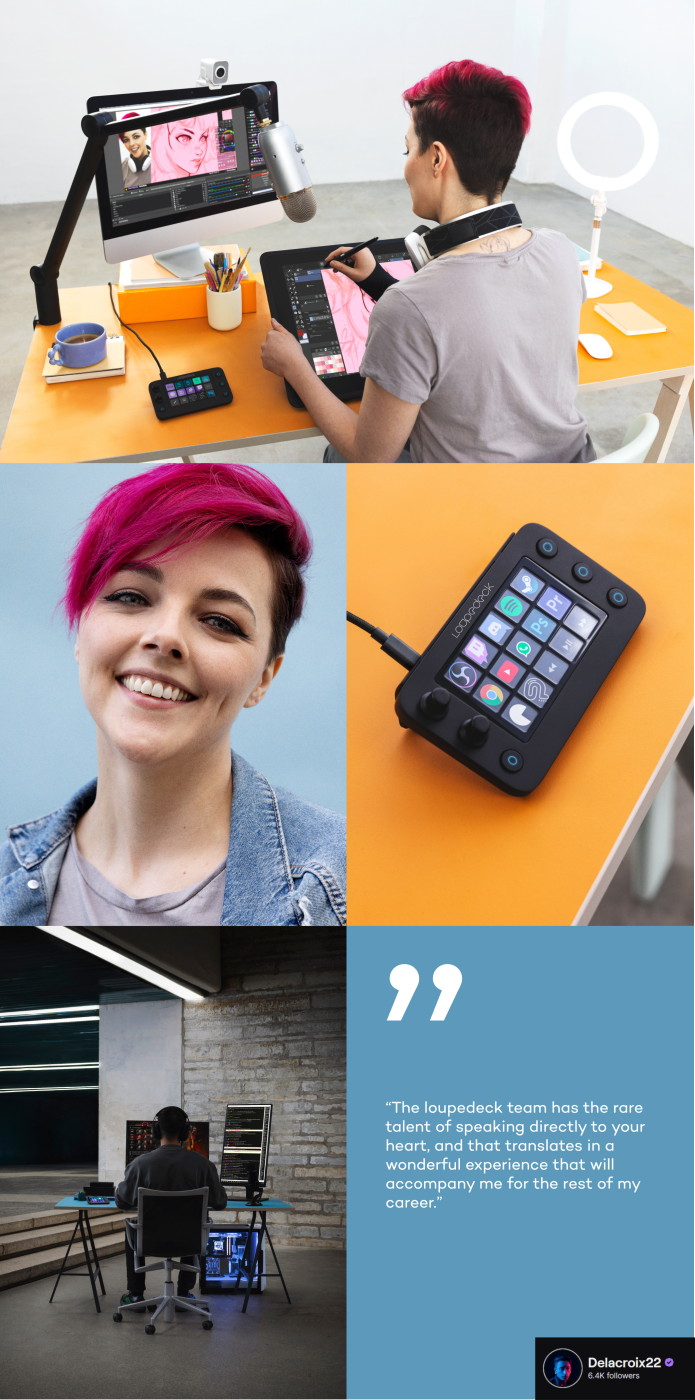 As a streamer, you could use 25 hands, or just one Loupedeck Live S. It has 2 analog dials with push functionality, perfect for adjusting volume; 4 tactile buttons for essential commands or toggling between pages; & 15 touch-sensitive buttons for commanding actions – all fully customizable. Need more buttons? We got you. Swipe the touch screen to access up to 14 pages of touch buttons.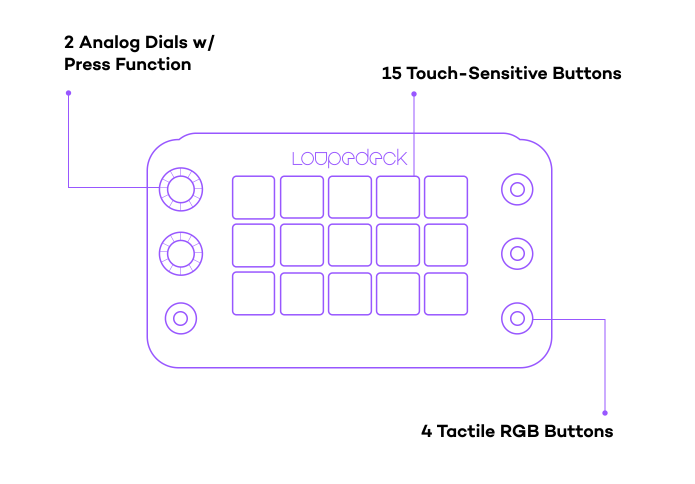 Simply download the Loupedeck Software, connect your PC or Mac, and you're good to go. Loupedeck Live S comes equipped with powerful default profiles to your favorite streaming software and other applications.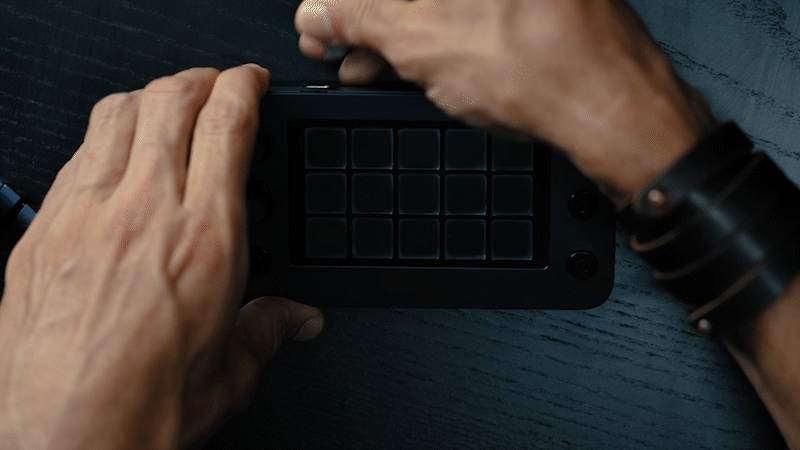 Get hyped as you switch on your mic, camera, lights and launch OBS at the tap of a button. Activate your intro scene and welcome messages as you adjust audio levels with dials. Keep the conversation flowing as you smoothly activate your chatbot, trigger sound effects, launch media and more.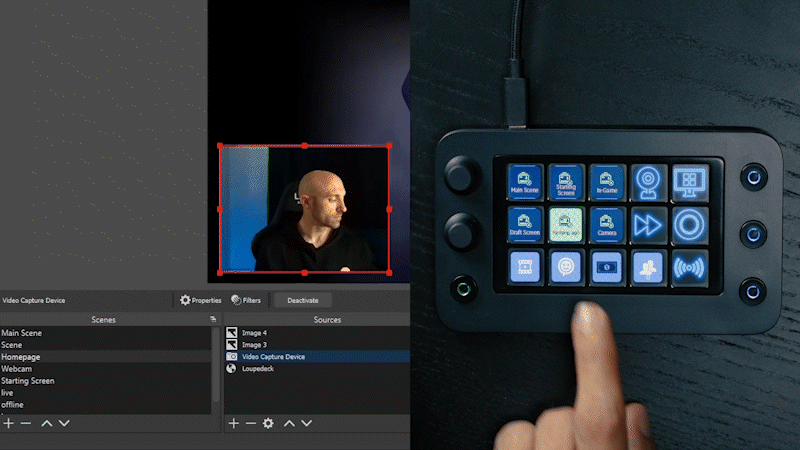 Get up and running right away with plugins to your favorite streaming tools and applications like Twitch, OBS Studio, Streamlabs, Ecamm, Spotify, Philips Hue, Voicemod and more!
You can even unleash your artistic side with plugins to creative apps like Adobe Lightroom Classic, Adobe Photoshop, Adobe Premiere Pro, Adobe Audition, Final Cut Pro and many more.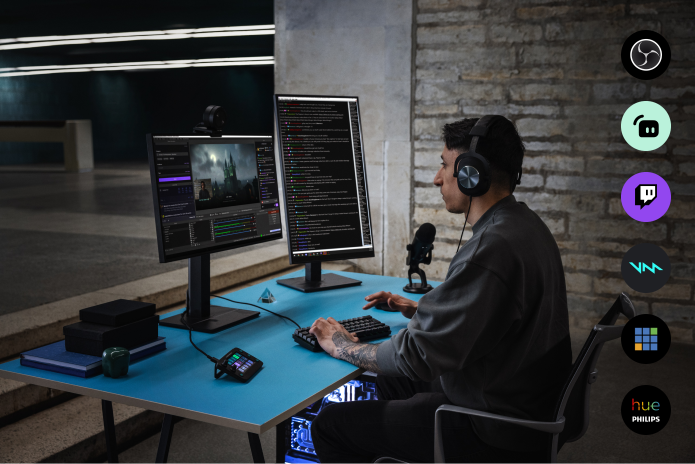 Create your own profiles with shortcuts and tools directly in the Loupedeck Software. Personalize your Loupedeck console to match your setup by adjusting RGB color lights, creating customized static or animated icons, or downloading pre-made icon packs from the Loupedeck Marketplace.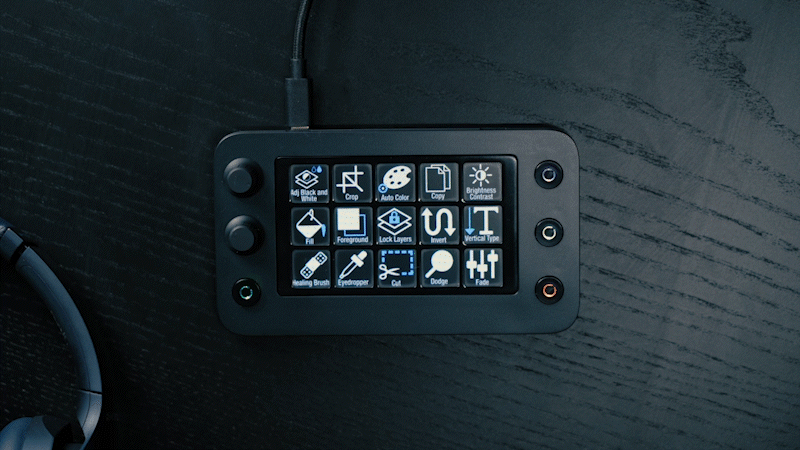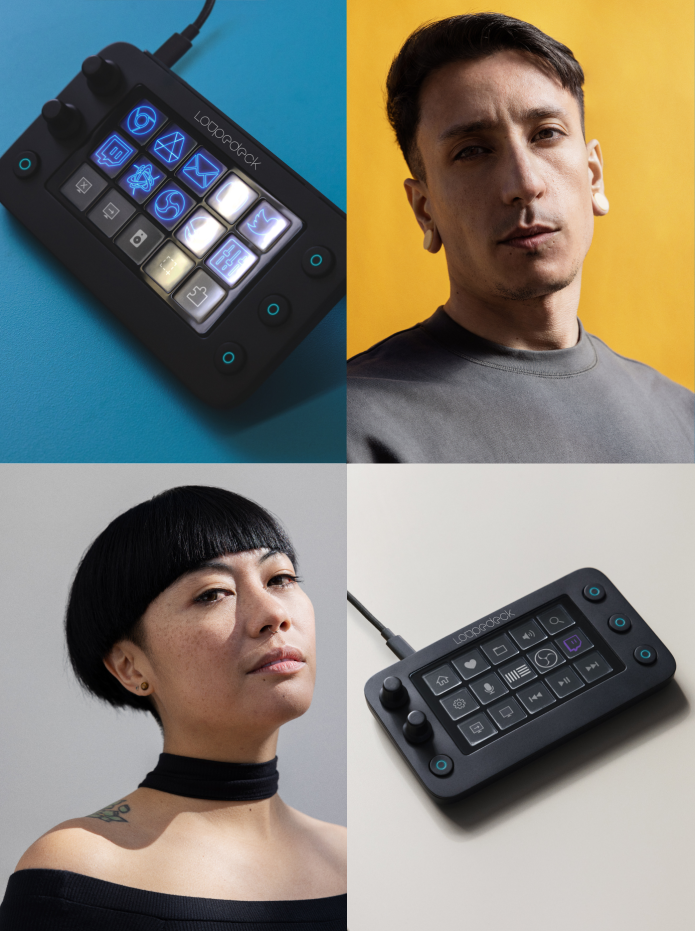 Whatever your style, high-quality audio is essential, whether you're speaking calmly, cracking jokes, playing a video clip, or exploding into full-on rage. Loupedeck Live S makes controlling audio simple. Tap to mute your mic, then turn the dial to adjust audio sources in real-time.
Need a little more? Loupedeck Audio Mixer, which is slated for release in November 2022, will offer you even greater control over your sound.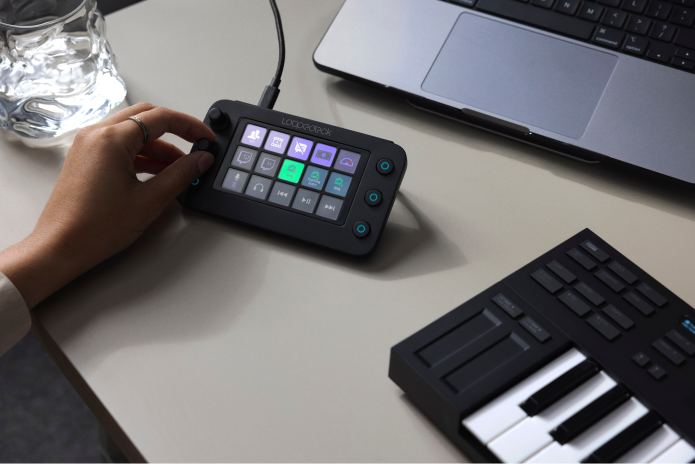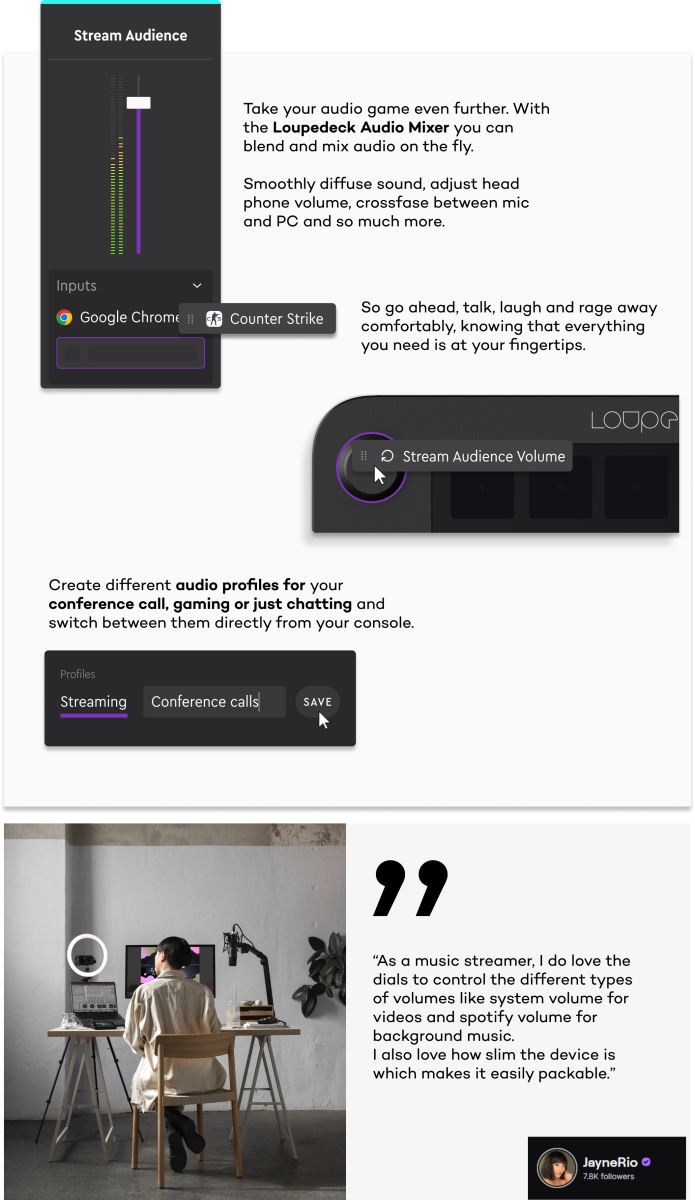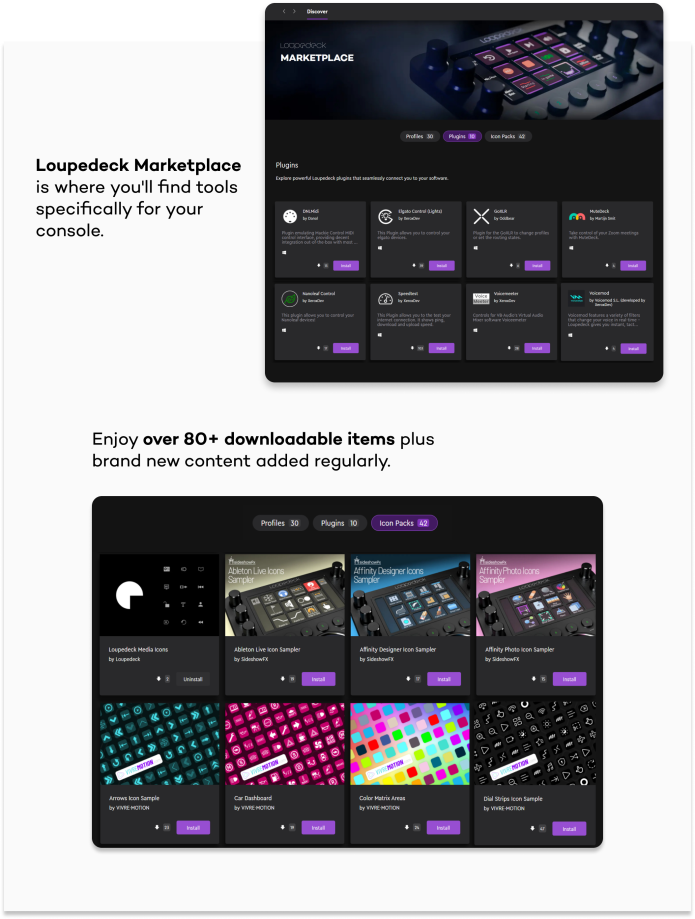 It's not our style to brag, but Loupedeck Software is a beast. It allows you to customize virtually anything- from assigned functions, organized Workspaces, to custom profiles for any application you wish. Create as many Custom Actions and macros as you need, to trigger a string of commands at the touch of a button. Using feedback from our users, we are continually improving Loupedeck Software so that it is as intuitive as possible.

Streams end, but the work doesn't. Live-streams must be edited and published for social platforms like YouTube and Facebook. Loupedeck Live S makes it easy. With plugins for Premiere Pro, Final Cut Pro, Photoshop, and more you'll get quick access to the tools you need to make it happen faster.
Loupedeck Live S also supports daily productivity tasks like managing emails, controlling your desktop, and browsing the web with plugins & profiles for Zoom, Microsoft products and more.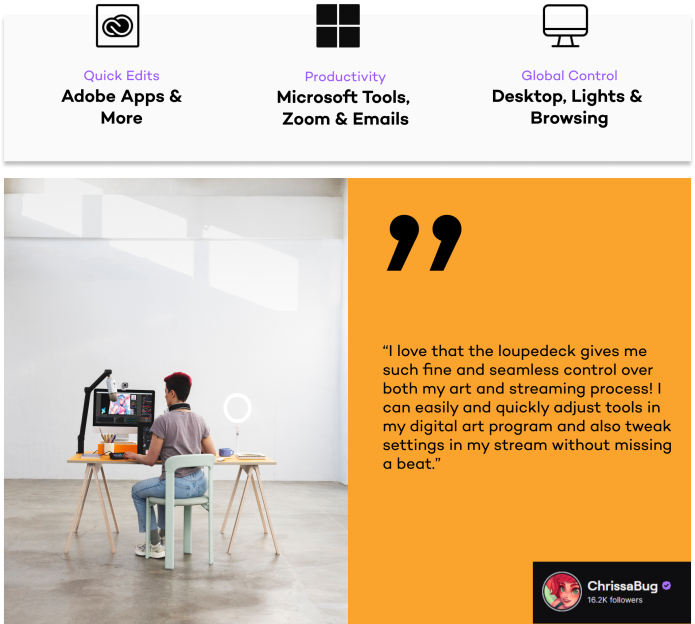 Loupedeck Live S has been meticulously built, right down to the packaging. Its highly, ultra-compact design fits into any workstation. Let your creativity flow with controls that feel good to the touch.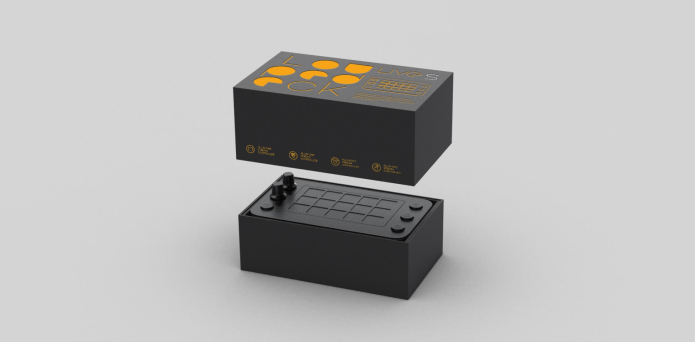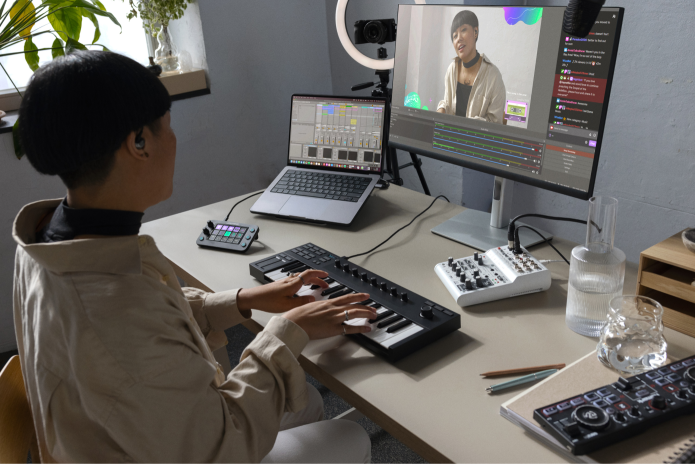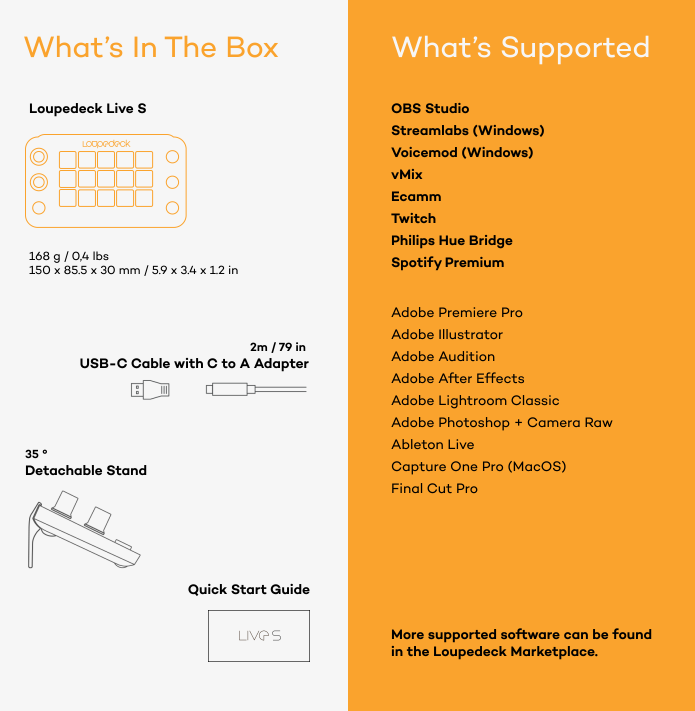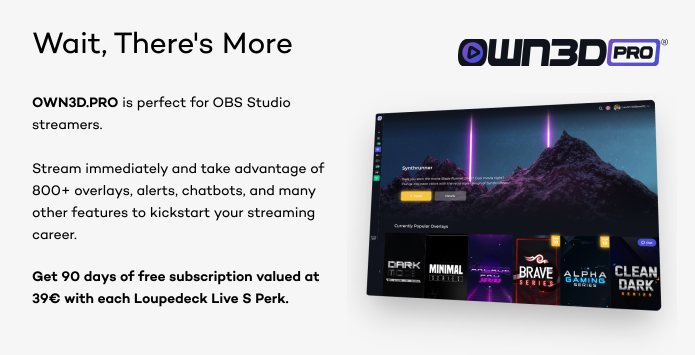 We are Loupedeck, the creators of Loupedeck+, Loupedeck CT, and Loupedeck Live, custom creative consoles. Our company was founded in Finland in 2016, and we are now the leading brand of custom editing consoles within professional and hobbyist workstations.