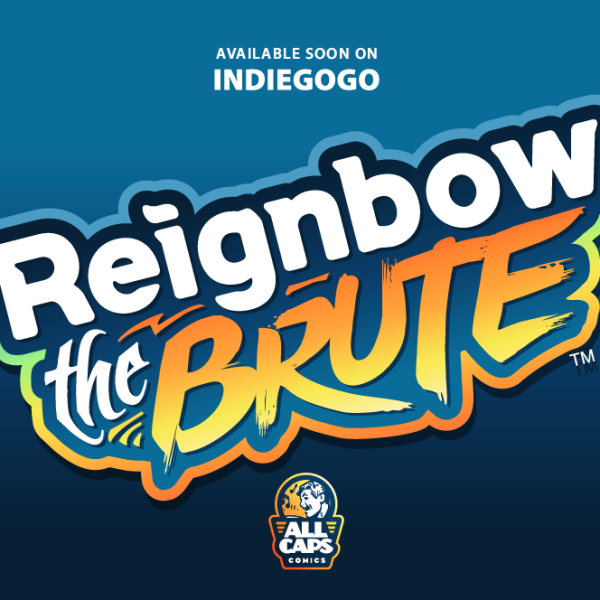 REIGNBOW THE BRUTE
$192,677
raised out of
$10,000
Concept
A FAIRYTALE satire for REAL MEN.
Story
Here's a big blast of High-T Sunshine for ya!
Meet REIGNBOW.  He's a Brute.  The last real man in Fairyland.  

REIGNBOW THE BRUTE is a hard fightin', hard drinkin' Fairy Barbarian, who battles the Thundercloud Men and maintains order Under the Rainbow.  It isn't easy, with unicorn pests, thumb sucking Apes, Commie Elves,  and Onion Grove Children requiring constant vigilance.  
But Reignbow's worst day ever happens when after a series of Honeysuckle shots, he quarrels with one of the UNBEARABLES, a clan of miserable emotionally manipulative grizzlies, and they steal something precious to him.
Not only that, but PAULA POKKIT, a former…girlfriend whom he hasn't seen in 15 years, finds him to let him know that he has a son, and that boy needs a father!
Mount up on Reignbow's Girthy Stallion NEIGHPALM for the adventure of a lifetime, to retrieve GRASSBLADE and and perhaps, along the way,  teach young SHIRO POKKIT what it means to be a man! 
REIGNBOW THE BRUTE is a parody/satire that will take a lot of your memories of the 80's, and blend them with high testosterone and fun!  
It will be 48 pages, and hopefully we'll be able to afford some specialty covers with your support!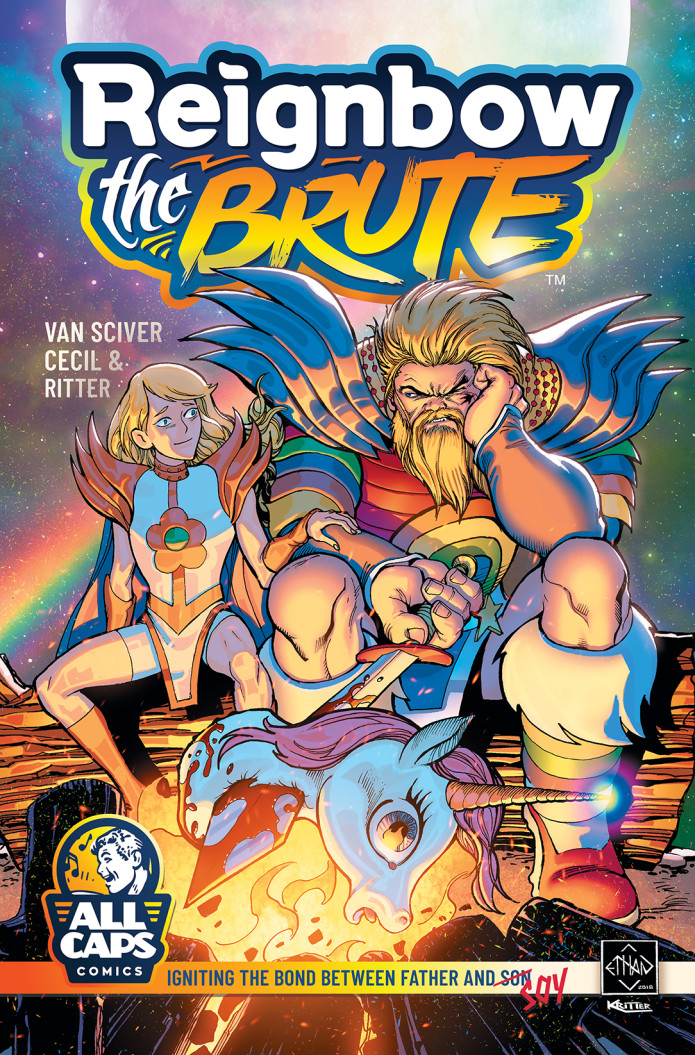 Regular cover!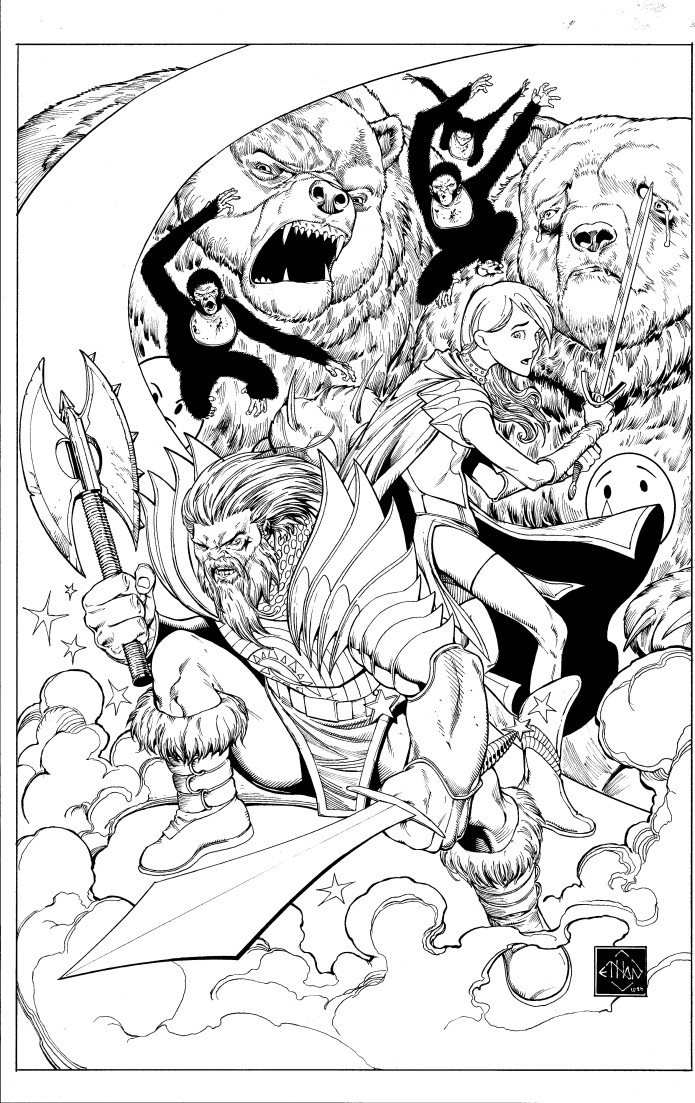 24 Hour Variant Cover!  (colors coming soon!)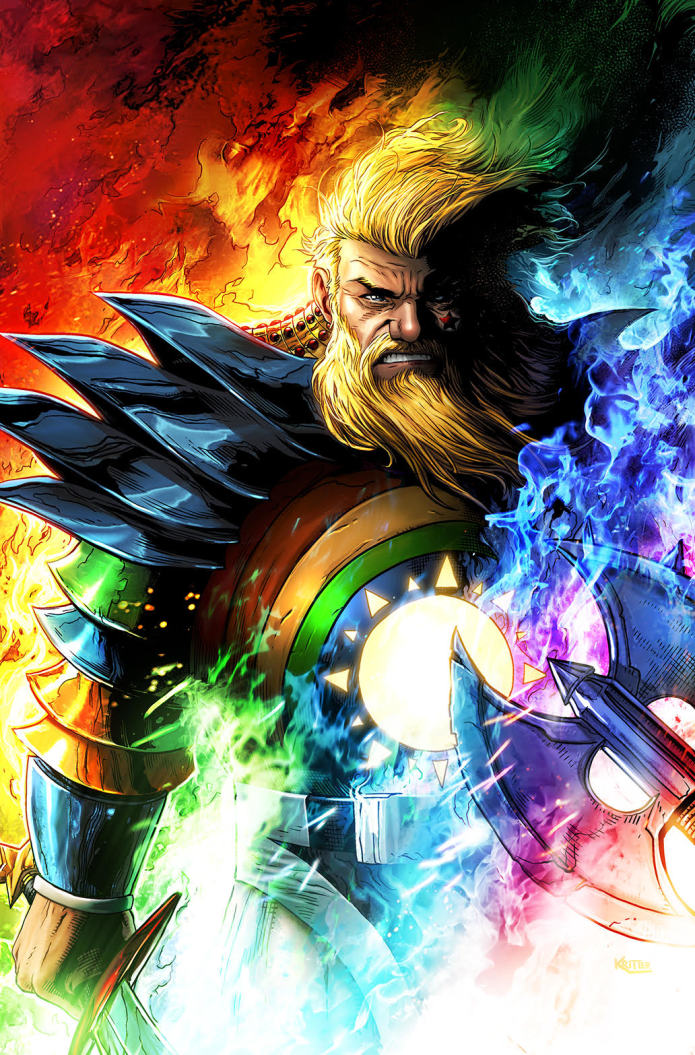 KYLE RITTER VARIANT cover!
BONUS COMIC! MY GIRTHY STALLION: BARNSTORM
MY GIRTHY STALLION: BARNSTORM will be a spin off book, in which the baddest and beefiest Stallions, GHOSTGALLOP, SADDLEAXE, BLOODREINS, UNSTABLE 1, RIOTSPUR, STORMHOOF and of course, Reignbow's own steed and best pal, NEIGHPALM saddle up to ride hard against STALLIN and TROTSKIE!  Tons of fun, art and story by ETHAN VAN SCIVER!  
Take a ride with MY GIRTHY STALLION!  48 pages in full color!  You'll have a great time!
COOL STORY, BRO: Toxic Fairytales for Masculine Men
I'd like to make a storybook!  A beautiful, leather bound volume of future classics, featuring High-T parodies of Fairytales reworked and illustrated with a "toxically masculine" agenda!  
I'm going to do my spin on SNOW WHITE!  Jon Malin would like to do LITTLE RED RIDING HOOD!  And I'll invite more of the best creators to join us in filling this book with kick ass fun!  This will be the perfect gift for the dude in your life!  Don't miss it!
EXECUTIVE BRIEFCASE EDITION!
This is a subscription to the campaign! It is the ULTIMATE way to enjoy REIGNBOW THE BRUTE!
 If you back at this level, you will receive one of every perk, plus some exclusives only available at this tier, from here until we fulfill!
When I say "briefcase", I should actually say "lunchbox."  This will be packaged in a beautiful oversized lunchbox, reminiscent of the ones you took to school as a kid!  Like this: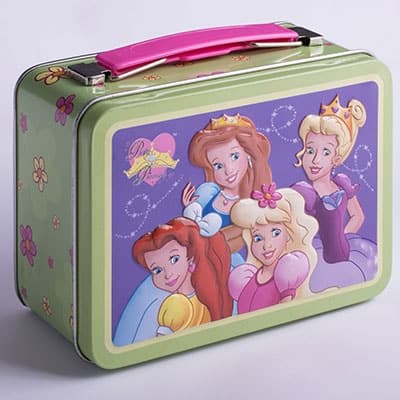 (Actual mock up soon!)
…but with awesome REIGNBOW THE BRUTE art all over it!  The perfect way to store your REIGNBOW THE BRUTE perks!  Limited to 4000 pieces, these will only be available for this campaign!
At the start of the campaign, you will receive:
1. One copy of the REGULAR edition of REIGNBOW THE BRUTE
2. One copy of the 24 hour VARIANT edition!  (We're changing the rules and adding this to your Subscription box!  Even after the 24 hours is up, you'll still receive this variant with your order!)
3. One copy of the KYLE RITTER VARIANT edition
4. One copy of the EXCLUSIVE STRAWBERRY LUV VARIANT edition
5. One copy of MY GIRTHY STALLION: BARNSTORM
6. One copy of COOL STORY, BRO: TOXIC FAIRYTALES FOR MASCULINE MEN
7. One of EVERY ADDITIONAL regular perk and achievement that this campaign sees from here!  You won't miss any of the ashcans, cards, stickers, whatever, it'll all be found in your EXECUTIVE BRIEFCASE! 
ORIGINAL ART!
You can purchase a page of original hand drawn art from either REIGNBOW THE BRUTE or MY GIRTHY STALLION!  There are 48 pages available for each!  They will be given out in the order of backers, first come, first choice!  There are no bad pages!  These are all rock and roll!
STRETCH GOALS!
At $100,000: all versions of REIGNBOW THE BRUTE will have beautiful prismatic covers!
At $150,000: MY GIRTHY STALLION will have a CHROMIUM COVER!
At $200,000: All EXECUTIVE BRIEFCASE backers will receive a BONUS black and white line art edition ashcan of REIGNBOW THE BRUTE!
At $250,000: All backers will receive 4 UNBEARABLES scratch and sniff stickers!  All EXECUTIVE BRIEFCASE backers will receive a BONUS REIGNBOW THE BRUTE DAZZLING STICKER!
At $300,000, all EXECUTIVE BRIEFCASE backers are getting a REIGNBOW THE BRUTE THERMOS!
And we'll take it from there!  That's pretty optimistic!  If we meet these goals, I'd like to add more fun stuff to everyone's orders!  And if we do REALLLLLY well, we'll talk about STALLIONS PVC toys!
THANK YOU ALL for your endless support and enthusiasm!  This is so much fun because of you!  I hope ALL CAPS COMICS remains your family's Indie Comics company for years to come!  
Now let's get this project funded! 
-Ethan Van Sciver