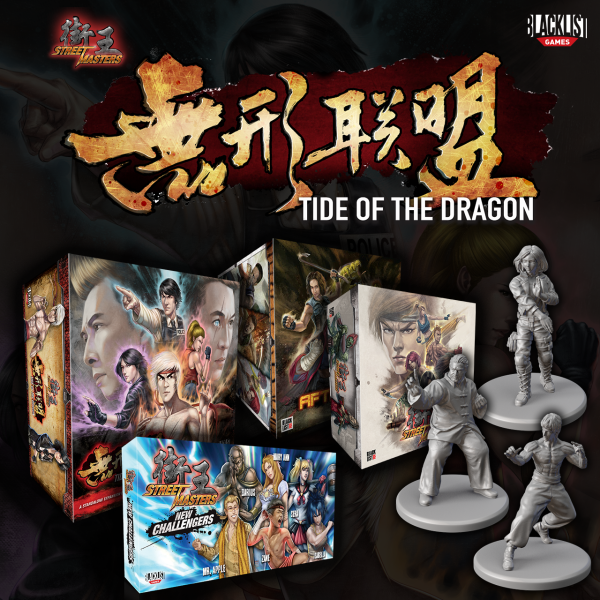 Street Masters
$45,045
raised out of
$65,000
Concept
A standalone expansion to Street Masters, the game of street brawling action for 1-4 players!
Story

Street Masters is a 1-4 player cooperative miniatures board game inspired by classic beat 'em up & fighting video games. Featuring highly detailed miniatures, unique decks for fighters & enemies, custom dice, and lightning-fast gameplay, Street Masters lets players match up powerful fighters against villainous organizations in a wide array of exciting stages!
Designed by Adam Sadler and Brady Sadler (The Walking Dead: No Sanctuary, Warhammer Quest: The Adventure Card Game, Heroes of Terrinoth), the game offers modular and elegant gameplay set in a unique world of street brawling action that combines the concept of a tactical combat board game with the flexibility of an intricate card game. Focusing on modularity and action, with fighters, bosses, rivals, allies, and stages forming a "sandbox" for players to mix-and-match, Street Masters allows you to create truly epic showdowns!
The game offers both an action-packed "Arcade Mode" where players completely customize their experience with any combination of fighters, bosses, and stages, as well as a narrative campaign "Story Mode," where the fighters' victories, defeats, and choices help upgrade their decks and unravel the lore of the game. A game plays in approximately 20-30 minutes per player.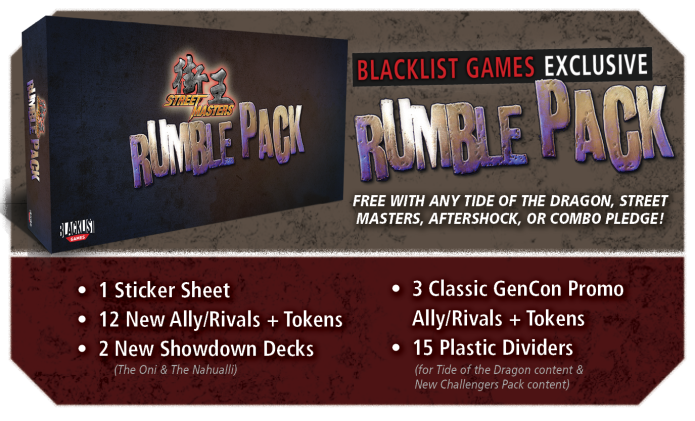 Follow our project updates throughout the campaign to learn more about the fighters, enemies, stages, stories and terrain featured in this exciting standalone experience!




Get the brand new Street Masters: Tide of the Dragon standalone expansion, as well as the exclusive Rumble Pack (see details near the top of the page)!
No other Street Masters products required; everything you need to play is in Tide of the Dragon!
INCLUDES: 
1× Street Masters: Tide of the Dragon
1x Rumble Pack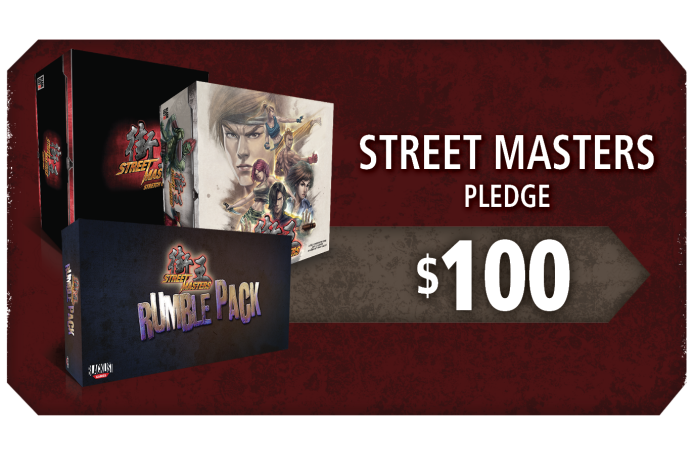 Get the Street Masters base game, as well as the stretch goals unlocked during the original Street Masters Kickstarter campaign, a.k.a. the KS1 stretch goals (visit that campaign page to see what's in those boxes)! You also get the exclusive Rumble Pack (see details near the top of the page)!
INCLUDES:
1× Street Masters base game
1x Street Masters (KS1) stretch goals
1x Rumble Pack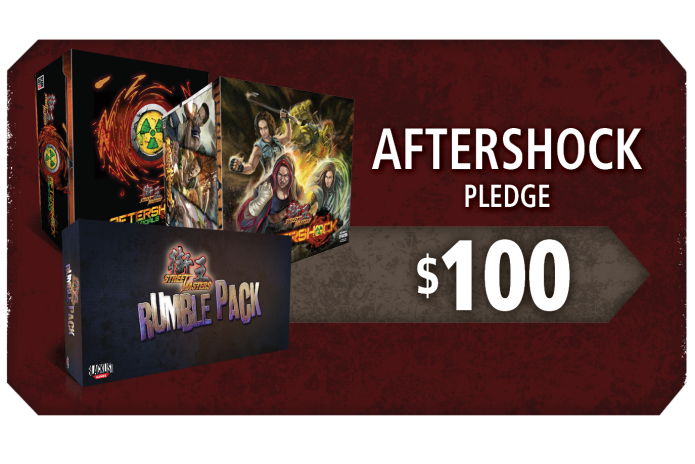 Street Masters base game required to play.
Get the Aftershock expansion (requires the Street Masters base game to play) in the collector's box, as well as the stretch goals that were unlocked during the Aftershock Kickstarter campaign (visit that campaign page to see what's in those boxes)! You also get the exclusive Rumble Pack (see details near the top of the page)!
INCLUDES:
1× Aftershock expansion
1x Aftershock stretch goals
1x Rumble Pack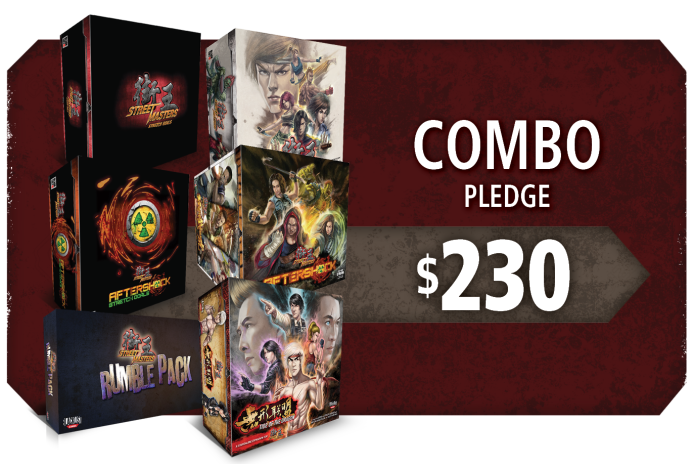 Be the coolest kid on your block and get a large portion of the Street Masters series in one shot! Perfect if you're new to Street Masters! You also get the exclusive Rumble Pack (see details near the top of the page)!
Visit the original Street Masters Kickstarter campaign for more details on the content of the Street Masters base game and the KS1 Stretch Goals box. Visit the Aftershock Kickstarter campaign for more details on the contents of Aftershock expansion and the Aftershock Stretch Goals box.
INCLUDES:
1× Street Masters: Tide of the Dragon
1× Street Masters base game
1x Street Masters (KS1) stretch goals
1× Aftershock expansion
1x Aftershock stretch goals
1x Rumble Pack

You can add these items to your cart after selecting a main perk pledge.
Click the image below for more details on each, as well as instructions on how to add them to your pledge!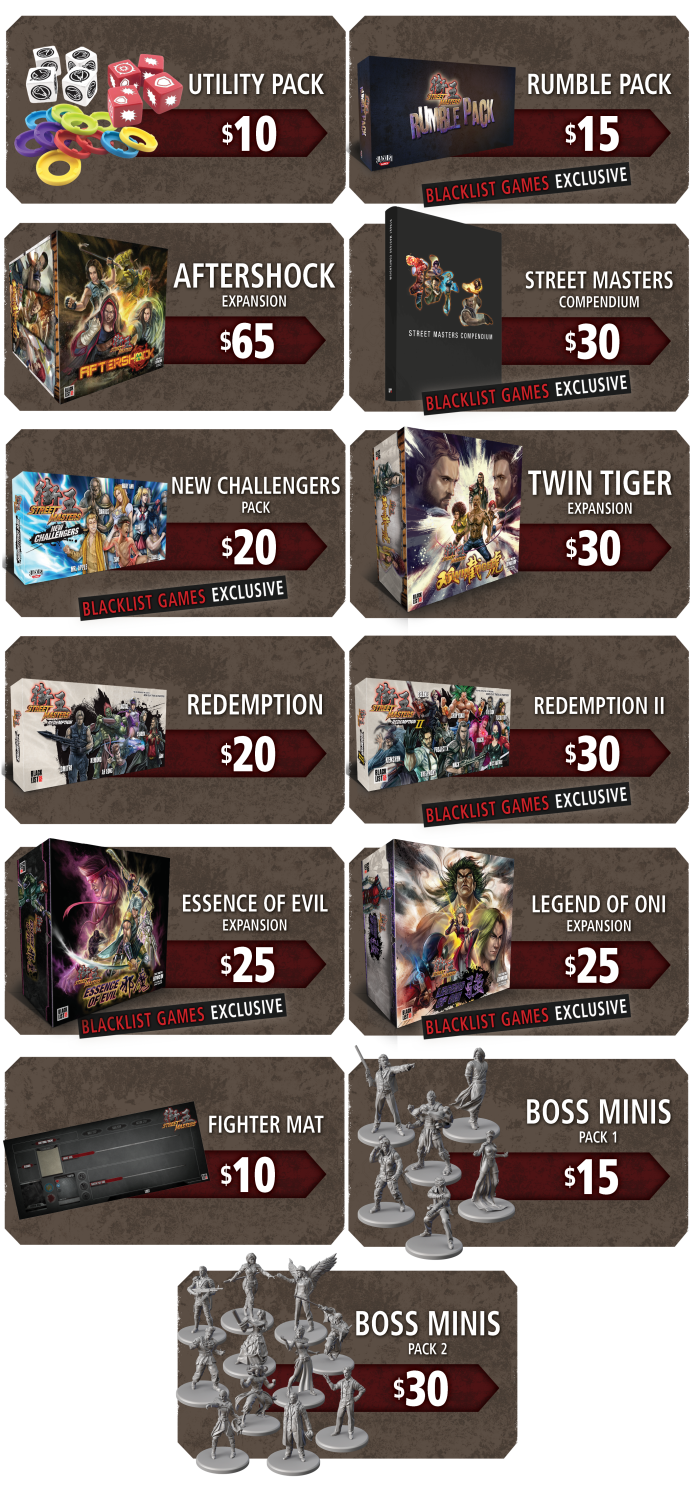 Retailers interested in ordering any of the content on display in this campaign can email retailers@blacklistgamesllc.com to inquire.



Blacklist Games, LLC is proud to announce that we have once again partnered with Quartermaster Logistics (QML) for fulfillment for this project.

QML has an outstanding reputation for their transparent and stellar customer service, allowing for backers to get freight/shipping updates and personable QA solutions directly from them. They have high standards when it comes to ensuring packages are delivered with enough protection and care to give backers and publishers peace of mind. We have been pleased with their performance in the past, and continue to have the utmost confidence in their ability to successfully fulfill our projects.

Shipping is collected on Indiegogo along with your pledge the moment you complete the checkout process.
Depending on which region you are in, we will ship from the following hubs: UK (for EU/UK backers), China (for Asia Pacific backers), Canada (for Canadian backers), Australia (for Australia and New Zealand backers) or Indiana (for USA and the rest of the world).
Excluded Shipping Zones
Unfortunately, because of certain import laws and customs, we are unable to ship this project to certain countries. If your country is not selectable during the checkout process, we cannot ship there at this time. We hope to be able to offer our product to you later at retail.
Terms and Conditions
By pledging to this project, you acknowledge that you have read and accepted the following terms and conditions.
Final Product
Products shown on this page are subject to change. Therefore, the final products you receive may differ from what is presented here.
Project Updates
It is your responsibility as a backer of this project to read project updates in order to stay up to date with important details and requests from the Blacklist Games team.
Communicating with Blacklist Games After the Campaign
Please note that we do not monitor the messaging inbox on Indiegogo outside of a live campaign. Therefore, after this project has ended, please ensure to send all communications to customerservice@blacklistgamesllc.com
Refund Policy
Full refunds are available within 14 days of the campaign's end date. All refunds taking place within these 14 days are reversed in full via Stripe to your credit card.
Afterwards, refunds minus the Indiegogo and payment processing fees (which we cannot recuperate) will be available before and during the first 30 days after the campaign has ended. Once these initial 30 days have passed, no refunds will be possible. A reminder of the refund cutoff date will be announced in project updates.
This project is being funded in USD and any refunds processed will be in USD for the exact amount received in USD, excluding any applicable fees depending on the time of the refund being processed as previously stated.
Completing Your Contribution Here on Indiegogo
Backers must complete their contribution (main perk + add-on perks) here on Indiegogo in order to receive their order later on. This means entering your valid shipping information and submitting your payment at checkout.
If you complete your contribution, you agree that our responsibility to you is to ship your confirmed order as entered into Indiegogo. That title and risk passes to you upon delivery to a common carrier for such shipment, and you are responsible for import duties or any other duties that may be payable to the relevant tax authorities, providing correct address information and ensuring this address is deliverable by normal methods.
If you do not complete your contribution before the ending of this campaign, you will not be able to do so at a later date.
Retailer Eligibility
To qualify as a retailer, you will need to provide proof of owning a legitimate, active business in the hobby and/or games industry. Please contact retailers@blacklistgamesllc.com for more details.
Risks and Challenges
Following six successful crowdfunding campaigns (some fulfilled, some in various states of fulfillment), we are continuing to learn how to further improve our marketing, design, manufacturing, fulfillment, and distribution strategies, as well as how best to nurture our growing community:
Street Masters
Brook City
Aftershock
Altar Quest
Hour of Need
Fantasy Series 1 Miniatures
There are a lot of moving parts with crowdfunding campaigns, and timing is often one of the biggest obstacles, especially for smaller publishers such as ourselves. Fortunately, with our strong relationship with our manufacturer, a fulfillment company already signed on and, most importantly, dedication to our backers and their satisfaction, we have no reason to doubt this campaign will move along as smoothly as possible.