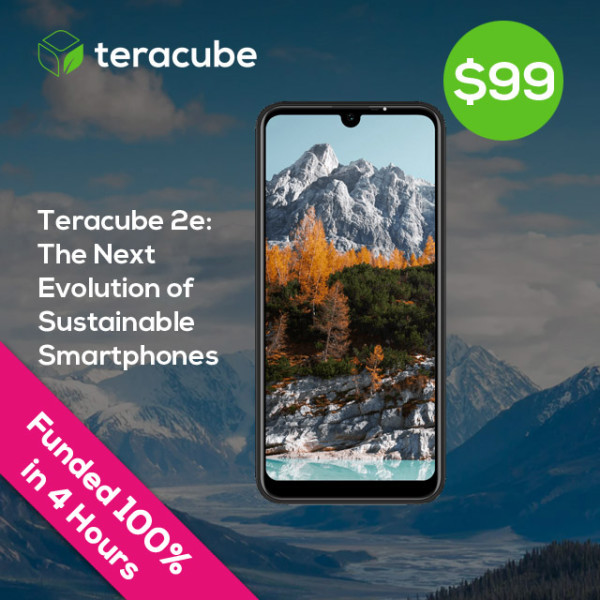 Teracube 2e: Next Evolution of Sustainable Phones
$81,823
raised out of
$25,000
Concept
Replaceable battery, DIY repairable, Built with Recycled material, 4-yr premium care warranty
Story


Hey Backers – we're back with our next phone after successfully delivering our first product – Teracube One. Teracube 2e has a replaceable battery, is DIY repairable, made from recycled material, and comes with a sturdy biodegradable case.
We are also excited to announce that we are expanding Teracube 2e's 4-year premium care warranty to the UK, Germany, France, Italy, Spain, Netherlands, Poland and Singapore in addition to the US and Canada.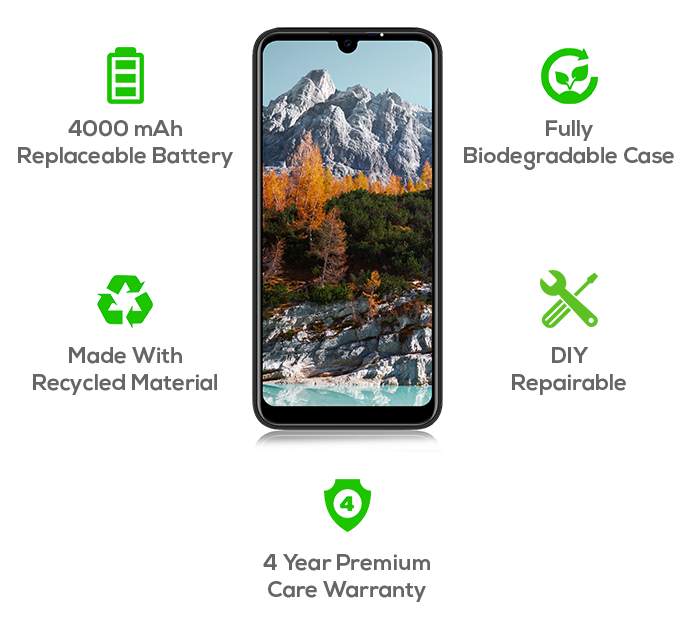 Yes, we've brought back the replaceable battery. Tired of losing battery performance over the year? It's one of the main reasons people throw away their old phone. Whenever your battery starts losing performance, just pop the back and replace it. Yes, we've got backup batteries for you, too. It is 4000mAh capacity and can last up to 2 days on a single charge.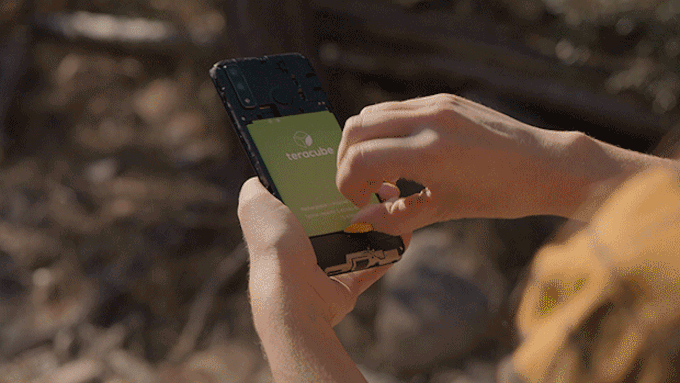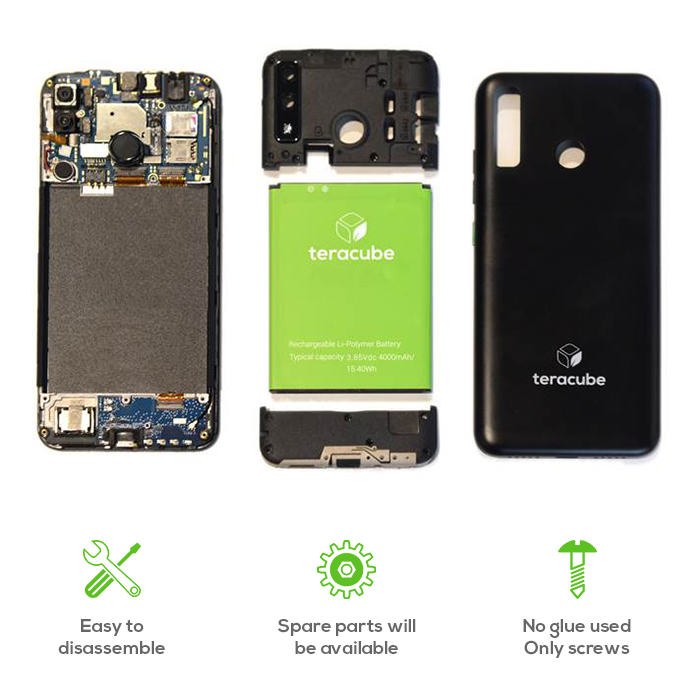 Our phone is DIY repairable, meaning you can fix some of the components yourself or you can take advantage of our 4-year premium care warranty plan and we'll do it for you! Most smartphones use tons of glue, we don't. We use screws and replaceable components making it easy to do it yourself with the provided instructions.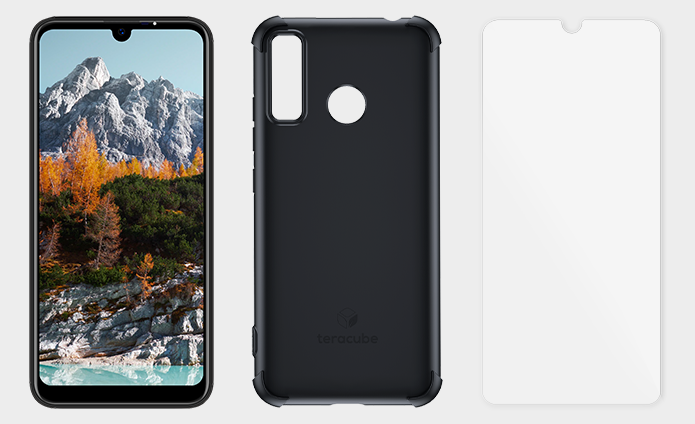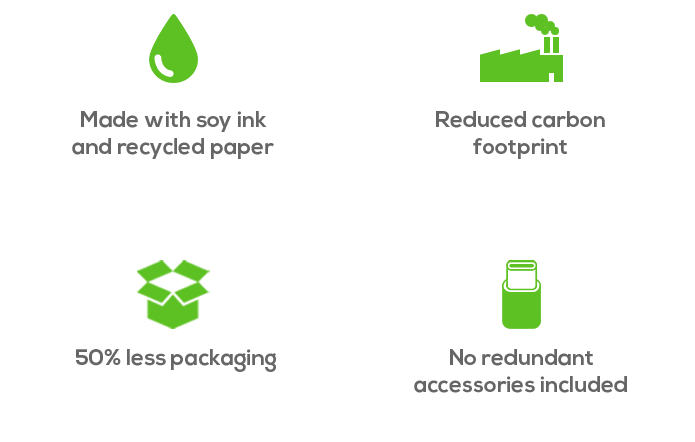 Eco-friendly composition
The packaging is made with recycled paper and printed using soy ink.
50% reduced packaging
Teracube 2e's packaging is also 50% smaller than typical smartphone packaging. We did this by eliminating redundant accessories – the charger, cable, and earphones which most users already have. The smaller packaging will also reduce carbon emissions from shipping.
USB-C compatible
Teracube 2e is compatible with almost all USB-C chargers and cables. If you don't have one already, then we can ship you one for a reasonable price.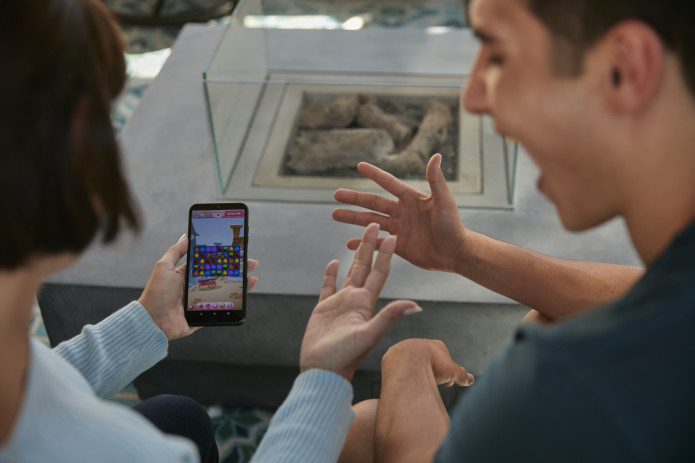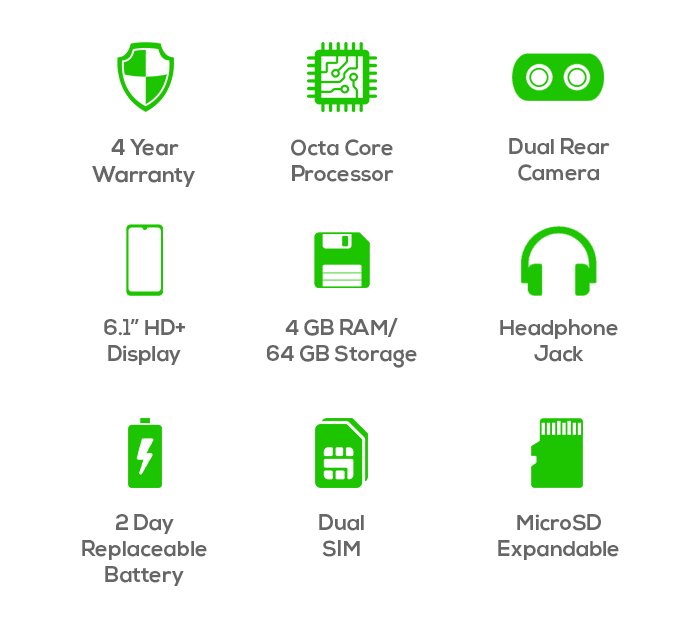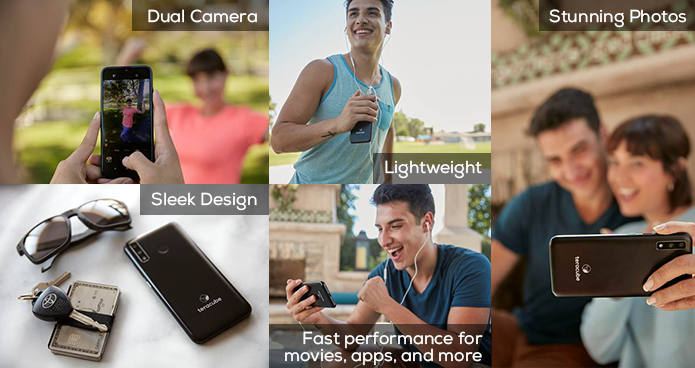 *earphones not included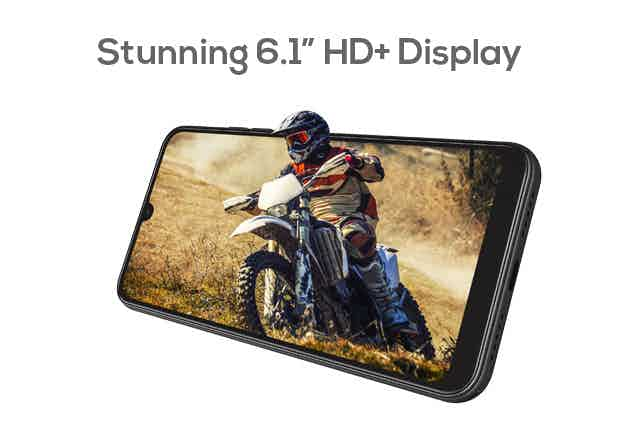 Specifications
Operating System: Android 10.0 with Google Play Store
Processor: MediaTek Helio A25 Octa-core processor 1.8Ghz
Memory: 4GB RAM with 64GB storage
Screen: 6.1" HD+ IPS Display (720X1560)
Rear Camera: 13+8MP
Front Camera: 8MP
Battery: 4000mAh replaceable lithium-ion polymer battery
Security: PIN, pattern, fingerprint, face unlock
Connectivity: WiFi A/B/G/N/AC, Bluetooth 5.0, NFC (Supports Google Pay)
GPS: GPS (AGPS), GLONASS, Galileo
Ports: Headphone Jack, USB-C port, Dedicated Dual SIM with separate Micro SD slot
Size: 155.2mm x 73.3mm x 10.1mm
Weight: 190g
Color: Black
LTE (4G): 1, 2, 3, 4, 5, 7, 12, 17, 20
GSM: 850, 900, 1800, 1900
3G: 1, 2, 4, 5, 8
Warranty: 4 Year Premium Care with Flat Fee Repairs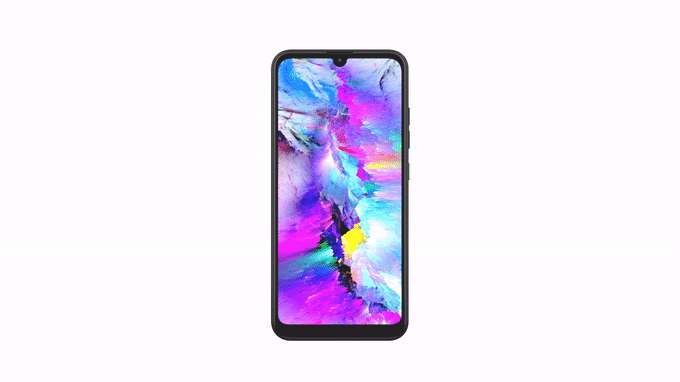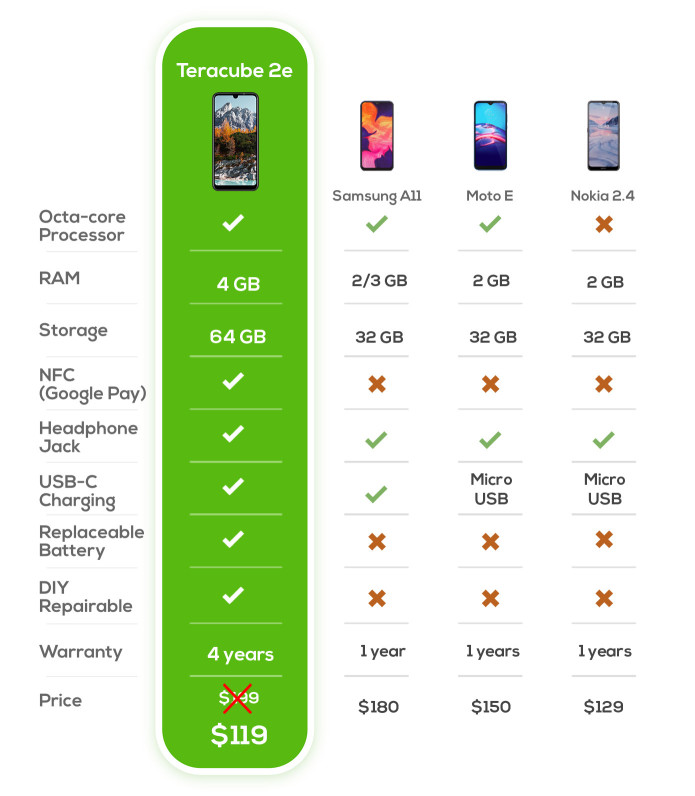 Most smartphones last an average of 2 years or less. Teracube 2e is engineered to last longer and is backed by the industry's first 4-year premium care warranty to ensure you can enjoy your device with peace of mind.
Sustainable Design
Teracube is good for our planet, too. Unlike other smartphones, Teracube 2e is built with sustainability in mind. Made with 25% recycled polycarbonate, includes a bio-degradable case and a replaceable battery — you can just pop open the back and change it yourself, just like the good old days! With Teracube 2e, you get a great performing phone at a great price, all the while making a difference for our environment.
Reduce e-waste
Smartphones' biggest environmental impact comes from the manufacturing process and the e-waste when discarded. Over 150 million smartphones are thrown away every year in the US alone. The longer you keep Teracube, the more sustainable it becomes. It is not only good for the earth, it's great on your wallet as well!  And, for every phone sold, we are planting a tree. Can your smartphone company say that?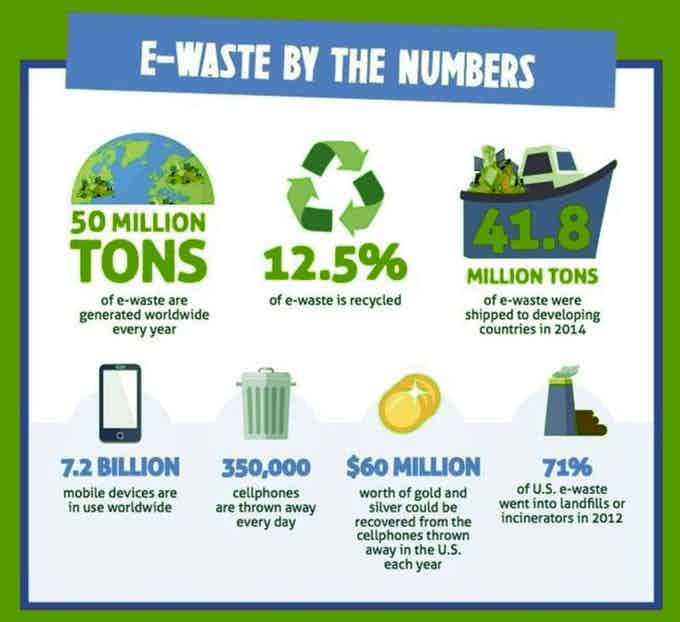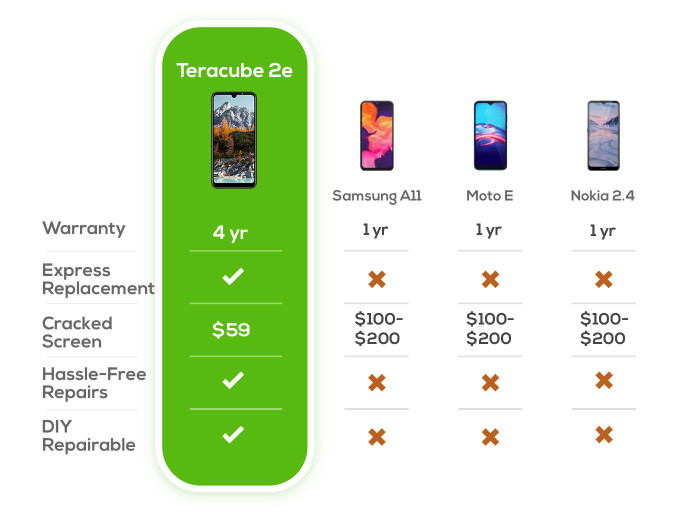 Teracube's 4-year hassle-free warranty promises high performance for years to come – ensuring you can keep one piece of personal technology for a longer period of time, keeping your wallet happy and the planet healthy.
Warranty Coverage
Teracube 2e warranty covers all parts, performance, labor, and two-way shipping at no cost to you. Free warranty shipping for 2e will be available in the US, Canada, UK, Germany, France, Italy, Spain, Netherlands, and Singapore. The warranty does cover every country in the world, but if you're not in the countries mentioned above you'll have to cover shipping for repairs. 
Express Replacement
We understand you depend on your phone day-in and day-out. This is why we offer an express replacement option so that you will never be without a phone should something unforeseen happen.
Accidental Repairs
Accidents happen, we know it and we have your back. Unlike other companies who charge an arm and a leg, we only ask for a reasonable fee for any damage caused by accident, liquid, or misuse (price includes parts, labor, and 2-way shipping).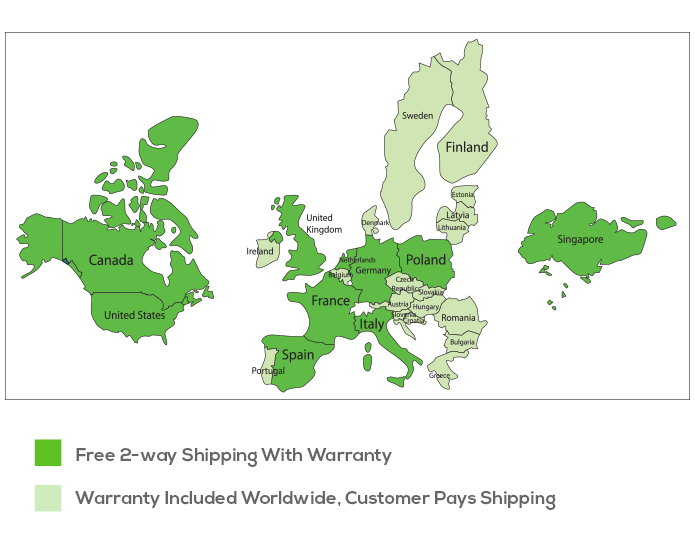 Made of wheat starch and biodegradable polymers our smartphone case is fully biodegradable. Less garbage, same great smartphone case protection and look.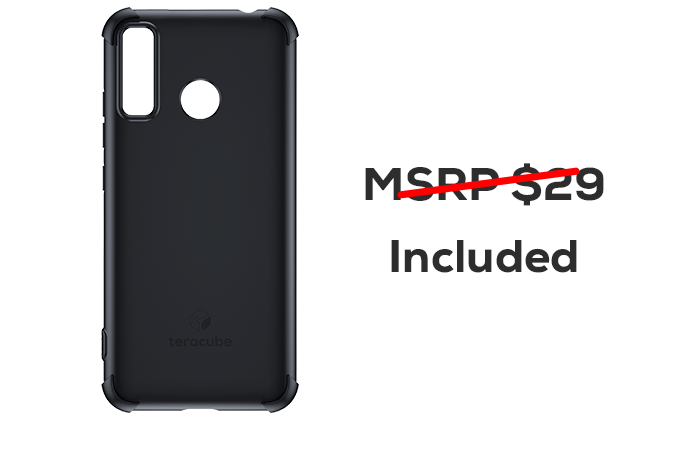 Teracube's dual rear cameras take vivid and sharp pictures. One camera captures the depth of the objects while the second captures vibrant colors and other details.
The front camera utilizes artificial intelligence technology to take beautiful selfies for you to share with your friends, family and the rest of the world.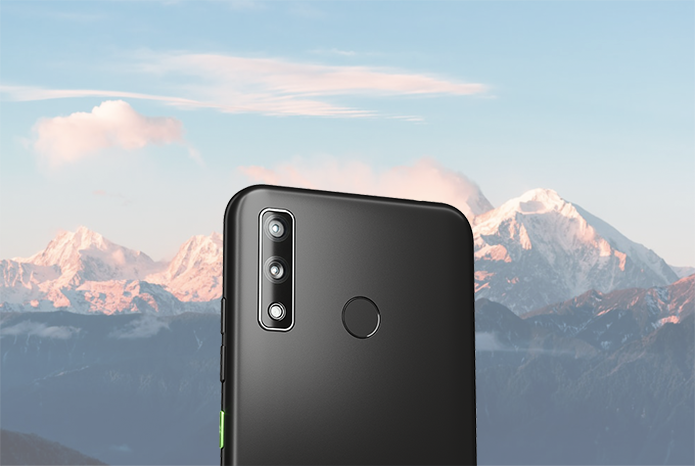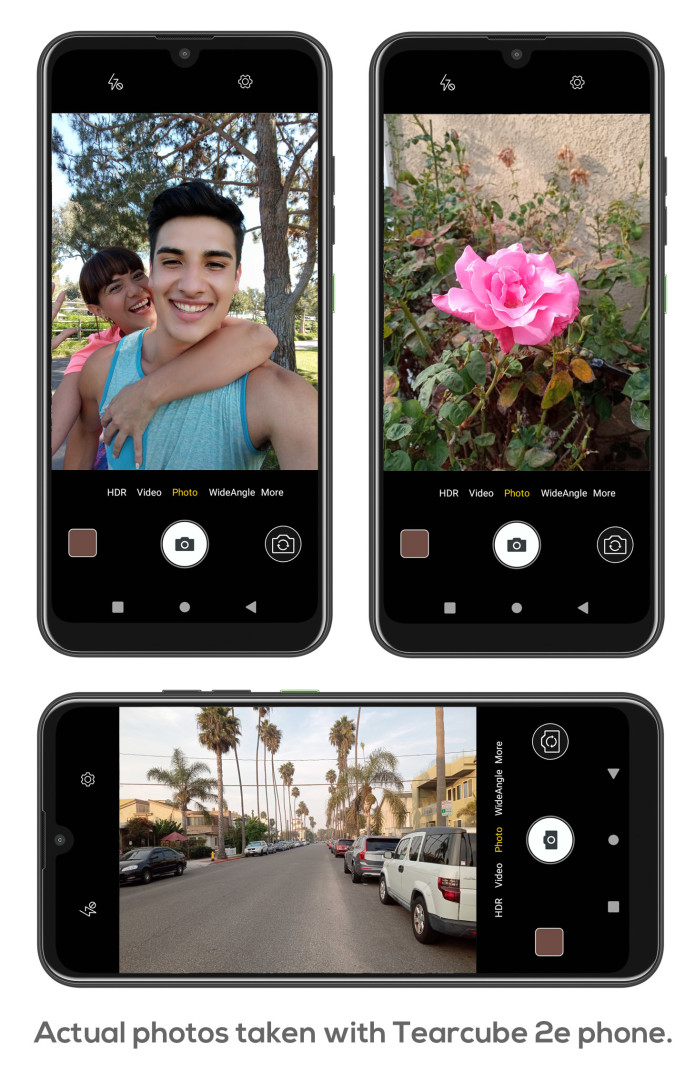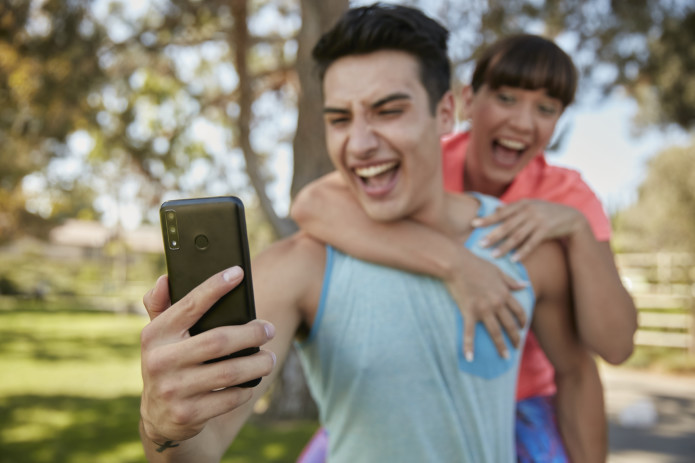 Most comparable smartphones come with 2GB RAM and 32GB storage. Teracube features 4GB RAM and 64GB storage. If you love playing games, downloading music, storing documents or saving photos, Teracube has plenty of storage for you. A built-in Micro SD slot allows an additional 128GB of storage.
With Teracube's 4GB RAM, multitasking is now a breeze. Having that extra RAM ensures your Teracube will have great performance for years to come.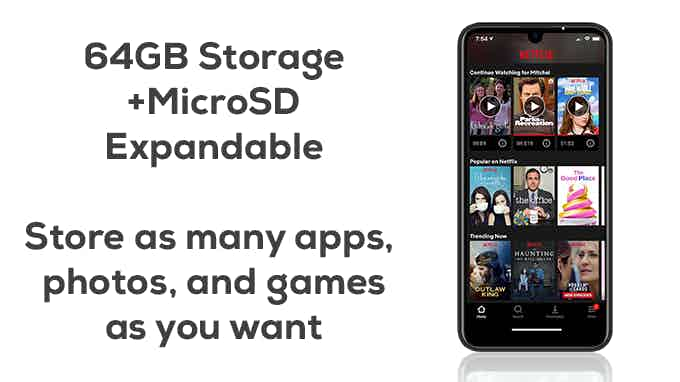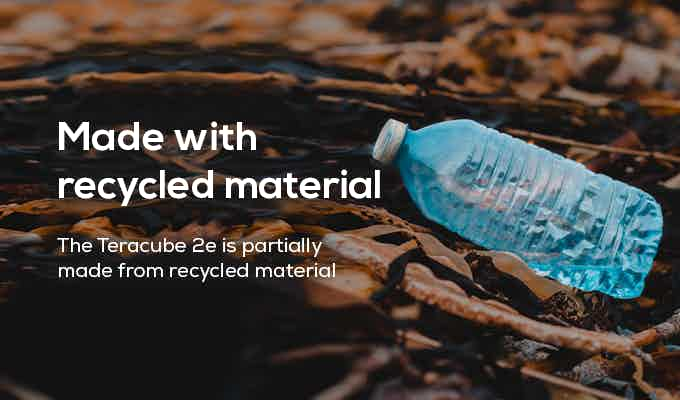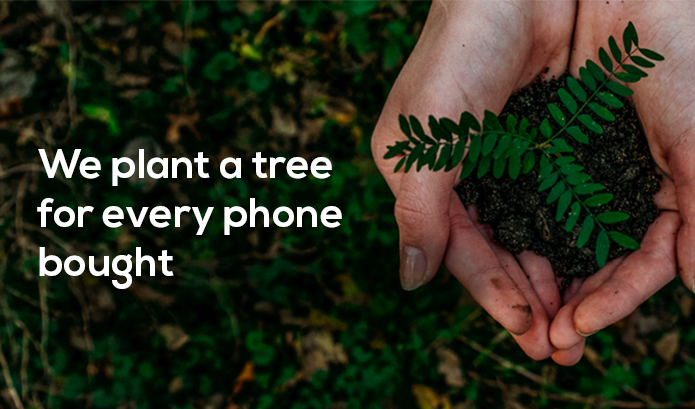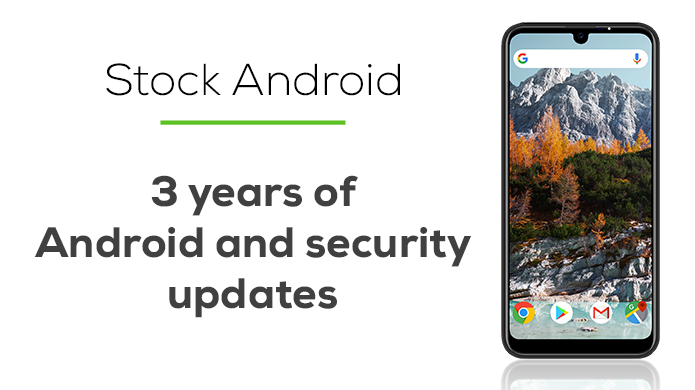 The Teracube team is back for its second crowdfunding campaign after a successful first launch on Kickstarter  and Indiegogo last year. We shipped on time and our backers have been happy with their phones. Just take a look at our community!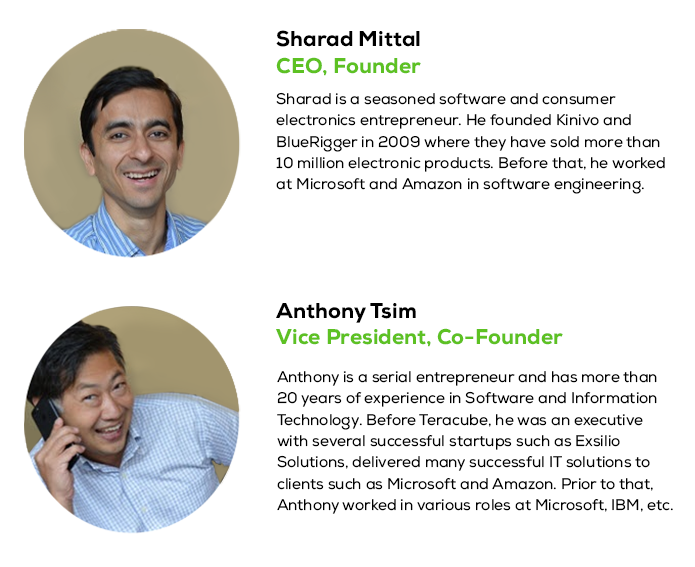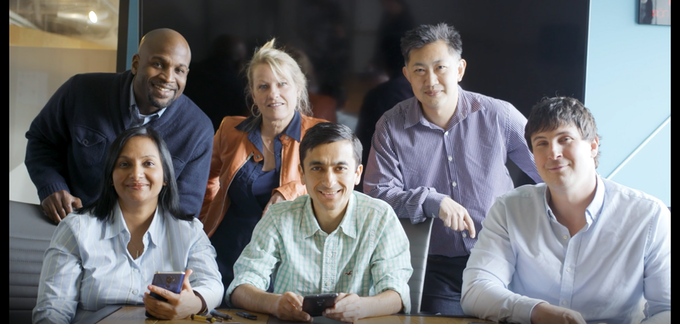 When you buy a Teracube 2e, you are part of the family. Check out our online community today at https://community.myteracube.com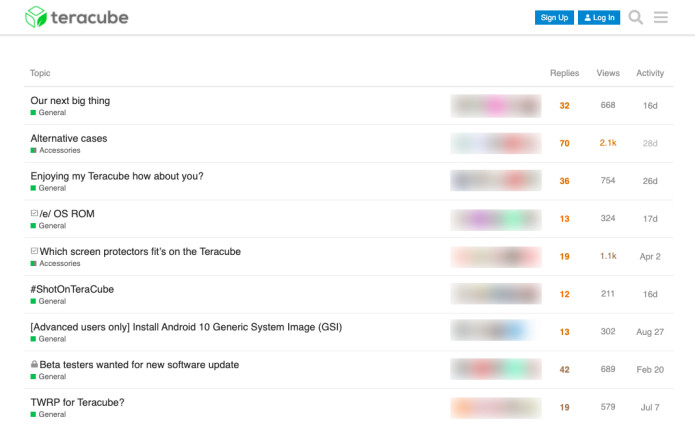 Making a positive difference for our environment shouldn't require sacrificing on quality or an amazing phone experience. With Teracube 2e you can have your cake and eat it, too. We're excited to have you join our community. 


Risks & Challenges
The team bringing you Teracube has many combined years experience launching consumer electronics and software. To minimize delays, a great deal of the work has already been done before launching on Kickstarter. We have been developing and testing the prototypes for the past 6 months. We have a set of proven partners in both software and hardware engineering for building the phone itself, as well as fulfillment companies for shipping. Last but not least, a contract has been signed with our manufacturing partner which allows us to start production as soon as the campaign completes. There are always certain risks that can arise at any moment during a project like this. That being said, we're confident in our ability to deliver, and have taken all the necessary measures. The project timeline includes buffers to accommodate parts or manufacturing delays. If anything comes up along the way, you'll be the first to know. 

We can't thank you enough for checking out our project and helping us make Teracube 2e a reality.
We know not everyone will be able to support us with a pledge, so even if you can't give a dollar or purchase a Teracube 2e, you can help us spread the word on Twitter, Facebook, Reddit, Instagram and anywhere else you can think of!
Be rewarded with 10% commission of every dollar you help raise for our campaign! All you have to do is:
Click this link and register as a Booster.
Share your unique Booster link on your Facebook, Twitter, Blog, Website, or wherever you'd like!
Refer to your Kickbooster dashboard and watch your commissions roll in!