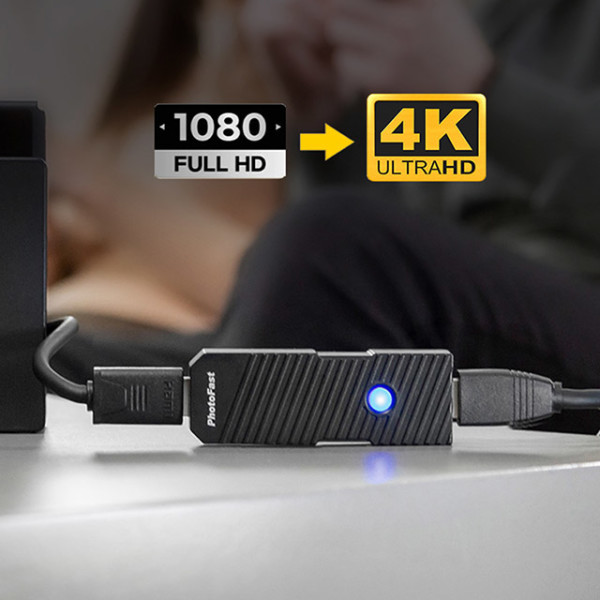 4K Gamer Pro: Upgrade Your Game Console to 4k
$153,728
raised out of
$3,879
Concept
Convert To 4K@60fps | No Lag Or Drop In FPS | Support Nintendo Switch/PS4/Wii U/Xbox One & More.
Story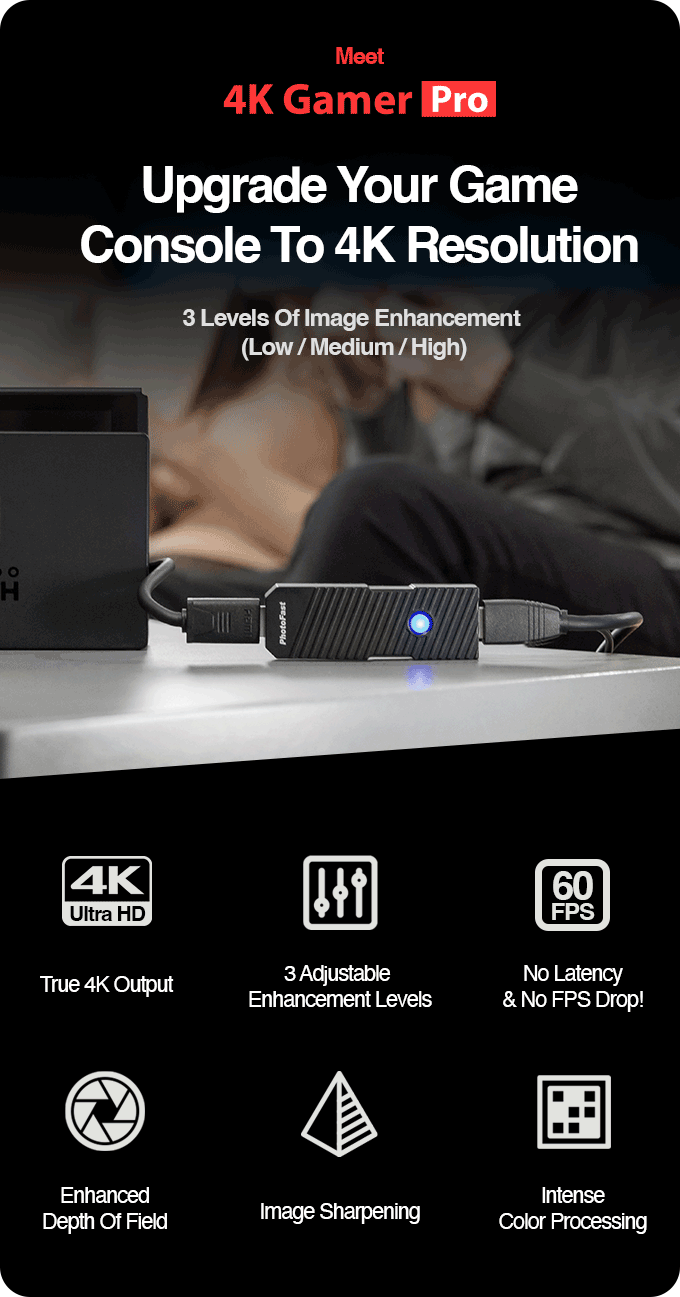 Now you can push your Nintendo Switch / PS4 / PS3(1080p) / Xbox One/ Xbox 360((1080p) & more beyond 1080p and experience your favorite games in 4K. Choose the visual experience you want with the new 4K Gamer Pro. Upgrade your favorite games without any lag or drop in FPS. Find the perfect settings to match your preference with 3 different enhancement options for 4K. With 4K Gamer Pro, you can take your games to the next level.
Disclaimer:
Due to the IP issue we can't use the any real game characters to show the side-by-side comparison by using 4K Gamer Pro. You can check the below reviews from our testers on YouTube:
Review from RetroRGB in English: https://www.youtube.com/watch?v=YeNqfc-l0R8
Reviews from CTA – tech desk in English:  https://www.youtube.com/watch?v=xr8FRhbMrWM
Review from EposVox in English: https://www.youtube.com/watch?v=bLFSjf_RDoE
Review from Nintendo Prime in English: https://www.youtube.com/watch?v=fBUlOFnErSE
Review from Marc The Geek in English: https://www.youtube.com/watch?v=ALnyNGCAMSg
Review from Behind the Games in Spanish: https://www.youtube.com/watch?v=DDcKjMXypLE
Review from mpoxDE in Germany: https://www.youtube.com/watch?v=4B2sgMi30Gc
Review from iggi zockt in Germany: https://www.youtube.com/watch?v=zUSGWjiWyuQ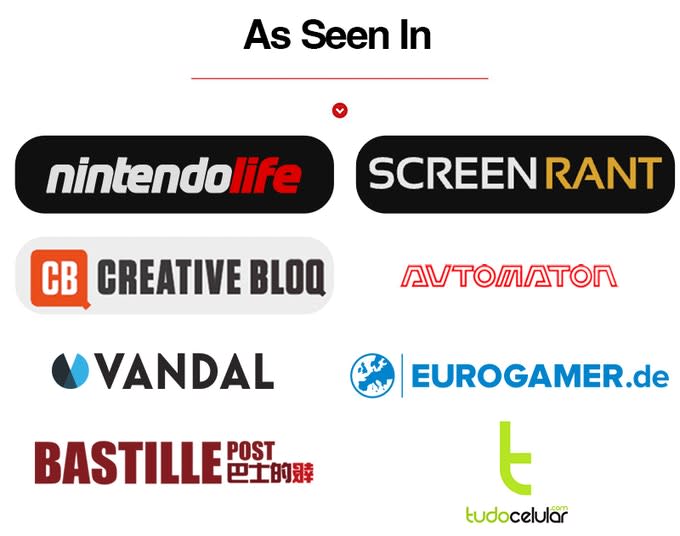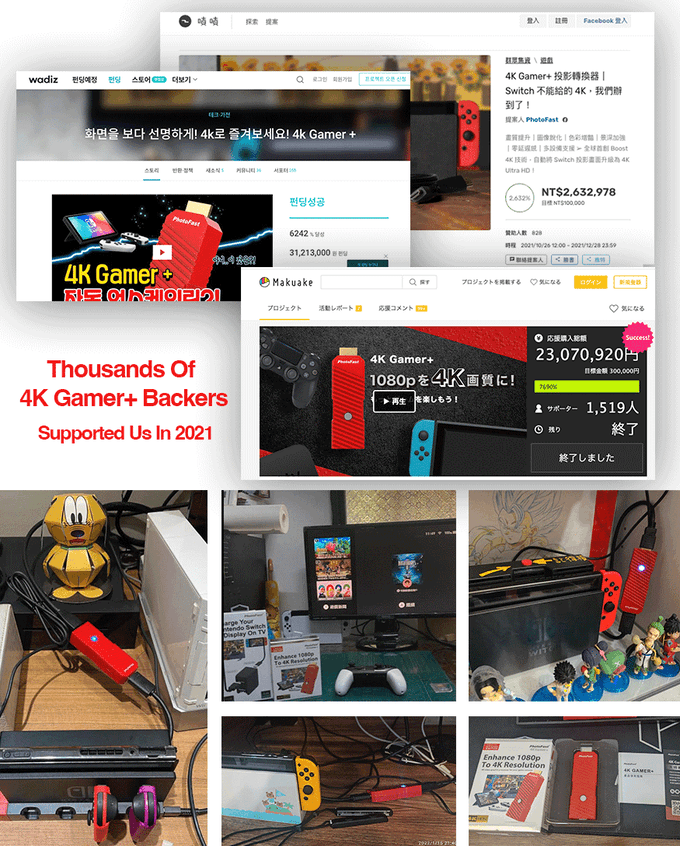 4K Gamer Pro enhances the resolution while also making the image "delicate, clear, and three-dimensional." It accomplishes this by using image processing technology for image sharpening, color processing, and depth of field that is unique to the GPU. This creates a visual finish that looks as if it was shot and developed by a professional photographer.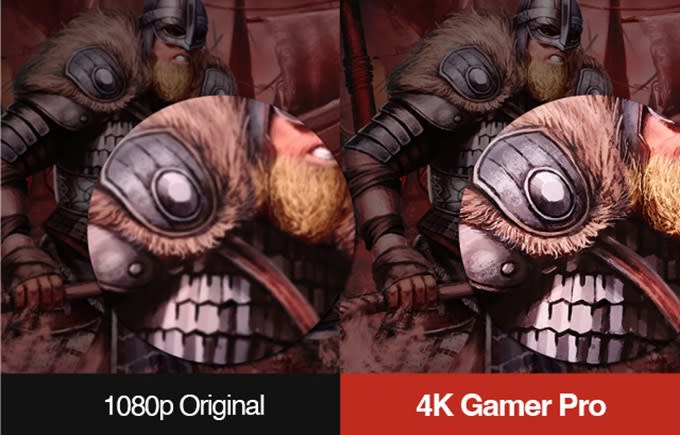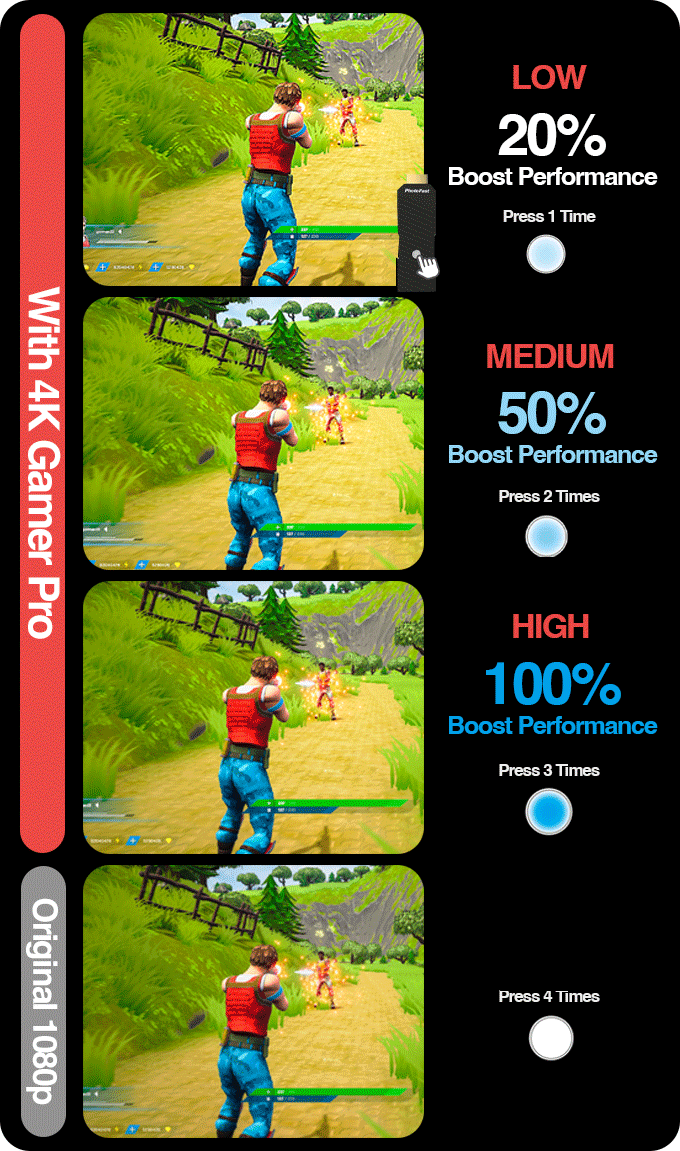 With 3 different levels of visual optimization, you can find the perfect quality to suit your TV, game, and needs. Find the right enhancement level so you can get the most comfortable visual experience for your favorite games.
Choose max image optimization with the highest enhancement level or choose the best option for you. 4K Gamer Pro lets you decide!

The 4K Gamer Pro offers a new level of video enhancement to ensure you get the best gaming experience ever. With a 20% increase in sharpness, coloring, and depth of field compared to our previous models, we've achieved new levels of picture quality for Switch games. We are excited to deliver these gains to you.
No Lag Or Drop In FPS
 
There's more to gaming than picture quality.  Smoothness and frame-rate are just as important. After months of researching and testing, we've succeeded in ensuring a true 4K upscale experience with NO drop in frames (even after the image quality is improved).
This opens Switch owners to a whole new gaming experience. Enjoy high-resolution video quality without sacrificing FPS or suffering any lag.
Advanced Image Sharpening
By enhancing the object's contrast, segmentation, and edges, the 4K Game Pro creates a clarity and sharpness while minimizing jagged images.
No Compromise on Color Processing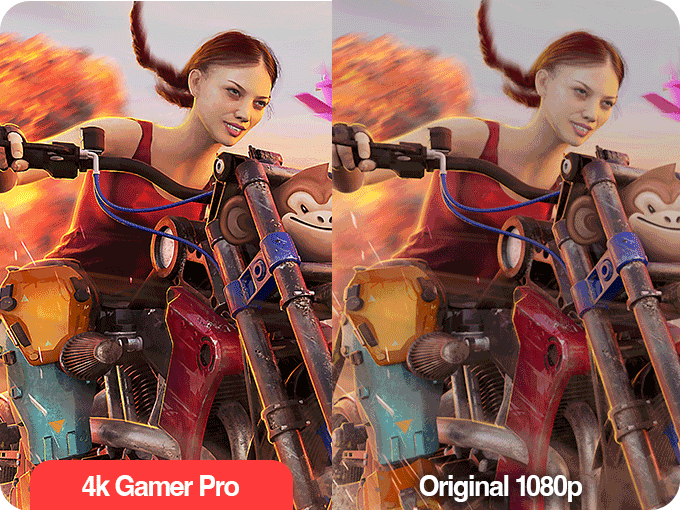 By increasing the contrast of low-light images we brought more detail to life in each frame. Even though saturation is not applied due to the increased contrast, brightening the image in this way makes it look more vivid.
Enjoy A Better Depth of Field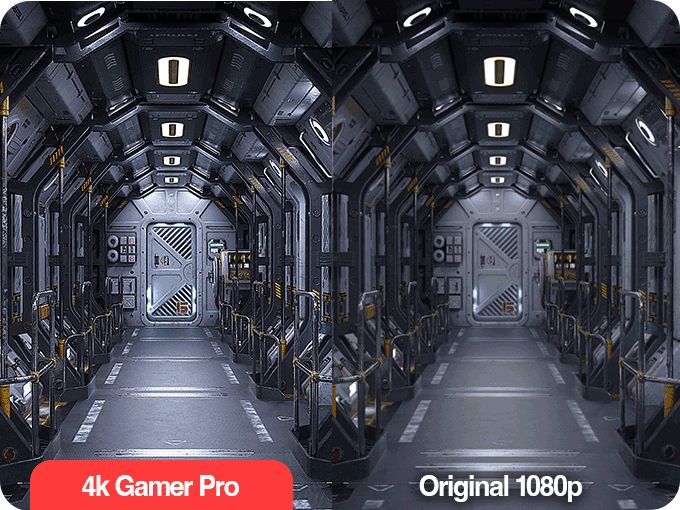 Using advanced imaging processing, 4K Gamer Pro increases the depth of field in your game. With an improved visual experience everything becomes clearer from characters to distant objects. 
Enhancement Tech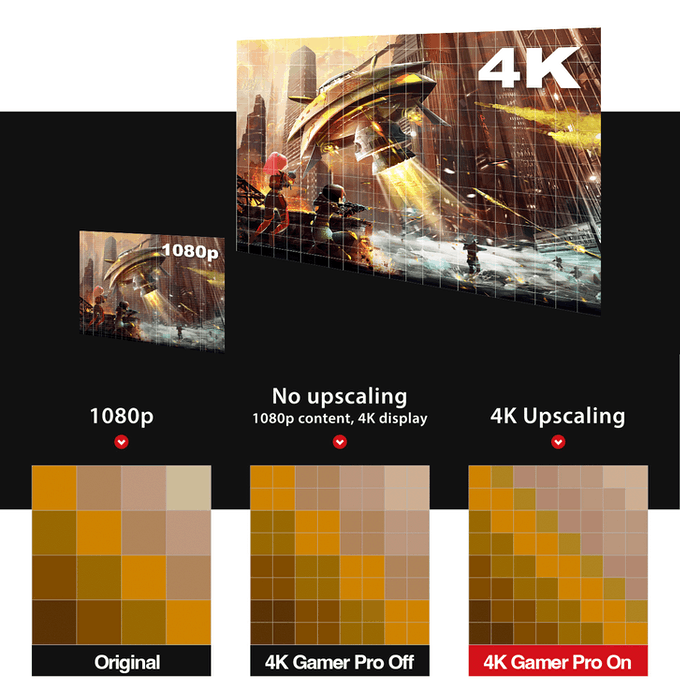 With correlation compensation technology 4K Gamer Pro insert points, set the color value of existing pixels as the basis, assign color values ​​to pixels in adjacent intervals, perform color operations in four vertical and horizontal dimensions, and insert pixels after the operation to convert the 1080p image to 4K.
Next-Gen Advanced Processor
Equipped with a cutting-edge Fujitsu Chip, 4K Gamer Pro offers specialized color, brightness and contrast. It delivers richer details in darker shades, that when paired with color and high-contrast technologies, leads to a spectacular image.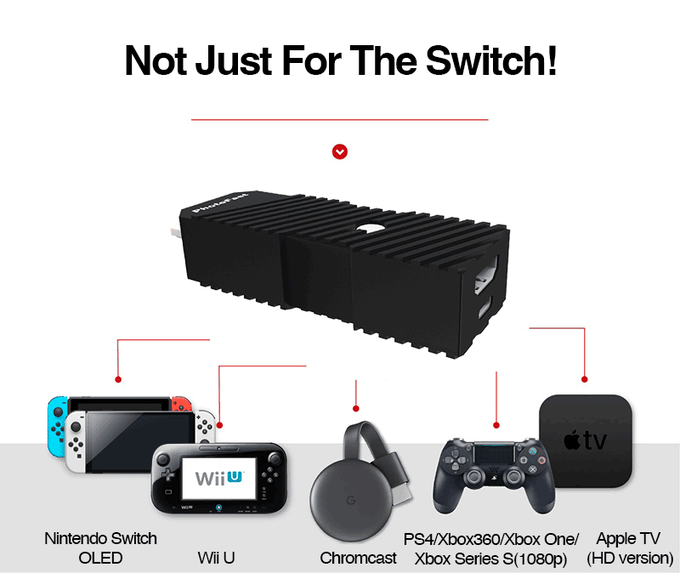 4K Gamer Pro is designed to work for more than just the Nintendo Switch. Its unique digital processors also offer support for the PS4, PS3(1080p), Wii U, Xbox360, Xbox One, Xbox Series S(1080p), Apple TV(HD Version), and Chromecast!

Connect 4K Gamer Pro to your console
Connect the USB Type-C power cable to 4K Gamer Pro
Connect HDMI from your TV to 4K Gamer Pro
Turn on your 4K Gamer Pro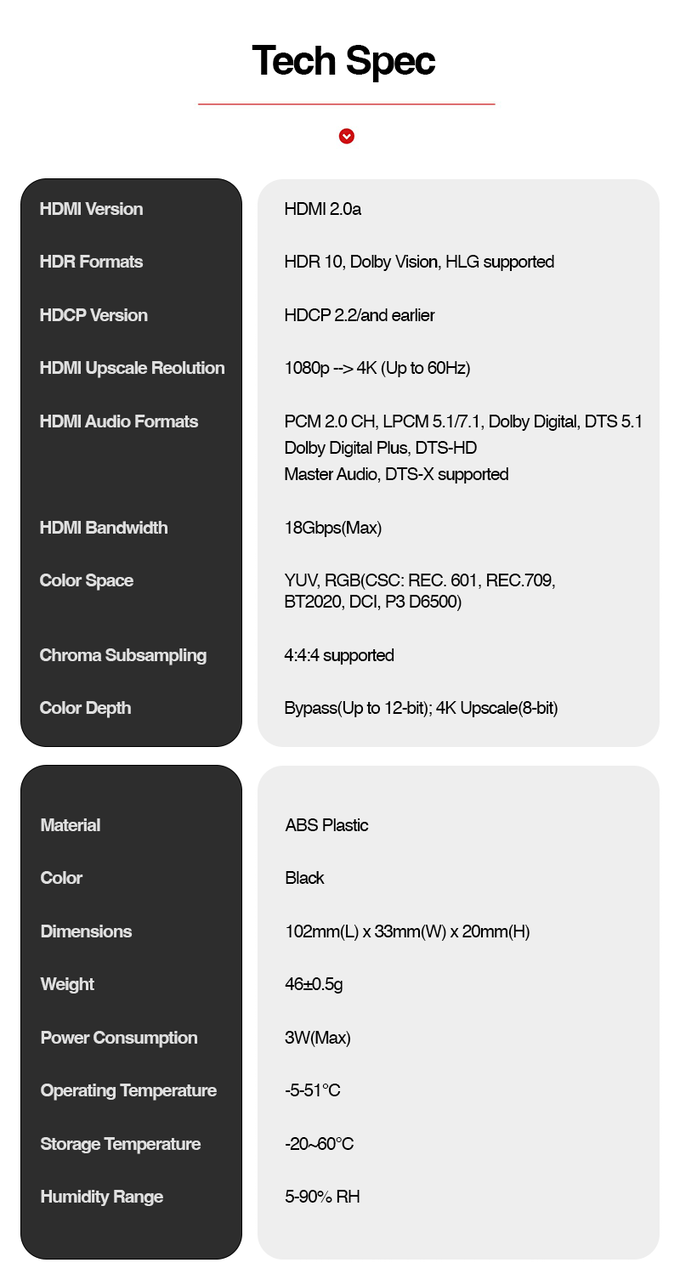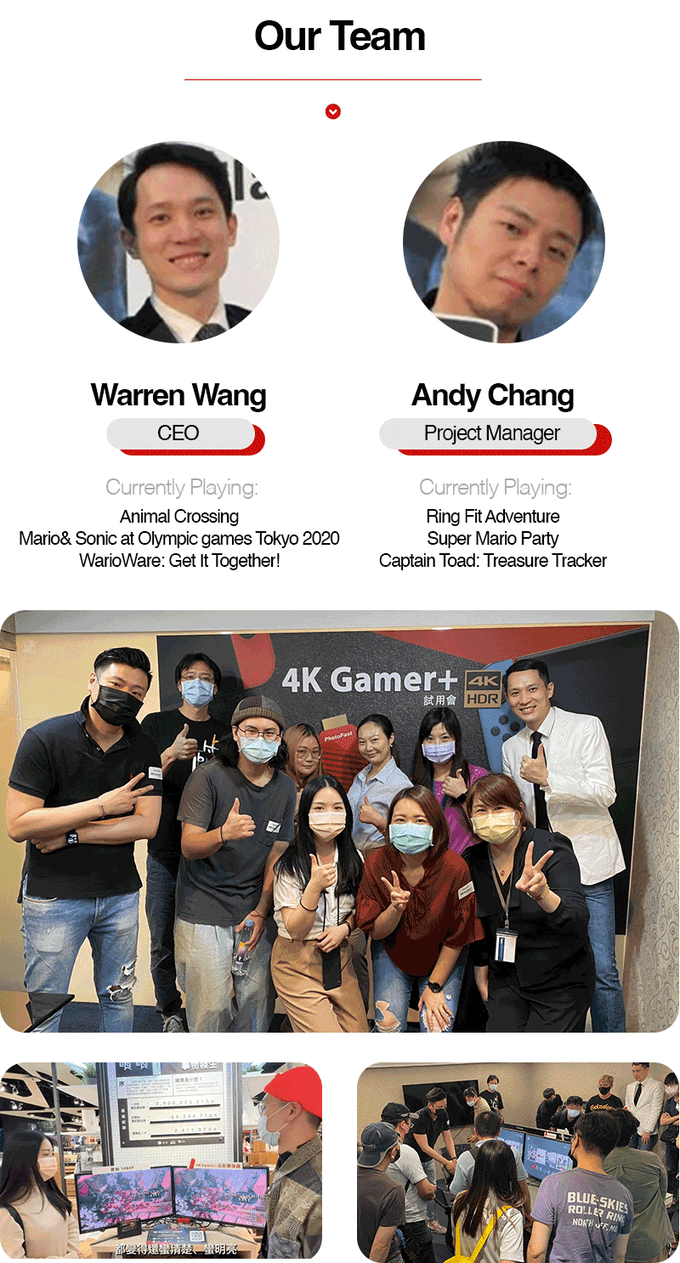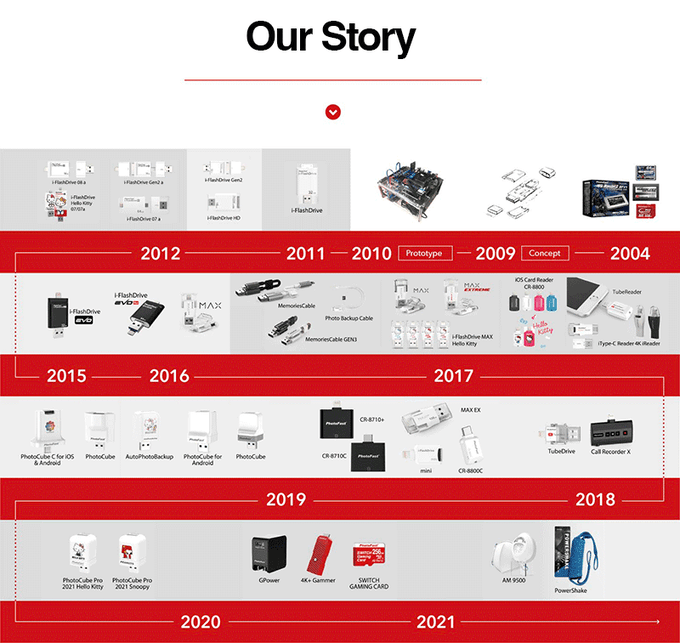 The team behind the 4K Gamer Pro has over 40 years of experience on image enhancement. Our company, PhotoFast, has been driven by a simple motto since the 1980's, "Keep your precious moment". We began our journey as a small store in Taiwan developing fast film and providing the highest quality photo printing to our clientele.
As the digital age arrived we transformed our business model 2003 and became PhotoFast Global. We dug deep into image technology to greatly enhance image quality to meet the growing demand for high resolution digital work. We also began to design and produce user-friendly consumer electronics and have expanded to more than 50 countries.
4K Gamer Pro is our newest invention. All of us ardent Nintendo Switch player and were driven to solve a problem we experienced – the lack of 4K compatibility on our consoles. Using our combined experience, we developed the world's first 1080P to 4K Auto Enhance device for the Switch!