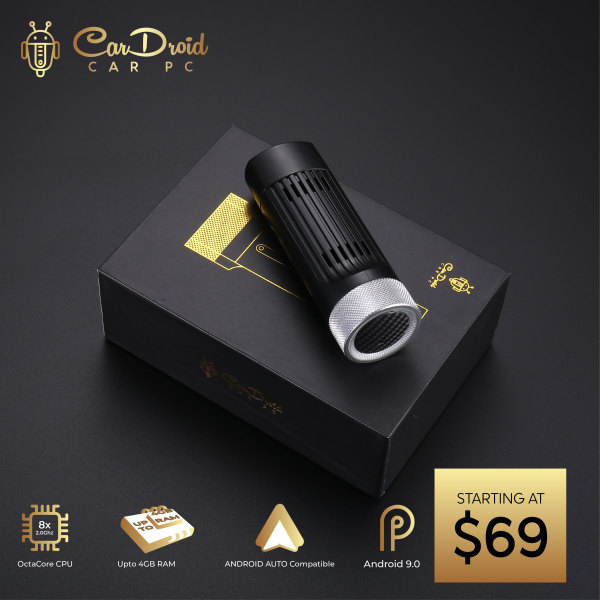 CarDroid Car PC: Android Auto USB Computer Dongle
$52,763
raised out of
$4,000
Concept
CarDroid Replaces Android Auto with an Octa-core Computer running Android 9.0, 4GB RAM 64gb ROM, GPS
Story
Do you have an Android Auto compatible car or multimedia unit?
Is Android Auto not your favorite cup of tea because of the limited experience?
Would you love to use Google drive, Netflix, or other apps without using your phone or app?
Don't want to spend a fortune on upgrading your multimedia unit or the whole vehicle?

Introducing the long awaited, CarDroid Car PC!



Why CarDroid? Free Up your Phone! Upgrade your car entertainment!
Powerful 2.0Ghz Octa Core A53 CPU
Up to 4GB RAM + 64GB Rom
Android 9.0 Operating System
 Bluetooth 5.0 & WiFi
MicroSD Card Slot (up to 128gb)
GPS Antenna
Supports ANY vehicle or stereo with Android Auto
USB Plug-n-Play -No expensive installations
Play Netflix, Google Maps, Youtube, Social Media, etc
Frequent Firmware Upgrades
Microphone
Standalone Operation – No phone or app required
Frees up your phone – no phone required to operate
A fraction the cost of other car entertainment systems
How to install? CarDroid Plug-n-Play Instructions – 3 simple steps!
Create your own car entertainment beast!
Play online streaming apps, GPS, and social media. Enjoy the CarDroid via your vehicle's LCD screen. Enjoy Netflix, Spotify, Instagram, Tiktok, Google Maps, etc…
Why choose CarDroid? Cheaper & quicker than replacing the old system.
No need additional screens, additional cables, and costly installations. Just Plug-n-Play!
Can I use CarDroid? Use CarDroid with ANY vehicle with Android Auto!
CarDroid is connected by Android Auto, which is expected to be available on 95% of the world's vehicles and 100 million cars worldwide by 2020. Here's a fraction of the vehicle brands & models compatible with CarDroid.
Don't see your model?
Check the list to see if your car is compatible: Android Auto List
What are the leading Car Review sites saying about CarDroid?
"This Small Dongle Replaces Android Auto with a Fully Featured Android Computer
If Android Auto isn't necessarily your favorite cup of tea because of the limited experience, maybe the full Android feature package is what you're looking for. Editor's note: This article was not sponsored or supported by a third party."
Article Link
We've been receiving a lot of the same questions on our Youtube teaser videos. We'll try to make a thorough FAQs section.
Are you a leading reviewer?
We will be uploading review videos to our Youtube cha`nnel so make sure to subscribe. If you are a leading tech review site and would like to receive one of the first prototype review units, please email us at: info@cardroid.com Thanks for supporting CarDroid and we'll be updating more product details, manufacturing progress and reviews as they roll in.
We are made up of a team of passionate programmers, industrial designers and Android lovers who wanted to innovate the way Android is used in modern day vehicles.  
Learn More about CarDroid on our support forum at: CarDroid.com