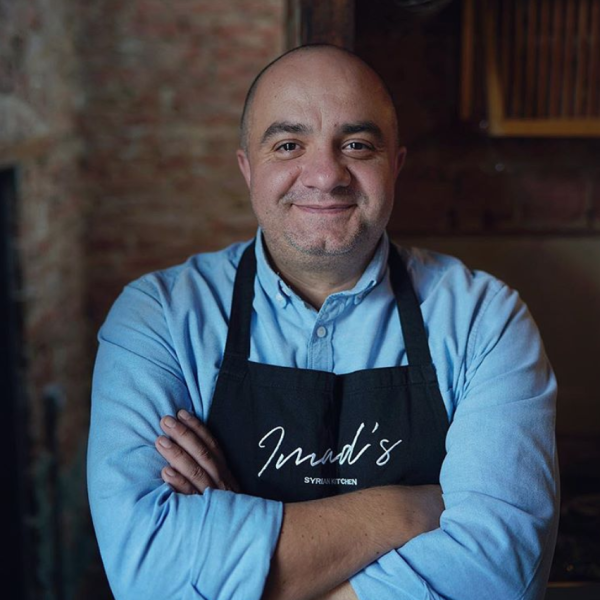 Imad's Syrian Kitchen
$15,766
raised out of
$50,000
Concept
A dream come true! Renowned Syrian chef, Imad Alarnab, is opening a restaurant in central London.
Story
Can you help Imad's Syrian Kitchen create a permanent home in London?
Since Imad fled Syria in 2015, he has cooked for refugees on the streets of Calais and provided free falafel for anyone who can't afford it at his pop-ups in London. He's also raised almost £200k for Choose Love, keeping a children's hospital running for six months and helping buy food and other essentials for refugees in the Middle East.  
Imad has brought joy to hearts and stomachs everywhere. His warmth, hospitality and delicious food are now ready to have a permanent home in Central London. He just needs a boost to get himself set up. 
In Imad's own true style, he's committed to donating every pound you invest in him back to Choose Love, once the restaurant is up and running. He'll do this by donating £1 from every bill, and by hosting fundraising supper clubs. 
Once open, Imad's Syrian Kitchen will serve a selection of Syrian mezze, including his famous falafel, as well as main and sharing dishes such as: Fattet Macdous, Crispy baby aubergine stuffed with lamb, topped with crunchy flatbread and a garlic cumin sauce; Watermelon, Halloumi and Za'atar Salad; Hamsit Lahem, slow cooked marinated lamb shoulder; Anginaar, roasted artichoke, stuffed with vegetables and much, much more! 
What We Need & What You Get
We need to raise 50k to get the restaurant up and running! The money raised will be spent on buying two new fridges, falafel fryers, dishwashers, tables, chairs – and everything else we need in order to open our doors to host our lovely customers! Every penny donated to this campaign will be donated back to Choose Love by Imad once his restaurant is up and running. 
We have a list of perks we are offering for set donation amounts – which range from a 3 course meal with drinks included to private supper clubs. 
Risks & Challenges
We acknowledge the risks and uncertainty associated with COVID-19 and we will adhere to up-to-date advice and guidelines as set out by the UK Government when we open our doors. 
Other Ways You Can Help
Please share this page and give what you can to make sure this remarkable man and phenomenally gifted chef can bring his magic to Central London. 
THANK YOU!