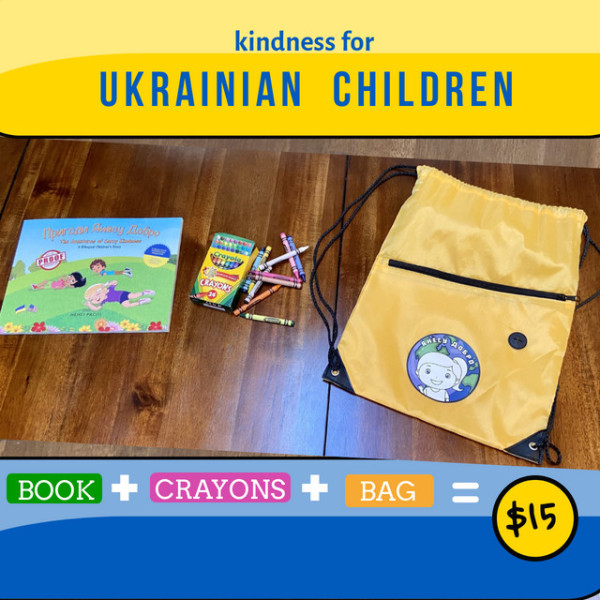 Kindness for Ukraine's Children
$385
raised out of
$150,000
Overview
https://youtube.com/watch?v=734534479
Concept
Bringing books and smiles to 10,000 Ukrainian children displaced by the war.
Story
Kindness for Ukrainian Children
When I was a child, I was on the receiving end of words that stung my soul. From as far back as I can remember, I've been told I wasn't good enough.   Those words during my formative years shaped me.  I spent most of my adult life feeling insignificant and insecure. Which meant, I became a perfectionist, a people pleaser, and, ironically, my harshest critic. 
My company Grace & Kind, is founded on the Golden Rule that many of us learned in Sunday School, "Treat others as you want them to treat you." 
And that's where kindness – and this campaign – come in.  
More than 1/2 of the children of Ukraine have left their comforts of home because of the war on their land.  They've left everything behind to flee to safety. And still the war continues.
The successful completion of this campaign will result in 10,000 displaced Ukrainian children receiving their very own copy of "The Adventures of Carry Kindness" – translated into Ukrainian. This book tells the story of how a random act of kindness changes everything. 
There is an illustration of Carry Kindness at the back of the book. Children can color their own Carry Kindness and begin to spread kindness to all of their friends and family. Carry Kindness is always ready and willing to travel near or far to change someone's life. After all, everything is better with kindness. 
And, with your help, your kind heart will touch these 10,000 children's lives forever.   
What We Need & What You Get
We will not profit from this campaign.  We need $150,000 to make this happen and here's how this money will be utilized:

Printing 10,000 paperback copies of the special Ukrainian edition of "The Adventures of Carry Kindness"
Purchasing 10,000 boxes of Crayola Crayons in Classic Colors, 24 count
Purchasing 10,000 yellow sports packs with large front zippered pocket, drawstring closure and approximately 13 ½" W x 18″ H
Shipping from the printer to Global Empowerment Mission Inc. (GEM) in Florida
Paying IndieGoGo fees
Contribution to GEM, a 501(c)(3) organization that will transport the items from Florida to Poland and distribute them to the children

As a contributor you will receive a digital file of Carry Kindness. Print her out, color her, and help her on her mission to carry kindness around the world!  
Contributors will not receive a physical product.
The Impact
The gift of a book, in their language, will be a treasured possession of a child forced to leave everything behind as they fled for safety.  The story of kindness will remind them there is good in this world. Your kindness and generosity will help change the world.  
Risks & Challenges
If we don't reach our entire goal, IndieGoGo will refund your contribution.
Other Ways You Can Help
Even if you are unable to contribute,  we would still love your help getting the word out about this campaign. Let's bring kindness to the children of Ukraine!