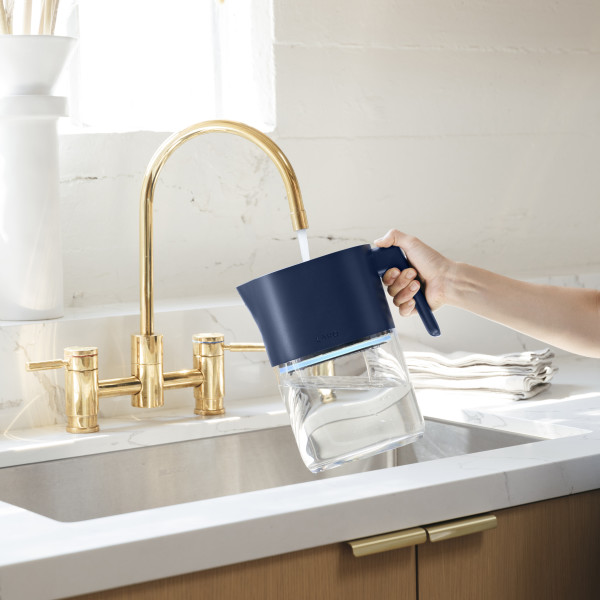 LARQ Pitcher – Pure water beyond filtration
$773,294
raised out of
$50,000
Concept
The first multi-stage purification water pitcher.
Story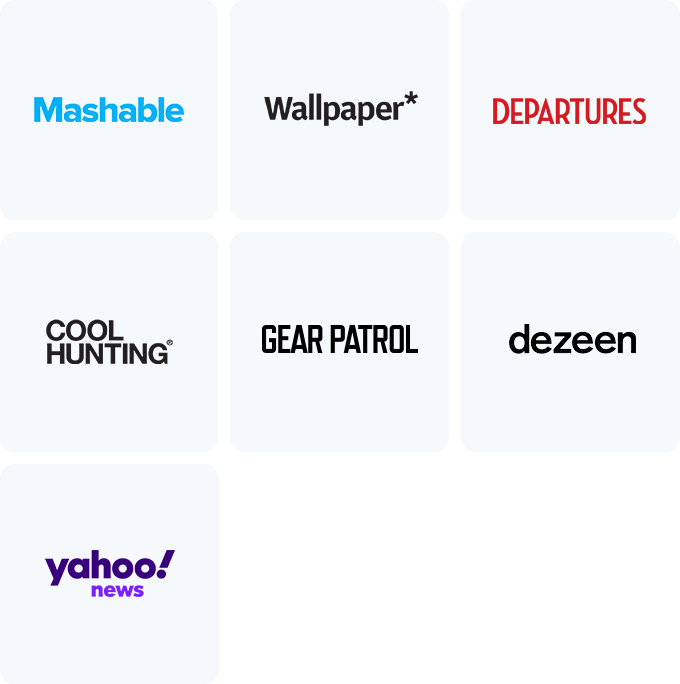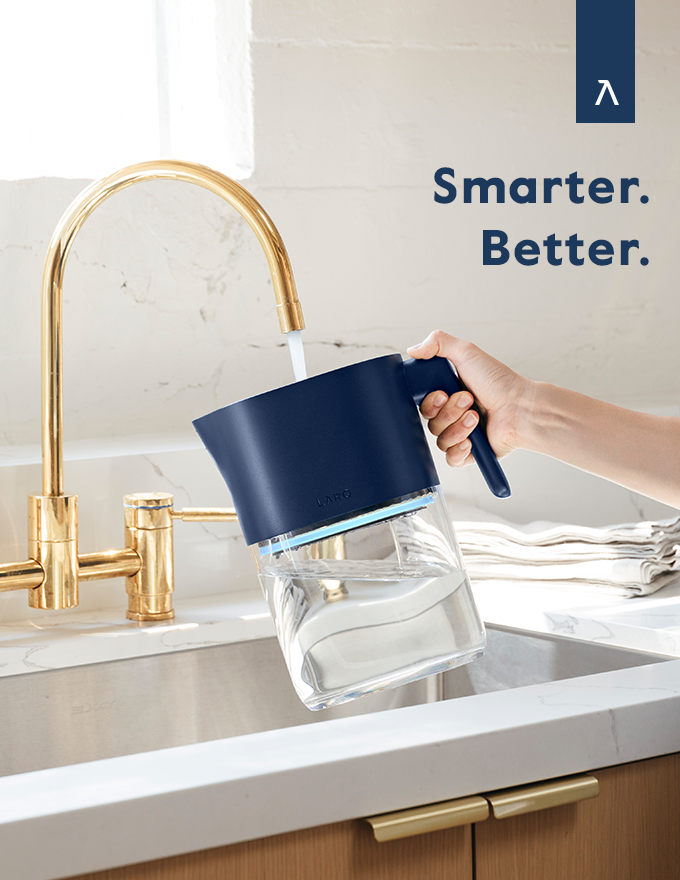 Traditional pitchers collect unwanted pollutants in filters where they can quickly multiply and reverse contaminate your water. 
The LARQ Pitcher goes beyond filtration with a unique 2-step filtration and purification process for pure-tasting water sip after sip.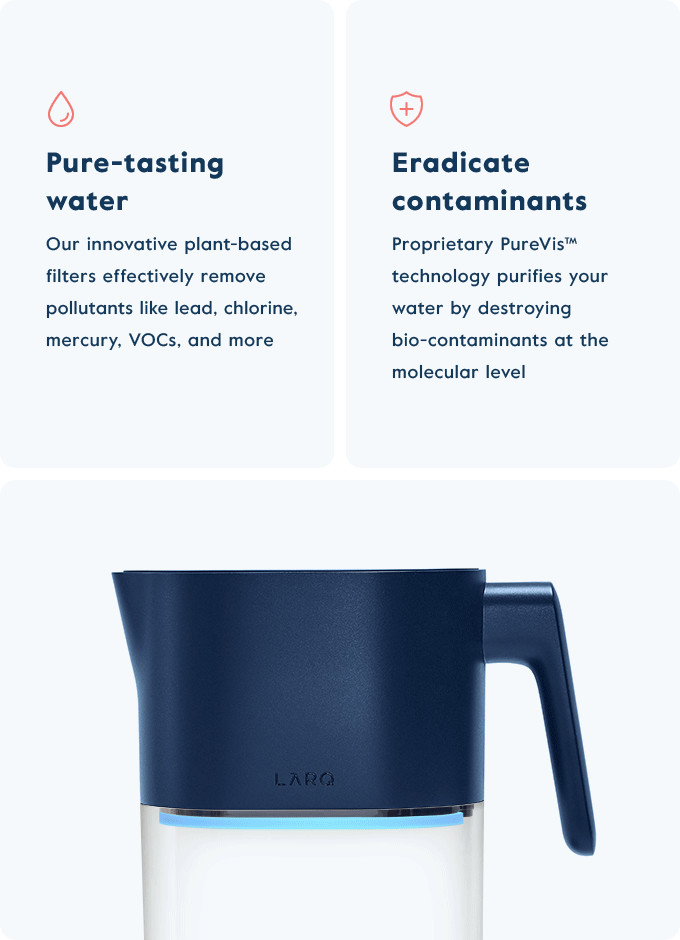 Traditional filters simply trap and collect unwanted pollutants where they can quickly accumulate and multiply. By removing chlorine, the filters become the perfect breeding ground for bacteria, mold, and other pollutants in just 2 weeks—making the filter itself a source of contamination.
Read about it in our white paper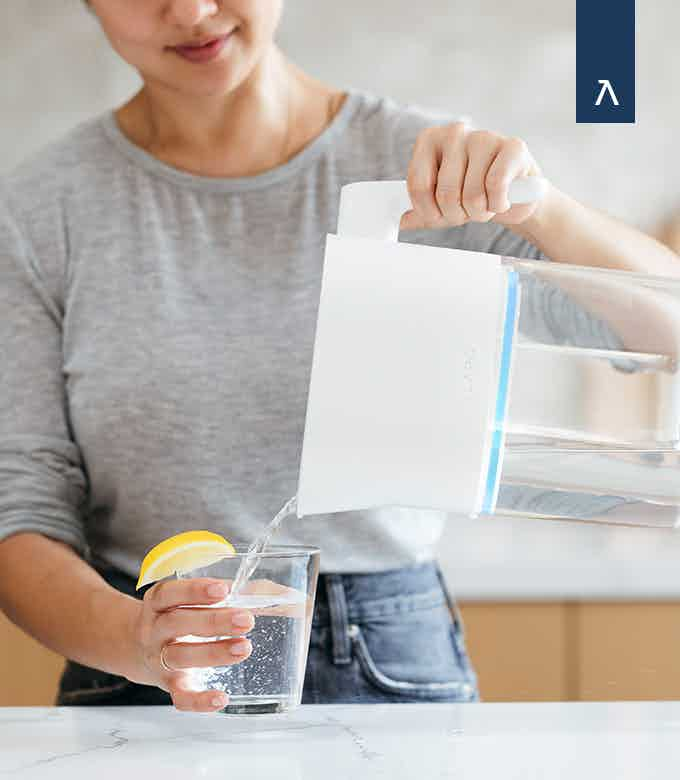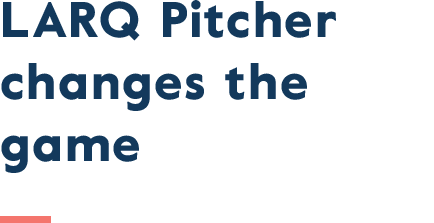 Go beyond filtration with two-step filtration and purification.
Step 1: Better filtration
Our carbon-derived, plant-based filter gets rid of unwanted contaminants like lead, mercury, chlorine, VOCs, and more, leaving you with pure, crisp-tasting water. No compromises here.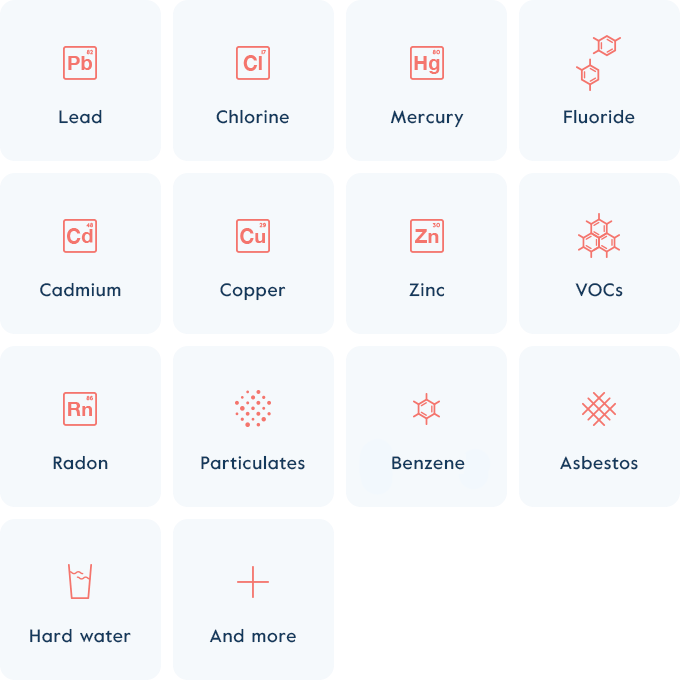 Step 2: PureVis™ purification technology
What traditional water pitchers are missing is a vital second step—PureVis™ UV-C purification, which eradicates bio-contaminants at the molecular level. Keeping your water as pure as nature intended.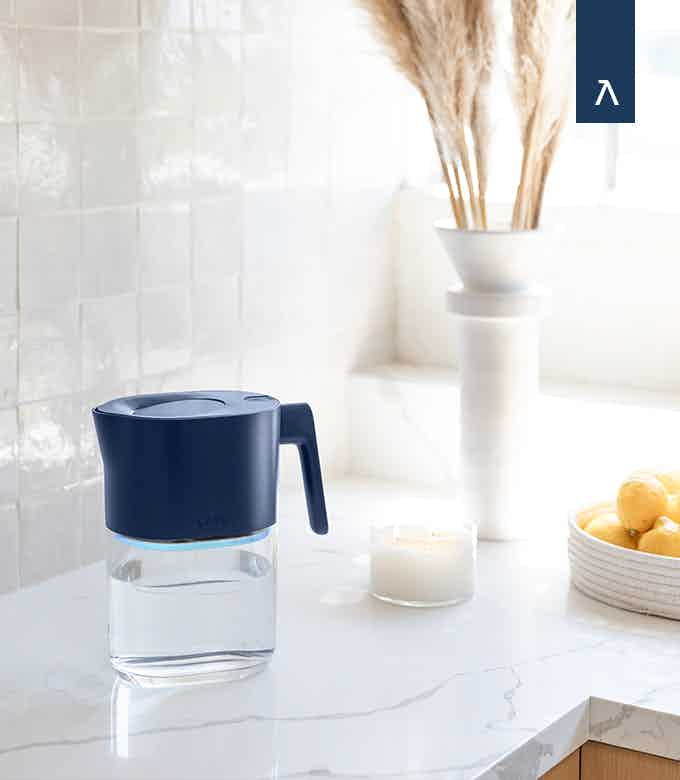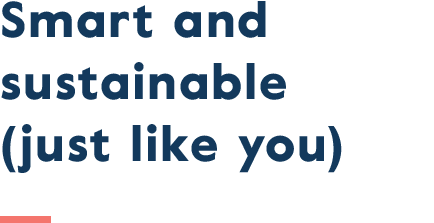 Name a water pitcher with better features, we'll wait.
No other pitcher gives you the seamless experience and uncompromising innovation that the LARQ Pitcher offers.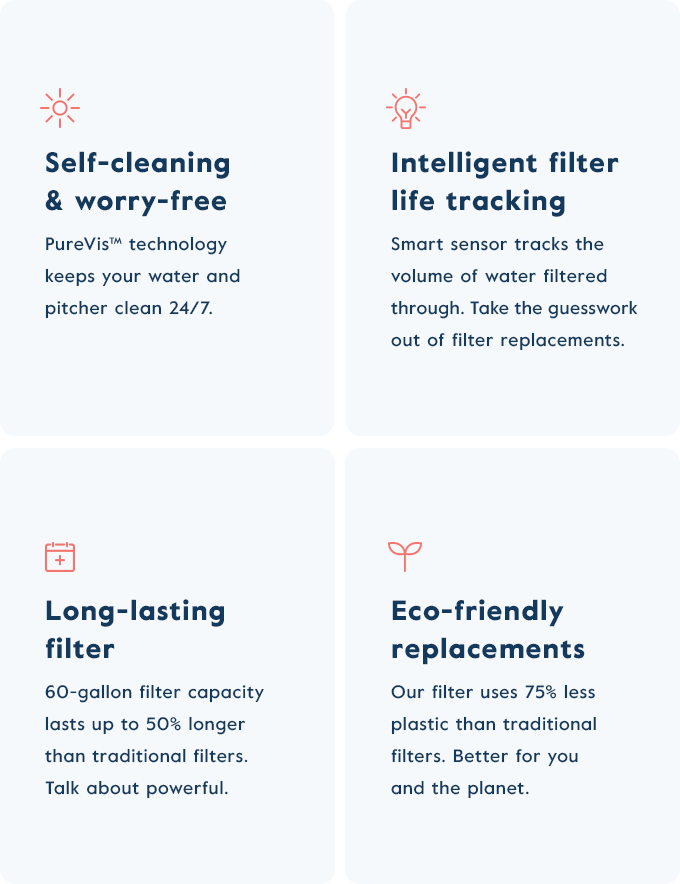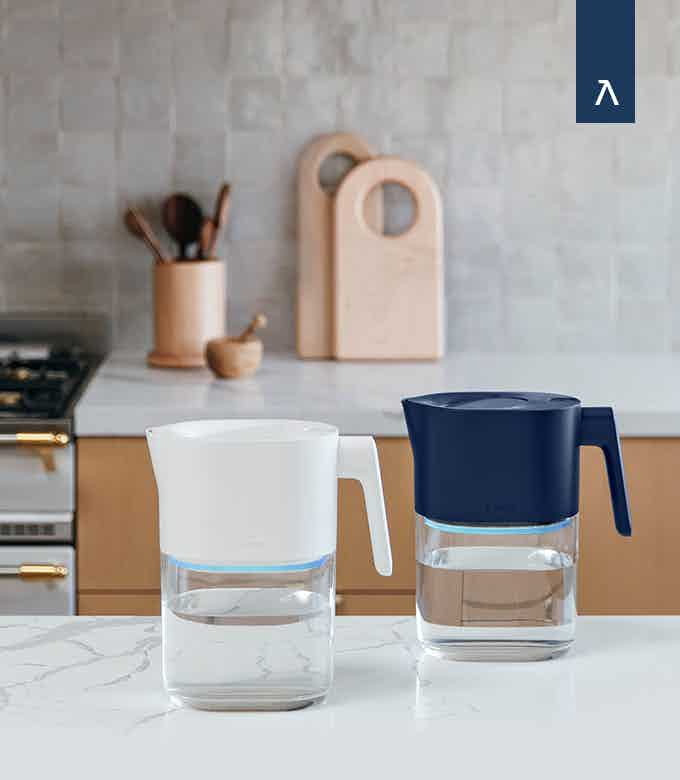 Something you used to hide away just became the main attraction.
Available in 2 rich colors that stand the test of time.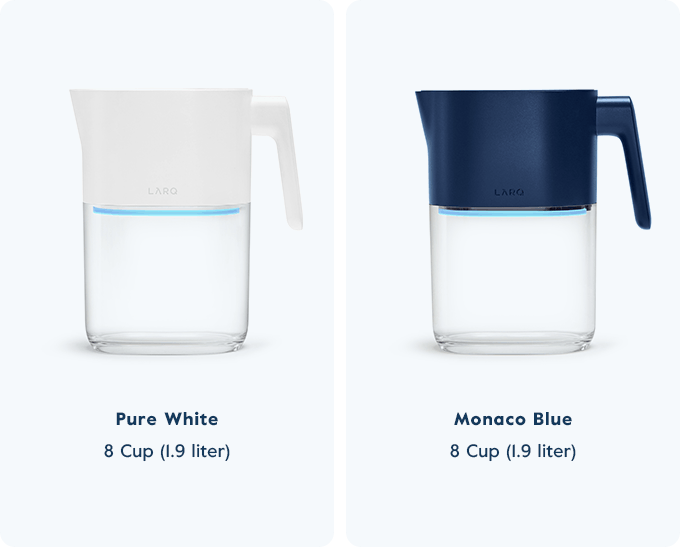 Step 1: Fill up your LARQ Pitcher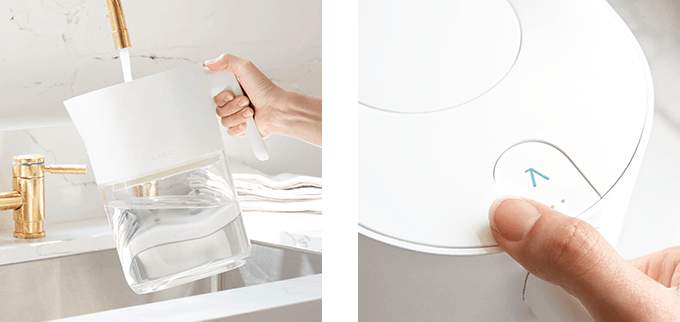 Step 2: Tap the button to start purifying as it filters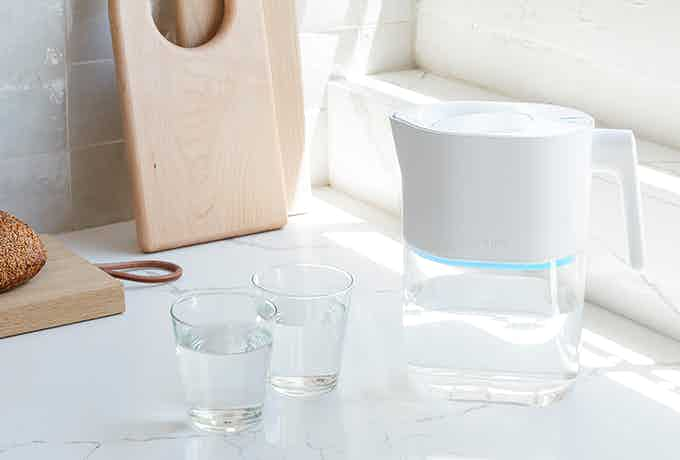 Step 3: Sip and enjoy.

Ah, that's what we call pure water beyond filtration.

 

We've done the science to help you drink brilliantly.
LARQ's proprietary and patented PureVis™ UV-C LED technology is the most advanced in the world.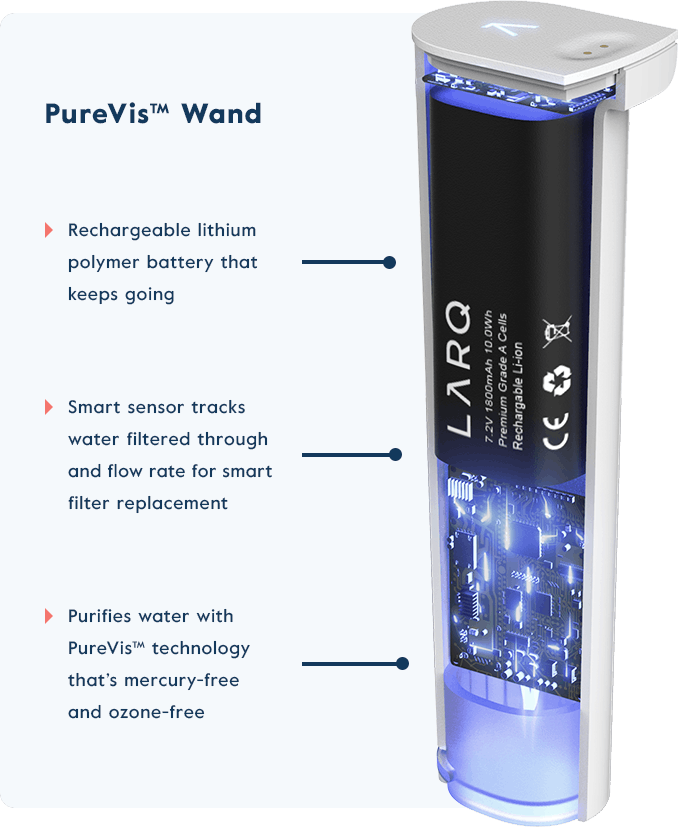 We opted out of the hard outer plastic casing you'll find with traditional filters and created a more sustainable woven material to help provide structure to the filter media. The result? A 75% reduction in plastic use during filter replacements over the course of a year.
By flattening the filter geometry we were able to maximize surface area for the perfect balance between efficacy, filter speed, and lifetime.

Two types of filters to choose from based on your water quality needs.
LARQ Filters will be tested to NSF standards (42 and 53) to achieve >90% reduction across a range of contaminants.
All perks or add-ons with Advanced Filter will ship in Q2 2021.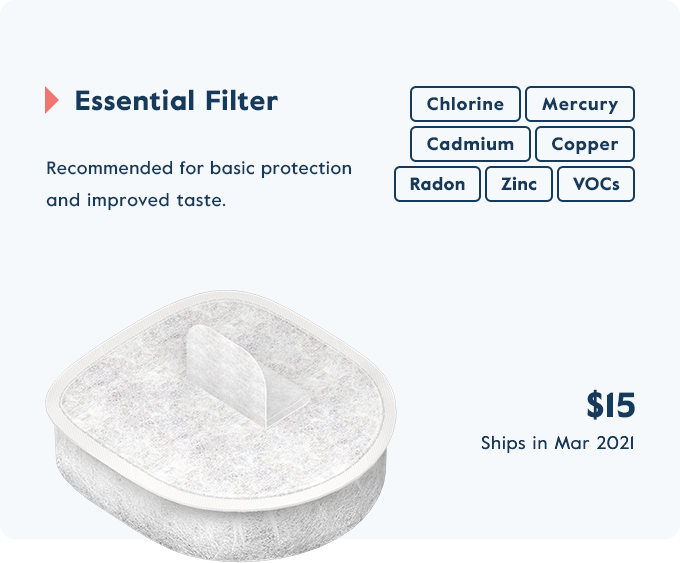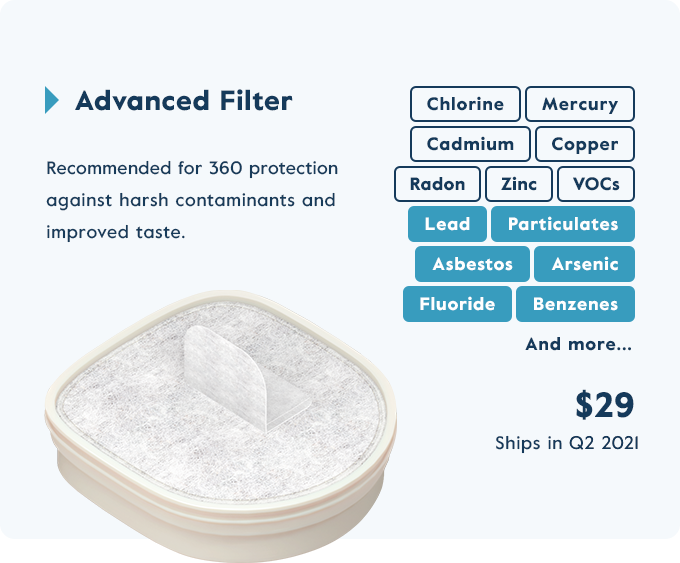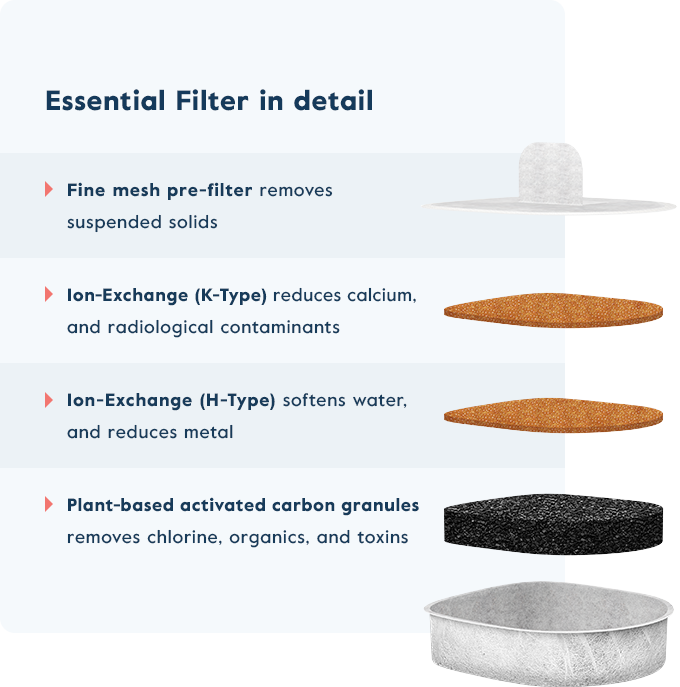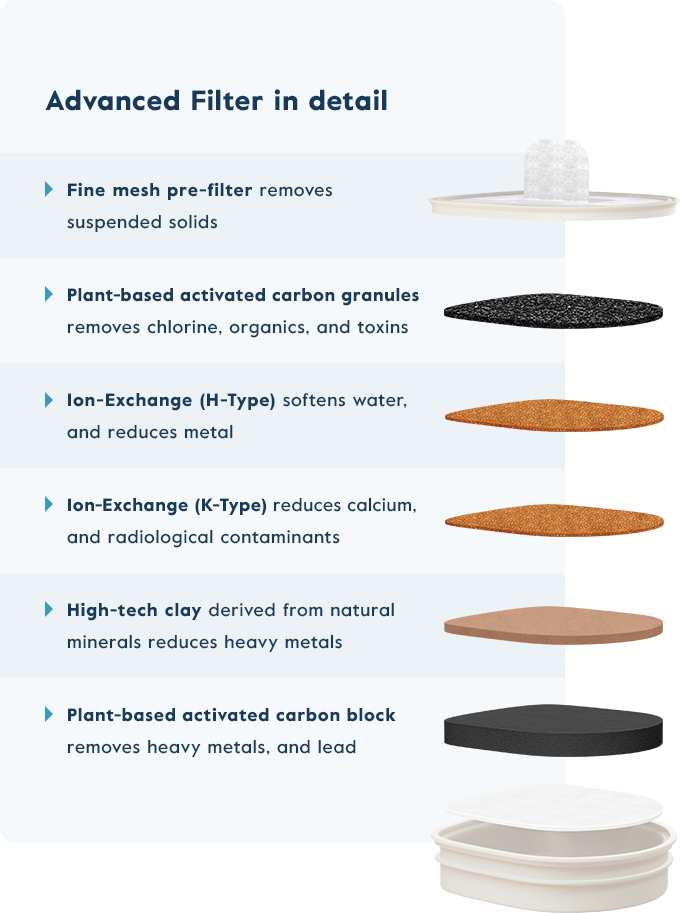 We're taking the next two months to finalize our certifications. Here's a look at our preliminary third-party testing across a range of contaminants.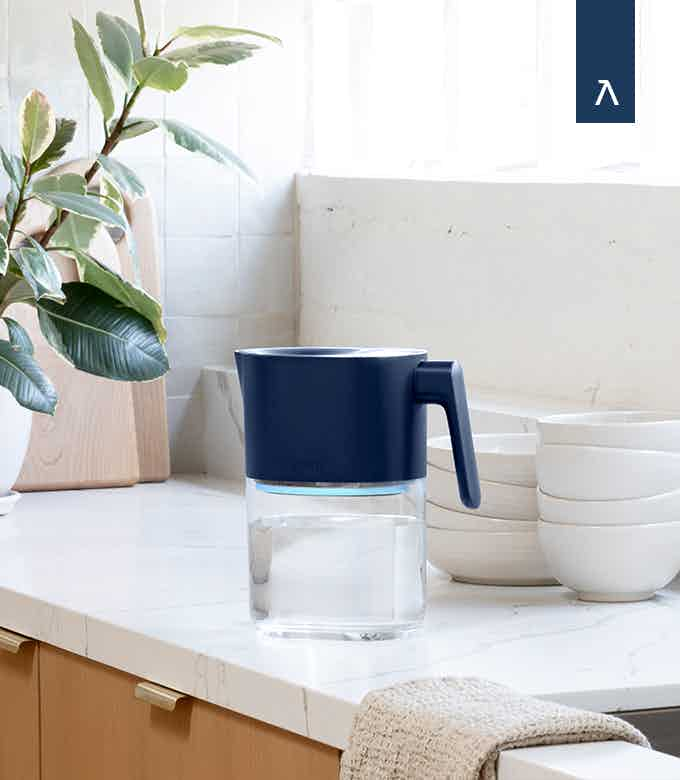 Your personal control center (coming Q2 2021)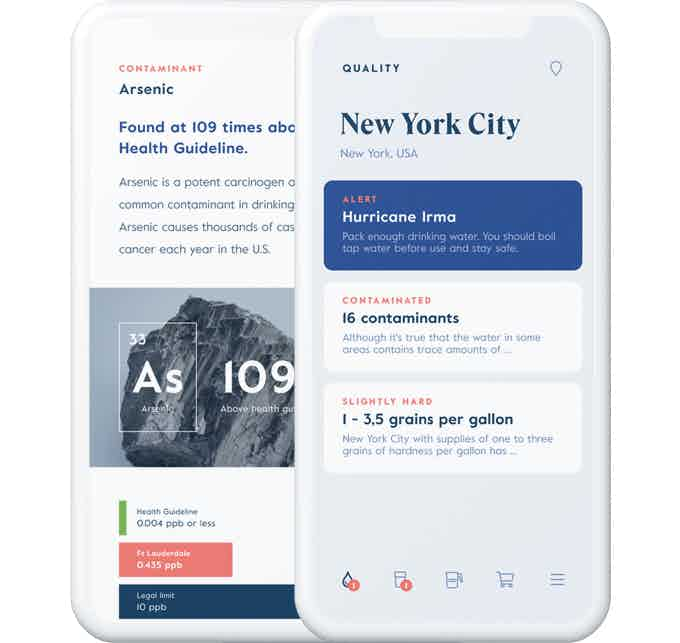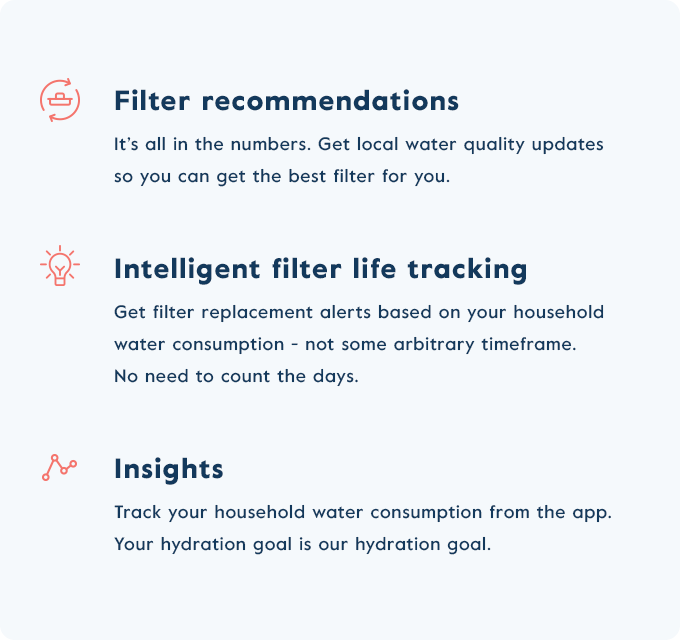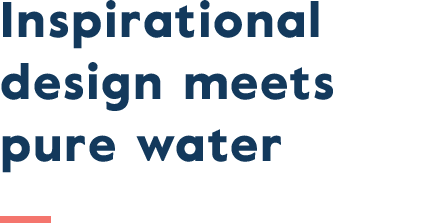 Who said practical had to be boring?
Household essential turned table centerpiece. We can dig it. Our unique 2-step filtration and purification process leave you with perfectly crisp drinking water—which means better coffee, better tea, better cooking, and better hydration.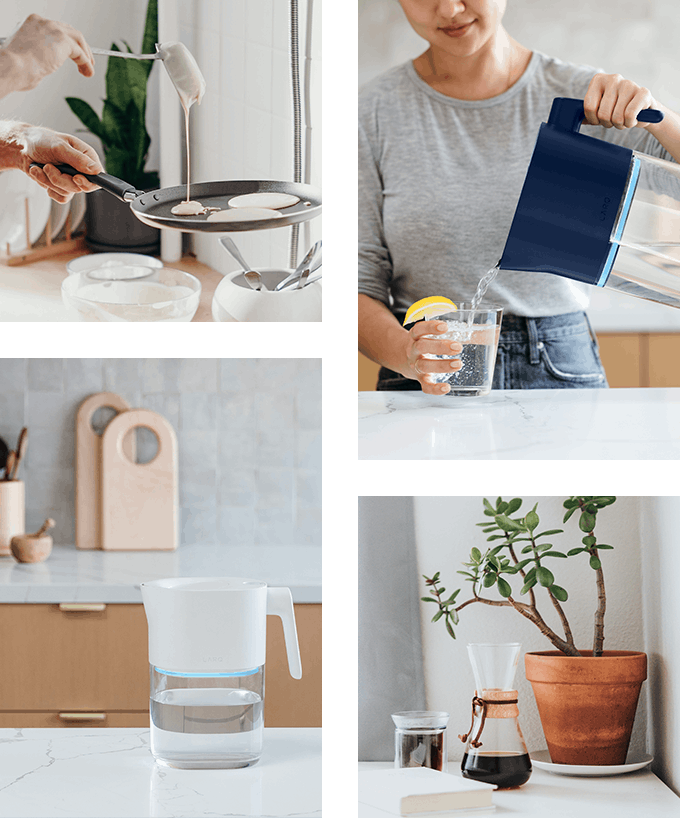 This isn't our first rodeo. 
With thousands of reviews, ratings, press features, and even awards for the LARQ Bottle and LARQ Bottle Movement, delivering quality products that work is what we do.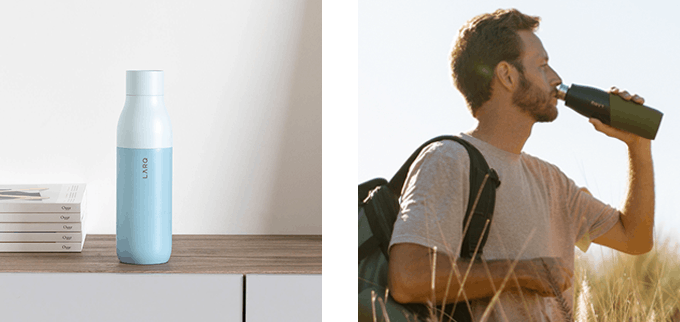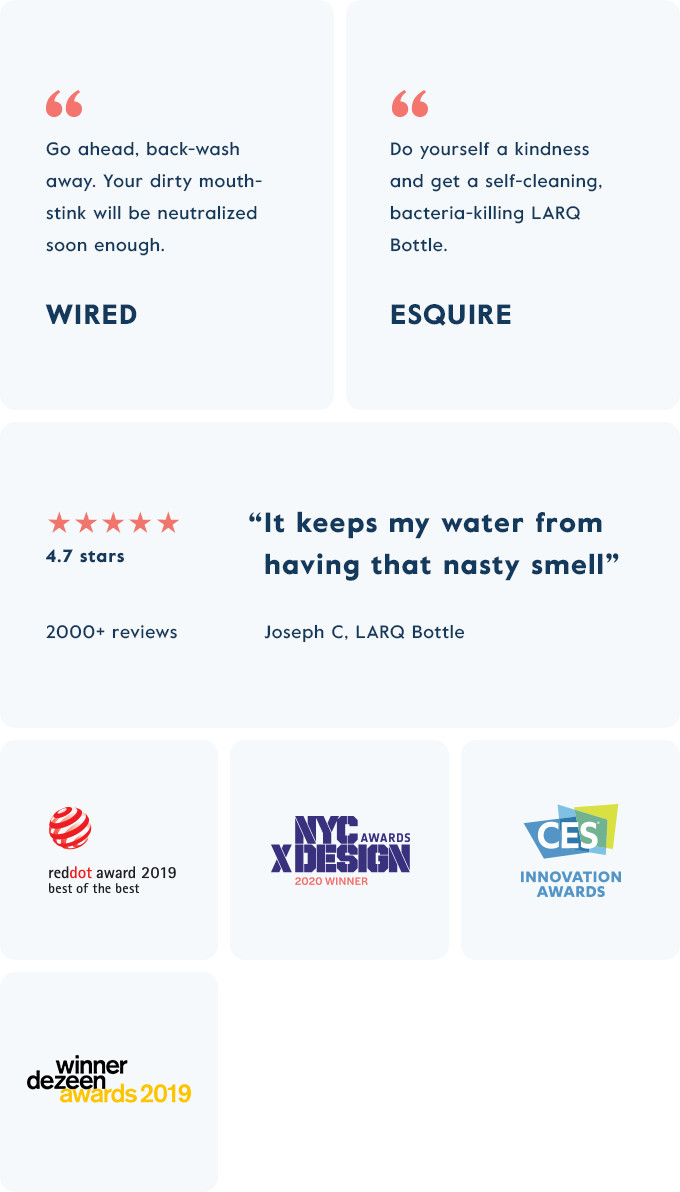 The LARQ Pitcher is the first of a whole new class of pitchers with advanced technology that delivers the purest water, but you can see that for yourself.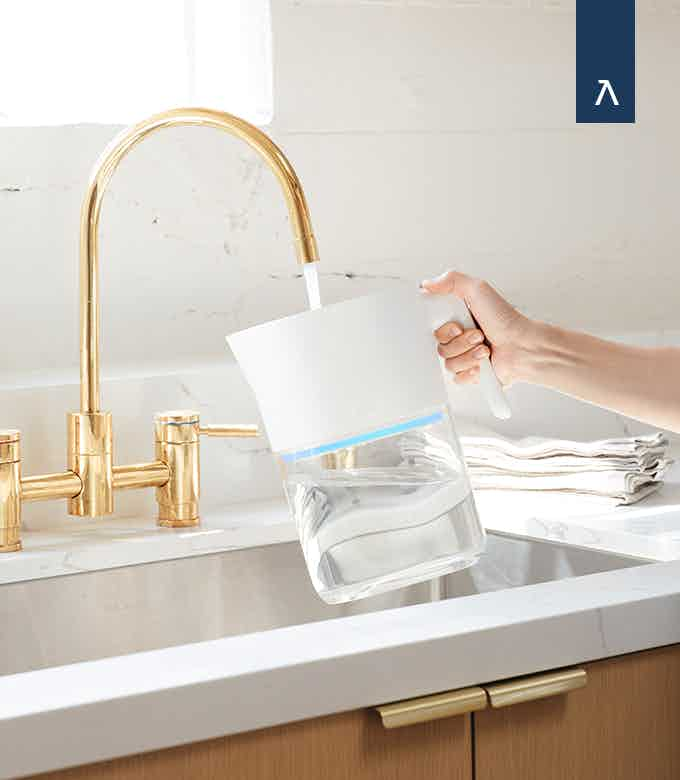 Perks or add-ons with Advanced filter will ship at a later date (Q2 2021)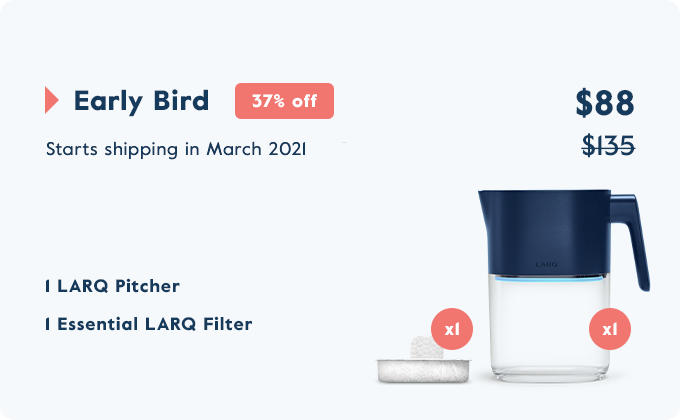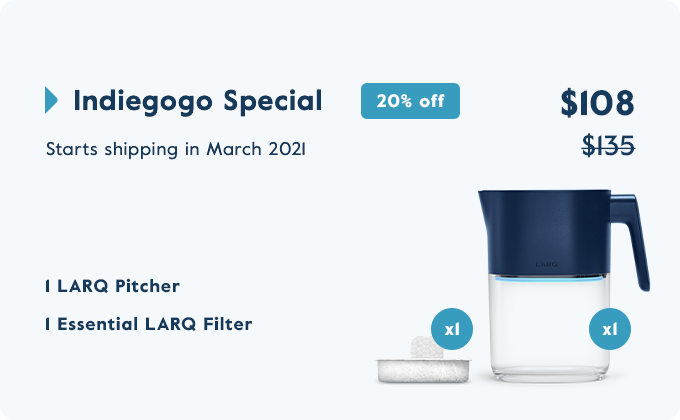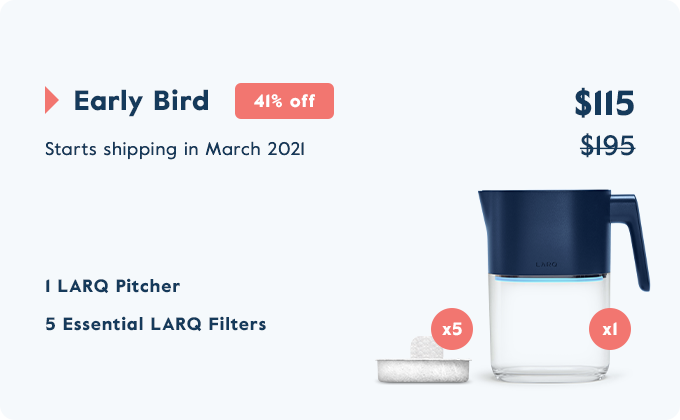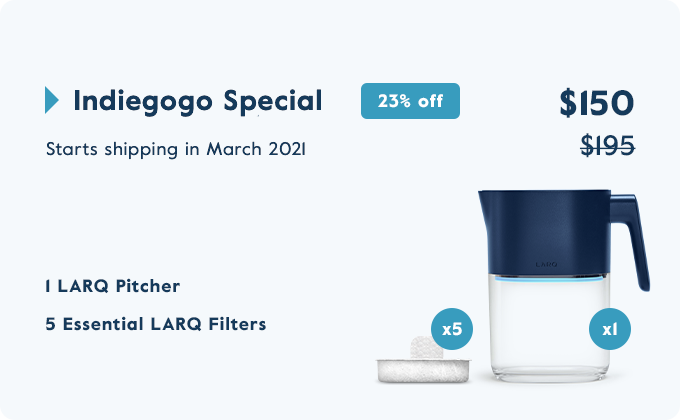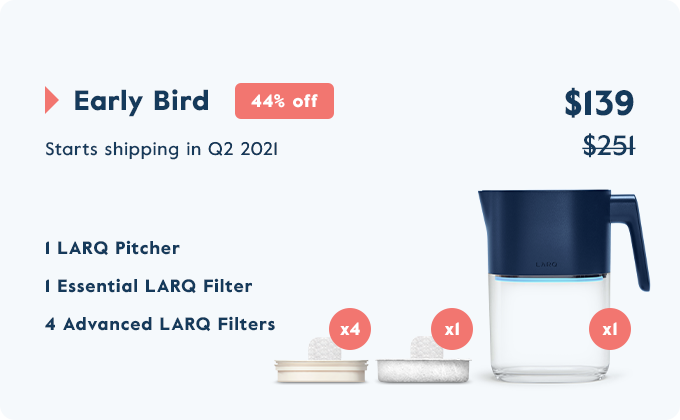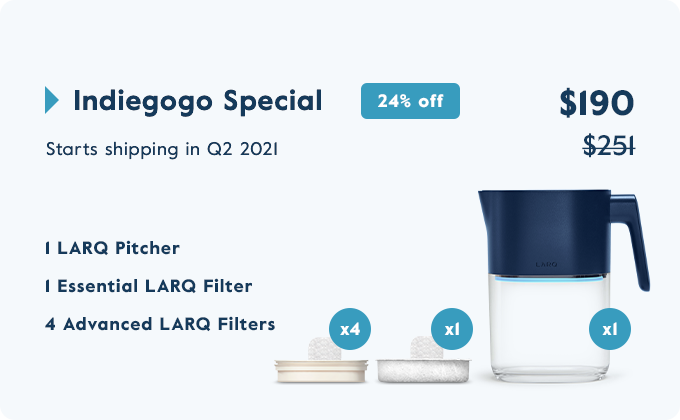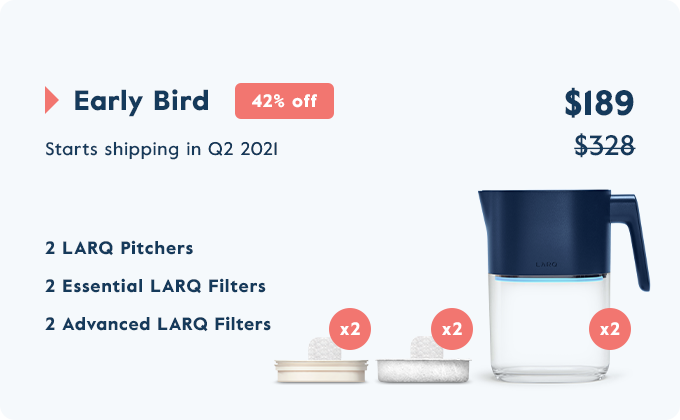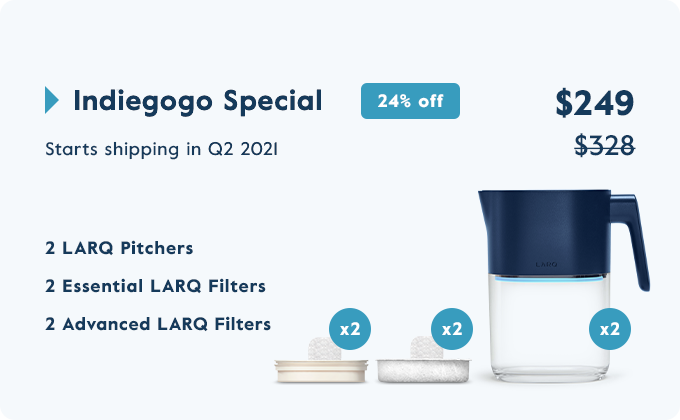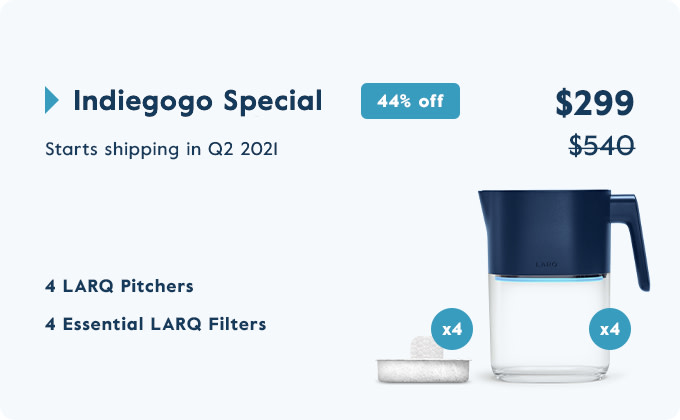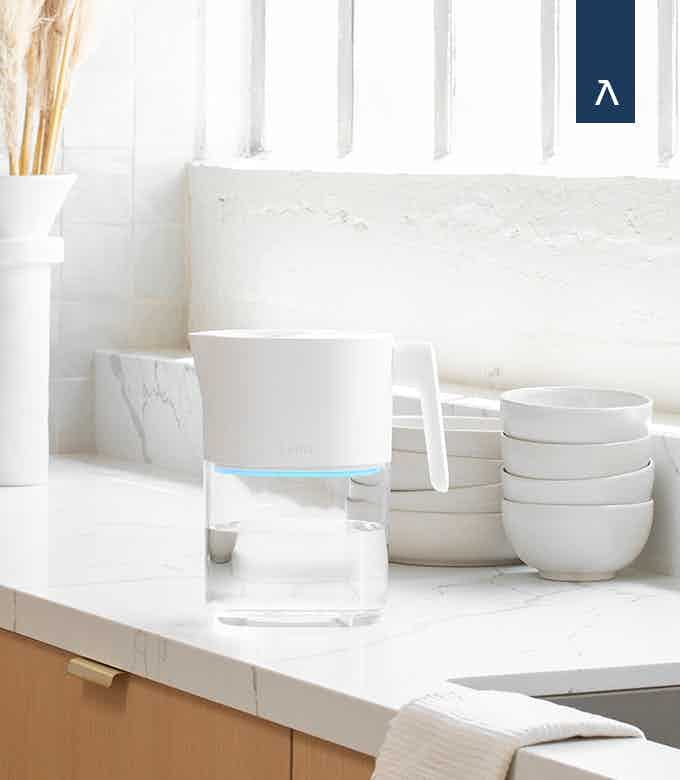 Volume:

8-cup (1.9 liter) Capacity
 

Battery Capacity:

650 mAh / 2~3 month capacity (charge when you replace filters)
 

L x W x H:

238 x 126 x 258 mm / 9.4 x 5 x 10 inches
 

Weight:

36oz / 1.05 kg
 

Material:

BPA / BPS free polymer
 

Connected: 

Bluetooth, Over-The-Air Updates, iOS App, Android App.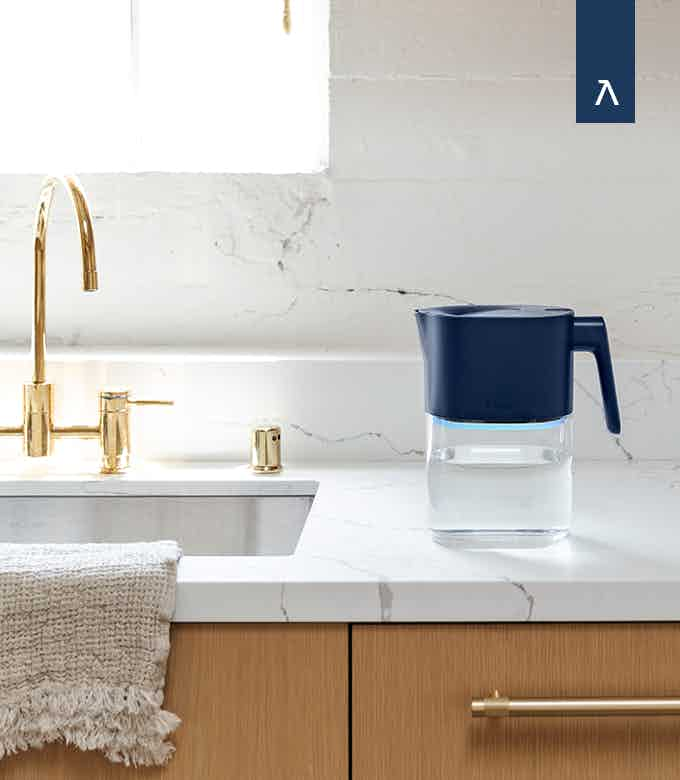 We are LARQ.
LARQ began with a simple vision where innovative technology can be combined with inspirational design to help people access pristine drinking water easily and sustainably.
Our products look as good as they make you feel. We are confident that these are the most beautiful hydration products in the world that make it easier for you to make the healthier and sustainable choice, anytime and anywhere.
You are what you drink. So #DrinkBrilliantly.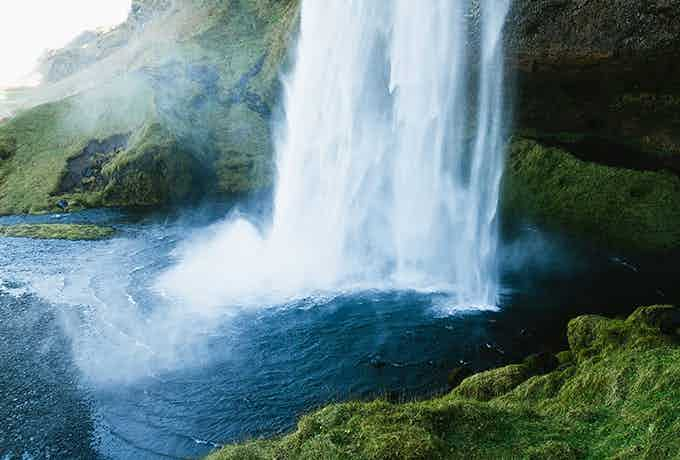 Many Indiegogo campaigns have disappointed backers by not thinking about shipping, taxes, and duties ahead of time. Truthfully, we also learned the hard way the first time around. We want to assure our backers that we've partnered with world-class logistic solution providers to ensure the delivery of all of our perks across the world.

Please be aware that all shipping, sales and VAT taxes will be collected after the campaign is over. 
Shortly before the LARQ Pitcher ships, we will email you a link so you can:
Input your shipping address and latest delivery information
Choose a color for the LARQ Pitcher
Pay shipping and sales/VAT/GST tax
Order additional filters, the LARQ Pitcher or other accessories
Below is a shipping estimate table based on the latest data. We will strive diligently to achieve the right balance of shipping speed and cost efficiency for our backers. We will remain 100% transparent regarding shipping costs and will pass on any potential savings to our backers as well.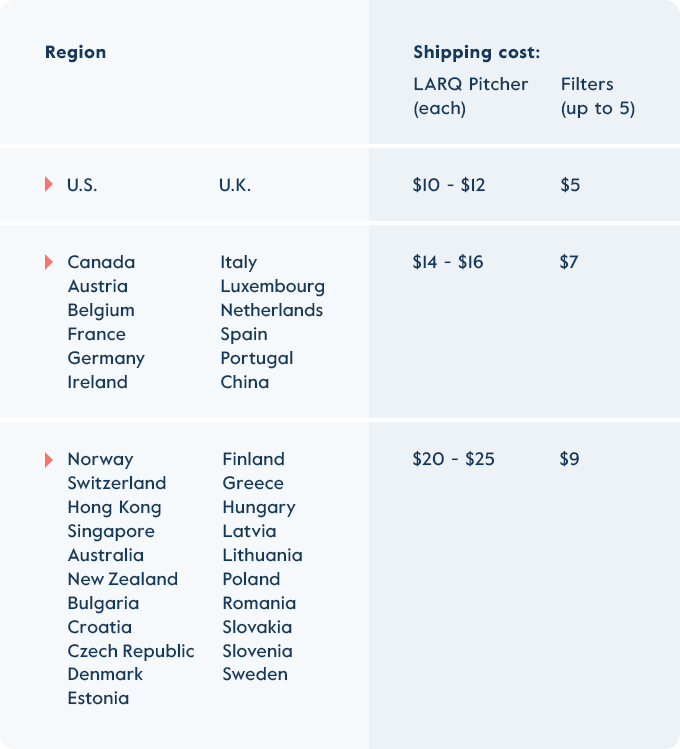 Taxes will vary based on where your rewards are shipped. For the following countries, we're collecting taxes before shipping, so you won't have to worry about paying them at the time of delivery, extra fees, or being held up in customs.
 

United States

: State sales taxes apply in most states.
 

European Union

,

United Kingdom, China, and Canada

: VAT/GST taxes apply.
 

Other Countries

: We will not charge any taxes in the pledge manager. However, you may be responsible for sales tax, VAT/GST taxes, duties, import fees, or other taxes/fees when your reward is delivered.