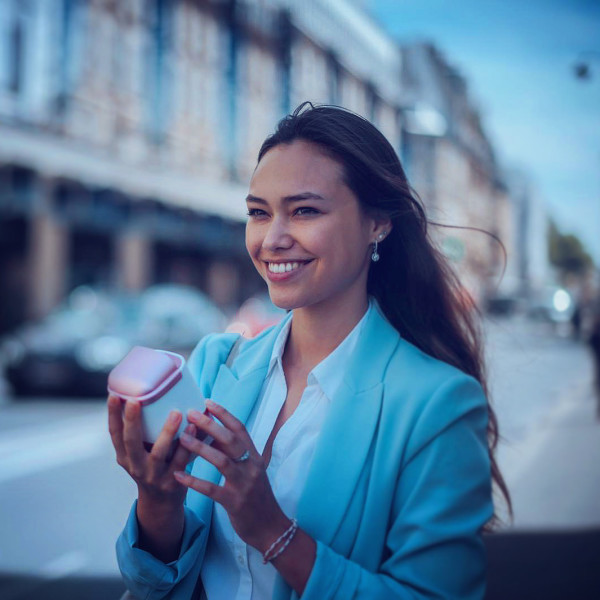 LUFT Duo – Air purified down to the molecule
$65,381
raised out of
$10,000
Concept
LUFT filterless SPP nanotech zaps particles down to the molecular level. Over 20,000 shipped on IGG!
Story
We'd love for you to meet LUFT – it's small and mighty
Meet Luft Duo, the world's smallest air purifier that uses nanotechnology — rather than filters — to neutralize airborne microbes, mold, and toxic chemicals inside and outside of your home.
You read that right: no filters.
Stretch goals UNLOCKED! Thank you so much for your support!
Guaranteed delivery by December 24th
LUFT has shipped over 20,000 products to happy customers, including thousands of Indiegogo backers!
We've done this before – not once, but twice. Order before the end of our campaign and get guaranteed shipping by November, with delivery before December 24th
*̣̥‧‧‧‧‧‧‧‧·͙̥‧‧‧‧‧‧‧‧‧❄‧‧‧‧‧‧‧‧‧̩̥‧‧‧‧‧‧‧‧•̥̩̥͙‧‧‧‧‧‧‧‧‧̩̥‧‧‧‧‧‧‧‧☃‧‧‧‧‧‧‧‧‧̩̥‧‧‧‧‧‧‧‧•̥̩̥͙‧‧‧‧‧‧‧‧‧̩̥‧‧‧‧‧‧‧‧❄‧‧‧‧‧‧‧‧·͙̥̣‧‧‧‧‧‧‧‧*̣̥
A track record of innovation
At LUFT, we never stop innovating. Two years ago we introduced our mini air purifier to the world. Thanks to your incredible support, we launched our second generation Luft — featuring increased cleaning efficiency, a lower noise level, and a new metal mesh design. Now we're doing it a third time – doubling LUFT's capabilities while still maintaining its tiny size.
Luft around the world
For more press, please visit us on Spark Amplify

USA:
"This tiny portable air purifier may soon sooth your inner clean freak" mashable.com "Absorbs ambient air from all angles, breaks down into harmless CO2 and H2O" touchofmodern.com "The amazing thing is the filterless LUFT cube outperforms HEPA air purifiers in the market." gadgetany.com "Grabbed my attention because it's palm-sized, many air purifiers at CES are the size of desk fans." tidbits.com
Taiwan:
"Being inspired by the precision and minimalistic design of Germany, LUFT was created to be a rebel in the air purifier market." Taiwan Tech Arena "The CES2020 Taiwan Excellence booth was filled with colorful characters, the most colorful of all was Titus Chang of LUFT Cube" Taiwan Excellence
Singapore:
"It also has an anti microbes metal mesh which is easy to remove and clean" sg.news.yahoo.com
Germany:
"The technology is not some esoteric hocus-pocus, but actually rooted in science. After 30 minutes, 37%, and after an hour almost 66%. This thing actually works"computerbild.de
Japan:
"It is lighter than a smartphone and can be used anywhere".techable.jp "The operation sound is only 25 dB, which is lower than human whisper." tabi-labo.com
Hong Kong:
"In two days, LUFT Cube got rid of the new car smell. Driving isn't tiresome." unwire.kk
Thailand:
"The latest innovation from Taiwan" shopee.co.th
Good air on demand
Whether you want to get rid of bad odors, defeat your allergies, or simply improve your indoor air quality, Luft Duo is the perfect air purifier for you.
Where can you use LUFT?
How does LUFT compare to HEPA?
HEPA only traps pollutants:
LUFT purifies them with patented photocatalytic tech:
LUFT destroys pollutants that are too small for HEPA
LUFT is the ONLY filter that destroys formaldehyde
3rd Parties Verified – We've test it inside and out
LUFT has NO replacement parts – and NO byproducts
How did we make LUFT Duo even better?
Twice the power, half the noise:
We listened to your feedback, and the third generation of Luft has an expanded range of 240 square feet. You'll only need one Luft Duo for your entire house.
Same great mesh metal filter – now with super hydrophilic and self cleaning:
And one more thing:
While sleeping at night, turn on the night mode setting. Night mode is with darker light and quieter running sound. Let you sleep well until morning.
How did we get it so quiet?
The secret the is in the curved top The new generation of LUFT Duo uses patented 3D photocatalyst design. The patented structure increases efficiency by 62% from the previous model.
It's not magic, it's LUFT.
Here are some awesome extras for early backers:
With your LUFT cube you get a FREE cupholder and vent cap
Use the vent cap to get the most fresh air – up to 15x that of room purifiers. The cupholder can be used to use LUFT in your car without worrying about it falling or getting damaged.
Upgrade to a travel bag at checkout – or share the campaign to get one free!
We're shipping in November – take your pick ?
Order before the end of the campaign and get guaranteed shipping by November. Please feel free to add the travel bag as an add-on, or share the campaign and tag us to get one free!
We can create custom engraving on orders of more than 30 LUFT Duos, and have many happy corporate clients. Feel free to buy a 30 pack on indiegogo, or email us at hello@luftqi.com to chat with us about the custom order that's right for you.
Our timeline
We're ready when you are!
From our backers
I purchased 2 Luft Cube here a while back. I love it. It has helped tremendously with how my family and I breathe when we sleep at night and during the day, especially since we're inside the house almost all the time. I have it on almost all day long, switching between low and high throughout the day but it's on all the time. Thank you for creating this amazing product.
–Alice Jen | Canada
I received my Luft Cube a couple weeks ago, and putting it next to the cat litter box has made me a believer. I used to be able to smell it every time I walked into the large living area where the litter box was housed, but no longer. It has been running 24/7 since I received it and no problems so far. I personally find the fan very quiet, and the lighting unobtrusive. I am very happy with my backing, thank you!
–Kendall McCarthy | United States
Thank you Luft cube team! I have used the cube for around 2 weeks already. The very next day, my wife stop her every morning uncontrollable sneezing due to sinus condition. She has been sneezing for years and now it has stopped for the past 2 weeks since starting using the Luft cube. Thank you very much from.
–Royston Teo | Singapore
Love these things! Use 1 at home in the bedroom, use 1 in the office at my desk and I gave the other as a gift. The Luft Cube has exceeded all expectations. Quiet, powerful, efficient, portable and high quality. Looking forward to ordering more for more areas and more gifts. Thank you.
–Michael Johnson | United States
Had a pair of these for about 2-3 weeks now, and must say I'm pretty happy with them. Wis-per quiet even on high. And they have helped clean the air in my personal space quite well!
–Phil Dallek | United States
Product specifications
Meet the team
We are a Taiwanese electronics company with subsidiaries in the United States. Guided by the slogan of "good air, anytime and everywhere," our first Indiegogo campaign — the Luft Qi — launched in 2018 and introduced our innovative photocatalyst purification technology to the world.
A huge THANK YOU to all our backers in these past years. We're thrilled for you to try the third generation Luft.
With love from Taiwan
– LUFT QI
---
With a little help from: