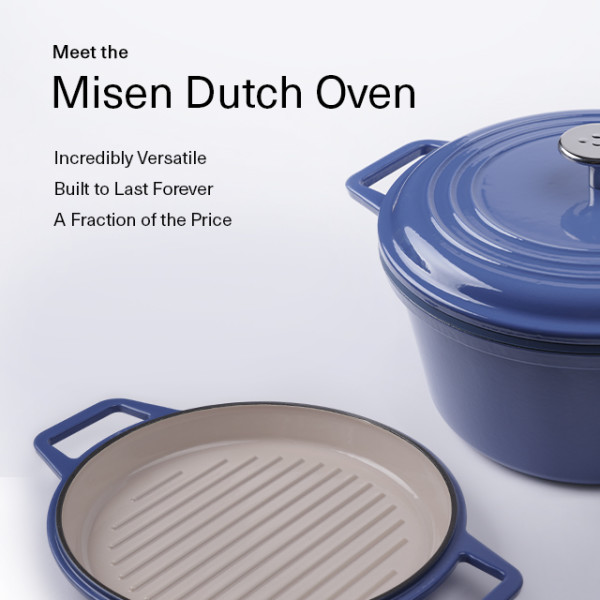 The Misen Dutch Oven
$4,254,352
raised out of
$25,000
Concept
A cookware classic improved. Incredibly versatile, lasts forever, sold at an honest price.
Story
Hi there! We're Misen.
We design and make premium kitchen tools at fair prices. To preorder our Dutch Oven and make it a reality, click Back It. Or read on!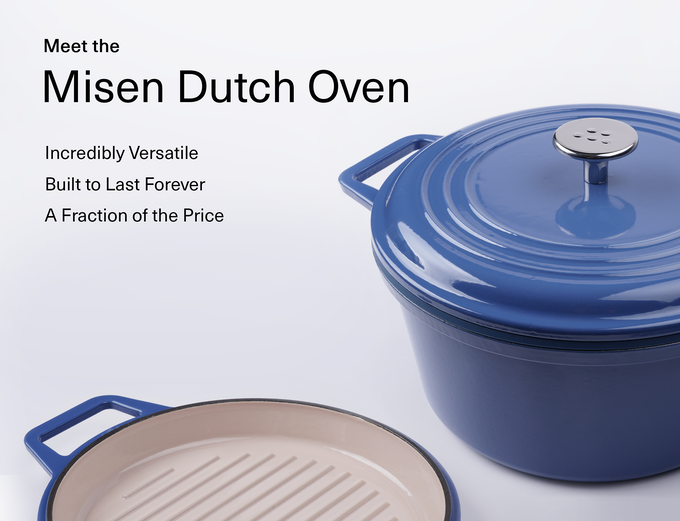 All backers receive 7qt Dutch Oven base and their choice of grill OR traditional lid.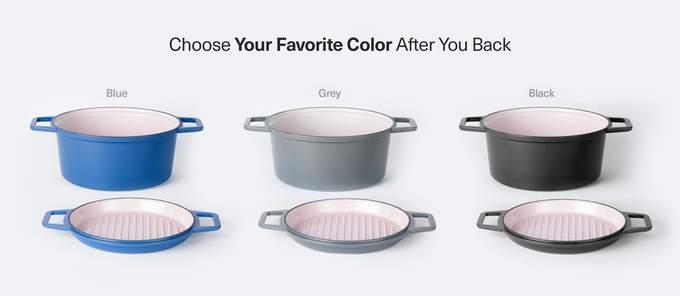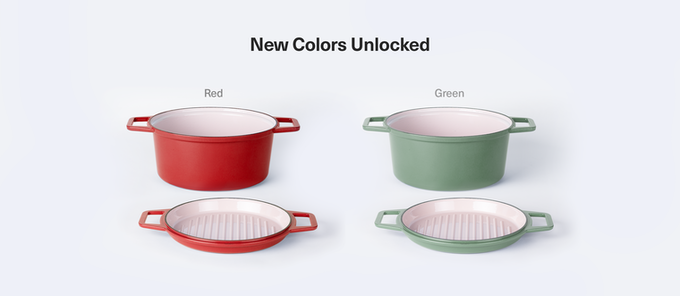 Why Remake a Classic?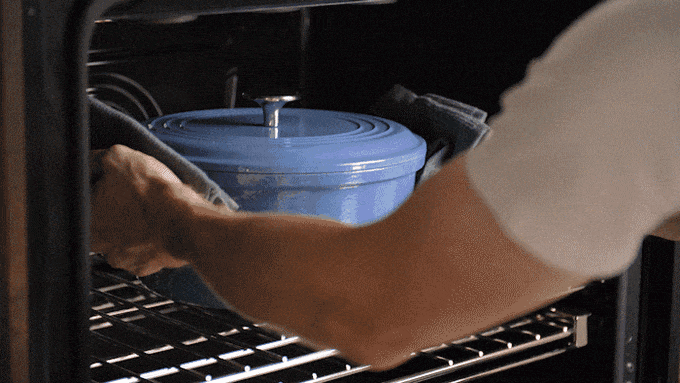 The Misen Dutch Oven offers premium durability, updated features, and superior cooking — at a reasonable price. 
The dutch oven is a workhorse. It can sauté, sear, boil, fry, bake, and braise, from the stove, to the oven, to the table.
Unfortunately, premium dutch ovens that last a lifetime are insanely expensive and overpriced. And cheaper, low-quality ones are prone to chipping and scratches — making them useless in just a few years.
We think there should be a better option. Premium quality and durability that will last forever, but sold for a fair and honest price.



It's Built to Last a Lifetime
High-End Protection Against Chipping & Cracking
We used 4 layers of FERRO enamel (the strongest enamel available) to prevent chipping, scratching, and cracking. It's the luxury brands' secret to life-long reliability.
Cheaper brands have hand-dipped enamel, creating uneven coatings that crack and chip more easily. Our modern spray application ensures an even coat that's consistent down to 0.02 mm. Zero imperfections make for a lifetime of toughness.
4-layer FERRO enamel system prevents chipping.
Superior Durability: The Ball Drop Test
We dropped a 2 lb. metal ball from a 3 ft. height into each dutch oven to simulate metallic impact.
We wanted to make sure that our dutch oven was the most durable on the market, so we put it to the test.
We dropped a 2-pound steel ball from 3 feet in the air to simulate the dutch oven owner's worst nightmare: a hard metallic impact. Cheap dutch ovens chipped and flaked almost immediately. But drop after drop, Misen's enamel coating remained chip-free and outlasted the competitors. Including the most expensive ones.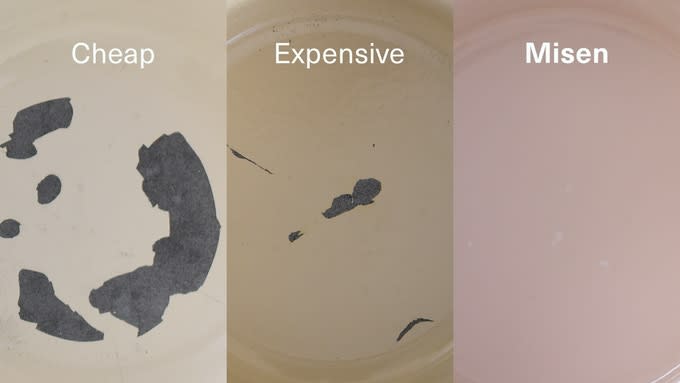 Our enamel outperformed the cheap brands, and matched or exceeded the expensive brands.

All-In-One Versatility
Grill Lid Makes This Dutch Oven Even More Versatile
Dutch ovens can already do almost anything in the kitchen. We wanted to make ours even more versatile.
So we designed a grill top lid that provides the same tight seal as our traditional lid, but can also be used alone as an indoor grill. The same premium cast iron and enamel layers help create a nearly-nonstick grilling experience and perfect browning.
If you prefer the traditional knob-style lid, don't worry — we offer those too.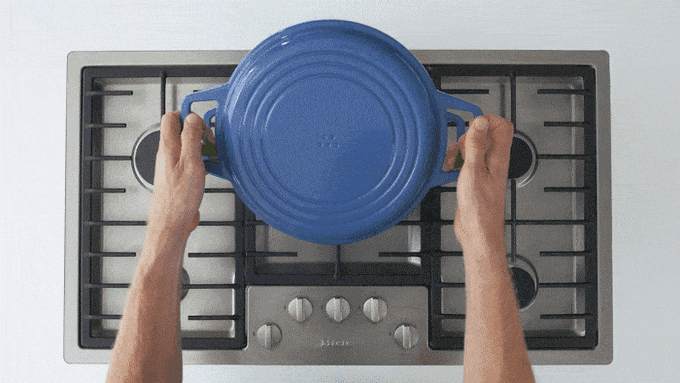 Bonus Silicone Lid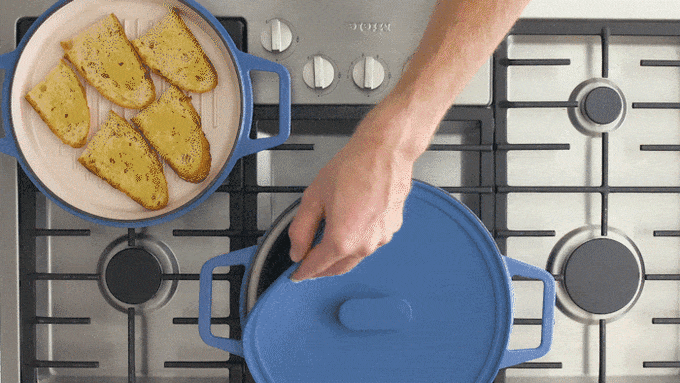 Extra Versatility and Protection
This added silicone lid creates an airtight seal on your Misen Dutch Oven — handy if you're using the grill top lid and base at the same time. It's highly durable, PFOA-free, oven-safe, and made from platinum-grade silicone.
Plus, it stacks neatly between the lid and base when you're storing them away.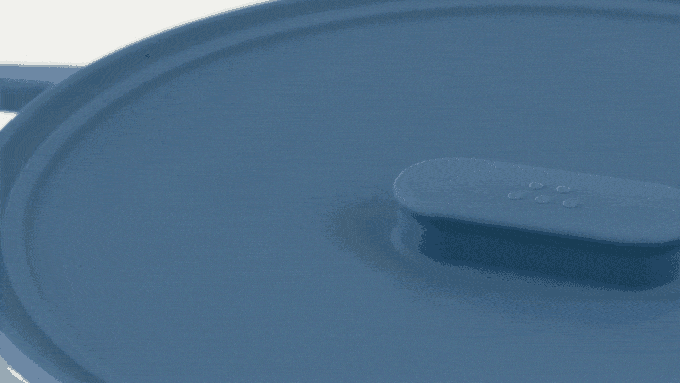 Compatibility


It's Honestly Priced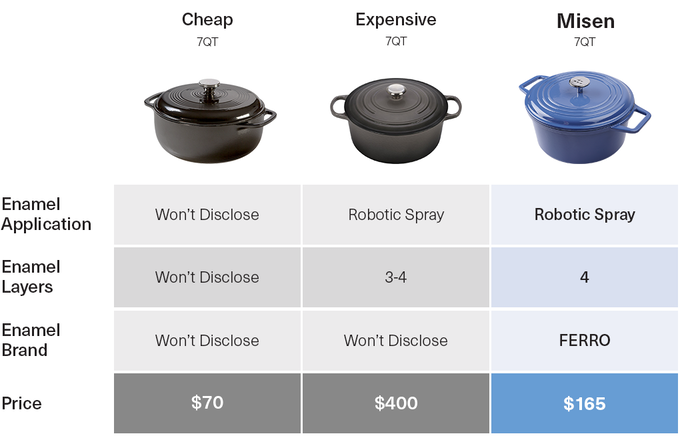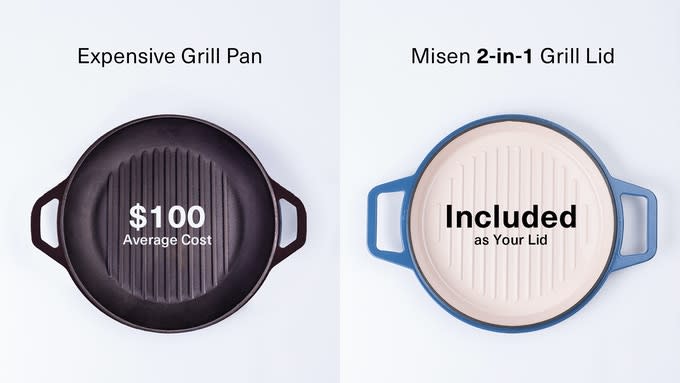 Premium durability, at a fraction of the price.
We don't think you should have to choose between wildly expensive "premium" pieces and the lower-quality cheap dutch ovens.
Luxury brands are durable, but carry unnecessarily high price tags thanks to clever branding. By working closely with our factories and selling directly to you, we're able to offer the same quality (or better!) at a much more reasonable price.
Our goal was simple. Create the most durable dutch oven possible, and sell it for a price that's fair and affordable.


It's Easy to Care For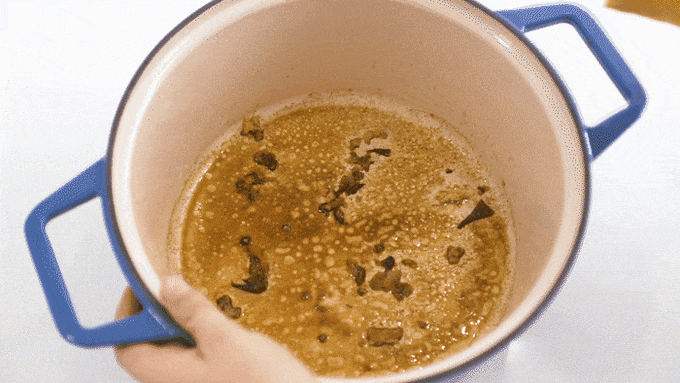 Nearly Nonstick, Zero Maintenance Needed, Dishwasher Safe 
Our enamel is smooth enough to be nearly nonstick without any maintenance.
Most messes just need a gentle soak and scrub to wipe away. Our dutch oven is also dishwasher-safe (though we'd prefer you hand-wash)!

Key Features
Thoughtful design updates to a classic piece make this dutch oven even easier to use at home


Design Process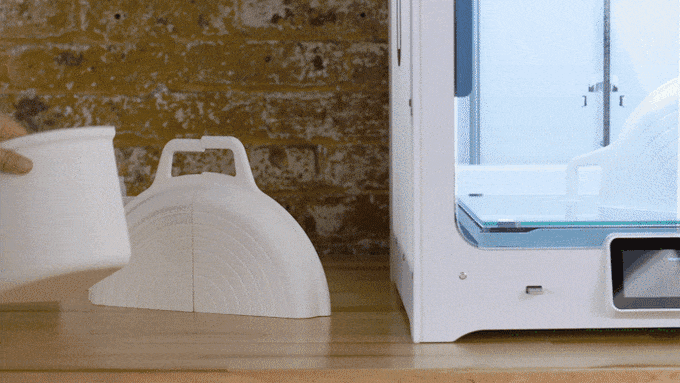 The Millimeters Matter 
We spent over 18 months researching and developing the Misen Dutch Oven. We asked questions and received tons of feedback from our community on what they liked (and didn't like) about these pieces.
We didn't want to reinvent the wheel. Dutch ovens are already amazing cookware pieces, but we found a few small ways we could update the traditional design for an even better cooking experience.
Finally, we've got something we're proud of. Design and tooling are complete, and we're ready to go into production. But we need your help to make it happen!
Help make the Misen Dutch Oven a reality by picking a reward tier below, and backing this Indiegogo!

Rewards Tiers