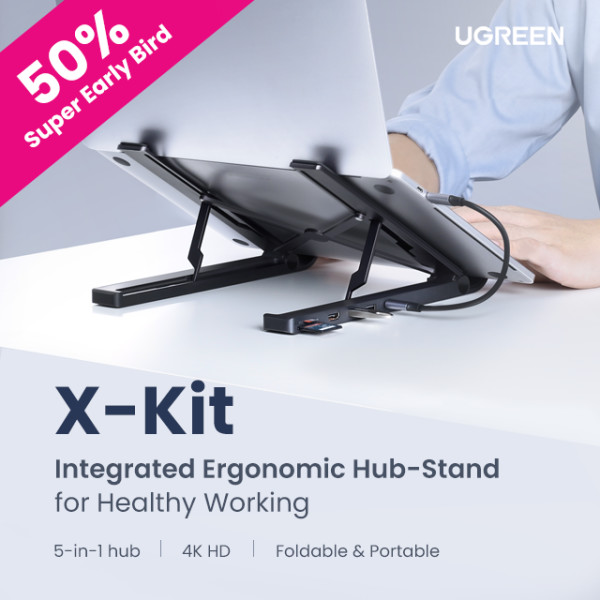 X-Kit: World's First Ergonomic Foldable Hub-Stand
$50,389
raised out of
$20,000
Concept
5-in-1 USB-C Hub | 4 Adjustable Angles | 4K HDMI | USB 3.0 | SD & TF | Work Different with UGREEN
Story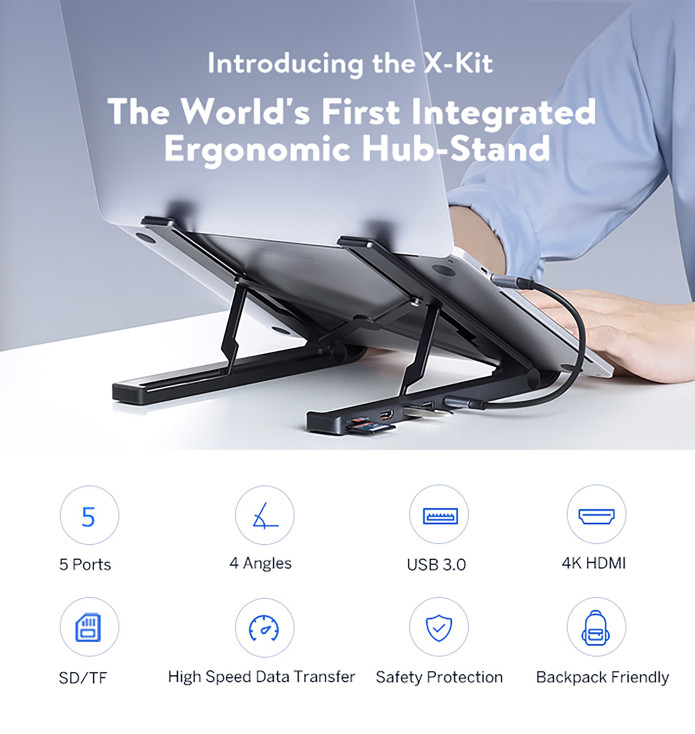 The X-Kit is the combination of a powerful 5-in-1 USB hub that connects to all the devices you need to boost productivity and an ultra-lightweight ergonomic laptop/tablet stand with four adjustable angles designed for maximum mobility.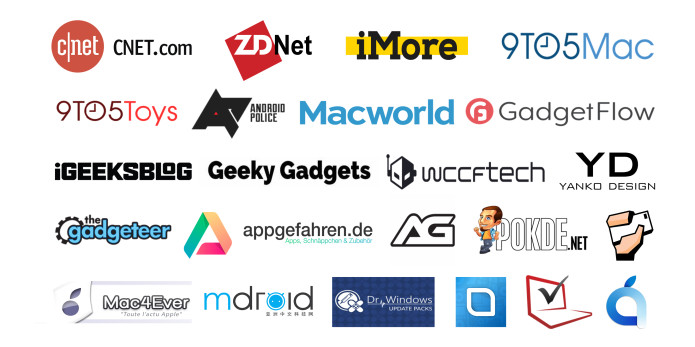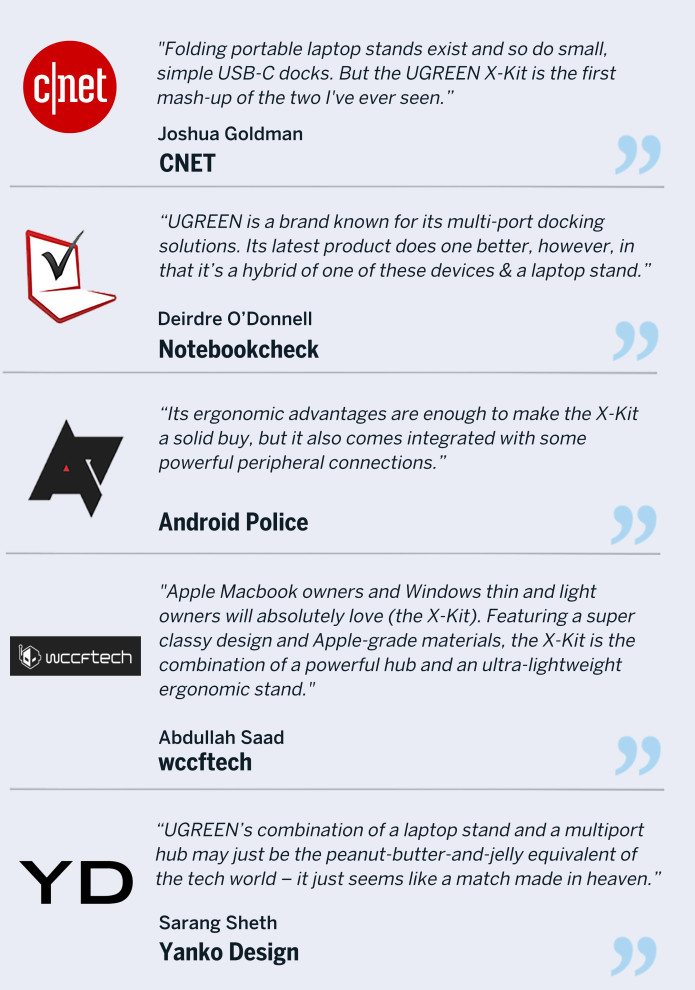 It all started with our product designer when he began #WFH this year. Beyond the great opportunities, like many of us, he found challenges in building a healthy and productive workplace at home.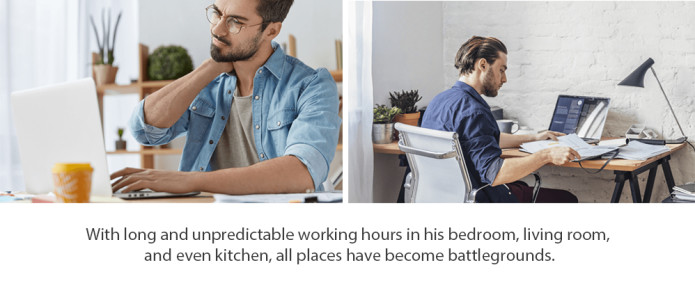 Most modern laptops today aren't equipped with enough ports to support all the supplementary devices we need to replicate a comprehensive "second office." Fear of insufficient ports and an unhealthy work posture was his motivation for creating the perfect work-at-home essential.

Several factors can affect your work productivity, such as improper posture, excessive movements, forces, pressure points, static loads, and much more.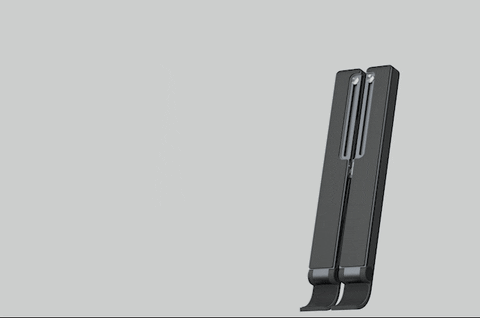 With the UGREEN X-Kit, you can personalize your workspace and create an atmosphere tailored to your physical needs and increase productivity.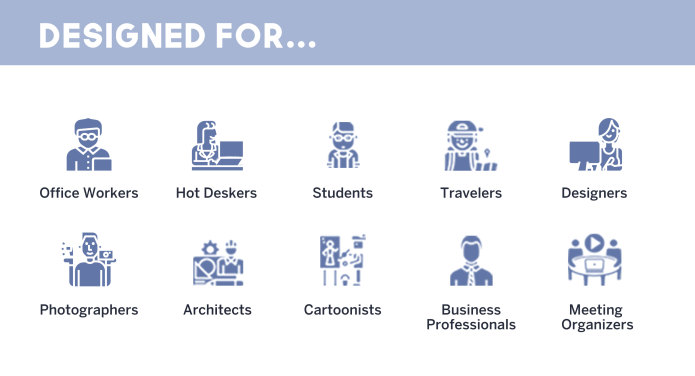 Feature Highlights

The UGREEN X-Kit integrates all the necessary ports for easier connections to all your devices for a high-performance workstation at home. Working from home is now more convenient than ever before.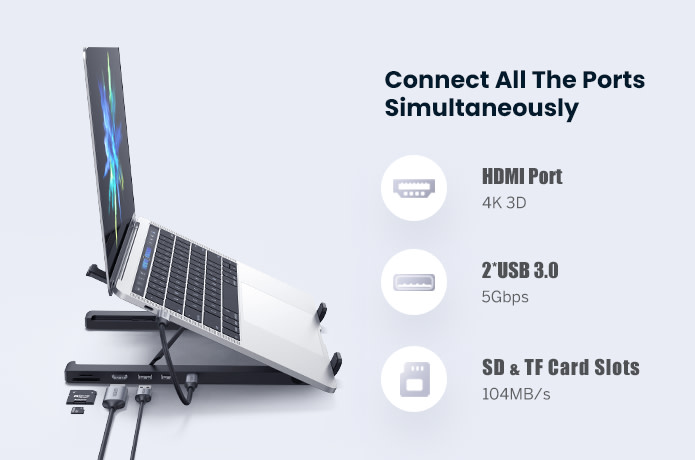 The 5-in-1 USB-C hub functionality provides 2*USB-A 3.0 ports, 1* 4K 3D HDMI port, 1*SD and 1*TF card reader, and 1*USB-C data delivery to connect your laptop or tablet with the X-Kit.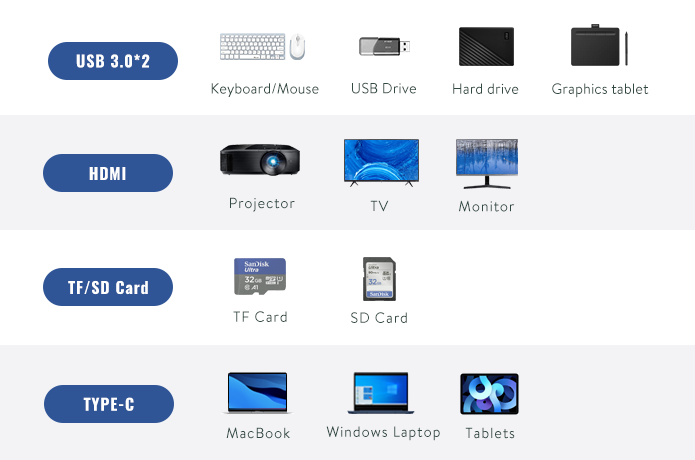 You can quickly transfer files, photos, and videos from your phone, memory cards, and hard drives while connecting to external devices such as the keyboard, mouse, or graphic tablet simultaneously, without a mess.

Sitting all day is harmful to your health, but we will always find a better solution when this has already covered most of the working time.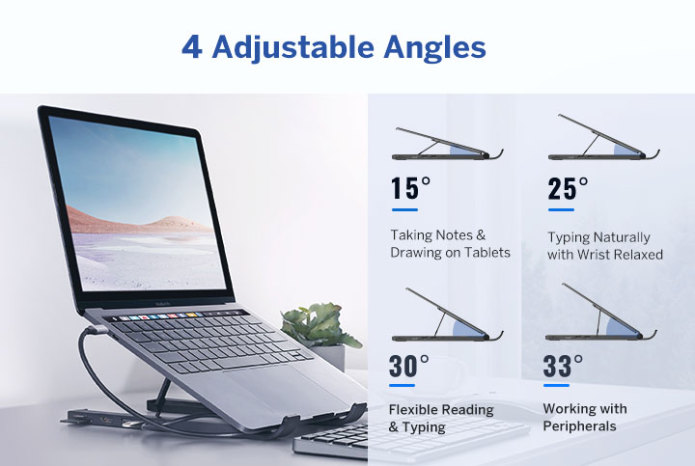 Find your best ergonomic posture with 4 adjustable angles whether you want to read, type, take notes, draw, or use external keyboards with laptops and tablets. The X-Kit provides optimal comfort without the fatigue of your neck, arms, wrists, or eyes.
Less Phubbing, More Comfort
Any idea how long you spend sitting?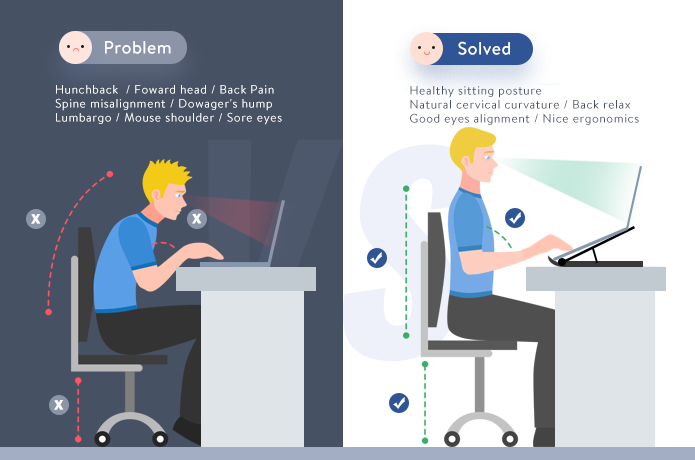 An average person sits for about 10 hours a day.
Occupy 60% of waking hours.
30 years of a fleeting life.

Enjoy a high-quality display with the X-Kit's ultra-high-definition HDMI port with 3D support—no image tearing, stuttering, or jerkiness, as well as fine audio and display synchronization.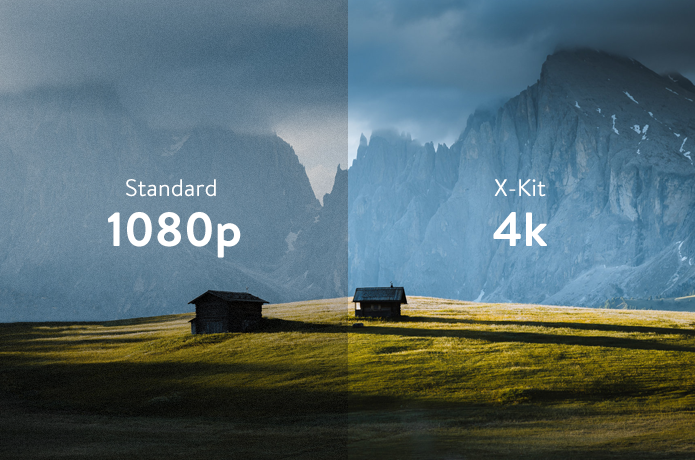 Work Pro, Play Cool
Present your proud project and presentations, or share your favorite movies in exceptional quality with low latency. Use it at home, at conferences, or even during outdoor activities 1.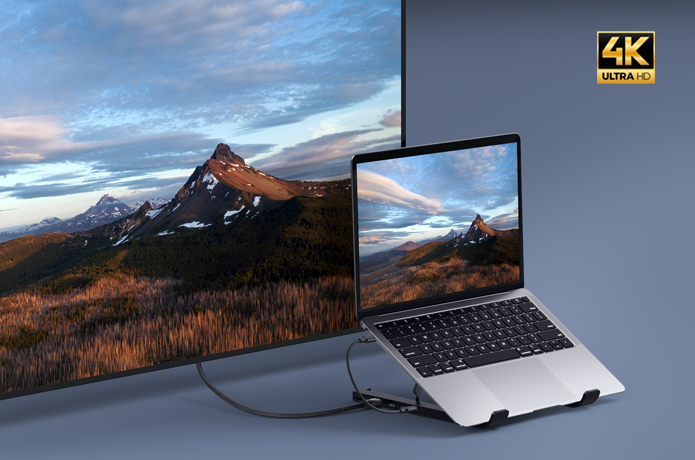 Transferring a 1GB movie in 5 seconds? Copying images from a 32GB memory card in 5 minutes? With the high-speed transmission of up to 5Gbps from the two USB-A 3.0 ports and 104 MB/s from the SD/TF card slots, the X-Kit nailed it.


Open and fold-up in a split second; you can set up your office space anytime, anywhere with the X-Kit.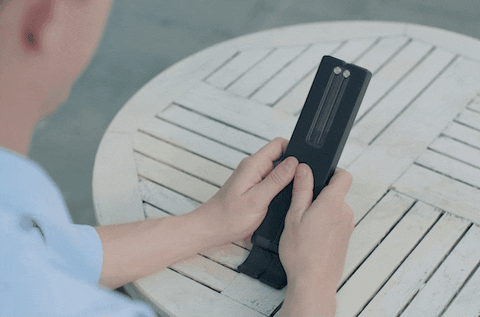 It fits easily in your backpack, tote bag, or even a briefcase.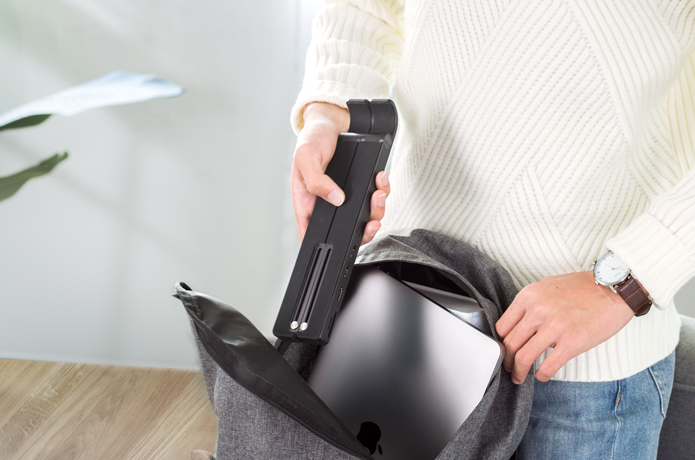 Empowered by optimal design and materials, no more worries about the overheating issue of your USB hub.  
Superheat Dissipation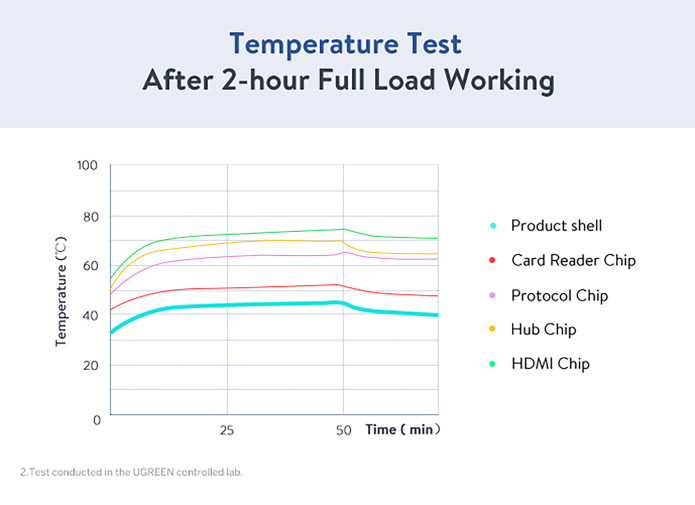 The lab temperature rise test shows that after 2 hours of full-load working, the maximum product surface temperature is about 41.9℃ (107.42℉) and 10℃ (50℉) lower than the average hubs on the market 2 . 
Multi-Safety Protection

The built-in short-circuit and over-current protection keeps your devices safe.
Durable Companion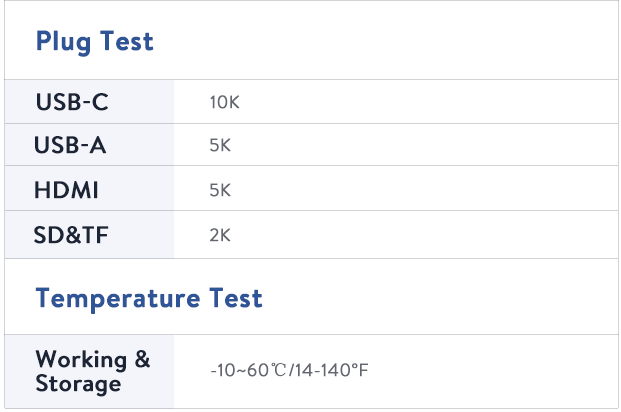 By going through thousands of plug tests for all ports, and temperature tests from cold to hot procedures, the X-Kit will be your ultra-reliable and durable companion in various environments.
  Highlight Details

The X-Kit perfectly supports all your USB-C based devices, from the latest MacBook lineup and iPads to all the flagship Android and Windows-based tablets. For size compatibility, it fits all laptops from 11"-17" in size 3.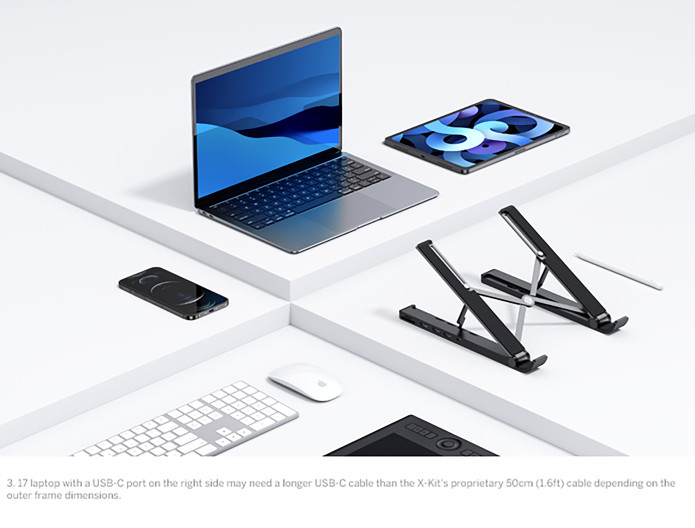 Driving productivity to the fullest, the X-Kit is far more than just your average laptop stand or a simple USB-C hub. It is a combination of work, health, and creativity in life.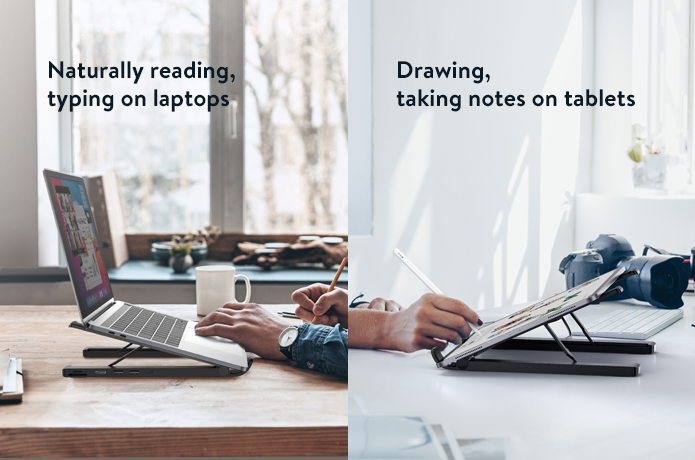 With our minimalist X-shaped structure consisting of double triangles, your laptop can breathe freely while staying stable at work.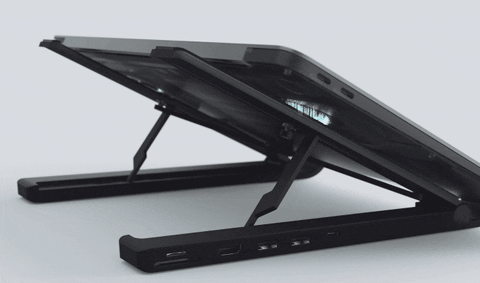 The skeleton made of premium aircraft-grade aluminum alloy is 65% lighter yet 25% harder than the average, lightweight, and stable. Less, but more.

The silky-touch sandblasting-oxidation processed surface, slip, and crush-proof silicone bands gently embrace the practical aesthetics that flows in our veins.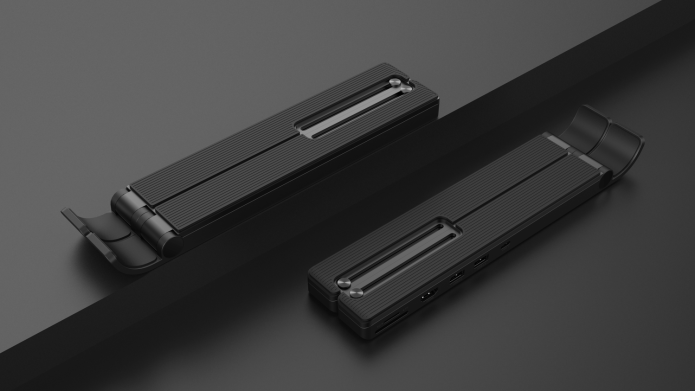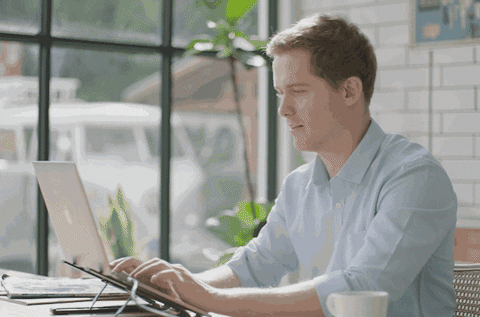 Redefine your space for an efficient and healthy working environment, whether it's at home, at a cafe, or the outdoors, basically, anywhere you go.

From the product materials to its packaging, the X-Kit is fully recyclable with RoHS compliance. Additionally, it saves energy by lowering power consumption than a 1W LED lamp with a working HDMI port (≈333mA).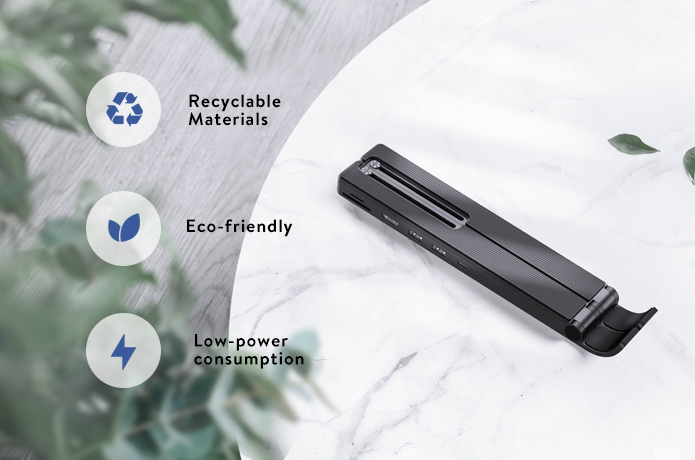 Expect 11 hours of playtime on a MacBook with keyboard and mouse set connected; 17% longer than an average USB hub.

Thanks to the smart combination of materials, the X-Kit applies leading aircraft-grade 6063 T5 aluminum alloy + PC/ABS materials.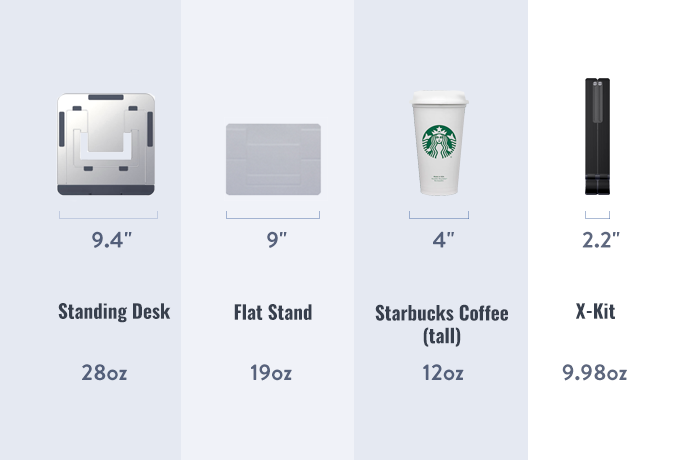 Weighing only 0.62lb (9.98oz), the X-Kit comes 2 ounces lighter than a Starbucks tall, the smallest Starbucks coffee on the regular menu.

Say goodbye to insufficient ports, office syndrome, unstable connections, messy home office set up…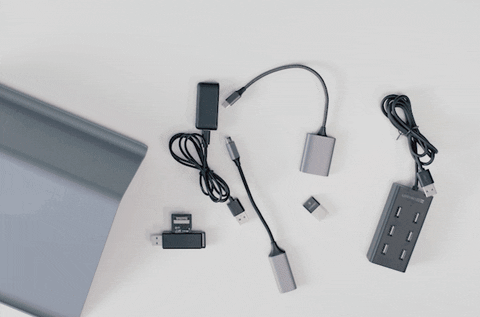 And work different with the UGREEN X-Kit from now on!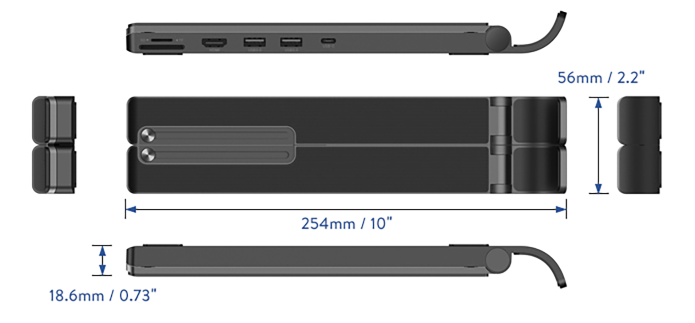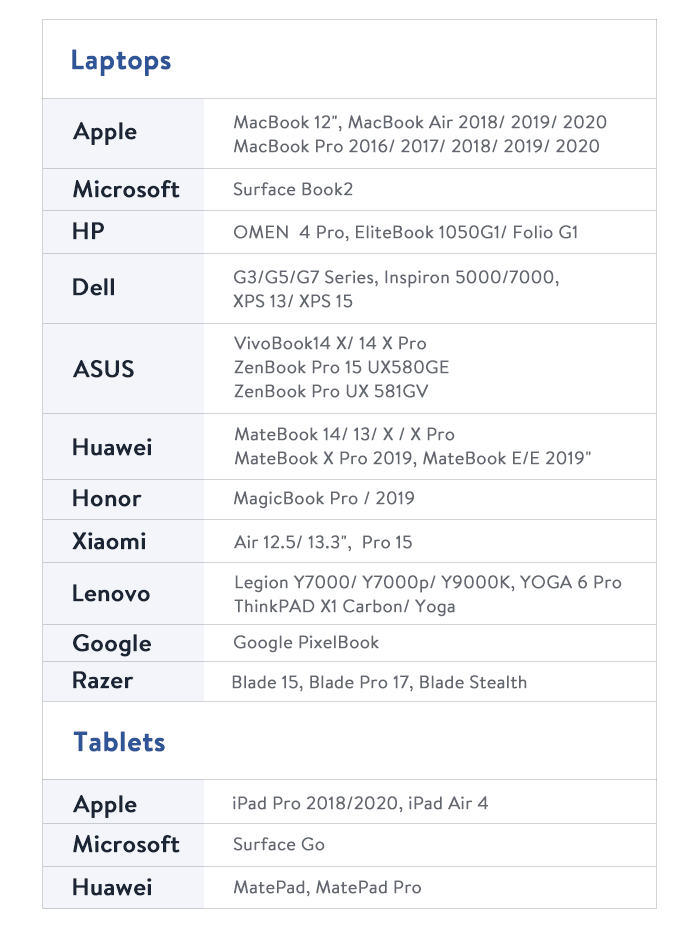 The UGREEN team has spent months working on an integrated design with the lightest and most durable material to enhance your work experience. With the small details developed to perfection, the X-Kit is all you need to boost productivity.



The UGREEN X-Kit is already in production, so you don't have to worry about those long crowdfunding waits. Our priority is to meet our commitments to you and provide our backers with the highest level of value, premium quality, and service.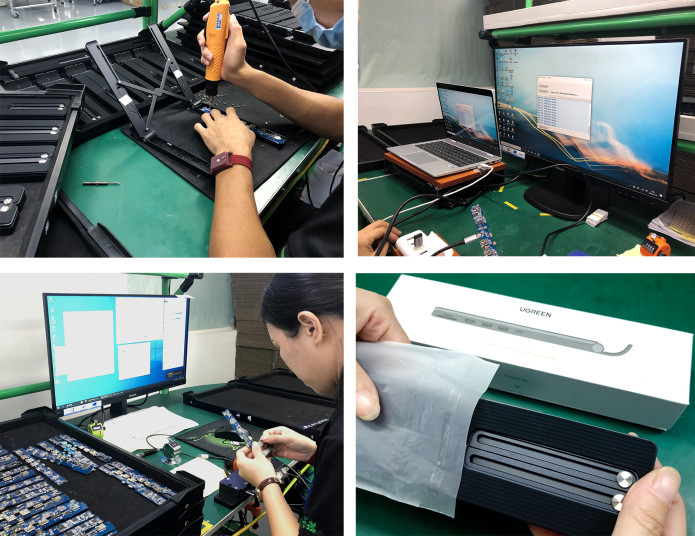 At UGREEN, we believe there's an optimal combination of value and innovation. Since our foundation in 2012, we've been dedicated to building consumer electronic devices and accessories with leading technological innovations and making them accessible to our everyday consumers. The user-centered philosophy runs in our blood and through our R&D, design, manufacturing, sales, and marketing, as well as customer service.








UGREEN has steadily grown into a brand trusted by over 40 million users in more than 100 countries around the world. Our award-winning product portfolio ranges from charging devices, mobile phones, and computer accessories to home and automobile accessories. With an extensive channel network both online and offline, UGREEN is committed to providing maximum value backed by high-quality products and premium service to our customers.
Unavailable shipping countries and regions list:
Dear backers and fellas, we are happy to provide free shipping to most countries and regions worldwide. However, the global reduction of flights is expected to increase due to the COVID-19 situation. Therefore, we are sorry to announce that we are not able to ship the product to the countries and regions on the list below. If you placed an order from one of the following countries and regions, we will issue a refund. Much appreciated your understanding!